Three women entrepreneurs from Asia who are changing the world
Come May 2, eight women from around the globe will receive the Cartier Women's Initiative Award. CNA Luxury casts the spotlight on three East Asian finalists.
Curiosity, audacity and a searing social mission.
That's what each of the 21 finalists of the Cartier Women's Initiative Award, now in its 14th year, have in spades.
These female entrepreneurs run creative, financially-viable and impact-driven enterprises bent on finding solutions to help the planet and its people. They're busting the status quo and revolutionising industries with businesses founded on unique premises and powered by a desire to give back.
In short, women with the balls to change the world.
After months of sifting through 2,900 applicants from 142 countries, the French luxury brand will be celebrating these 21 individuals at an awards ceremony in San Francisco on May 2.
Of the 21 finalists, eight will be named laureates, winning their businesses US$100,000 (S$135,700) in prize money while the rest will receive US$30,000.
All will benefit from one-to-one personalised mentoring, international professional networking opportunities, and a spot on an executive programme with INSEAD Business School, which Cartier has partnered along with management consulting firm, McKinsey & Company. The three companies founded the Initiative in 2006.
CNA Luxury spoke with the three finalists from East Asia.
CLAIRE YAN, CHINA
FOUNDER OF COBBLER'S SUGGEST
Borne out of sheer frustration from damaging her heels in Shanghai's urban jungle and not being able to find a decent shoe repair service, Claire Yan founded Cobbler's Suggest in 2016 as an online leather goods repair service that helps reduce environmental waste while boosting income for artisanal cobblers.
A few clicks on its app and a personal delivery service will pick up the customer's shoes and whisk them to a repair site in Shanghai's suburbs where a team of skilled shoe elves set to work saving them. Once completed, the shoes are hand-delivered back to the customer's door, with no stress and no fuss.
The business caters to wealthy Chinese and their love of luxury shoes, with brands sent to Cobbler's Suggest reading like a Christmas wishlist: Ferragamo, Jimmy Choo, Roger Vivier.
It's a 21st century shoe repair business that's also designed to elevate the humble cobbler – and their previously undervalued skills – as respected craftsmen in their field.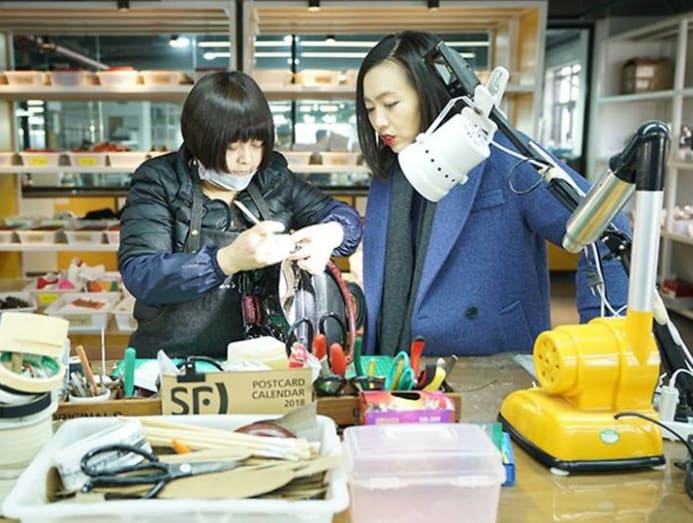 "Cobblers are struggling to keep their small businesses alive and cannot survive in big cities anymore," Yan explained via email. "And the irony is that those humble cobblers are needed to keep the fancy leather goods in good condition, but these cobblers scattered around the city cannot win the trust from the customers with fancy leather goods."
"When they are constantly struggling to make ends meet, they have no time to improve their skills and excel at craftsmanship. If this doesn't change, I doubt the industry will survive," she added.
Cobbler's Suggest is Yan's second business; the first was an advertising agency.
In 2018, the company launched a luxury handbag repair service and is now planning to grow its team of artisans to extend its repair services to the textile industry.
By combining digital modernity with traditional craftsmanship, Yan wants to do her part to help safeguard the livelihoods of these craftsmen while helping shoe owners prolong the lifespan of their cherished footwear, in the process helping to reduce environmental waste.
YEON JEONG CHO, SOUTH KOREA
FOUNDER OF SAY GLOBAL
When Yeon Jeong Cho first heard the idea of connecting senior citizens with Korean language learners from her co-founder, she immediately fell in love with the pitch.
The former investment banker started SAY Global in 2017 as an easy-access online platform that matches students with a teacher in the form of a trained retiree, and learning takes place via one-to-one video classes.
Having moved to the United States with her family when she was 11, the Korean national knows only too well how hard it is to learn a new language.
Another factor that prompted her to start the business was witnessing the discrimination against retirees in the workforce, where employees are often "forced" into retirement in their 50s.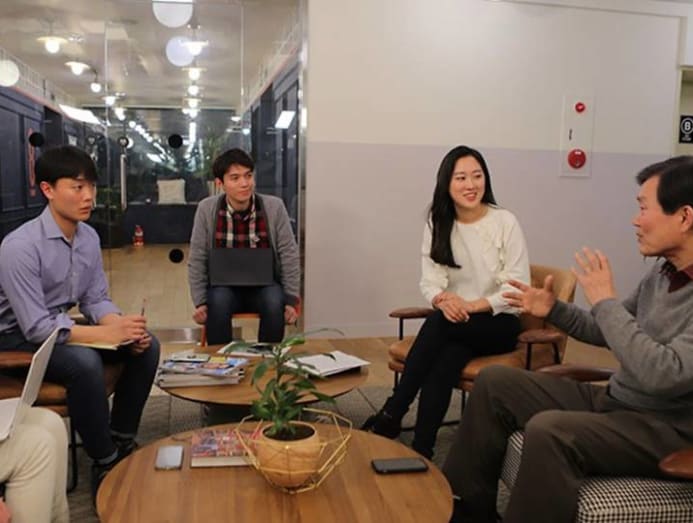 "The life expectancy in Korea is over 80 years. So for 30 years after retirement, seniors need to find a way to stay financially stable and socially active," Cho observed.
"There are many older adults around me who are so bright, intelligent, experienced, and willing to contribute back to society. This is why I was certain that the idea of building a bridge to connect Korean seniors with the younger generation, as well as with foreigners of different cultures, would be a success," she explained via email.
For Cho, being selected as a laureate and winning the prize money will allow the company to accelerate its growth by investing in product development to make its services more accessible to users beyond its current user base.
"More customers means more jobs created for seniors," she said. "We are solving a huge social issue and we are ready to take the company to the next level and grow as a global startup."
SAAYA NAKAYAMA, JAPAN
FOUNDER OF SHE INC.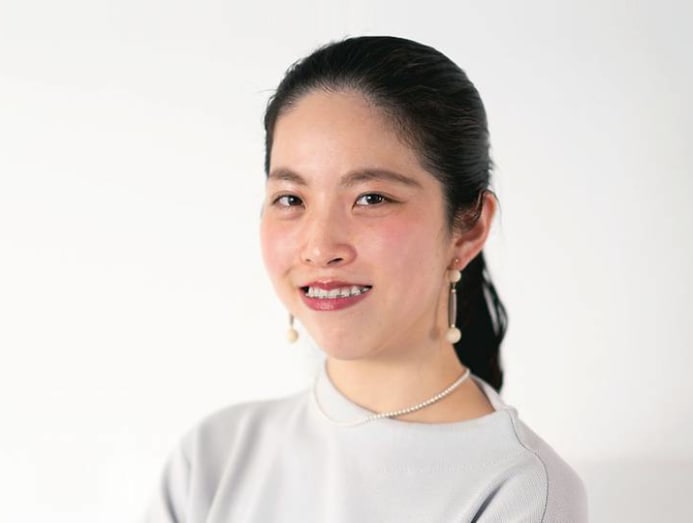 After winning an entrepreneur bootcamp two years in a row at elementary school, Saaya Nakayama was bitten by the entrepreneurial bug and went on to start her first business even before graduating from university.
It was her years at secondary school, though, that inspired Nakayama's latest venture.
Attending a strict all-girls institution with old-fashioned ideas stoked in her a strong sense of rebellion against the idea that "women are supposed to just be housewives".
Nakayama's burning desire to break out of those confines and escape that "trapped energy" she felt growing up has given rise to SHE Inc., a Tokyo-based creative learning and co-working hub she set up with a co-founder in 2017.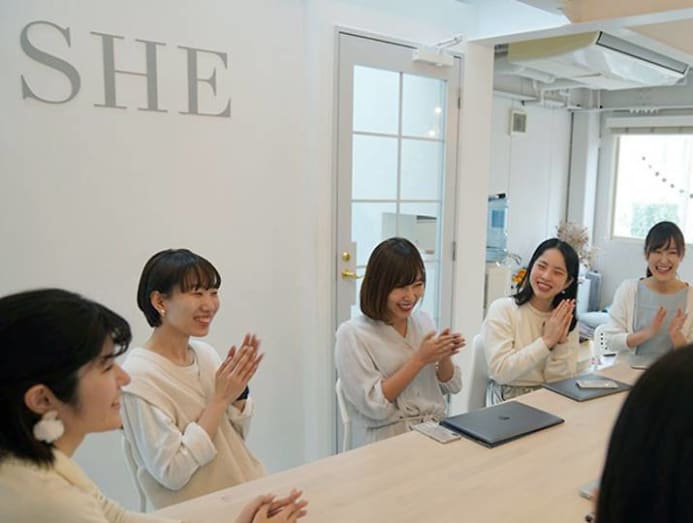 The company offers a programme called SHElikes, which covers digital and creative skills-training in fields such as web design, writing, editing, branding and e-marketing, as well as mentoring programmes and job placement services for a new generation of Japanese women – whether they're starting a business or building a freelance career – through an onsite subscription-based school.
"For cultural and social reasons, Japanese women are still bound by old stereotypes and the choice between family and work," she explained.
Times are changing, however, and Nakayama is firmly on a mission to "create a world where every woman can be herself and shine."
Her advice to other female entrepreneurs? "Keep reaching for the stars. Entrepreneurship is a series of hardships so don't give up no matter how hard it feels or how difficult the road. Keep believing in your dream and keep moving forward."
As for what's next for this trailblazing CEO with a scorching mission, it's "to take SHE Inc. to all the women of the world".