The Singapore entrepreneur who wants to make caviar more accessible to all
Benjamin Goh, CEO and founder of Caviar Colony, has shares in a caviar farm in Yunnan where the fish dine on a proprietary blend of feed that includes traditional Chinese herbs.
Benjamin Goh, 51, loves his caviar. As co-owner of Italian-Japanese restaurant 28 Wilkie – which opened in 2017, boasting Singapore's first caviar bar – the connoisseur enjoys the luscious black pearls on an almost daily basis, regularly sharing the pleasure with his friends and business associates. He recommends pairing caviar with champagne – the drier the the better. "A brut, preferably." He also enjoys his caviar with Russian vodka or Louis XIII cognac.
"When you open a tin of caviar, smell it," he told CNA Luxury. "Good caviar should be odourless. Its grains should be round and sturdy. Next, wait for 15 to 20 minutes. Grains of good quality caviar will start to expand while low-grade caviar will start oozing water, which is an indication that the fish might have been fed antibiotics. When you eat the caviar, use your tongue to push it to the top of your mouth to enjoy its nuttiness, creaminess and oyster-like flavour. Some brands add more salt to mask the bad taste of inferior caviar," he added.
"Good caviar is my love and I dedicate most of my time to it," Goh explained. Indeed. In 2014, he was given the opportunity to invest in a caviar farm in Yunnan, China along with other shareholders, and he seized the chance. The farm, in operation for 20 years, has been supplying caviar to some of the world's most renowned caviar houses since 2013.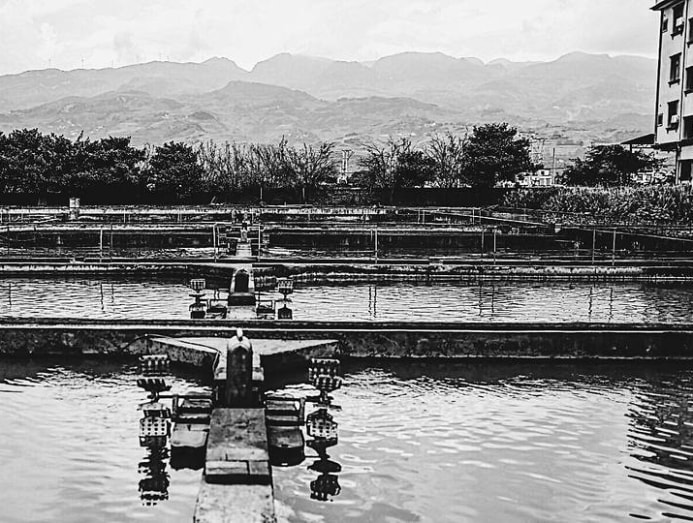 Goh wanted to make caviar more accessible to mass affluent consumers. Besides its prestige factor, he is also a firm believer in caviar's nutritional properties: The roe contains DHA, Omega-3 fatty acids, vitamins like B6 and B12, and minerals like calcium, magnesium and zinc.
"Many people think caviar is only for the rich and I wish to change that public perception. I want people to be able to enjoy good quality caviar at an affordable price," he explained. So, together with business partner Celine Tan, he set about developing his own brand of caviar, Caviar Colony, which made its debut last month. The brand is available at five restaurants in Singapore – 28 Wilkie, Alma, Meta, Restaurant Nouri and Pollen – as well as four establishments in Italy, a favourite holiday destination of Goh's.
Caviar Colony has five products: Kaluga, Kaluga hybrid, Russian, Amur and Russian Hybrid. The Amur and Kaluga Hybrid varieties go for S$138 for 30g while the Kaluga is priced from S$110 for 10g.
Amur caviar pearls are imbued with a hint of green and offer a light, buttery flavour with subtle nuttiness, and a long, briny finish. Kaluga Hybrid's plump caviar grains present complex notes of mushroom underpinned by a gentle tang and a subtle bitter finish.
Meanwhile, Kaluga's luscious black pearls deliver a nutty, savoury mouthfeel with umami notes of seaweed. Intertwined with subtle hints of bitterness, the caviar possesses a long, balanced finish.
The caviar is available in 10g, 30g, 50g, 100g, 500g, 1 kg and 1.5 kg portions, putting a small indulgence within reach of the masses.
The sturgeon bred on the farm – which span a massive 800 hectares, or eight sq. km – are native to Heilongjiang, or the "Black Dragon River", which serves as the natural border that separates the Russian Far East from Northeastern China. It is illegal to catch wild sturgeon.
At the farm, the fish are bred in spring water and water from the mountains, which Goh vouches dramatically improves the quality and texture of his yield. They are fed a proprietary blend of traditional Chinese herbs, salmon oil, deep sea shrimp, fish and other nutritional supplements.
"Sturgeon from lakes, for example, produce caviar that is earthy and its flavour is mixed with the taste of the lake's minerals. Customising our feed lets us control the growth and fat content of the sturgeon, along with the taste of the caviar," Goh remarked. "Most importantly, we do not feed our sturgeon antibiotics."
"Quality is always important, after cost is long forgotten," quipped Goh, who oversees every step of the farming and production process. "Consumers might not remember how much they paid for something, but will remember their first experience tasting a product."
While the main farm is located in Yunnan, the research farms are sited in Beijing. Another farm in Chongqing is where male sturgeons are kept. Their sperm is used in the fertilisation process before they are slaughtered and sold for their meat. Female sturgeons are a lot more valuable than males – an ironic occurrence in China.
"You can't tell male and female sturgeons apart when they hatch, so you can only feed them until they are three or three-and-a-half years old, which is when you can scan the fish to determine the sex," Goh explained. The fish reach sexual maturity around the age of eight and produce their first batch of roe. Only then does Goh find out if and how well his investment has paid out. "This is when we taste and decide whether the roe tastes good or bad." Afterward, farmers have to wait one more cycle and only collect the second batch of roe from the sturgeon when they reach the age of 10.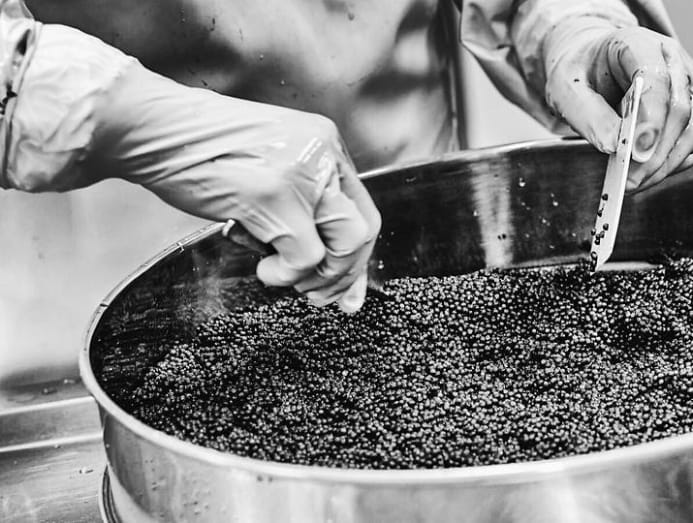 After harvesting, the roe is carefully treated and rinsed before undergoing an ageing process for two months. During this time, the caviar is salted sparingly — 3.2 per cent to 3.5 per cent compared to the industry standard of five per cent to eight per cent — using mineral salt from Portugal. This allows the true flavour of the caviar grains to shine through before they are packed into airtight gold tins.
The tins are crafted in Paris, hermetically sealed, stamped with the CITES logo that vouches for the brand's sustainable practices, and then embossed with the Caviar Colony logo. Unopened, each tin of caviar has a shelf life of up to six months if stored at -2 to -4 degrees Celsius.
Global consumption of caviar is half a million tonnes per year; Goh reckons that there is potential to grow this figure. Currently, Caviar Colony can produce 50 tonnes annually, but Goh aims to become the world's largest supplier of caviar within three to five years. He also plans to open 10 Caviar Colony bars around the world.