Interior design expert Cedric Jaccard: 'Good design should create an emotion and be honest'
The creative director of Avalon Collective, the interior design studio behind the newly revamped Hilton Singapore Orchard, on the complexities and joys of hotel design.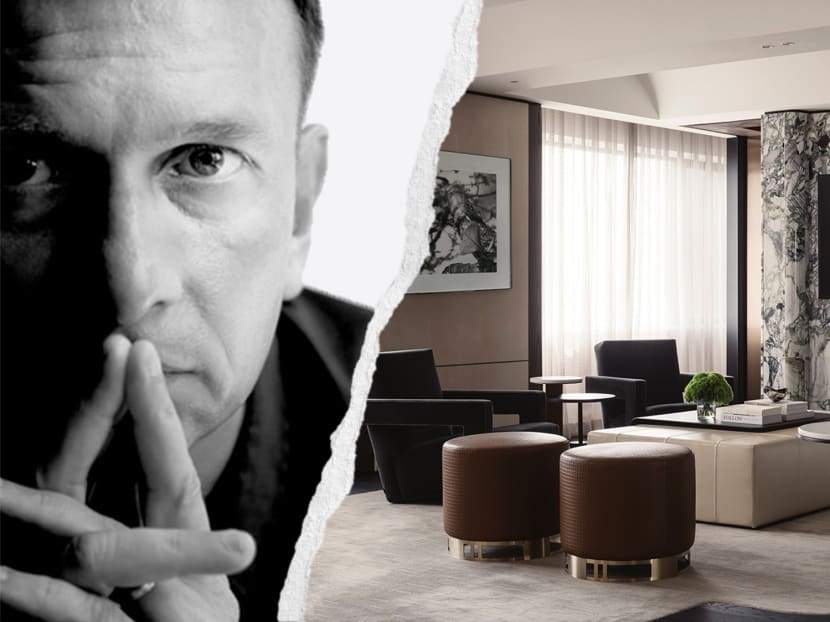 Cedric Jaccard's first impression of Singapore was not a memorable one. "I was working in Switzerland. A friend of mine told me this is paradise, so I left my job and came. But I didn't like it. It was humid, small and busy, so I went to travel around Asia for a year," shared the partner and creative director of Avalon Collective.
The Swiss-born Jaccard could not have imagined then that this island would be where he would build a family and career. He married a Singaporean and had two children, who are now teenagers and study in local schools. While based in Singapore, and with satellite offices in Shanghai and Bangkok, Avalon Collective's portfolio spans the region. Some projects include the Kempinski Hotel Hangzhou in China, the Four Seasons Private Island Voavah, Maldives, and the renovation of the Hilton Singapore Orchard (formerly Mandarin Orchard).
The latter opened in February last year, but the last 446 guestrooms – adding to the total count of 1,080 – were just completed. This makes it the largest Hilton hotel in Asia Pacific. These latest rooms are more spacious at 34 sq m for the entry-level Deluxe Room and 67 sq m for a Deluxe Suite (compared to 29 sq m for the existing Premium Room category), and there are also more connecting rooms – 294, up from 168.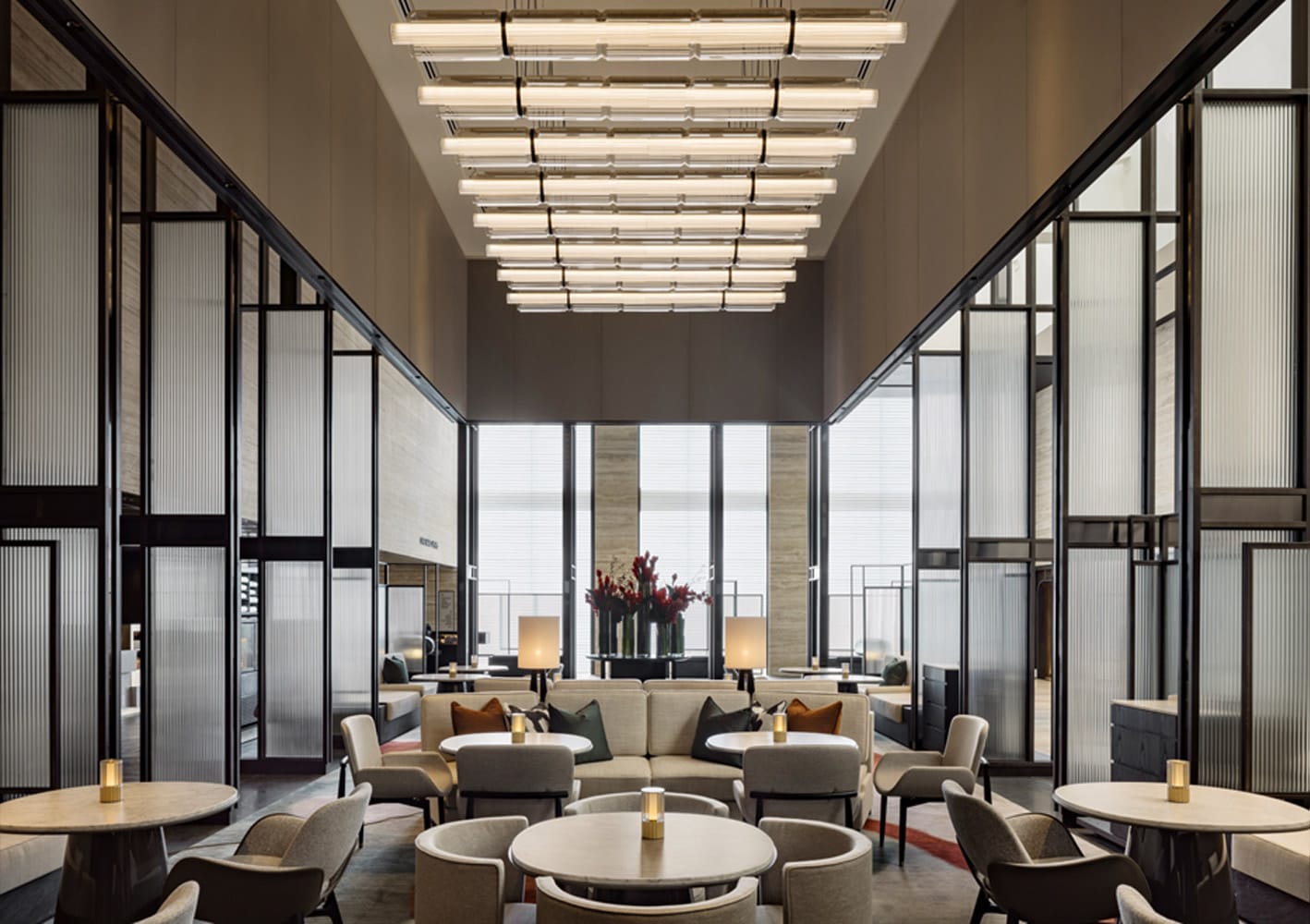 The aim is to cater to larger families and travellers who come in groups – a trend that Jaccard observes is here to stay. He himself often travels with extended family and other families that have children.
Renovating such a large hotel was no easy feat, as one has to manoeuvre around existing structural conditions. But Jaccard relished in the challenge. He views these as quirks that make each project interesting. Understanding the new branding was most essential. "We are not Philippe Starck, where clients come for our style. We design for the DNA of the brand," said Jaccard, although he admires the work of the famous French designer, among others such as John Morford, Gilles & Boissier, as well as architects Peter Zumthor, Renzo Piano and Fearon Hay. 
This way of designing is not an easy skill to acquire, and requires a willingness to analyse many facets of a project ranging from guest profile to hotel trends, as well as understanding the subtle differences among a hotel group's multifarious brands. Another 'quirk' of the Hilton Singapore Orchard was the client's request for it to embrace its shopping street context. In the guestrooms, Jaccard designed open wardrobes for guests to display clothes they may have bought and trays for them to layout out purchases to photograph for social media. Thoughtfully planned lighting ensures guests' photographs look their best.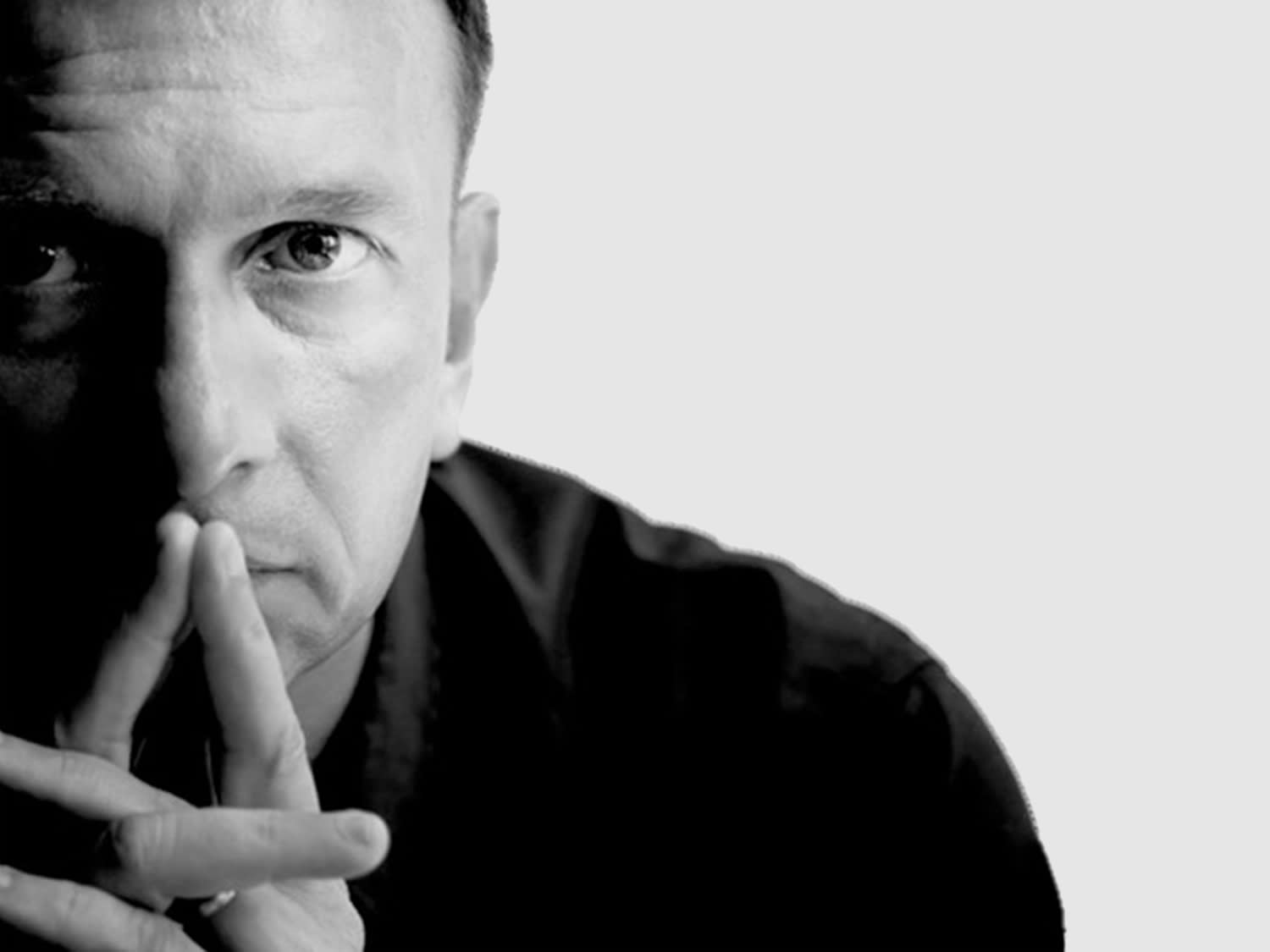 Jaccard's team also reorganised the original spaces, cutting through slabs to create a host of meeting rooms out of 1,200 sq m of car park space. He gave the entrance more prominence from Orchard Road with a taller profile, and added a new F&B venue – GingerLily – that supports the existing all-day-dining restaurant Estate with 120 more seats at peak hour. The design of GingerLily encapsulates the existing volume with soaring glass doors and intricate resin panels embedded with herbs and flowers that are used in the cocktails. It is an example of Jaccard's attentiveness to space, detail and materiality that have given the hotel, which first opened in 1971, a thorough refresh and more elevated feel.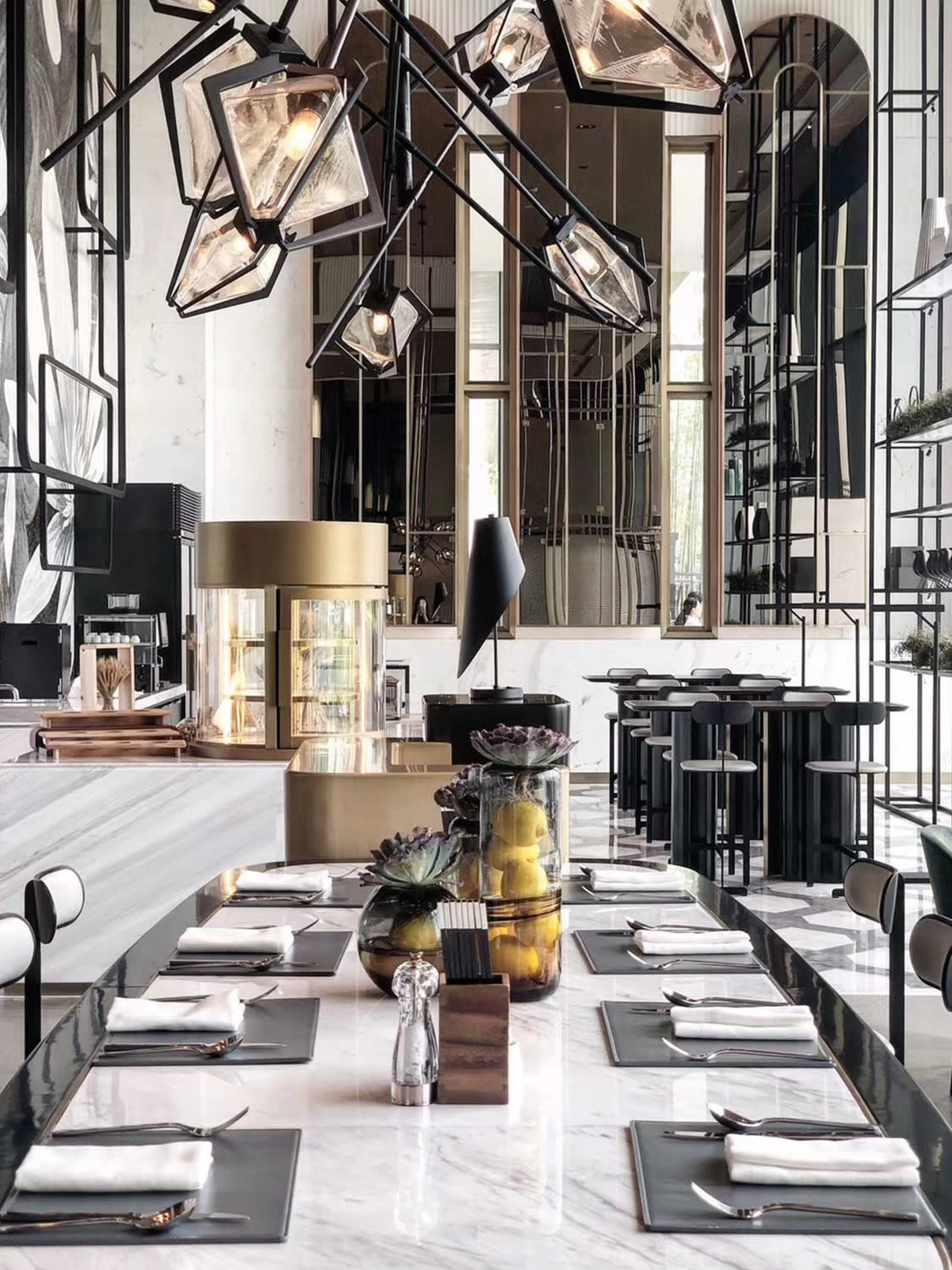 "We are architecture driven. The way we approach design is really by challenging space, relooking at the function, maximising the floor plan and making sure it is efficient," said Jaccard, who studied architecture at EPSIC in Lausanne, Switzerland. "Efficiency is key in hospitality. Maybe if one space is connected to another well, the hotel can save on two staff. After that then we add on the carpets, wall coverings, ambiences, etc. This is the side of the job people don't know about; they think we are just decorators, but we are not," stressed Jaccard.
His work for the hotel has not gone unnoticed. The hotel won the Shaw Contract Design Awards (Best of Globe category). The Presidential Suite won Project of the Year at Design Excellence Awards (DEA) 2022 given out by the Interior Design Confederation Singapore, and was the winner of the AHEAD Asia 2022 (Suite category). Perched at the hotel's top floor, the Presidential Suite is the jewel in the crown. Jaccard gave it the luxe treatment with timber-veneered walls, a library, as well as high-end furniture from the likes of Cassina and Flexform. It is not unlike a luxurious apartment, which is not surprising given the trend of hotels gearing toward a residential style, down to the ambient lighting, acoustics and even smell, Jaccard commented.
On the other hand, homeowners have long aimed to recreate their favourite holiday experiences in their own homes. "It has influenced a certain mise en scene, especially for bathroom design and elements like the mini bar," Jaccard added.  
Jaccard is well aware of how rapidly trends evolve based on shifting lifestyles, desires and expectations, and how important it is to stay on top of things. He cites the example of Four Seasons Landaa Giraavaru Maldives. "When it was first built 12 years ago, travellers would go with the simple desire to be close to the water so in the water villa, there was just a hammock and a ladder going into the water.  A small pool was added several years later. When we came on board, we added a 12-metre-long pool and a pavilion, and extended the villa's roof for more shade," shared Jaccard. 
Guests come to the villas expecting to spend their time in the sun and water, to the extent that some do not even leave their villas. "We had to make sure the product is competitive, the experience of the water is there, and the guests are never bored. The problem is today, people are easily bored," Jaccard noted on the drawbacks of the Internet culture.
Jaccard's well-rounded approach to hotel design stems from a diverse work experience. After returning to Singapore broke from his travels, he ended up working at Kerry Hill Architects, known for many exquisite hotel designs, including a number of Aman properties.
"I didn't know how famous Kerry was. One of my friends knew someone from the firm so I sent in my CV and they hired me," he said. There, Jaccard benefitted from the late-architect's disciplined approach to craft and discovered tropical design.  
"I learnt to design from outside in. The Australian style of architecture – with its mix of Southeast Asian elements and relationship with the outdoors, and consideration for sunlight and cross ventilation – was new to me. A simple example is the outdoor shower. Switzerland does not have that sort of lifestyle," he shared.
His next job was at the now-defunct Wilson Associates – one of the largest interior design firms in the world then. "There, I learnt to design from inside to outside," Jaccard reflected. He was exposed to a more expressive way of shaping internal environments, as well as larger-scale works. Projects also took him to exciting places such as Kazakhstan, Japan, Korea, Egypt and to Serengeti in Africa, where he renovated the Four Seasons, working among lions, giraffes and elephants. "It was unbelievable," he enthused.  
Jaccard has obviously found his niche in the industry as business has been on the uptick – even through the pandemic. "Most of our work is in China. When we were in lockdown, they kept going. When they were in lockdown, we started [getting more work] elsewhere. So we got busier and hired more people," he shared. This year, the firm will complete the Four Seasons Suzhou, Hyatt Regency Sanya and the Andaz Nanjing. It is currently working on hotels in Bali, Sri Lanka and Saudi Arabia, Yokohama, as well as renovating the MSocial in New York, which rebranded from an existing Hilton hotel.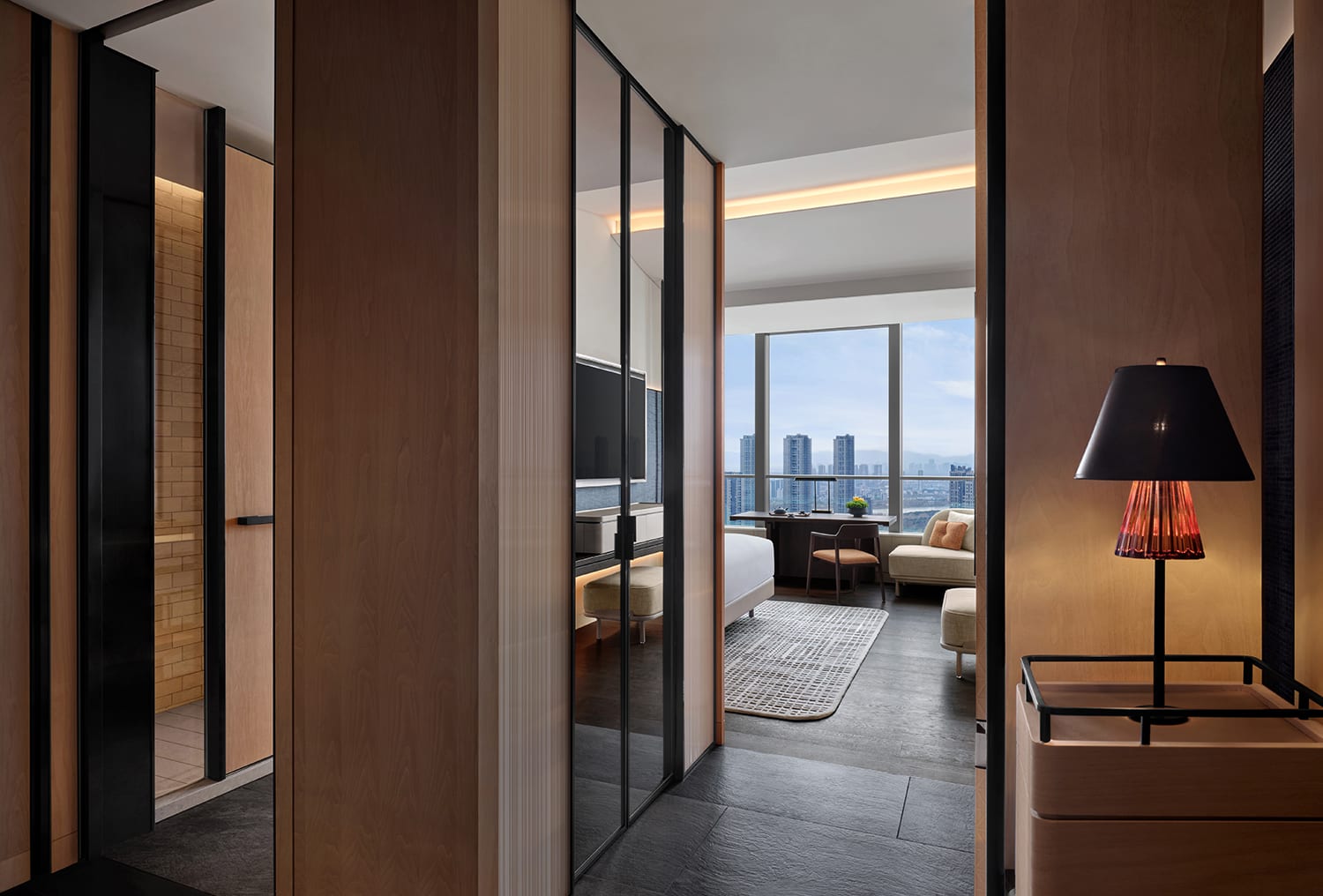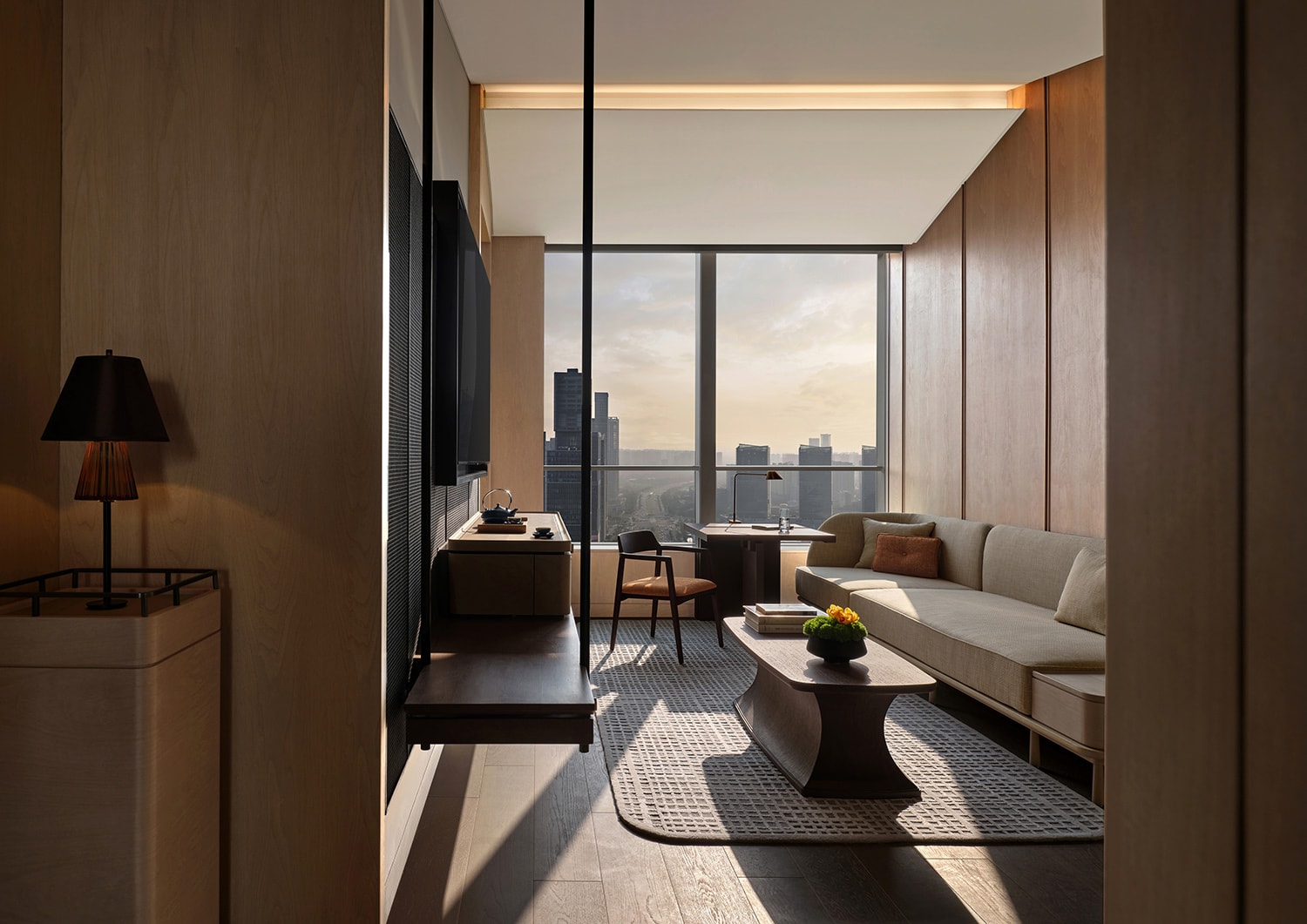 The complexities and challenges of hotel design continue to engage and excite Jaccard, who elaborated that it all boils down to the simple desire of creating good design. And on what that is, he cites a balance of functionality and aesthetics, and being environmentally conscious. "Most importantly, good design should create an emotion and be honest."