Celebrity chef Jose Andres: 'I do believe a force for good will take over'

Beyond the world of fine-dining, the 50-year-old Spanish-American chef is better known for his humanitarian relief, including delivering thousands of meals a day to the COVID-19-hit cruise ship the Diamond Princess earlier this year.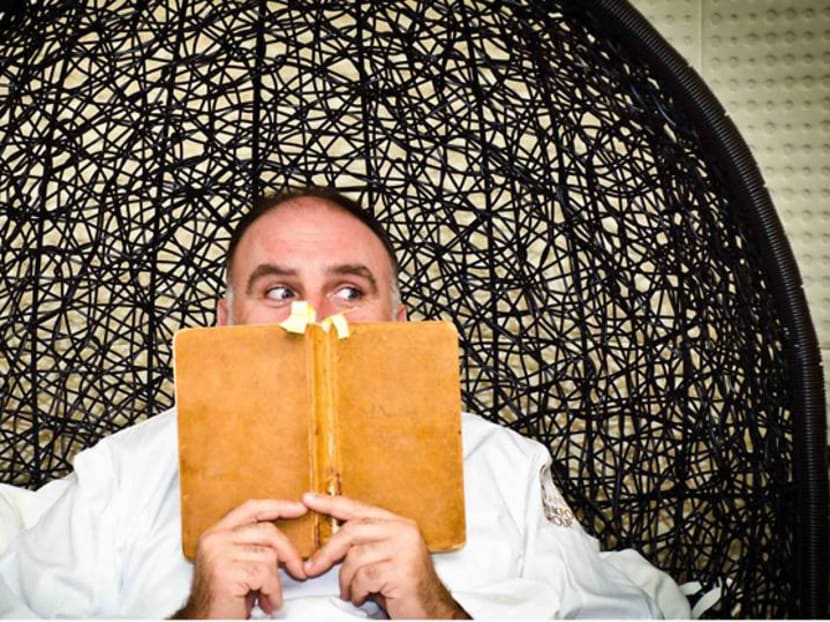 It takes Jose Andres three or four tries to appear on screen. Evidently, Washington's top chef and food philanthropist (he's distributed millions of meals since the lockdown began) is not as skilled in technology as he is at cooking.
After some good-natured cursing, Andres's bearded visage eventually pops up. He is sitting outside a restaurant in Virginia Beach, a town with three military bases 338km south of Washington, where his charity, World Central Kitchen, is delivering food.
The burly Andres seems larger than life. He is wearing a WCK-branded baseball cap and a green bandana around his neck. But for that and a thick Spanish accent, I could almost mistake him for Santa Claus.
"You know what happened," Andres asked. "When I touch my earplug in a Zoom, Siri [Apple's voice activation service] takes over. It sounds like Siri is jealous because when I touch my ear, she whispers 'Hey Jose, what do you want?' 'Nothing! Leave me alone!'"
Relieved we have finally connected, I tell Andres I have ordered lunch from one of his offspring outlets – a pop-up Mexican restaurant called Muchas Gracias run by a chef who used to work for him. The eating scene in Washington – and many other cities – is bristling with graduates of Andres's kitchens. Since the lockdown began, he has been keeping restaurants and food trucks in business by ordering thousands of MREs (meals ready to eat) for his charity.
"I decided through this pandemic that I will be mainly concentrating on the good things that everybody does because I believe people are going through real hardships." – Jose Andres
Andres has been delivering food to the hungry for more than a decade. He arrived in New York from Spain in 1991 as a young chef with just US$50 (S$69) in his pocket. He had started out catering to a Spanish admiral in Barcelona as part of his military service. Then he worked for the world-renowned chef Ferran Adria at the El Bulli restaurant, where molecular gastronomy was born.
He soon found his way to Washington DC, where he co-founded Jaleo, a tapas restaurant that's credited with bringing Iberian-style small dishes to North America. He now owns restaurants in several cities, including Washington, New York, Las Vegas and Los Angeles. In 2016, his DC restaurant Minibar won a two-star Michelin award – one of three establishments in Washington's first batch to claim that distinction.
Beyond the world of fine dining, the 50-year-old chef is better known for his humanitarian relief. When Hurricane Maria pulverised Puerto Rico in 2017, he delivered more than 3.7 million meals across the stricken island – often putting the combined emergency relief of the far larger Federal Emergency Management Agency (Fema) and American Red Cross to shame. In Yokohama earlier this year, Andres's charity delivered thousands of meals a day to the COVID-19-hit cruise ship the Diamond Princess.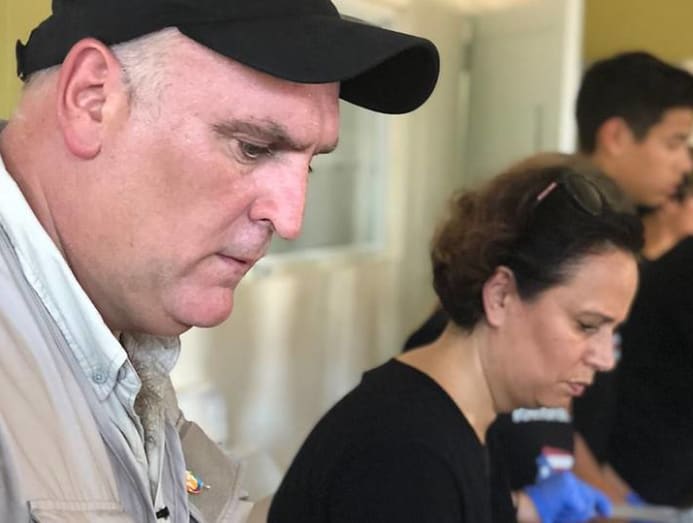 I had been warned that no one can tell Andres what or when to eat. A Lunch with the FT in which the subject goes hungry would hardly qualify. I need not have worried. Andres announces he is going to present his lunch to the camera. It looks more like a banquet to me. The first dish is Virginia Beach fried oysters. The second is a plate of ravioli containing ramps – a wild leek found in the nearby Appalachian mountains.
"I also have this amazing sandwich," he said, holding up a plate of fries and something meaty-looking mostly concealed under bread. "I think it's a brisket [one of the least tender cuts of beef, often marinated and cooked slowly]." Finally, he presented a soft-shell crab.
Though my lunch is delicious, the plate of chicken, rice and refried beans in front of me barely qualifies as a starter. I stab at my food awkwardly, fixing my attention on the computer.
I tell Andres that the previous evening I had visited my good friend and retired colleague Jurek Martin for a socially distanced beverage on his stoop. It was Jurek's idea to do a Lunch with Andres. He couldn't do it himself, he felt, since he was too admiring of Andres's work to be objective.
In addition to Andres's philanthropy, Washington's longtime residents fete him for transforming the stodgy dining habits that still prevailed in the city in the early 1990s. America's capital can now boast one of the country's foremost restaurant scenes. What was DC food like when Andres turned up, I ask.
While I am teeing up my question, Andres has been making serious inroads into the smorgasbord before him – a bunch of fries here, a bed of oysters there. He demurs on the Washington food scene, listing a number of restaurants that were already there. These included the recently closed Nora, which was America's first certified fully organic restaurant.
"If you wanted to use organic toilet paper, you only had to book a table at Nora's and use the bathroom," he said. Then there was The Inn at Little Washington in nearby Virginia, which was co-founded in 1978 by Patrick O'Connell. It was already showered with awards.
"O'Connell was a gay man in rural Virginia fighting prejudice in the middle of nowhere to create one of the most fascinating inns in the world," said Andres. "What the ****?"
Three days before our lunch, providence intervened when the FT changed its style guide to permit use of the F-word and other swear words "where necessary, such as in a quote or because they are an integral part of the story". Without this adjustment, it would be impossible to convey how Andres speaks. In practice, his version sounds much closer to "fock".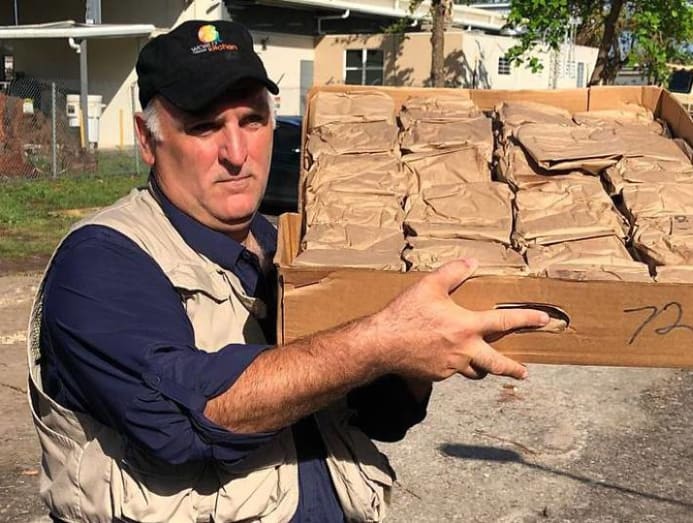 Andres is not done with the fine restaurants that came before and after his DC arrival. His citations include some of America's earliest farmers' markets and the "Fast Good" movement of organic chains such as Sweetgreen and Cava.
As he speaks, he notices I am drinking a margarita that was delivered with my lunch. He applauds ostentatiously. He takes a lusty gulp from a previously hidden balloon-sized glass of white wine. What is that wine, I ask. Andres swills the glass, sniffs it and holds it up to the light. Then he takes a sip. "I think it's white," he pronounced.
I ask him whether restaurants will ever return to what increasingly feels like the culinary golden age before the pandemic. Andres's charity is almost single-handedly keeping hundreds of outlets alive in Washington, New York, Virginia Beach and dozens of other cities. Every day, WCK delivers tens of thousands of microwaveable meals for the night shifts in hospitals and homeless shelters, to firefighters and other essential workers, and to elderly or incapacitated people who live alone.
Once the lockdown is over – whenever that is – many restaurants may never come back to life. The effect of lighter social distancing on standalone restaurants is expected to be brutal; the big chains, in contrast, have more of a financial cushion.
Andres seems almost pained by the question. "We are going to go back," he said, after an uncharacteristic pause. "I know a lot say they're not going to be able to reopen but I argue the contrary. If you are a small business, at the end of the day, you, your wife, your children, a couple of employees, you will be able to open, because you will sacrifice and do whatever it takes seven days a week."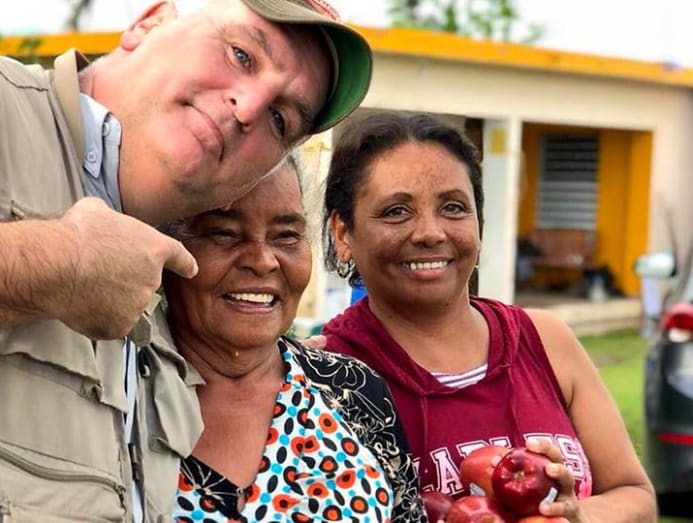 Andres could as well be reminiscing about his early days. He points out that his Spanish-born wife and three teenage daughters are helping every day as volunteers in DC. "They only like me for my food," he said theatrically. Andres is leading a group that is pushing the US Congress to pass a bill – the Feed (Fema Empowering Essential Deliveries) Act – which would expand who qualifies for aid to include victims of COVID-19.
The bill would cut through Kafkaesque rules that restrict the ability of Fema to provide the kind of support to restaurants and diners across the US that Andres's charity is doing privately. It would also make clear that coronavirus is a natural disaster. Fema's work is normally focused on victims of floods, hurricanes and tornadoes.
I ask Andres about big producers, such as Tyson, the meat processor, that have closed facilities after coronavirus outbreaks. My question triggers a passionate monologue. To add to the drama, Andres's audio is temporarily hijacked by the din of fighter jets overhead. He swivels his screen to show three F-15s hurtling past in the sky above.
"I do believe a force for good will take over afterwards," he said. "You see these very big companies putting all our eggs in one basket. They are producing so much in one factory and their employees are getting sick. They are underpaid, under-protected and then the entire facility shuts down."
He lists the subsidies Washington pays to America's big food producers. The supply chains are all geared to them, he said. Millions of gallons of milk are being poured away. Vegetables are rotting in the fields. "What I guarantee is that the small farmers will be driving more of our food [if his bill passes]," he said. "We have to create a diversified farming and food industry in America. Government should not be here to help the big guys that are doing well."
Andres is no stranger to controversy. In 2015, he pulled out of a contract to open a restaurant in the about-to-be-launched Trump International Hotel, which sits in the old US postal building a few hundred metres from the White House. When Andres learnt that Donald Trump, who was then an aspiring Republican candidate, had called Mexican immigrants "rapists" and "criminals", he pulled the plug on the restaurant. After an acrimonious dispute, they settled out of court before Trump took office.
Andres continued to share his opinion with the American public. "You are full of shit, Sir!" he tweeted after Trump had said there were "fine people" among the neo-Nazi demonstrators in Charlottesville in 2017. "Nothing wrong with the country. Only thing wrong is you and your lies!"
How does Andres evaluate Trump's handling of the coronavirus crisis, I ask. For the first and last time, Andres speaks like a Washingtonian. A word from Trump could kill his bipartisan bill. "I decided through this pandemic that I will be mainly concentrating on the good things that everybody does because I believe people are going through real hardships," he said.
"I do believe a force for good will take over afterwards." – Jose Andres
I point out that the alacrity of Andres's humanitarian operation contrasted with the federal relief effort, which has been patchy at best. He prefers to talk about the failure of leadership everywhere. He says Africa is facing a plague of locusts that could wipe out its crops. Invasive bees are close to destroying America's native species, which could endanger US food production. Much like today's pandemic, threats such as these have been flagged globally for years. Yet we do nothing to forestall them.
"We have generals standing next to presidents in every country, but we don't see any food experts standing near them," Andres said. "If governments don't take care of food security and we leave it to the big private companies, we are going to be in for a very nasty surprise."
We have both finished eating. I suspect that Andres is somewhat fuller than me. He points his camera at Eurasia Cafe's co-owner David Edelen, who has briefly stepped on to the patio. "I had a feast," said Andres in mock operatic voice. "I had a feast."
But Andres is not nearly done talking. He tells me his charity has been delivering food to a hotel opposite the United Nations headquarters in New York. Nurses and doctors sleep there to avoid the risk of infecting their families back home. The UN building is empty, he tells me.
"Maybe they are Zooming or deciding things in meetings online, but I haven't heard anything they said or did," he said. "After this pandemic we need to really think about whether humanity is capable of finding real leaders, otherwise we are ******."
Can't he think of one good leader? Andres reflects for a moment. He mentions people outside government, including philanthropic partners in the US and around the world. Then he remembers Jacinda Ardern, New Zealand's prime minister. "She talked to children about the tooth fairy and the Easter bunny," he said. "When a leader can give you a message in such a compelling way, you know she is thinking about everything else."
"I know a lot say they're not going to be able to reopen but I argue the contrary. If you are a small business… you will be able to open, because you will sacrifice and do whatever it takes seven days a week." – Jose Andres
We began our lunch mid-afternoon, Catalonia-style. I know Andres has meals to distribute, and funds to raise, before driving back to DC. I ask him a final question. Did he always feel socially conscious? Or did it emerge only after he had succeeded as a restaurateur? "I felt it the moment I began sucking milk from my mother's breast," he replied. "In an unconscious way, every single person has knowledge of the world through the maternal nutrition that gives them life." Rich or poor, we all viscerally feel the importance of food.
"Sometimes the poor eat better than the rich because they give more value to what they eat and take more pride in special celebrations," Andres said. He quotes Brillat-Savarin, the 19th-century French culinary thinker: "Tell me what you eat and I will tell you what you are."
The most important meals are the ones we celebrate together, he added. "The whole of America completely stops for Thanksgiving. You feel the power of being surrounded by those you love. Even when the turkey is dry like hell, you will lie to everybody and say it's the best you have ever eaten."
It is time to press "leave meeting" on my Zoom window. Andres is still talking. I remind him gently that he has other things to do. Why do people say hello or goodbye by bumping their elbows when we are supposed to sneeze in the same place, he asks. "Which moron thought of that?" How do you say hi and goodbye during the pandemic, I ask.
Without pause, Andres stands up and bunches his right fist. Then he pounds his chest. "I give you my heart!" he said. "I give you my heart!" It is a strangely moving gesture. I have no doubt Andres is sincere. I part with new–found sympathy for Jurek's doubts about his objectivity.
By Edward Luce © 2020 The Financial Times