What does celebrity chef Nobu Matsuhisa like to eat when he returns from his travels?
Hint: He takes whatever his "private chef" cooks.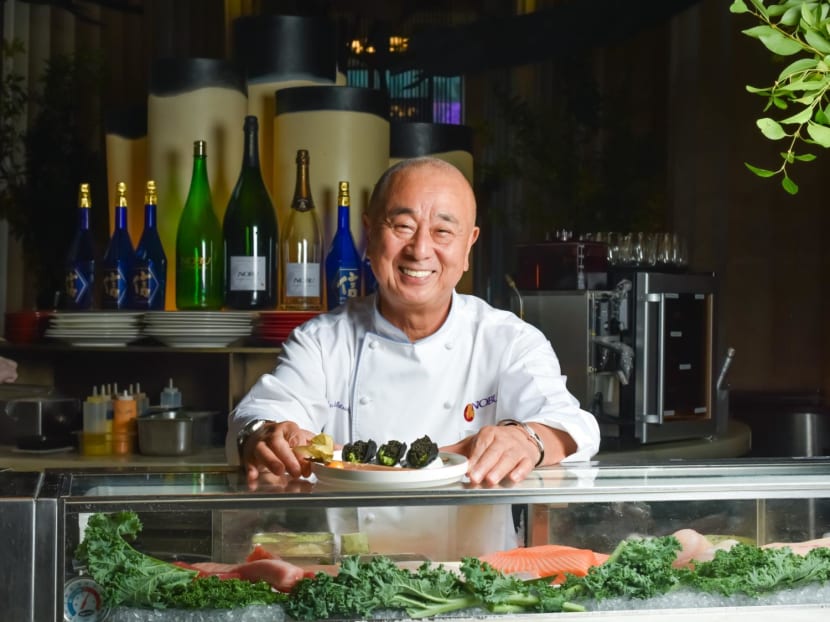 "I want white shoes, but Four Seasons gave me black ones. Don't you think white shoes would go better with my [chef] outfit?" said Nobu Matsuhisa in mock disappointment to me after we had exchanged greetings. He may be 73 years old and owns 51 Nobu restaurants all over the world, including the latest outpost in Four Seasons Hotel Singapore, but Matsuhisa still has a spring in his step, a friendly smile and a sense of humour that belie his age and celebrity status.
Matsuhisa is not ready to retire yet, despite having gone through myriad setbacks including bankruptcy, a restaurant that burnt down 50 days after opening, and being on the brink of suicide, before reaching the recognition he has today. And he has not lost the zest for life and appreciation of family either.
He said: "We started as a 'papa mama' restaurant [the 38-seater Matsuhisa in Los Angeles] before slowly growing to over 50 Nobu restaurants around the world. They are like my kids; I like to see my family all over the world, that's why I keep travelling."
Despite the global expansion, Matsuhisa wants to keep the "mom-and-pop" feel of Nobu. The recipes and crockery are standardised throughout the restaurants with several dishes unique to each destination. Despite numerous accolades including Michelin stars for outlets such as Nobu London, Nobu Las Vegas and Nobu San Diego, he says he never sets out to win awards.
"You can enjoy Michelin-style food, but you can't eat it every day," he said wryly. "The Nobu dish is very simple — best produce, simple cooking, simple presentation, and the taste is clean." The restaurant's most famous dishes such as the miso-glazed cod, yellowtail jalepeno and whitefish tiradito all rest on this principle.
Customers can put in special requests even if it's not on the menu, as long as the ingredients are available. Case in point: A Nobu London regular once requested for octopus sashimi with jalapeno dressing from the Singapore restaurant, which didn't have the dish on its menu. The team promptly found the recipe and recreated it to a tee.
In between sharing the next Nobu plans (three to four more openings, including in Thailand and Vietnam, are in the pipeline) and his distaste for the word "fusion" ("Fusion food causes confusion"), he reveals he has a private chef at home. As I took a moment to digest the privileges of the rich and famous, he added with a chuckle: "She is my wife."
Whenever he returns from his travels, Mrs Yoko Matsuhisa would always have the perfect panacea: A light bowl of noodles or a traditional Japanese meal of grilled fish, steamed rice and pickles. Matsuhisa shared: "She's not a professional chef. She's a mother and cooks like any mother would for her kids. We've been married for a long time; she knows my taste. Any cooking that is made with the heart, makes someone comfortable, I appreciate it."
This philosophy of heartfelt cooking comes up often in our conversation. When asked if he could share a few culinary hacks to CNA readers, he paused for a moment before relating an incident where his other half had accidentally put too much salt in an omelette. He ate it anyway. He shared: "It didn't taste good, but it felt good; I could feel her heart. So [at home], even if you make a mistake in the ingredients, as long you make someone feel good, it doesn't matter."
The desire to personally impart his philosophy of sparking joy in his customers motivates Matsuhisa to be on the road for up to 10 months a year. He trains his chefs to observe the reactions of diners during service, but acknowledges that coming from different cultural backgrounds, some chefs catch the nuances quicker than others. Also, when things get busy at the restaurants, efficiency is often prioritised. He is thus happy that Nobu Singapore can have a Chef's Table, the first among his restaurants, for intimate interactions with diners.
These days, besides conquering the world, Matsuhisa wants to conquer the hearts of his grandchildren over his home-style sushi bar whenever they visit him in his Los Angeles and Tokyo homes. He said: "My daughters know what I want but my grandkids don't. I want to spend time with them as much as possible to introduce them to my philosophy."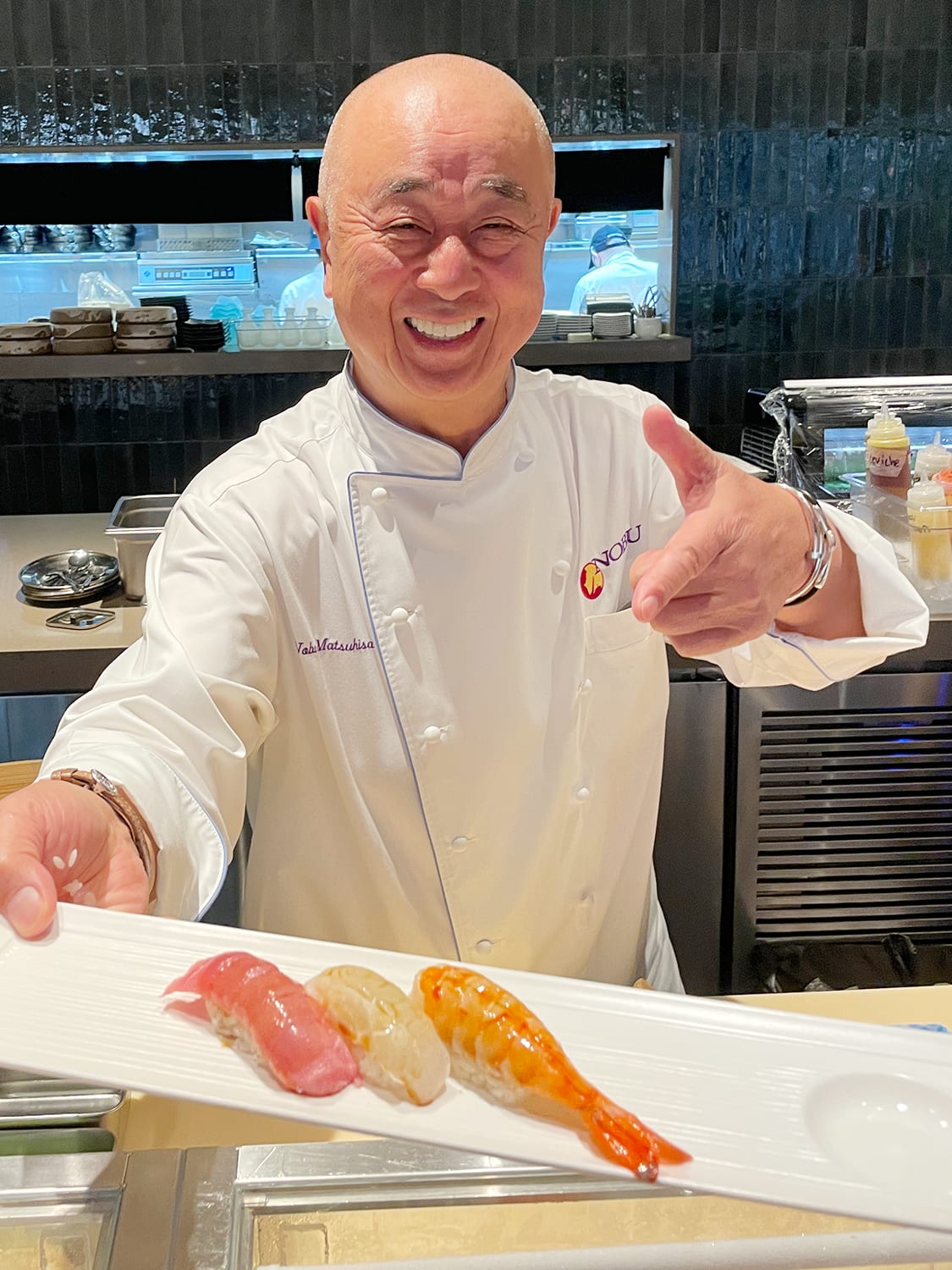 After the interview, I had the opportunity to watch Matsuhisa make sushi in Nobu Singapore's kitchen. To my surprise he handed me the tray containing three pieces of sushi, saying: "This is for you!" I savoured every bite of the warm vinegared rice topped with chutoro, ebi and squid—possibly the most precious sushi I've ever eaten.
"Do you feel my heart as you eat it?" Matsuhisa asked, looking at me intently as he tapped the left side of his chest. I most certainly did, chef, I most certainly did.