Chef Ivan Brehm from Michelin-starred Nouri is on a mission to soothe an unjust world, one guest at a time
His delicate culinary creations hold volumes of history and ample evidence of our common humanity.
The "sushi" arrives on a platform plate, its surface inscribed with auspicious symbols of prosperity from Buddhist and Taoist traditions. "This is our ode to Singapore's national dish, sushi," joked the front of house staffer at Michelin-starred Nouri.

Upon closer look, the morsel is hardly a piece of sushi but a stacked layer of thought-provoking elegance that symbolises the journey of how sushi came to be. After all, the ubiquitous dish had its beginnings in Southeast Asia as a means to preserve fish before travelling northeast with the spread of Buddhism. First, a halved idli is placed at the base while a perfectly rectangular piece of fatty, pickled Japanese sardine crowned with shiso flowers sits at the top. Somewhere in this mix is a taste of prahok, Cambodia's fermented fish paste. A slice of pickled cucumber is wedged in between and when eaten together as a whole, the taste of sushi is unmistakable.

In yet another course, five delicately folded and pinched dumplings bob in an amber consomme as clear as an autumn sunset. Once on the table, chef Ivan Brehm explained that dumplings as we know it have travelled across continents from the mantou of China to the manti of Turkic regions. And then in some odd and almost fantastical twist, he brandished a small yellow flower from Brazil with the tongue-numbing properties of Sichuan peppercorns.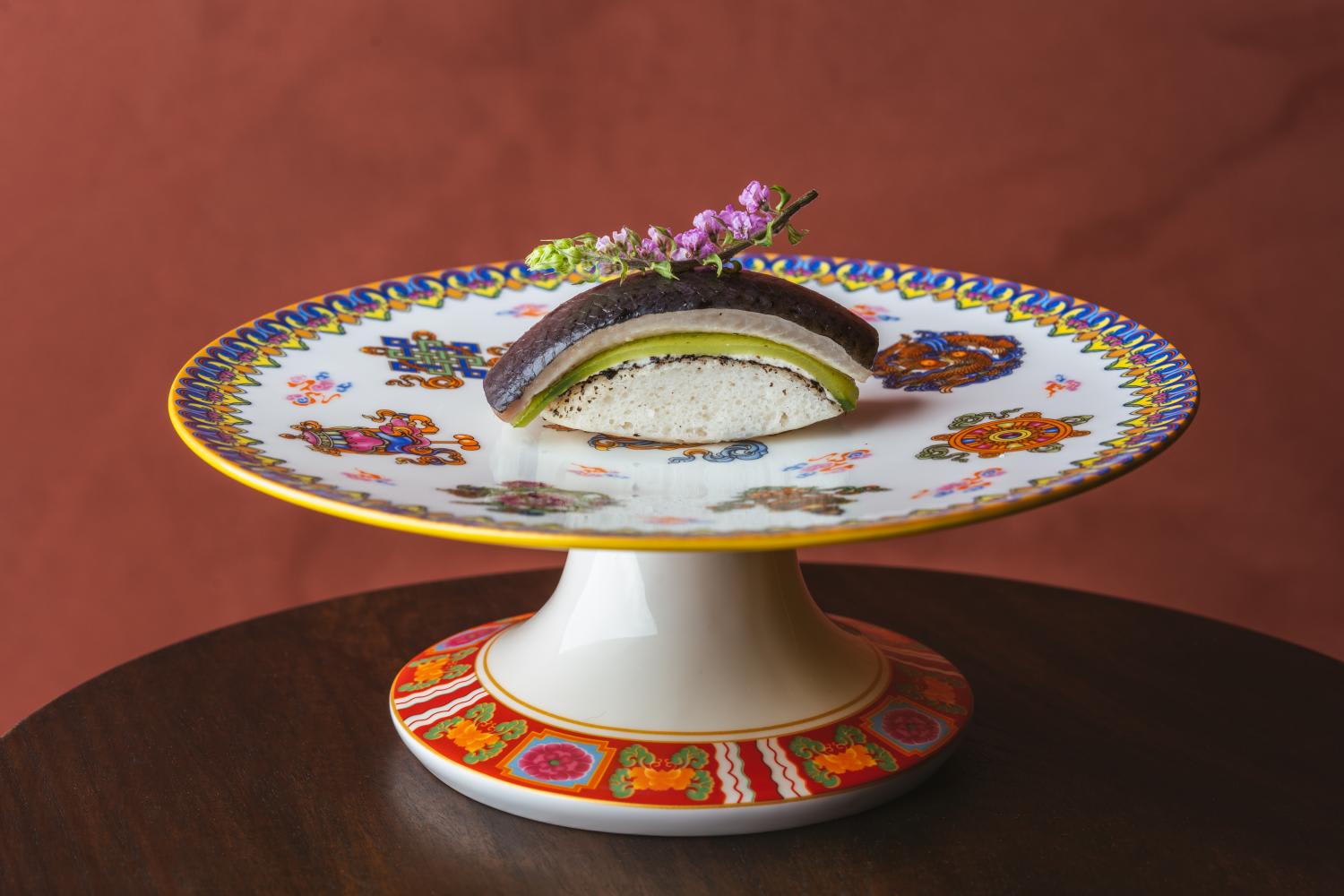 "Crush this flower, eat it," he said with all seriousness, "And you'll feel that your entire palate transforms the broth almost into a mala hotpot."

The two dishes are a snapshot of the Brazil-born chef's groundbreaking dinner menu, conceived after five years of operating Nouri on Amoy Street. He has sharpened his main thrust: To present dishes that tell the story that what we eat today is the result of the movement of ideas over millennia, made possible only through the connections forged between people.

While on the surface, he is the chef of one-Michelin-starred Nouri and the brains behind interdisciplinary space Appetite, but dig a little deeper and one would find a thought leader and activist presiding within the golden glow of the restaurant's pass.

His goal at Nouri is to highlight that every culture, regardless of origin, is connected through a gossamer web of culinary ideas — that humanity as a whole has more in common than most realise.
The message is a soothing balm for a world still sore from the ravages of the pandemic, when wars threaten to topple the carefully laid dominos of peace and when racial hostility makes more headlines than human dignity. It's also a step away from an entire genre of chefs who seem more interested in plating up their childhoods and an anomaly for a restaurant in Singapore to eschew chasing trends.
Lofty? Perhaps. After all, uniting the world within the confines of a restaurant one guest at a time is like chipping away at an iceberg with a toothpick.

But what could possibly possess a chef to tread this path and at the end of the day, does it really matter?
THE BRAIN MAKES THE MAN
While food is one big way in which Brehm's Crossroads Thinking is expressed, its name points to a cerebral origin that he attributes to his upbringing. First, his own heritage: He is part Italian, Spanish, Syrian, Lebanese, Russian and German — an amalgamation of the communities in Brazil, which is the result of over 200 years of immigration from Europe, Africa, countries ruled by the former Ottoman Empire, as well as East Asia.

Then, to the influence of his maternal grandfather and grandmother whom he visited for family gatherings on weekends in Vinhedo, a countryside municipality in Sao Paulo.
"My maternal grandmother is a tremendous cook, and food was always at the epicentre of all of those gatherings," said the chef. He also had his first taste of restaurants at a young age, as his mother, a busy lawyer, would take him out to eat as she didn't cook much at home. His first experience was as a one-year-old at a Japanese restaurant below his home, run by Japanese-Brazilians.
But the figure who truly awakened and sharpened his way of seeing the world was his grandfather. The sagely patriarch wore many hats and he was, in Brehm's words, "the centre of that family structure and a beacon of light".
Buoyed by his training as a lawyer, Brehm's grandfather also dabbled in a multitude of industries, from opening Brazil's first financial newspaper to marketing consultancy for political campaigns. He was a man who cared deeply about Brazil's illiteracy rate, homelessness and joblessness who raised a generation of younger family members conscious of the social climate and how power and politics influences everybody's lives.
This was a family of lawyers and intellectual revolutionaries who sought to better the country. Dinner table conversation revolved around "people expressing their opinions and debating them" to truly hone their intellectual upbringing.
"THE WHOLE HOUSE FELL APART"
Then at the age of 16, a teenaged Brehm flipped open a magazine which changed his life. There, he saw a picture of a female chef holding a big whisk and grinning wider than the Cheshire cat. It was an image forever seared into his mind.

"It was an ad for the Cordon Bleu and there was an expression of pride on her face,'" he recalled. It was a world of difference from his childhood impression of lawyers as serious people with stiff upper lips. "Growing up, I never saw lawyers smile. When I told my mother that I wanted to be a chef, the whole house fell apart."

In her eyes, chefs weren't exactly the most prestigious of careers. "My grandfather told me to basically get a real job, make a lot of money. And then cook at home," he laughed.

His family eventually came around in support and sent him to the Culinary Institute of America in New York. In time, he passed through the doors of some of the most legendary restaurants. That included the likes of Per Se, Mugaritz, and Hibiscus in London before ending up at The Fat Duck — one of the most important fine dining establishments to emerge out of the United Kingdom led by Heston Blumenthal.
It was at The Fat Duck that his culinary approach today came into focus. As the Development Chef, a big part of his job scope was to research and develop British cuisine, which had him poring through materials from the British Library that dated back to the Middle Ages.
"Heston's thing was that he wanted to prove to the world that Great Britain was a place that was relevant, and that English food was not crap," explained the chef. "He took great offence to that."

"Yet, every time I had to read something and make a dish out of it, I kept stumbling on the notion that everything that I was reading came from somewhere else."
He cited rice pudding for instance, where a recipe dating back to the 1300s used ginger and galangal. "We're talking about the Britishness of a rice pudding that is ancient, and yet the ingredients in this dish —  including rice — are not English. It makes zero sense — how can we argue for an identity when it's totally shaped by everything else?"
That question lurked at the back of his mind for years, following him even as he moved to Singapore in 2013 to set up Bacchanalia at the Freemasons Hall. By 2017, he was ready to move back to Brazil and open a restaurant until he received a call from Loh Lik Peng from Unlisted Collection.

"It was the day that I was leaving Singapore and the opportunity appeared to open a new restaurant," he said. He started planning the restaurant from afar and arrived in Singapore while the new space was under construction. There was just one problem: He didn't have a name nor concept.
"Within three weeks, the whole restaurant was done and it didn't even have an identity. I was still trying to figure out what we were going to cook."

It was when he had a brutally cold encounter with a stranger at an elevator that inspiration struck.
"I said good morning three times to the person, and she turned her back to me to face the wall and ignored me deliberately," he said. "It wasn't so much her but what the action represented. I realised then that we need to talk about humanity and our interconnectedness through food."
"I came back after doing R&D for the menu and said to my wife, 'I know what we're going to do. We're going to make food that talks about this disconnect and tries to reconnect.'"

With that, in the middle of one of the most exciting gastronomic centres of Asia, Crossroads Thinking was born.
THE ROOT OF ALL LIFE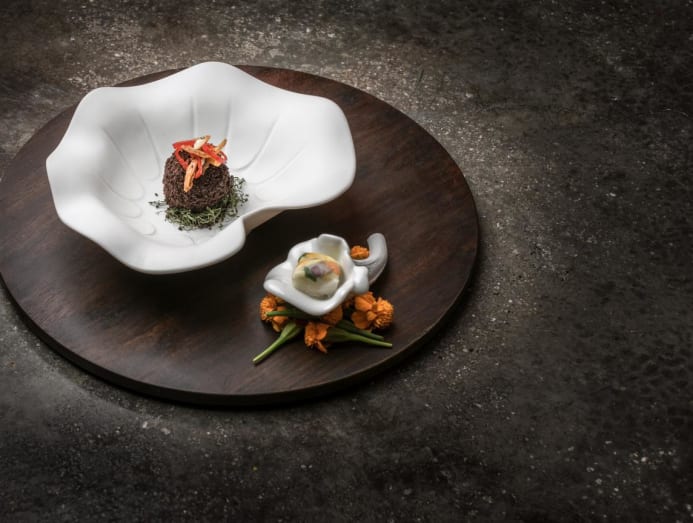 It's a lofty attempt to fix what he thinks is the main flaw in humanity: The lack of connection.
"The injustice we see, racism, inequality, the ongoing war in Ukraine — I see all of those things as the expression of the same flaw."

Perhaps the 40-year-old chef hadn't realised it, but re-envisioning sushi to demonstrate its historical journey was life going full circle — after all, his first clear food memory was of the Japanese restaurant below his house in Sao Paulo
"The sushi dish is not just a conversation about sushi, but also conversation about identity, and how necessary every community is to one another," he explained.
The process is meticulously documented on his website put together by his team of in-house researchers. "The need to preserve quickly-rotting fish for scarce periods gave rise to the development of narezushi," it stated. "[It] arose in the third century in the Mekong Basin due to the cyclical seasons of fish abundance and deficiency, as well as the availability of salt and rice."
In an age rife with divisions and a country eager to chase the next flashy dining trend, Nouri was the sort of place one would go to learn and contemplate the meaning behind each dish.

His grandfather is now 92 and whom Brehm described as "sharp as a freaking sword", would've been immensely proud.
"I had the opportunity to show my grandfather the work, the research, the connections and it was very rewarding to see him get excited."

It's a far cry from a teenager whose house once "fell apart" when he announced he wanted to be a chef.
"The world is in this complicated state because we gave up caring for it," he said. His task now as a chef, culinary authority and accidental activist, is to get people to see humanity in another person's eyes.