Mega car collector: Meet the Malaysian tycoon who bought 3 Bugattis in Singapore
Businessman Chin Jit Pyng has a museum-worthy car collection, including vintage automobiles from the James Bond and The Godfather films – in addition to his fleet of Ferraris, Lamborghinis and McLarens. Read on to find out which of his cars made cameos in Crazy Rich Asians.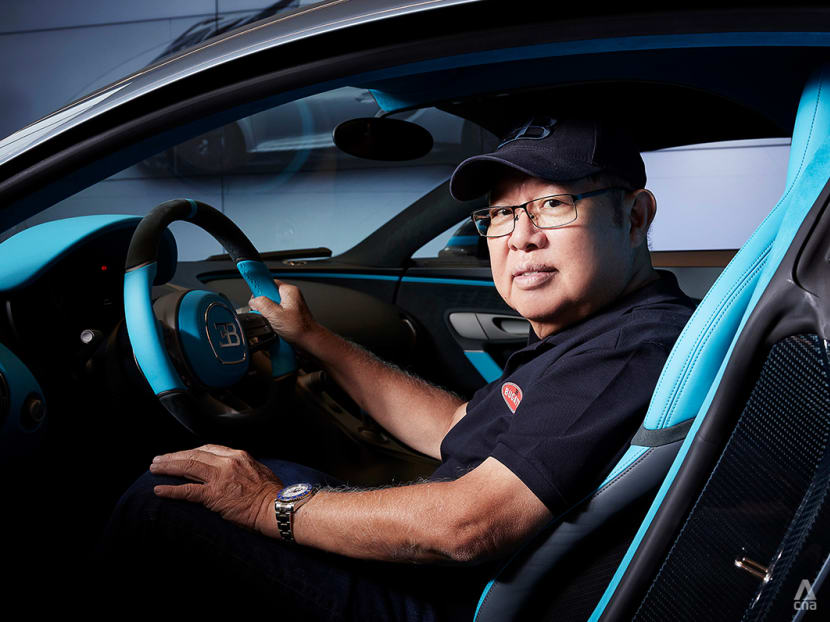 Malaysian tycoon Chin Jit Pyng, or JP Chin as he is more commonly known in his hometown of Kuala Lumpur, can pinpoint the exact moment when, as a young boy, he decided he would one day amass a car collection of his dreams.
"I don't come from a rich family so when my father couldn't even buy a new car in his time, I would tell myself that if I made it one day, I want to buy all the cars," he offered candidly.
One incident in particular stood out. "I remember my father had a Fiat 1100 T with the 'suicide door' and I would wash the inside by hosing the floor and the water would just leak out. So when my father wanted to buy a Ford Escort station wagon, I said 'Thank God'. But it was a false hope as he didn't buy it in the end."
Hope crushed, it ignited in Chin a burning desire to be able to one day easily afford what his father could not.
Ranking well on the likeability factor, the 66-year-old businessman has an affable, easygoing air about him – and quite a knack for storytelling.
NOT JUST ANY TOM, DICK OR HARRY
I'm seated bumper-to-bumper with the founding partner of Silverlake Innovation Partners, whose IT solutions powers major financial institutions across Malaysia, and his latest automotive acquisition: A US$5.7 million (S$7.7 million) (unregistered) Bugatti Divo on display at the French hypercar manufacturer's first showroom that opened in Singapore last August.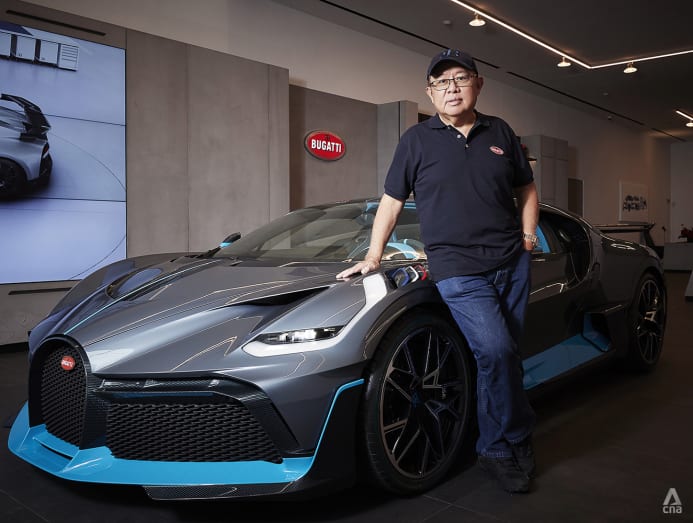 In fact, the gleaming 8-litre beauty arrived in June but this is the first time Chin is seeing her in the flesh, having touched down in Singapore the day before, three weeks after the Singapore-Malaysia Vaccinated Travel Lane (VTL) was announced.
Sitting silently in the showroom, the Divo is one of only 40 units produced and Chin's Divo is reportedly the only one of its kind in all of Southeast Asia.
Its interior is swathed in Bugatti's signature French racing blue, and all present can't help nodding in agreement as we remarked how remarkably similar in hue it is to the Patek Philippe Tiffany Blue Nautilus that made headlines for netting US$6.5 million at auction just days before this interview.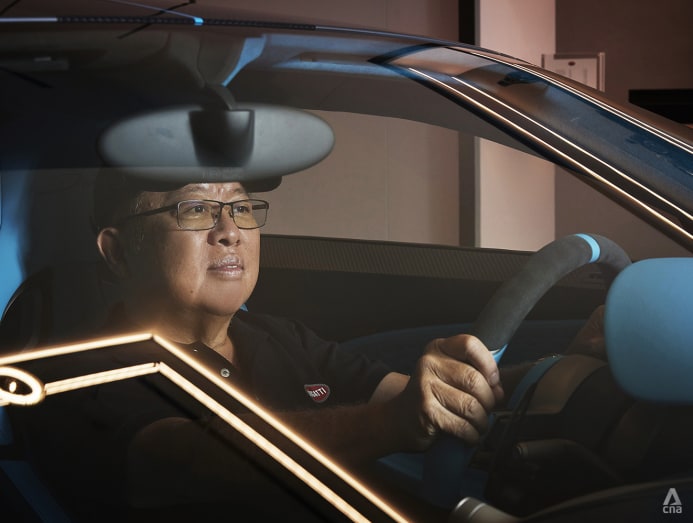 In the history of Chin's car collecting, the Divo represents the current "hypercar season", which began three years ago when he received delivery of the Bugatti Chiron. And he has since booked his third Bugatti: The Bolide, a track-only hyper sports car touted as a pur sang powerhouse with a 8.0-litre W16 engine, to be delivered in 2024.
All show horses, of course, as Bugatti only produces left-hand drives and therefore can never be legally driven on Singapore roads. But he may, at some point, move them over to Malaysia, where left-hand drives can technically be registered and driven – because "Malaysia boleh".
"Even if you have the money, not any Tom, Dick and Harry can buy a Bugatti. It's only a very select group that's given the allocation, and the unwritten rule is that you have to have two Bugattis before you are allowed to have one," he explained.
How does that compute?
Well, Chin believes it was his strong repute as a collector of other high-value performance cars that "qualified" him for the Chiron.
"I was probably the first guy in Southeast Asia to have the Ferrari Enzo back in 2003, and I also have the McLaren P1, and obviously I collect Lamborghinis as well," he said.
On invitation by Bugatti, Chin test-drove the Chiron in Portugal accompanied by his youngest son, and subsequently placed his order for the US$2.6 million racing machine in 2016.
"It was amazing," he said, recalling the experience. "People say this is the fastest car in the world and so it must be very intimidating to drive. I have the Ferraris and McLarens and I know how aggressive those cars are and not everybody can drive them. But when I jumped into the Chiron, I was amazed at how easy it was to drive."
"Getting the car to 250km/h was no sweat and you don't feel it. My son managed to clock 355km/h on the Portuguese highway, breaking my record. In my family, I have a record of 341km/h on the Malaysian highway in a Lamborghini so he beat me at that speed, but I still hold the record in Malaysia," Chin said, revealing a bit of a competitive edge.
"I LIKE FAST THINGS"
Cars and racing, in particular, have been the vehicle through which Chin bonds with his three sons.
"I like fast things. I tried golf but gave it up. I cannot tahan golf because it's too slow for me so I went into racing. And I force my children to race because when they were young, they didn't like cars so I didn't know how to bond with them. But I knew they were competitive so I pulled my eldest son into racing first in the BMW single-seater race and so on," he shared.
Chin and sons have been regular fixtures at the annual Sepang 12 Hours (formerly known as the Malaysia Merdeka Endurance Race and Merdeka Millennium Endurance Race) endurance races, participating under their own JPM Motorsport team.
"We made it to the podium probably every year in our 10 years of racing. In many ways, the cars have helped me create bonding time and a lot of enjoyment with my family.  Only my youngest hasn't gotten a chance to race," he noted, hoping to share these passions with his six grandchildren once they're older.
THE BEETLE THAT STARTED IT ALL
It all began with a humble beetle. The first vehicle in Chin's enviable collection was a 1970 Volkswagen Beetle, which he acquired in 1986. It wasn't expensive nor impressive, but what it had was character.
"In those days, you could call a Volkswagen junk or a collector's item. I recall a friend saying at the time that collecting a Volkswagen is like telling people you have special taste. And I couldn't afford a Porsche then so I modified my Volkswagen to look like a Porsche but it was a stupid thing to do," he shared with refreshing candour.
In time, Chin's success in business enabled him to acquire a fleet of cars and the very first sports car he bought was a Porsche Boxster. He also has a Porsche 918 Spyder currently residing alongside his two Bugattis at Wearnes Automotive's Bonded Gallery, a S$30 million, climate-controlled storage facility in Singapore, located in the vicinity of the Bugatti showroom.
He also gained prominence among motoring enthusiasts in the region for having purchased the first Lamborghini Murcielago in Southeast Asia.
"It was a fantastic car. I fell in love with it and went to the dealer and traded in my Ferrari and just took the car home," he recalled.
These days, Chin prefers to collect cars in their "original form", and his interest ebbs and flows thematically, like the current hypercar theme, and not by price category.
"I don't like to modify or customise it to my own liking. If it's a particular brand, then I would follow the colours of that brand. That's how I collect cars now," he said.
His Bugatti Chiron, for instance, also comes with a brand-signature French racing blue interior with just one customised component: A plaque inscribed with the letters JPM – the initials of his three children –  to commemorate his very first Bugatti investment.
Yes, investment.
"From an investment point of view, I believe that collecting cars that are unique would carry some investment value moving forward, and I believe that most of the cars I've collected to date do have some price increase in value," said Chin, who is also CEO of Malaysian real estate developer Symphony Life and sits on the boards of several other organisations including property developer PanGlobal.
On work days, Chin is chauffeured in either his Bentley Flying Spur or Rolls-Royce Ghost, and when he drives himself, he often opts for – believe it or not – his made-in-Malaysia Proton X50 or Proton X70.
"It's easy to drive and you don't get a lot of attention on the roads. When you drive expensive cars, people will look at you and the worst part is having to worry about your car getting scratched when you leave it in a carpark," he explained.
A MUSEUM-WORTHY COLLECTION
In addition to the sports cars and supercars, Chin's prized collection also includes a selection of classic cars – the oldest of which is a 1915 Ford Model T. All in, the collection numbers between 60 and 100 vehicles at any time.
These are displayed at Chin's own JPM Museum in Kuala Lumpur, where his collection of about 30 to 40 motorcycles, bicycles and even toy cars are also showcased.
"Other than the sultans and royalty, not many people in Malaysia have that sort of collection," he reckoned.
The collection also features a "Movie Theme" comprising about 10 to 15 cars that have starred in famous films like the James Bond franchise and The Godfather series.
Another iconic piece in his collection is the Ferrari 308 GTB from the 1970s.  "When I was a student, I watched Tom Selleck drive the Ferrari in Magnum PI and I said 'Ahh, that is the car I want'. And I wanted it for many years until I finally managed to get one," he recalled, with a smile.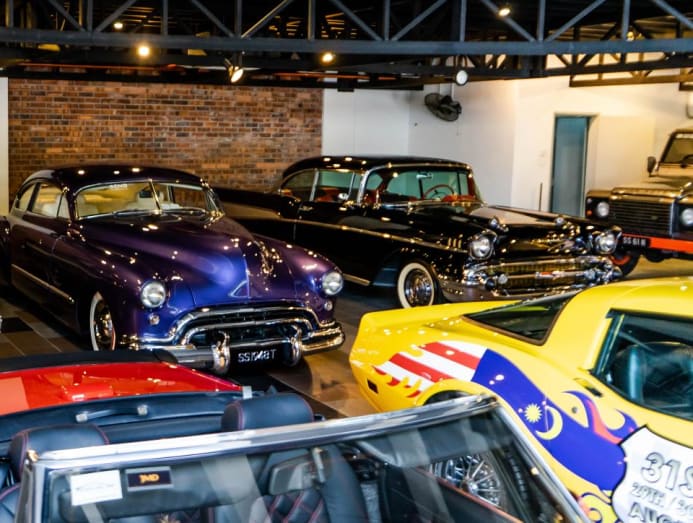 Yet another movie icon of the automobile variety in Chin's possession is the DeLorean with its trademark gull-wing doors that Michael J Fox first travelled Back To The Future in in 1985.
"Those that get a bit of reaction from people, I'm proud to have them there," he said.
Located in Kota Damansara in Petaling Jaya, about 20 minutes from KL city centre, the museum is not open to the public except for special occasions like for the annual Open House Chin used to hold during Chinese New Year, receiving up to 600 visitors (pre-COVID-19, of course), and on request such as for school excursions, for example.
Otherwise, Chin's private collection is reserved for exclusive viewing among personal friends, friends of friends, and "the rich and famous".
"It's also a platform for networking," he said.
THOSE CARS IN CRAZY RICH ASIANS
Word has it that when Crazy Rich Asians was filming in Singapore and Malaysia, the production team reached out to Chin, hoping his fancy rides would lend more flash to the film.
"They wanted my McLaren P1 but because it's so expensive, I gave them a ridiculous rental of €80,000 (S$119,000) per day and they backed off," he said.
Eventually, four of Chin's cars made cameos in the 2018 film, including a Ferrari F430 and the Ford GT 40 that was parked in the aircraft hangar scene before Nick and friends flew off for Colin's outrageous bachelor party aboard a container ship in the middle of the ocean.
Now that the movie was such a spectacular hit no one saw coming, perhaps the producers might circle back to Chin when filming the sequel, and we might all get a glimpse of his McLaren P1, after all.