How Chye Seng Huat's founder Leon Foo is building an empire out of coffee
After starting a coffee wholesale business and opening several coffee shops in Singapore and Kuala Lumpur, Leon Foo's latest venture is an Internet of Things-enabled (IoT) coffee machine that aims to change the experience for home brewers.  
There is something about coffee. It's the first thing we crave when we awake in the morning. It's the solution for a midday slump. It's the beverage we get when we're out with friends. For many, coffee is something we simply can't live without.  
Leon Foo, 40, has built an entire career out of coffee. "Coffee is a bit funny, right? Some people say it's a beverage, some people say it's a social tool. Some people say it's a drug," mused Foo. "When I was looking at coffee, I wondered, why are people so crazy about it? But the more I discover, the more I fall in love with it."
Prior to starting his coffee business, Foo was working in audit and corporate finance. But the 2008 financial crisis brought about some self-reflection. "There was a push and pull [factor] and I felt that I should do something more purpose and passion driven, instead of just being a number in the system. But I didn't want to just make coffee; I wanted to start a coffee company," he shared.
Today, Foo is known as one of the pioneers of Singapore's third wave coffee scene. In 2009, he founded Papa Palheta, a coffee roasting and wholesale business that supplies to cafes and restaurants. The business eventually expanded to F&B when Foo opened Chye Seng Huat Hardware in 2012, a cafe and coffee shop that, a decade later, still retains its popularity. The cafe was bustling when CNA Luxury visited on a weekday afternoon for this interview.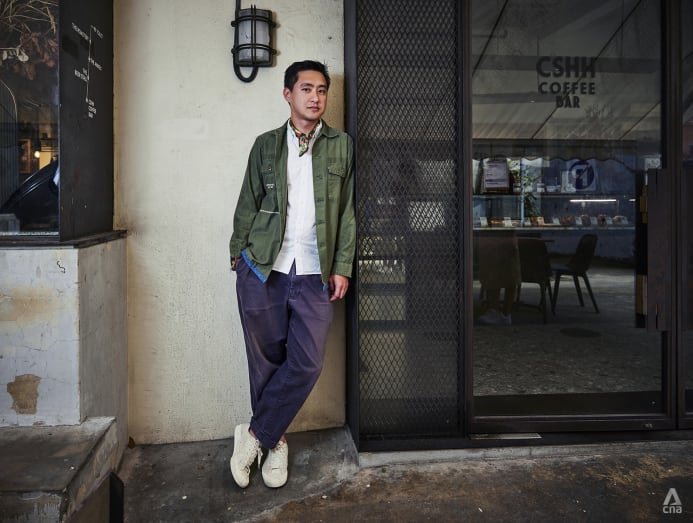 Papa Palheta – now rebranded as PPP Coffee – also owns and operates another coffee shop in Singapore's Funan mall, and Pulp cafe in Kuala Lumpur, Malaysia. That's not all. The company also imports, distributes and sells coffee equipment – from espresso machines to coffee grinders – from leading brands.
It's a big business, but in recent years, Foo is focused on growing Morning, the coffee capsule machine start-up he founded with Andre Chanco, who has since departed the company. Following Chanco's departure, manufacturing expert Bowen Chiou joined the company as co-founder.
Described as a coffee tech company, Morning operates an ecosystem that includes a tech and IoT-enabled coffee machine, a marketplace for specialty coffee capsules and an app with built-in recipes to allow users to brew cafe-grade coffee at home.
BREWING WITH TECHNOLOGY
We are seated in one of the rooms on the upper level of Chye Seng Huat Hardware, away from the buzz happening downstairs. Foo is fashionably dressed in a green jacket, white shirt, purple pants and – as a final flourish – a floral scarf tied around his neck.
"Somewhere in 2018, we noticed that there was a gap in the market in the convenient coffee space with capsules," Foo recalled. The patents for Nespresso's aluminum coffee pods had begun expiring in 2011. Coffee roasters around the world then started to package their coffees in capsules. "But the market was super fragmented. There was no machine that could do justice to these really good coffee capsules. In fact, homebrewers were struggling to fully extract the flavours. So we put two and two together and eventually made a [coffee] machine."
The Morning coffee machine was first introduced as a Kickstarter project in September 2020. Foo admits there were naysayers in the beginning. Eight out of 10 people thought he was crazy, he shared. "Some people questioned: You want to take on Nespresso? I didn't say I wanted to take on Nespresso; I wanted to improve on what has already been built."
What sets the Morning coffee machine apart from others on the market are its technological features that afford users full control over their brew. A built-in scale allows for accuracy and precision, while proportional-integral derivative (PID) temperature controls allow users to manipulate and optimise temperature according to their flavour preferences.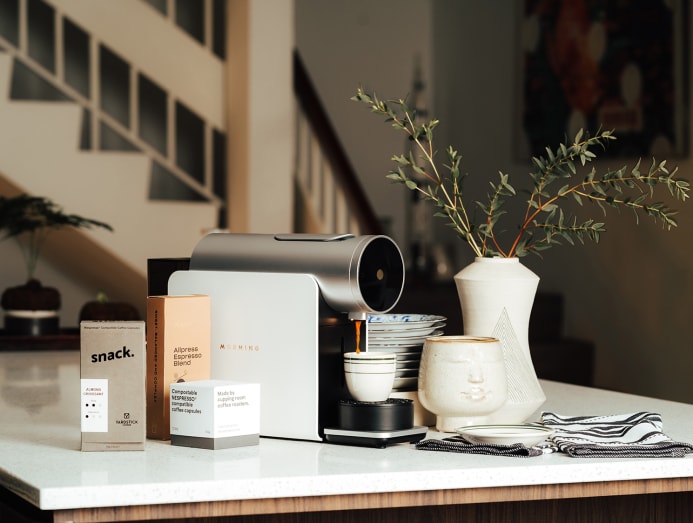 The machine, which retails online for S$510, also features built-in recipes from some of the most revered specialty coffee roasting companies worldwide. A Morning mobile application provides users with access to a repository of recipes developed by partner roasters. Through the Morning Marketplace, brewers can also purchase a wide variety of coffee pods from specialty roasters in cities such as Hong Kong, Singapore, Melbourne, Sydney, London and more.
Since the company's official launch in mid-2021, it claims to have sold thousands of its machines in almost 30 countries. Foo attributes the growth of the homebrewer market to the pandemic, when people began consuming a lot more coffee at home. "Now, your home is never complete until you have a coffee machine," he said.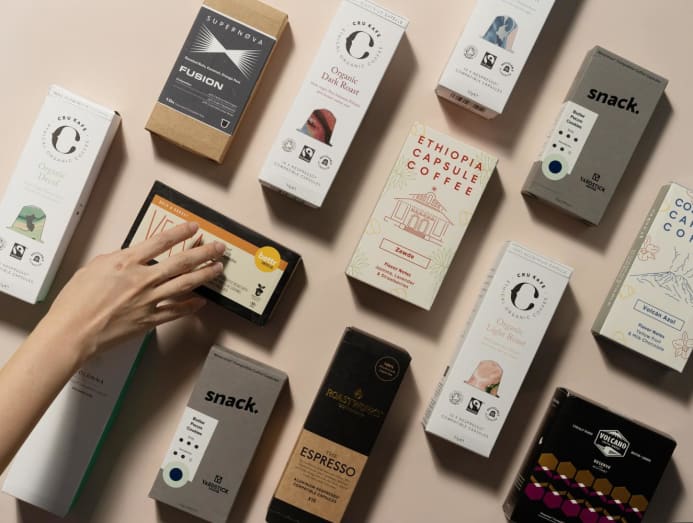 In June 2022, the company announced that it raised US$5 million (S$7 million) in a Series A round led by Indonesian venture capital firm, East Ventures. Other notable investors included zVentures (the corporate venture arm of Razer), P9 Capital and Wee Teng Wen, co-founder of The Lo & Behold Group.
While the announcement may "seem to be a success", Foo describes the funding round as "the beginning of something". "I'd rather get a congratulations later because if I use the fund correctly, I can reach a certain goal," he remarked. "You asked me what's next? Execution."
The fund will be utilised on two fronts. The company will develop and diversify its products offerings centred around the homebrewer but Foo kept mum on exact details. "We're not going to create just another product. We're going to create products that make a difference, that challenge the status quo and improve the experience for home drinkers," he teased.
The company will also expand its presence globally. "By the end of the year, we will be in three markets, Singapore, UK and Australia."
GREEN PRACTICES
Since the early days of PPP Coffee, Foo has been championing sustainability efforts in the coffee industry. The company practises ethical sourcing for its coffee, where every bean can be traced back to its farm. Foo himself has visited several coffee farms, even those in far-flung locations such as Ethiopia and Panama. The company only works with farms that have sustainable practices in place when it comes to coffee production, waste management and implementation of minimum wage.
When it comes to Morning, "sustainability is very important, but we do get a lot of attention because of capsules", Foo admitted. The company only works with partners who implement responsible sourcing and sell only compostable or recyclable capsules. To encourage responsible disposal, consumers can purchase tools such as the UPress on the Morning Marketplace, a capsule recycler that separates coffee grounds from the aluminum pods.
But Foo is cognisant about balancing company growth and sustainability. "In business, it's all about timing," he commented. "Some people can take the leap, but not everybody can afford to. Especially for SMEs and start-ups, we still need to be prudent."
AN EMOTIONALLY REWARDING JOURNEY
With so much of his time now focused on Morning, Foo has handed over the management of Chye Seng Huat Hardware to the company's next generation of leaders. In recent years, given Singapore's thriving and competitive coffee scene, Chye Seng Huat has been leveraging on its location and space to host community events. "You can't always be the new kid on the block, we know that. Hence, we have been trying to position Chye Seng Huat a bit different over the years," said Foo.
The cafe has hosted wine nights, music festivals, food pop-ups, movie screenings, farmers' markets and more. It will soon launch educational private guided tours at its roastery for guests to discover how coffee is made from bean to cup.
So how does a coffee entrepreneur enjoy his cuppa? "I used to enjoy coffee with friends, but recently I like to have a cup of coffee alone," Foo chuckled. "The best time to have coffee is in the morning by myself. I don't look at my phone; I just collect my thoughts, drink the coffee and boom, I go. But because I have three kids, that moment is hard."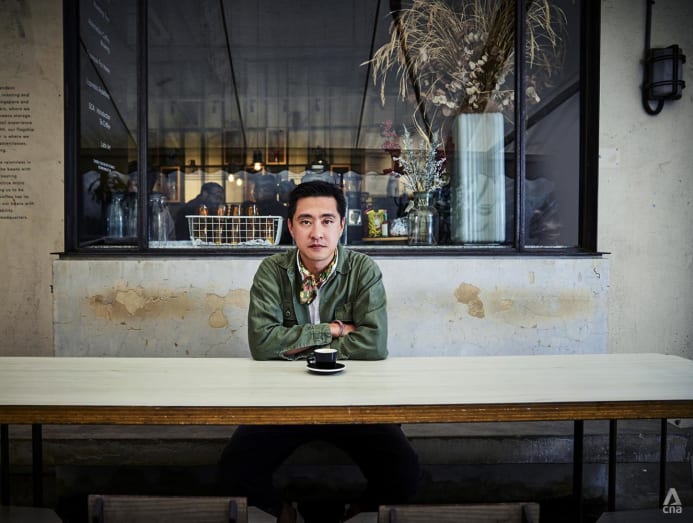 Sometimes, Foo makes his coffee together with his children, or gets them to make it for him. "That's not my best cup, but it's my most fulfilling," he shared. His five-year-old daughter, in particular, is fond of preparing coffee for him. "She will prepare the AeroPress [coffee maker] for me. She gets really excited. She takes out the scale, the stirrer. She takes a stool and puts it at the counter. She'll pour the coffee beans into the grinder, put it into the AeroPress, pour the water, then press with me. When I tell her she has made coffee for me, there's this pride that she has."
On what he finds the most fulfilling about his job, Foo mused: "The truth is, coffee is a very rewarding industry. Not monetarily, but emotionally."
It is the people he has met along the way that have left an impact. "I've been to farms in places like Costa Rica, Panama, Ethiopia. I've been to factories in China. I've visited famous coffee brands in Milan and Florence," said Foo. "Coffee makes people feel good, and people feel good making coffee. It's that sense of empowerment that people get from making [a good cup of coffee] that I think is the most rewarding."