There is no one way to be beautiful. That is why this CEO is disrupting the definition of beauty standards in the industry
It starts with being fearlessly kind, said Sue Y Nabi, global CEO of beauty conglomerate Coty Inc. Because it defines the narrative of how things are done, and the possibilities are limitless.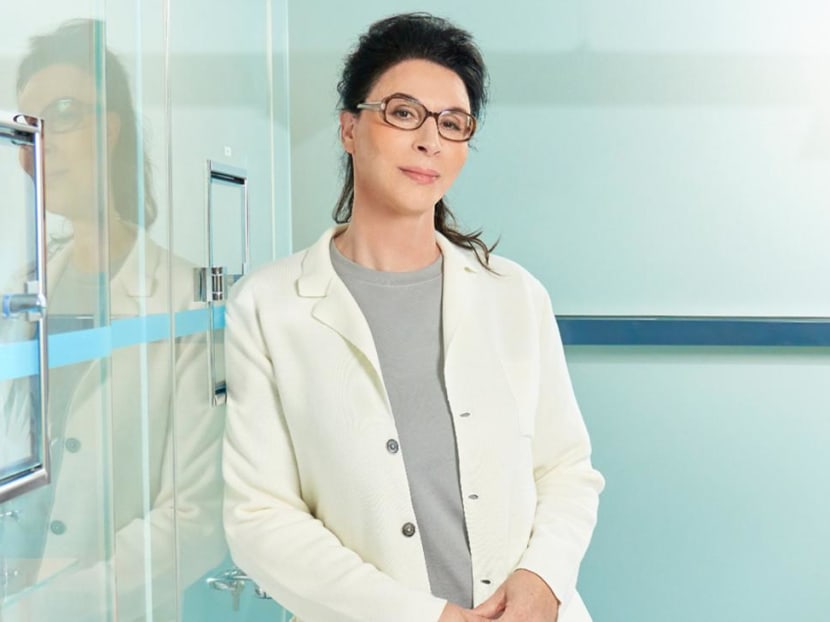 We've been looking at beauty with a limited lens. But that outlook will change if Sue Y Nabi has her way. The CEO of French American beauty conglomerate, Coty Inc, is leading a fearless kindness revolution to redefine how we see beauty, not just presently but in the future. Spoiler alert: It is a dynamic and optimistic vision that is conscious, inclusive, and empowering. It also sets the bar for the beauty industry to actively do better for consumers: Give us outstanding products that we truly need, not just competent products we're told we should want.
EXPERIENCE TALKS
Nabi began her illustrious beauty career that spans almost three decades now, at L'Oreal Paris back in 1993. She launched many of its still best-selling products today, and consequently became its youngest ever CEO.
Even as a young executive running brands, she already had a macro mindset: If you want to be loved and respected by your consumers, you need to become more inclusive – you cannot exclude anyone. One demographic she championed was the mature woman that society tends to callously fade out.
She signed on actress Jane Fonda who was then 68 years old. At the time, Fonda was the oldest spokesmodel to rep the company's anti-ageing skincare line that held the unapologetic slogan: "I am worth it" (this would later evolve to become "We are worth it").  
Other silver-haired beauties like Diane Keaton and Helen Mirren, would later join the stable of L'Oreal's spokesmodels, dispelling notions that beauty has an expiry date.
When Nabi took the reins of Coty Inc in July 2020, she again made inclusivity a definitive stalwart of its ethos. This time, a refined articulation that falls neatly under a broader umbrella campaign of "fearless kindness" that will impact all stakeholders, whether you're a consumer or a beauty maker.
The statuesque Nabi, who was in town for the recent opening of Gucci Beauty's first flagship boutique in Singapore at Ion – it's one of the many brands under her portfolio at Coty Inc – is passionate about this initiative that speaks of global ownership.
"The world needs fearless kindness," she said confidently. The outlook matters because it challenges limiting mindsets of how we see ourselves and others and influences the actions we need for change and results. This too will shape what a futuristic beauty is, 10, 50 or 100 years from now. 
PANDEMIC SHIFTS
The way we used to look at beauty (luxury beauty, especially) was oppressive - you're either in or out. Old luxury is elitist, either by price point or access, it does not cater to outliers because it doesn't need or want to resonate with everybody.
However, the global pandemic while fearsome at the start, made many of us more reflective. We've re-ordered our priorities because we had time to focus on ourselves and re-evaluate our relationships not just with others but to our environment.
Our needs and desires have evolved with our consciousness, and these have rippling effect on our rituals, shopping patterns, and expectations. Nabi shared: "This has contributed to consumers' heightened interest in every product they use and also a company's commitment to sustainability."
If the pandemic liberated us from trite mindsets that shackle growth, then what must follow up is change.
Post-pandemic, Nabi is charging forward: "Today we live in a world where the only certainty is change, and the face of change is ever increasing. We need to wrap ourselves around the ever-changing environment, flex and adapt our shape, and form with speed and agility, like water, being and acting like water."  
THE FUTURE OF BEAUTY: OPTIMISTIC AND EMPOWERING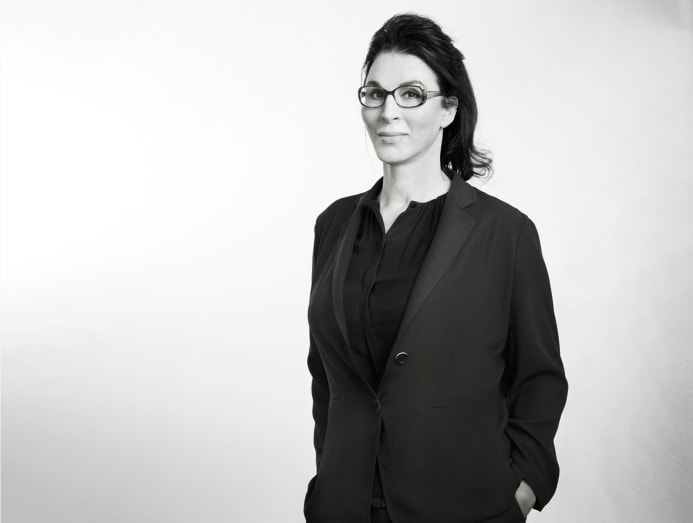 The consumer narrative now demands more humanity. One that wants inclusiveness, greater transparency, authenticity, and social responsibility (not just to others but to the planet). Nabi's winning playbook is an entire ritualistic experience that involves more innovation, expertise, purpose, integrity (authenticity) and curation (inspirations).
More than ever, she articulated passionately: "Luxury is about living something that is very unique, that you cannot forget; you will remember for some time, ideally for life."
BEING FEARLESSLY KIND IS THE REVOLUTION WE (AND BEAUTY) NEED
What does it mean to be kind? For Nabi, the succinct definition is "taking care – of yourself, of others but also the planet we live in."  
While individualism is celebrated, "feeling as a group", she explained, is equally important for reciprocity, because "kindness to yourself is nice, but the kinder you are to others, they will send you good vibes and energy".  
Caring needs authenticity. "It's also about telling each other the truth, sometimes that is not nice to hear, but it helps us to hear it," she explained. This is the honest caring, the fearless part. They work hand in hand, "not against each other and not without the other".
In a beauty context, products are essentially self-care tools that help you look and feel better, to love you better. "Kindness to the skin is what we do in skincare, we want to give results, but they have to be kind to the skin," she elaborated.
That kindness extends to the planet that we inhabit, and drives the sustainability agenda at Coty Inc, and she takes great pride in the company's commitment to the planet to meet consumer expectations.
Coty's fragrances for example, are manufactured with carbon-positive alcohol. While "everything natural is good for you, it's not necessarily good for the planet," she stressed, if you're overusing natural resources that have a finite resource. The high-quality ethanol Coty uses now, is an innovation that came out of its partnership with cleantech firm, Lanzatech, that turns carbon waste into sustainable chemicals. Other planet-friendly achievements include Coty's Lancaster's Sun Sensitive line – the first sun care line in the industry to be awarded a cradle-to-cradle sustainability certificate. The international certification applies to raw materials and products that can be fully reused in a way that preserves or even increases their value, closing the loop in production and eliminating waste.
In the past, the beauty industry was very single-minded. Nabi shared that there was a precise and selective beauty ideal that dominated, one that celebrated the very young, and "whiteness" (and in Europe, mainly blondes). It discriminates by exclusivity and reinforces that only one singular notion of beauty exists when, we are diverse in features, colour, and age.
Here's the problem: If the industry is only going by one singular definition of beauty, you can make great products for a select few, but only competent products for the rest.
We are only same in that we are on team human, but our unique needs are very much diverse. For Nabi, it makes more sense to "undefine beauty" rather than "define, constrain or prescribe beauty" if beauty brands want to enable individuality and diversity. She has made it Coty's mission to "unleash every vision of beauty so that her brands can "support a person to be and look however they want to be. It's a liberating approach".
Some may want to look more youthful; others don't mind their wrinkles as much but still want to present their best face to the world. "Rather than judge or tell them, it's not good if you want to fight age, it's their choice," she said. The only onus for a beauty brand, is to meet these needs better, by giving them the tools to achieve their desires in a responsible (read skin-loving) way.
In a very democratic way, there are no "ideal" faces. You can be an unconventional beauty like gap-toothed punk musician, Dani Miller, or country-pop crossover Miley Cyrus, or a conventionally pretty K-pop sensation and actress IU (Li Ji-eun). Incidentally, all three are Gucci's ambassadors and beauty muses.
This plural version of beauty is as much about kindness, as it is the true value proposition of inclusivity – that when beauty brands recognise diversity, they can make better products for a lot more consumers (translation: Greater demand, more money). This is an exciting challenge for beauty makers because the possibilities are endless. 
FOR OUTCOMES THAT ARE DIFFERENT, REDEFINE THE NARRATIVE
None exemplifies this more than Orveda, the clean, green, and vegan premium skincare line that Nabi created herself with friend/co-founder Nicolas Vu, four years ago. (Orveda has since been brought under the Coty stable and will launch in Singapore next year).
Orveda was revolutionary because it flipped the traditional anti-ageing rhetoric in many ways. It worked with skin, not against it, capitalising on how our skin microbiome (the invisible community of friendly bacteria that's found on the skin's surface) is key to optimal skin health. Our skin microbiome is the first line of defence at keeping the nasties (bad bacteria) out, protecting from infections, acne, inflammation and even skin conditions like rosacea and eczema.
Its formula too broke away from how things were done. The genderless line (skin is skin) focused on the highest concentration of actives to get results without hurting or inflaming the skin in the process.
Up till then, most formulas, she shared, are built around "creating nice textures". This limits the concentration of actives you can put inside a formula. One per cent of actives in a formulation "doesn't get you results, so I said, let's do it the other way. We're going to use 25 per cent of actives and build the textures around this," she continued proudly.
This story of Orveda, a luxury skincare line that is built around bio-fermented actives that work with skin's healthy bacteria, rather than fancy textures, is the type of value that luxury brands can offer to consumers. Discerning consumers who want effective formulas, the experience, the meticulous attention to details and most importantly the results they desire.
MARKETING IS MORE HIGHLY PERSONALISED AND EXPERIENTIAL
Consumer demands for quality, efficient results and innovation have not changed (brands in fact need to deliver them more than ever), but we are past the fancy, heavy packaging (Nabi called this "the box in a box, in a box") that no longer resonate.
"Consumers expect the brands they support to share their values on social, ethical, or global environmental issues," she confirmed.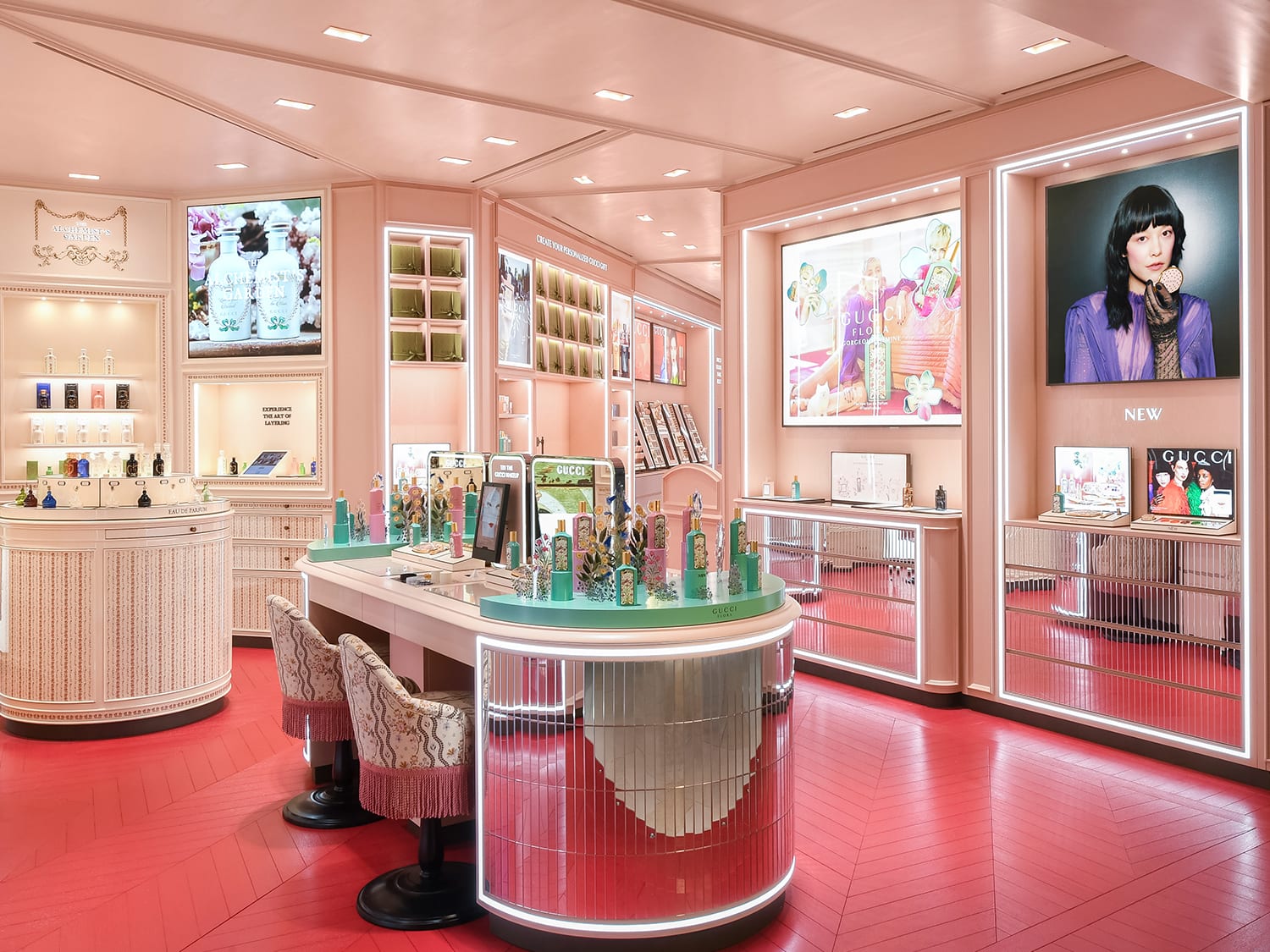 Brands need to define the luxurious experience in other ways. She said: "You do surprise, you do attention to details, and you put your money in what's the most important for the consumer – the formula, which involves actives, textures, and scent." How you market the products matter too.
The stories need to be purposeful and authentic, better still if they can be relayed in a way that is experiential, because you need a high-touch relationship with your customer. This is evident in Gucci Beauty's new flagship boutique in Ion where play is very much encouraged, not frowned upon, and personalisation marks ownership.
The boutique carries the brand's makeup and women's and men's fragrance collections. To make these products uniquely yours, you can have your monograms either engraved or embroidered on, one of the instore services the boutique offers.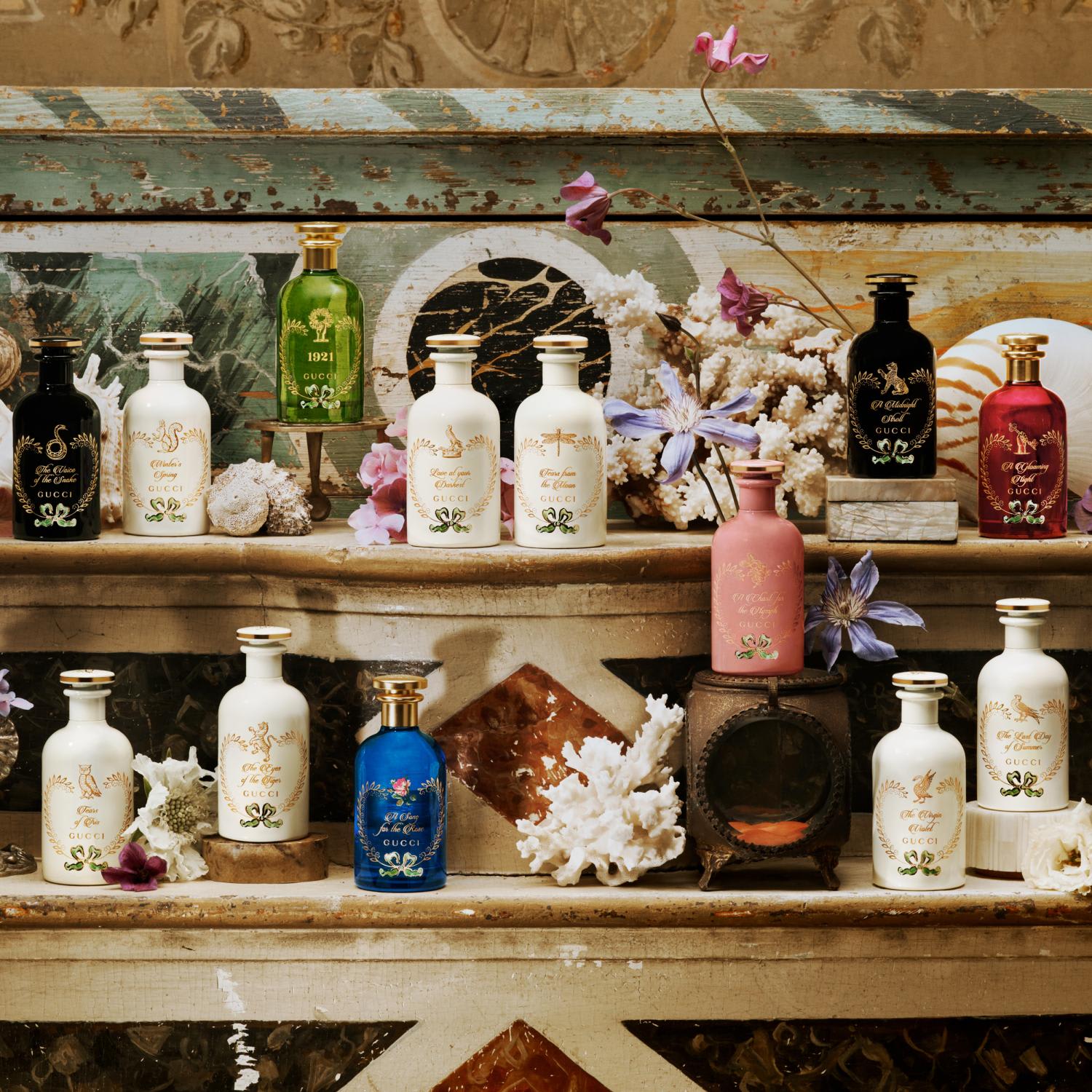 Scent of course forms a big part of the Gucci Beauty universe. Interestingly, Nabi shared that during the pandemic, fragrances did especially well for the group, because fragrances are now seen as wellness products that can elevate your well-being. At this boutique, scents are given centre stage.
There is an interactive fragrance bar to showcase its very haute couture Alchemist Garden scents that are inspired by the artisanal art of fragrance making. Single note scents that comprise eau du parfums, perfume oils and fragrance waters, they can be layered to mark your inimitable olfactory imprint.
Consultants can help you with the layering process, but there are also interactive tables and screens to help you discover other Gucci signature blends. While you're there, you can even enjoy an interactive game or two on the Gucci app, or the e-boutique shopping features.