The couple serving chwee kueh, laksa and teh tarik in their Taipei cafe
Singaporean Yen Seng Lim believes there's more to Asian tea than bubble tea. Together with his Taiwanese wife Katia Kan, the pair opened One Tree Hill in Taipei, a cafe that serves unique "tea desserts" alongside well-loved Singaporean dishes.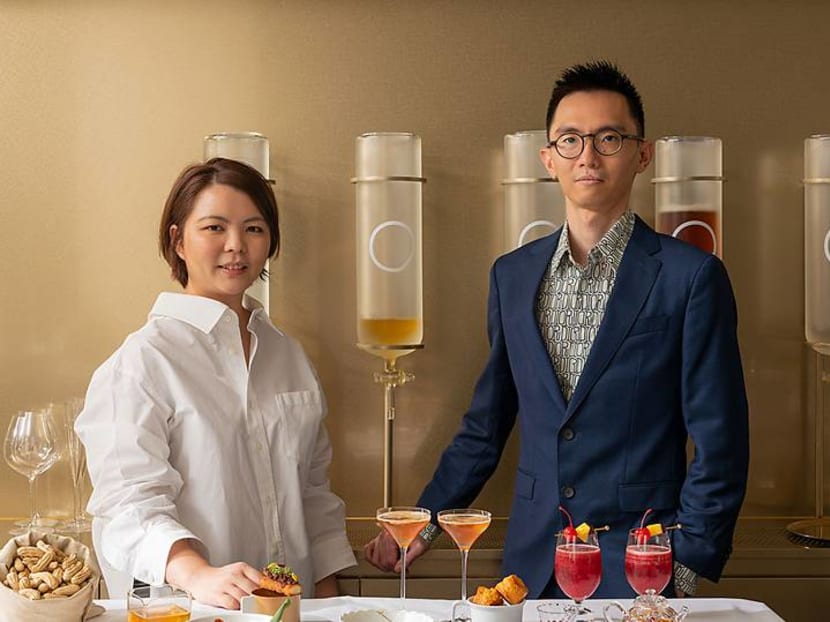 If one were to trace back the origins of tea, historical facts undisputedly point to its roots in Asia. But while our ancestors drank tea for its health and wellness benefits, the younger generation today have a new way of drinking the beverage – through a cup of sugar-laden bubble tea.
To Singaporean tea enthusiast Yen Seng Lim, 33, that's quite a shame. A trained chef, Lim once worked in the kitchens of top restaurants in Singapore, including Restaurant Andre and Bincho. Passionate about tea, he spent two years training under Chinese tea master Lee Chee Keong at Liu Xiang Tea Craft in Liang Court.
Once, Lim had a stint as a store supervisor of popular bubble tea chain Koi, an experience he describes as an "eye-opener into another world of tea".
"Bubble tea is really more like a can of coke. The tea leaves used are not the best quality, and they don't fully express the true flavours of tea. As much as it is popular, bubble tea is not a good representation of Asian tea culture. I knew I didn't want to go down this path," he shared.
Meanwhile, his Taiwanese wife, 30-year-old Katia Kan, is a pastry chef. The pair met when they were both working at the ONE°15 Marina Club in Singapore. Kan has also trained in the (now-defunct) kitchens of Restaurant Andre and L'Atelier de Joel Robuchon in Singapore.
They opened a tea shop in 2015 at Tanjong Pagar Plaza called Sun Atelier. But complications with Kan's work visa in Singapore meant the couple had to close the store and relocate to Taiwan. There, they set up their own cafe in Taipei's Zhongshan District in 2018, naming it One Tree Hill.
"One Tree Hill is an expression of tea with modern Asian roots," said Lim. "Right now, there are only two ways to enjoy Asian tea – at a traditional tea house, or through a cup of bubble tea."
While the traditional tea house experience is too formal for the younger generation to appreciate, the only alternative, that of bubble tea, comes with several detrimental health effects. That inspired Lim to come up with a trendier tea experience, one akin to dining. "Our mission is to elevate the tea experience so that Asian tea can be widely appreciated around the world," he said.
"As much as it is popular, bubble tea is not a good representation of Asian tea culture." – Yen Seng Lim
ASIAN TEA MEETS FRENCH DESSERTS
One Tree Hill is a culmination of the couple's background and knowledge in French patisserie, gastronomy and Chinese tea. While renowned Taiwanese chef Andre Chiang, whom both Lim and Katia trained under, is a shareholder of the business, the daily operations and strategic direction of the brand are handled by the couple.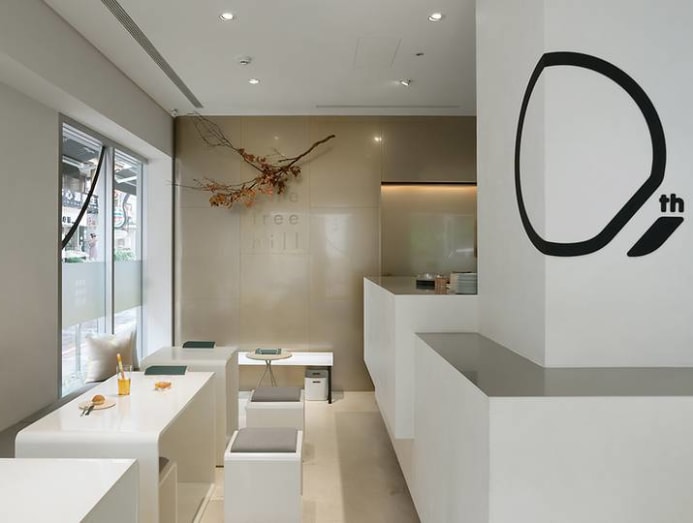 Billed as "the world's first ultra-modern tea atelier", One Tree Hill combines Asian tea and French desserts into a single cup, creating what the couple have termed "tea dessert". "After experimenting with different kinds of teas and flavours, we have created several signature creations using techniques normally found in French plated desserts," said Lim.
French dessert techniques offer a range of flavour pairings, textures, presentations and a finesse that complement the tea tasting experience, Lim explained.
A signature creation at One Tree Hill is the Chante Tea, made from Chinese tie guan yin (iron goddess of mercy oolong tea), and topped with creme chantilly, berry espuma and mango sorbet, all made in-house. Also on the menu is the Cream Latte, Flat White and Yuzu Cheesecake, which features tea paired with One Tree Hill's signature cheese mousse, made with French dessert techniques that usually go into a mousse cake.
There are three different ways that guests can enjoy One Tree Hill's tea desserts. The first is to use a straw to drink the tea, the second is to use a spoon to eat the dessert topping, and the third is to mix all the elements together.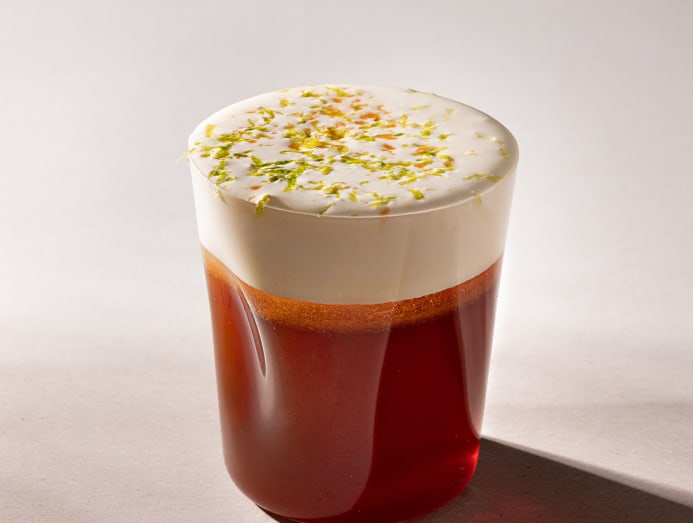 "Each creation is very complex, but you get to taste several different flavours in a single cup. You get to [enjoy] the aroma of the tea itself, as well as the dessert elements. It's a very playful approach to tea," said Lim.
Notably, Lim and Kan use only natural ingredients in their creations. The teas used at One Tree Hill are grown at a specific temperature range. Following which, the flavours of the tea are extracted through both traditional brewing methods, as well as closely guarded extraction methods developed in-house.
"We ensure that the flavour and aroma of the tea is at its best, without astringency or bitterness. We don't add any artificial flavouring, like highly refined sugar," shared Lim.
One Tree Hill's creations are served against the backdrop of a trendy, minimalist tea boutique. Each dish is plated on artisanal Japanese glassware, which Lim says makes a huge difference in how the teas taste. "We've put a lot of care into assembling each dish," he noted.   

"Our mission is to elevate the tea experience so that Asian tea can be widely appreciated around the world." – Yen Seng Lim
SINGAPOREAN ROOTS
While One Tree Hill is located in Taiwan, several aspects of the business have been influenced by Lim's Singaporean roots. For one, One Tree Hill is named in memory of Lim's late grandmother, who emigrated to Singapore in the 1940s from Fujian, China.
As a young woman in a foreign country, she fought through several hardships in order to set up her own furniture business. After finding success as an entrepreneur, she purchased her first home at One Tree Hill, a prime residential district in Singapore.
"When we left Singapore, my grandmother was in her 90s. Before she passed away, she kept her last breath for us, waiting for us to return to see her once last time. That left a very deep impression on me and showed me the cost of being an entrepreneur, having a foreign spouse, and being away from family. I wanted to name the cafe after her to remember her spirit," shared Lim.
Several creations on One Tree Hill's menu are also influenced by Singaporean flavours. One of Kan's outstanding desserts is a financier topped with kaya cream, inspired by the Singaporean breakfast staple of kaya toast.
When dine-in restrictions were put in place in Taiwan after a rise in COVID-19 cases, Kan and Lim created a takeaway menu which featured Singaporean dishes such as Singapore laksa, teh tarik, pandan cake and more.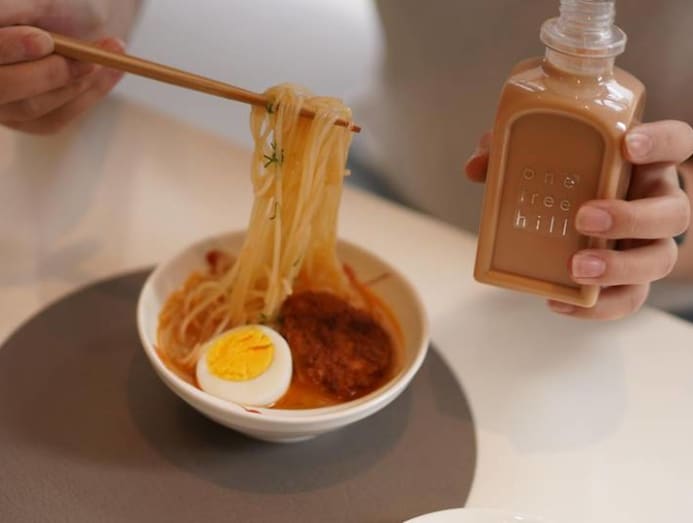 Once the ban on dining-in is lifted in Taiwan, the pair will also launch three afternoon high tea experiences – a Tokyo Tea set inspired by Japan; Madam Yang's Afternoon Tea inspired by traditional Chinese herbs; as well as the Singapore High Tea set, inspired by the famed Raffles Hotel afternoon tea experience.
The latter will feature well-loved Singaporean dishes such as chwee kueh, served with bottarga, and hae bee hiam, served on a burnt butter toast. The high tea set comes with One Tree Hill's non-alcoholic version of the Singapore Sling, made with Taiwanese Four Seasons Oolong Tea.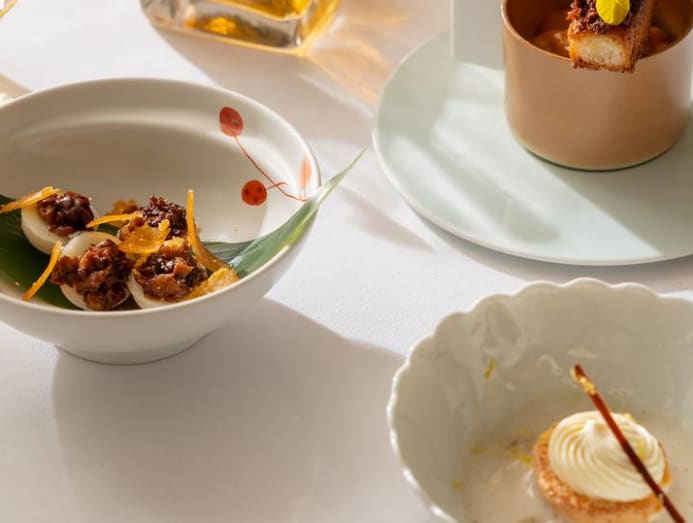 "It's very important for us to bring Singaporean influences into our creations. I really miss home and as a Singaporean trying to build something in Taiwan, it's important to let people know that I'm from Singapore. I'm very proud of my identity," Lim said.
"It's very important for us to bring Singaporean influences into our creations. I really miss home and as a Singaporean trying to build something in Taiwan, it's important to let people know that I'm from Singapore." – Yen Seng Lim
FUTURE PLANS
Through the years, One Tree Hill has collaborated with several high-profile brands in Taipei, including Nespresso, YSL Beauty, Sulwhasoo, L'Occitane, L'Oreal and more. It has even garnered a celebrity following – while the pair declined to reveal the names of celebrities who have patronised their cafe out of respect for their privacy, the list includes top actors and singers.
Looking towards the future, Lim and Kan hope to eventually expand One Tree Hill beyond Taiwan. "In order for One Tree Hill to grow, we have to look beyond the Taiwanese market. Taiwan is very rich in natural resources and products that you can't find anywhere else. So we have a very good base here to build upon and expand," said Lim.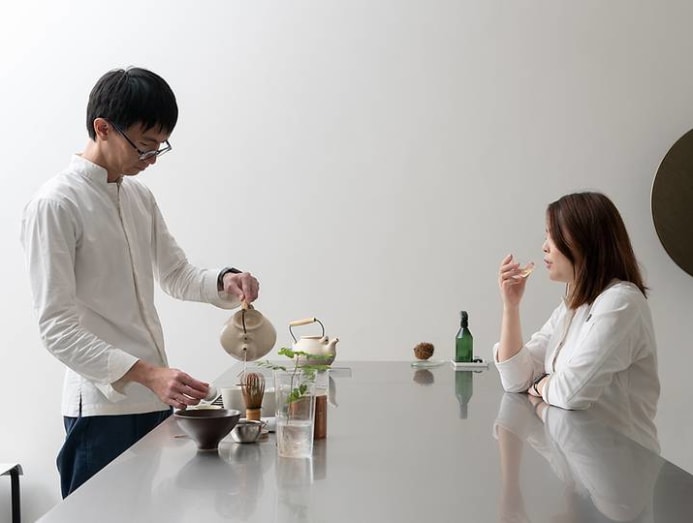 Prior to the pandemic, Lim revealed that the company was in talks to open outlets in Macau and Tokyo. Unfortunately, these plans had to be shelved, but the couple remain optimistic.
One day, they hope to open an outlet in Singapore. Lim said, "Singapore is my home country and I do wish to go back eventually. Starting this business all over again after the closure of our first tea atelier in Singapore is truly a miracle, and it's an even bigger miracle that we have survived till now. It may sound lofty, but we really hope to create a globally renowned Asian brand."
Lim shares that the pair feel "a deep sense of attachment" to the One Tree Hill brand. "Everything from the design of the store, to the choice of furniture, music and glassware have been done by the two of us. It's really meaningful when we get feedback from our guests who appreciate what we're doing. It gives us a lot of strength to stick to what we believe in and to not make any compromises in the quality of our creations, our presentation and everything else that makes up the brand. We hope to really build the brand up so that more people can be acquainted with our concept of tea dessert," he concluded.
"It may sound lofty, but we really hope to create a globally renowned Asian brand." – Yen Seng Lim