Da Paolo's latest venture: 30 years on, a bigger slice of Italy in Singapore
It's Da Paolo's 30th anniversary, and the Scarpa family is embarking on their most ambitious project yet: The 5,000 sq. ft. Da Paolo Dempsey Restaurant & Bar. Here, the second-generation owners tell CNA Luxury how they intend to carry on the family legacy.
It's been 30 years since Paolo and Judie Scarpa opened their first restaurant along Tanjong Pagar. That was in May 1989. Since then, the Da Paolo brand has become a household name in Singapore, with seven Da Paolo Gastronomia outlets across the island, a Pizza Bar, Bistro Bar, and the Da Paolo HQ along Club Street.
Just last month, the company debuted its largest and most ambitious endeavour yet: Da Paolo Dempsey Restaurant & Bar. Spread over 5,000 sq. ft., the restaurant and retail emporium wasn't planned as a commemoration of the company's 30th anniversary, but as Da Paolo's CEO Guillaume Pichoir puts it: "The stars really aligned."
IT WASN'T REALLY A PLAN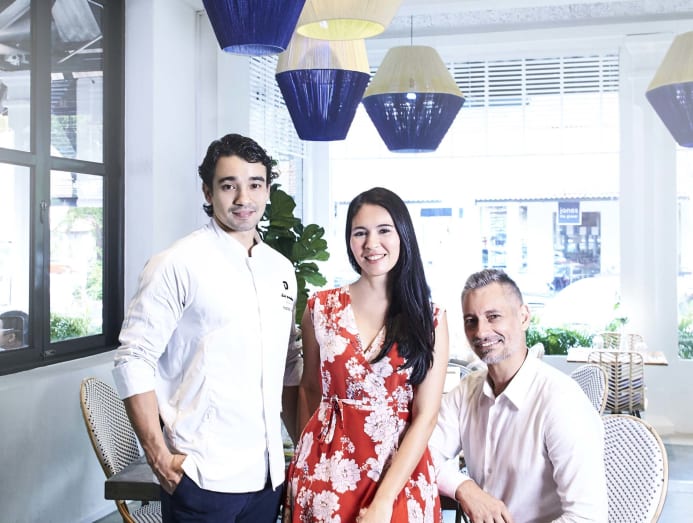 Paolo and Judie retired nine years ago, leaving the company in the hands of their son Andrea, now Group Executive Chef; daughter Francesca, who heads Product Management and Marketing, and her husband Guillaume, CEO. In that time, the trio have really gotten to know one another as co-workers and built a firm framework for the business upon which it can grow.
Structure, said Guillaume, was the first order of the day when he took over as CEO in 2010. "(The business) was like any organically grown family business – not a lot of delegation, some micromanagement, and not a big emphasis on structure and building a team."
Similarly, Francesca and Andrea joining the family business happened as organically as the business's growth. "I don't think my parents thought we would join the company," said Francesca, 36. "I was studying biomedical science in Melbourne and hoping to go into post-grad medicine. My parents knew that. Then just before my exams, my mum asked if I was going to come back (to Singapore) or stay in Melbourne. And I said, 'I think I want to come back and work for you.' She said, 'It's either you stay or you're coming back to work for us. There's no 'I think' or 'I try'."
She laughed at the memory. "I wasn't ready for my exams and I knew I wasn't going to do well. So I said, 'ok, I'm coming back'."
Cooking wasn't Andrea's ambition either. "I gave it a shot because it was a free ticket to Italy," the 32-year-old said with wry candour. "Dad told me that he would send me to Italy after NS (national service) to go to an international culinary school for a year, and that they spoke English there. All that was true, except that they didn't speak English."
The language barrier made adjusting to his fatherland difficult, but it was the challenge itself that kept Andrea going. "I love challenges. This was a Michelin-star kind of school and it's not like you go in there and learn to fry eggs. I remember on the first day, everyone introduced themselves and talked about all the starred restaurants they had worked at. I could only say that I had just come from NS. So I had to prove to them that I could be as good as them at the end of it all."
FAMILIAL FAMILIARITY
As Da Paolo's executive chef, Andrea oversees operations of the central and restaurant kitchens. He develops the company's menus alongside Francesca, who refines their product list by listening to customers and observing what sells and doesn't. With previous management experience in an MNC, Guillaume sets the direction for the company and its concepts.
"We work well as a team," affirmed Francesca. "We know each other well and respect each other's expertise. We know that we can't do the other person's job better. I think the key thing is that everyone has a role to play and we respect that."
While the business now enjoys a corporate structure, it is still the familial ties that bind. "There's no game like in a corporate environment where people have different agendas," said Guillaume, 45. "We're all in it together. There's an alignment of targets and goals."
"The best thing is knowing that they're always there," added Andrea. "It doesn't matter if you've taken a day off or gone on vacation. The family's always there. That's the nice thing."
"Of course, the worst thing is that you never switch off," Guillaume said, grinning. "Especially for Francesca and me. We go home, we're in bed and we're talking about work. It's hard to separate."
"It doesn't matter if you've taken a day off or gone on vacation. The family's always there. That's the nice thing." – Andrea Scarpa
IT'S COME TO THIS
In the last nine years, the trio has been busy refining Da Paolo's concepts, renovating some of their outlets and opening new ones. The new flagship in Dempsey represents the culmination of everything they've learnt so far, all housed under one stylish roof.
Occupying the sprawling space vacated by gourmet grocer Culina (which moved to another location in Dempsey), Da Paolo Dempsey Restaurant & Bar exudes breezy Southern Italian charm with its white-washed walls, an upside-down olive tree hanging from the ceiling, and faux lemon grove accents that bestow a verdant, sunny vibe. A row of glossy counters displays a mind-boggling selection of excellent Italian gelato (the pistachio gelato is insanely good), unique Italian cheeses, fresh pastas, pastries, breads, cured meats, and sourdough-based Neapolitan pizzas made in a wood-fired oven.   
A terrazzo-topped bar anchors the space, serving a delicious range of Italian bitters and vermouth-based cocktails that lubricate appetites for the fresh pasta dishes and other modern Italian eats on the menu. Naturally, a few Da Paolo classics like Paolo's spicy lobster tagliolini and mushroom truffle risotto are on it too.
"As a company, we'd always wanted to have something in Dempsey. (The enclave) has such a unique environment – it's very green and you have these old buildings with lots of space and volume," said Guillaume. "The stars really aligned in terms of timing – where we were in our expertise and the location being available. We've been refining our concepts over the years and now we've brought them all together in a cocktail of experiences in one location."
"The worst thing is that you never switch off. Especially for Francesca and me. We go home, we're in bed and we're talking about work. It's hard to separate." – Guillaume Pichoir
ENJOYING THEIR LEGACY
With the attention that a new flagship of this scale demands, Paolo and Judie can be spotted in the premises often, keeping an eye on Francesca's and Guillaume's young sons Malo, 7, and Arno, 5; greeting familiar customers and introducing them to the new space. "We're just here to help out because this is a much bigger concept and I have experience with all the sections," said Paolo.
"This restaurant is something we are really proud of – of what my children and son-in-law have created," Judie added. "It hasn't been easy, but they have grown from strength to strength, and learned from their mistakes and experiences. (Paolo and I) are just so grateful."