How one Singaporean artist is trying to make the world a happier place
Noted for her vibrant, nature-inspired words, artist Danielle Tay was recently approached by Superhero Me and Rainbow Centre to create activity spaces for special-needs children and their caregivers.
What do you normally do when you're in an elevator?
Chances are, you'd look down – at your mobile phone, or at your shoes. Carefully avoid eye contact with other passengers. Critically appraise your reflection made ghastly by harsh elevator spotlights. All the while wishing the lift would just hurry up and get you to the right floor, pronto.
A ride in the recently-opened hip boutique Hotel Soloha's indoor, glass-panelled elevator, however, feels more like a whimsical and unexpected adventure.
Step in, and you're greeted with a brightly-backlit floor-to-ceiling mural situated within the lift shaft.
As the elevator makes its slow ascent all the way up to the fourth floor, enchanting tropical scenes featuring animals such as a hornbill, an orang utan, a leopard and a snake luxuriating within a lush jungle, unfold vertically, culminating at the top with the image of a bird breaking free from the confines of its cage.
It made this writer want to go up and down the lift over and over again, evoking the long-lost excitement and pleasure kids derive from an activity most adults consider unspeakably mundane. If she had been a millennial "influencer", she would probably have video'd and uploaded it onto InstaStories.
"I really believe in the power of colour to create positive emotions, to transform and lift the atmosphere and mood of a space," said Danielle Tay, the 29-year-old Singaporean artist commissioned by the hotel's owners to create the (size) artwork based on the property's tropical nature decor scheme.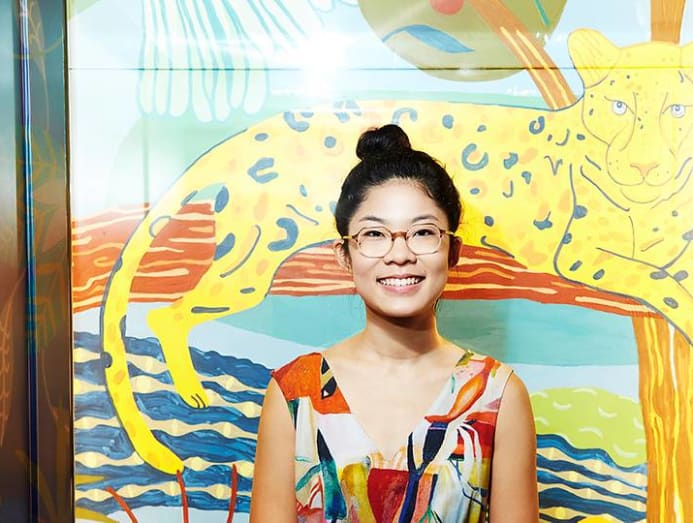 As the property was undergoing extensive renovation work at the time of commission, Tay studied the hotel's branding images and swatches of its custom-designed carpets for each of its four animal-themed floors.
She painted nine separate panels that would make up the 13-metre-long work offsite, leaving them "about 10-20 percent uncompleted, because I like to add the finishing touches at the last moment to site-specific pieces".
She rode, crouched above the lift – accompanied by safety supervisors – to install the panels, then added on the final touches of paint there and then.
"I like my work process to feel spontaneous … it's not much fun to plan every last detail out beforehand, and go down a checklist ticking all the boxes," she explained. "I tend to work on several pieces simultaneously when creating a series for a collection. How one artwork develops can influence how I then approach other pieces."
"I like my work process to feel spontaneous … it's not much fun to plan every last detail out beforehand." – Danielle Tay
"It's also why I've been gravitating away from painting to collage," she added. "The thing about working two-dimensionally on a piece of canvas, is that its shape and dimensions are fixed. As a result, the placement of each brush stroke has to be considered carefully. It makes me hesitate and deliberate too much, which I find limiting. With collages, I work with separate pieces of wood cutouts and move them around to experiment with their placement, before finally deciding what works best."
Indeed, one of her other semi-public works, Creators of Tomorrow, which was commissioned in 2018 by JTC to mark its 50th anniversary, and which  is displayed at Fusionopolis One@One-North, features cutouts of buildings and colourful organic shapes that portray a lively cityscape brimming with optimism.
She was recently roped in by SuperHero Me, a ground-up inclusive arts movement that empowers children from diverse backgrounds through the arts, social mixing and purposeful programming, to do her first community project. 
The collaboration saw her create a series of house-like pop-up installations at Rainbow Centre Margaret Drive that would serve as workshop and activity-spaces over a one-month period for children with special needs, and their caregivers, as well as an "adventurous floor mural" that not only livened up a bare courtyard, but which could be used as games stations during classes.
Over the years, she's been making a name for herself for her whimsical, expressive, vibrantly-coloured creations. Among others, she earned a Highly Commended Award in the reputable Rise Art Prize 2018 and was named Artist of the Month by The Artling in April 2017.
Her journey towards becoming an artist began much, much earlier. "I already decided I wanted to become an artist when I was in secondary school – even though art was considered a non-examinable subject, and even though I enjoyed humanities subjects such as history and English literature, I found myself always putting in the most time and effort in my art projects, especially when it came to painting," she recalled, confessing that she dropped out of junior college.
"I already decided I wanted to become an artist when I was in secondary school – even though art was considered a non-examinable subject." – Danielle Tay
"My parents and teachers had advised me to at least get my A-levels so as not to close off my options, but after five months, I decided I really just wanted to go to art school", she explained. She went on to get a diploma in Fine Arts at La-Salle College of the Arts, then did her Bachelor in Fine Arts at Slade School of Fine Art at University College London, graduating with First Class Honours.
She then headed back to Singapore and worked was an art teacher for two years, teaching six- to-eight year olds, before deciding to become a full-time artist.
"It was very rewarding, seeing how open and expressive kids are, how they view the world, the ideas they come up with, their positive energy and enthusiasm, the way they experiment with colour," she recalled.
Tay names Pods, an interactive installation she created with curators of Garage Museum of Modern Art and a production team based in Moscow in 2012, as one of the works she considers the most significant so far.
A series of domes, suspended at different heights and featuring different interiors "inspired by the beauty and extraordinariness of nature, invite visitors to enter and discover different 'worlds' through the senses of sound, touch and sight. "It was my first time working remotely with a team at the other end of the world, and we even had to communicate through translators," she recalled.
Her biggest inspirations are nature and travel. "It brings up all sorts of metaphors: How we evolve, how our lives are basically about exploration, how we affect our surroundings, and how our surroundings affect us," she said.
"I love beach and jungle vacations the most," Tay shared. Recent trips involved chilling in Ubud ("Such a calm, peaceful energy, and so many, many shades of green, and in different shades from what you find in temperate climates"), and hiking in Transylvania with her husband of two years, who works in IT – he's Hungarian, but grew up in Transylvania.
"My trips help me disconnect from the sensory overload of modern life in an urban environment, and I find myself reflecting a lot about the duality of nature: The tranquil beach versus the destructiveness of a tsunami; the beauty of flora and fauna in a jungle or a forest, versus, say, being the Singaporean that I am, 'what if I get dengue from a mosquito bite, or get attacked by some wild animal?" she quipped.
She loves yoga classes, which she attends thrice weekly, for "the way it helps recalibrate mind and body, and how it teaches me to be okay with slowness, how it makes me confront and overcome discomfort – which is a good philosophy to have in life".
[I love yoga for] how it teaches me to confront and overcome discomfort – which is a good philosophy to have in life." – Danielle Tay
And what about her plans for the future?
"I'd like to transform the entire interior of a building; maybe create a print for use on textiles and surfaces," she said. "And finish renovations for my first home, which are ongoing. One key design feature is something I've always had in my bedroom: An 'Inspiration' wall completely loaded with postcards and posters of my favourite artwork, whether from a world-famous museum, or from my artist friends' exhibitions. There'd definitely be a few postcards of Kandinsky's work. And a quote by Paul Klee that goes:  'A line is a dot that went for a walk. Art does not reproduce the visible; rather, it makes visible. One eye sees, the other feels'."
"I really believe in the power of colour to create positive emotions, to transform and lift the atmosphere and mood of a space." – Danielle Tay