Singapore's EDEN condo designer on ridding the world of 'dead feeling buildings'
The buildings that we treasure, don't demolish and find ways to reuse centuries later, are the ones that connect with our humanity, says Thomas Heatherwick, designer of EDEN at Draycott Park and the upcoming Terminal 5 at Changi Airport.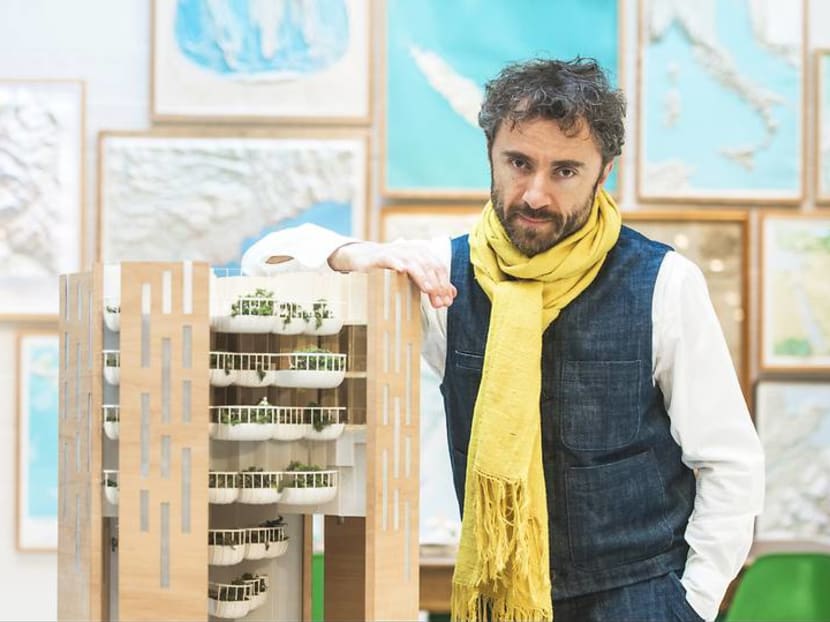 Thomas Heatherwick is the consummate artist. Still full of wide-eyed wonder even after 24 years stewarding his eponymous Heatherwick Studio, the multi-award winning British designer is also profoundly unassuming. He speaks with a gentle cadence, enthuses over minutiae, and winces at being called "prolific".
The 49-year-old starchitect is currently the most talked about designer in the world, known to leave tangible imprints of his imagination across the globe in the form of one iconic project after another – sometimes controversial, but always incontrovertibly ingenious.
There's the Vessel, the monumental 150-foot honeycomb centrepiece in New York City's new mega development, Hudson Yards. Modelled after Indian stepwells, the structure's intricate latticework of 154 flights of copper-clad stairs is part observation tower, part jungle gym rising 15 stories above the city.
Heatherwick's creative legacy is also found on the streets of his native London; from the new Routemaster bus design – its first in 50 years – updated with striking rounded corners, to Google's London headquarters in King's Cross, where Heatherwick's studio and his team of over 200 highly-skilled architects, designers, and creators have also called home for over a decade.
And, of course, the Olympic cauldron at the London 2012 Olympic Games, composed of 204 copper petals – each carried into the stadium by athletes of the competing countries – that, converged into a great single flame symbolising unity and a peaceful gathering of nations in the most beautiful and breathtaking of ways.
These days, though, the Pied Piper of Design (as christened by the media), is focusing more on designing buildings and changing cityscapes in Mexico, Canada and the US, with Heatherwick Studio's inventory of commissioned projects spanning four continents and valued at over £2 billion (S$3.55 billion), including the upcoming Changi Airport Terminal 5.
Now, the acclaimed designer is back in Singapore for his first-ever residential project in the world, EDEN, following his environmental-award winning 'The Hive' Learning Hub at the Nanyang Technological University in 2013. 
GARDEN OF EDEN
Six years in the making, the ultra-luxurious EDEN, which will be completed in the fourth quarter of 2019, is also Hong Kong's Swire Properties' first foray into the city-state.
Of the 20-storey development at Draycott Park, a stone's throw from Orchard Road, Heatherwick told CNA Luxury that "This project evolved from the manifesto of Lee Kuan Yew's notion of a city in the garden."
To bring to life an idea first envisioned by Singapore's founding father, Heatherwick conceptualised EDEN as a 'private garden in the sky'; a tropical oasis that both contrasts and complements a skyline marked by angular steel and glass towers.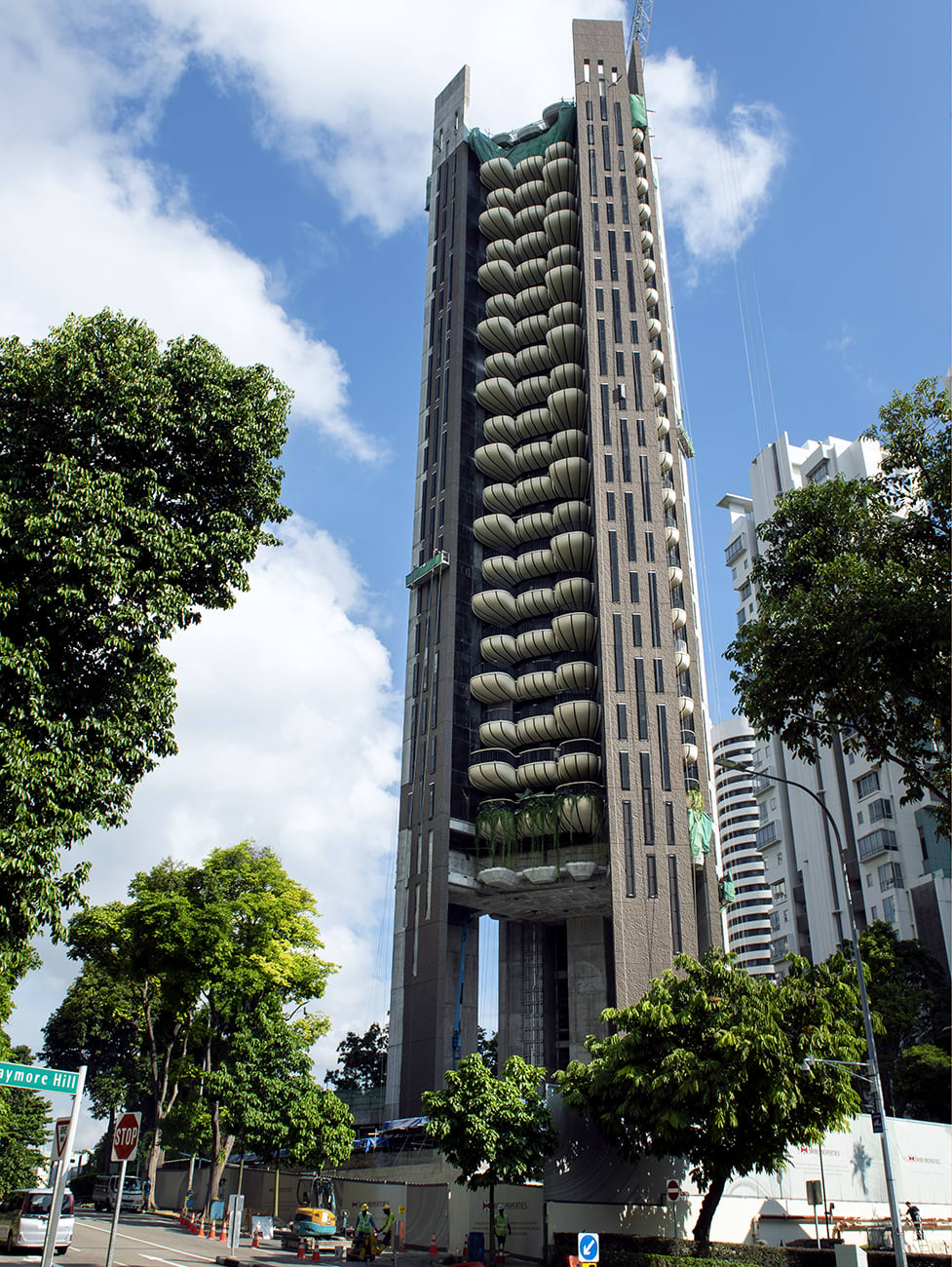 Drawing on the concept of "biophilia", EDEN's hanging balconies are wrapped with tropical greenery to help soften the concrete jungle. Each balcony features garden planters that contain a vast amount of soil enough to "grow trees" in, explained Heatherwick. The plan, however, is to grow large-leafed plants of 20 to 30 species, and, upon homeowners' requests, a maintenance team will be installed "to keep it like a Botanic Gardens," he said, relieving them of horticultural duties and assuaging the worries of residents who lack green thumbs.
Biophilia, Heatherwick explained, is about "creating and changing elements within the world around us in a way that nature does to create variety and change, which are somehow necessary for our humanity."
Instead of trying to fight or take cover from Singapore's belligerent heat, Heatherwick has wholeheartedly embraced the tropical climate in the most sustainable of ways.
"It seems like one choice is to repel that climate and create an air-conditioned piece of glassy Tupperware up in the sky," he noted.
The other option is to find a way to integrate the living area and bedrooms so that the indoor spaces flow seamlessly into the outdoor gardens – such that the balcony is not just "stuck on" the building facade as an after-thought and rarely used.
Explaining his thought process, Heatherwick said: "My team and I asked ourselves how we could incorporate the best practical elements [of residential building design] but also have something more human; how could we live more in balance in nature? That was our goal."
Natural ventilation, therefore, became a key design consideration, which contributed to the sustainable development earning a Green Mark Platinum rating from Singapore's Building and Construction Authority.
Each four-bedroom unit (one per floor) features cantilevered balconies. Nine doors open out to the "gardens", allowing natural cross-ventilation throughout the 3,000 sq. ft. (278.7 sqm) space – both reducing the need for air-conditioning and energy usage, while creating a sort of bungalow living feel in the sky with unobstructed 270-degree views of the city.
"If we could find a way to get the cross-ventilation, it meant that we could maybe – just maybe – reduce the amount of reliance on air-conditioning," Heatherwick said. 
HABITATS AND HUMANITY
Sustainability, it appears, is very important to Heatherwick; not only of the climatic kind but also that of the human race's wellbeing.  
"Every designer of buildings must be seriously responsible for the impact of their projects, and I think the way that's been calculated has been by metrics about energy use but we're interested in also calculating that inherent experience because unless something connects with your humanity, it isn't sustainable," he said.
Another fundamental question in the design of a building is whether it adds to the distinctiveness and character of the city or detracts from the landscape.
Observing a growing downside of cities alienating people by condensing humanity and disconnecting people from nature, Heatherwick noted: "It has also thrown into focus an increasing awareness of the impact of human behaviour and the climate around us."
Indeed, Heatherwick takes a very philosophical approach to designing "soulful places". "I see how you feel as a function, and it matters too. It's not more important, it's not less important; it's part of a holistic, multidimensional look at true functionality."
"When I started my studio, I felt there was a gap in the way that we thought about cities and places. Architecture, place-making and city-building had formulas that tended to create similarity and that seemed wrong to me. By trying to address that [in our projects], my team and I have found that people are hungry for places to mean more to them," he explained. 
Heatherwick, who prefers to be called a designer rather than an architect, therefore aims to create structures that are the very antithesis to homogeneity.
"There are many positive aspects to globalisation but the shadow side is that cities are becoming very similar to each other; residential and office buildings all around the world tend to use the same aluminium panelling, the same glass, the same sealant, and they feel the same," he said. 
The buildings that we treasure, don't demolish and find ways to reuse centuries later, said Heatherwick, are the ones that connect with our humanity.
"I think we've had a bit of a disaster since the second world war; there've been so many 'dead feeling buildings' built all around the world that came out of the modern movement, which aren't what the founders of the modern movement of architecture fully intended to happen," he observed.
"And it feels like there is a movement now of more and more architects, designers, property developers, city planners and mayors who are keen more than ever – also because of the digital revolution that's happened – in understanding that you can't get away with not connecting with our humanity."