Diesel jeans founder: 'If you want to keep a company cool… the first thing is creativity'
Fashion titan Renzo Rosso's company, OTB, counts brands like Diesel, Maison Margiela and Jil Sander in its stable, making it one of Italy's largest luxury groups, behind Prada and ahead of the Tod's Group. What's the secret of his success?
When OTB president Renzo Rosso learnt last October that Jil Sander was up for sale, he and his business development team swooped in immediately.
"It was a brand I had been following for many years," Rosso said in a video interview from the vast OTB complex in Breganze, just over an hour's drive west of Venice. "Of course, the negotiations were difficult because they [the previous owners, apparel group Onward Holdings] are in Japan. When you can talk face-to-face, these things are much easier."
Despite the challenges imposed by timezone differences and the pandemic – as well as competing offers from other groups – the two parties announced on Mar 5 that Jil Sander would be joining the OTB portfolio, which includes Diesel, the denim brand that Rosso founded in 1978, alongside Maison Margiela, Marni and Viktor & Rolf, as well as production and distribution companies Staff International and Brave Kid.
With 2020 sales of €1.3 billion (S$2.1 billion) – down 14 per cent from the previous year due to the pandemic – OTB (which stands for Only the Brave) is now one of Italy's largest luxury groups, behind Prada (€2.4 billion in revenues) and ahead of the Tod's Group (€637 million).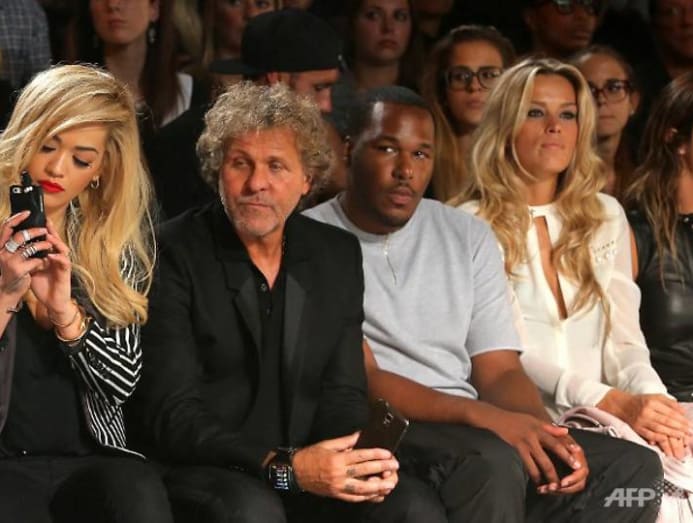 Rosso, who with his tattooed fingers and black denim jacket looks more like a record label owner than a luxury goods executive, will not say what he paid for Jil Sander, which became famous in the 1990s for its refined, minimalist clothes.
Jil Sander has changed hands several times in the past quarter-century. From 1999 to 2006, it was part of the Prada Group, where disagreements with Prada's Patrizio Bertelli led to designer Jil Sander's swift exit (she returned briefly in 2003-04), and later the appointment of Raf Simons as creative director. It was sold to a private equity group in 2006, and then acquired by Onward Holdings for €167 million in 2008 (where Sander was again briefly reunited with her brand).
For most (and possibly all) of that time, Jil Sander did not turn a profit. And despite the excellent creative leadership of husband-and-wife team Luke and Lucie Meier since 2017, the brand reported a loss of US$21.2 million (S$28.1 million) on revenues of ¥11.3 billion (S$136.6 million) in the year ending February 2020. What makes Rosso confident he can make it profitable?
"This is our track record," said Rosso, pointing to the success of earlier acquisitions such as Maison Margiela. To start, Jil Sander's revenues need to grow "at least three to four times", he said. That means adding to its network of 44 stores, expanding into China and the US, and "developing areas of the collection they have not been able to develop". (He did not specify which, but Margiela, which added shoes, bags, belts and fragrance after joining OTB, offers a template.)
"The idea, the style, the look of the brand, everything is already there," Rosso said of Jil Sander's purist aesthetic. "I don't want to change the creative team. What we have to change, to reinforce, is management."
"If you want to keep a company cool, you have to maintain investment and creativity, then you need to be stronger in marketing, technology. But the first thing is creativity." – Renzo Rosso
THE RISE OF DIESEL
Rosso, 65, is an unlikely entrepreneur. Born to a farming family in northern Italy's Po Valley, his moneymaking instincts manifested early: As a teenager, he ran an at-home tailoring shop and stitched bell-bottomed jeans to sell to friends. He studied textiles at the Marconi Institute in Padua, a degree he chose because he heard it was easy.
In 1975, at age 20, he joined clothing manufacturer Moltex. Three years later, with a US$4,000 loan from his father, Rosso bought a 40 per cent stake in the company and changed the name to Diesel. He bought the remaining shares for US$500,000 a decade later (while relinquishing his shares of the other brands in the group).
The company expanded rapidly, helping propel the designer denim craze taking off in the 1980s. Diesel's style-driven, vintage-looking denim, savvy merchandising and rebellious ad campaigns attracted young shoppers newly flush with cash. Annual revenues climbed from US$2.8 million in 1985 to US$25.2 million in 1987; by 1989 it had expanded into women's jeans and was selling in 40 countries. It remains the biggest business in the OTB group (OTB does not break down revenues for individual brands).
In the early 2000s, Rosso started building OTB, which he likes to describe as an "alternative luxury" group. In 2000 he bought out Staff International, which manufactured and distributed Diesel's premium line, and two years later took a majority stake in Martin Margiela (now Maison Margiela).
In 2008 he took a controlling interest in Viktor & Rolf, the Dutch couture house behind the best-selling Flowerbomb fragrance, and in 2012 agreed to acquire a majority stake in Marni, an Italian ready-to-wear label popular with the art crowd, replacing founder Consuelo Castiglioni with former Prada designer Francesco Risso in 2016. A minority stake in Californian label Amiri followed in 2019.
"Probably Renzo has had this vision [for a luxury group] since the beginning," said luxury sector M&A specialist Mario Ortelli. While OTB lacks the marketing and distribution synergies of larger conglomerates such as LVMH or Kering, what sets OTB apart is its manufacturing base and Rosso himself.
"Whereas other groups are driven more by the logic of brand management and distribution, Rosso is more focused on the product itself and on the creative process than, for example, [Kering founder Francois-Henri] Pinault and [LVMH founder Bernard] Arnault," Ortelli said.
Rosso, who is a father of seven, keeps a busy schedule of brand and board meetings. In addition to OTB, he owns shares in about 20 other companies, including Yoox Net-a-Porter (he was an early investor), Depop, London's Chiltern Firehouse restaurant, and ventures in wine and organic agriculture. To decompress, he meets his personal trainer every morning at 6am and spends his weekends outdoors on his farm.
TAKING A GAMBLE
Perhaps Rosso's greatest gamble came in 2014, when he hired the disgraced designer John Galliano to oversee Margiela. Galliano had been dismissed from Dior in 2011 after footage of him airing anti-Jewish remarks at a Paris restaurant were uploaded online, and despite Anna Wintour's efforts to rehabilitate his image, he was an outcast. The pair met in secret for two years before agreeing to work together.
Financially, the bet paid off. Only one retailer dropped the brand on hearing of Galliano's appointment, and brand revenues doubled over the next five years. Last year's sales climbed 20 per cent from 2019 in spite of the pandemic. Footwear and denim are performing particularly well, said Libby Page, senior market editor at Net-a-Porter, adding that the retailer has expanded its buy of the brand's Replica sneaker and hoof-shaped Tabi shoes.
"The secret of Margiela is John Galliano. He is not a designer, he is a couturier," said Rosso, who added that sales growth is coming from "every single area". Accessories, shoes and bags now account for 65 per cent of revenues, he said; ready-to-wear, the other 35 per cent. The breakdown for Marni is similar.
While Rosso was building the group in the early 2000s, his core brand was beginning to suffer. By 2016 Diesel was in the red; its customer had aged, and its jeans and other apparel had fallen into the trap of heavy discounting. "It became too commercial," Rosso said. He rejoined the brand for two years, parting ways with artistic director Nicola Formichetti and filing for US bankruptcy protection to extract the business from expensive store leases.
Rosso decided to take the brand upmarket, drawing in more fashion-conscious customers via a series of clever marketing campaigns (including a New York pop-up store pretending to sell Diesel knock-offs), and higher-priced collaborations with designers including A-Cold-Wall's Samuel Ross and Gosha Rubchinskiy. 
By the end of 2019, Diesel was back in the black. Luxury veteran Massimo Piombini was made Diesel's new CEO, and last year Y/Project's Glenn Martens, a designer known for his denim, was appointed creative director. Martens' vision for the new Diesel will debut at the menswear shows in Milan this month.
"If you want to keep a company cool, you have to maintain investment and creativity, then you need to be stronger in marketing, technology," Rosso said of Diesel's turnround. "But the first thing is creativity."
With his work at Diesel done, Rosso is now in a position to add further to the OTB portfolio – and he says he's interested in acquiring more brands. Ortelli suggested Etro and other companies around the €300 million revenue mark as possible targets, though arguably Etro lacks the "cool factor" that would make it a good fit for OTB.
Rosso owns 90 per cent of the group; his two sons from his first marriage, Andrea and Rosso, the remaining 10 per cent. (Both work at the company, and his daughter Alessia works in marketing at Diesel North America.) Though Rosso said he does not plan to retire in the next five years, he intends to leave OTB in the hands of his family: "Everything is prepared for the company to run without me."
RENZO ROSSO'S ROAD TO SUCCESS
1978
After three years at Moltex, Rosso establishes Diesel brand
1985
Rosso takes full control of Diesel
2000
Acquires Italian manufacturer Staff International
2002
Only the Brave (later OTB) established, bringing all of Rosso's fashion companies together under one umbrella
2006
Group takes full control of Maison Margiela
2008
Majority stake acquired in Dutch couture house Viktor & Rolf
2012
Agrees to acquire majority stake in Milan luxury label Marni
2015
Takes full control of Marni
2019
Minority stake acquired in Los Angeles label Amiri
2021
Jil Sander added to OTB portfolio
By Lauren Indvik © 2021 The Financial Times