Meet the Singapore hip-hop scene pioneer who's also the newly minted head (of) Honcho
Wayne Liu, aka DJ KoFlow, tells CNA Luxury how he went from being one of the most respected names in hip-hop to top dog at the latest nightspot in town.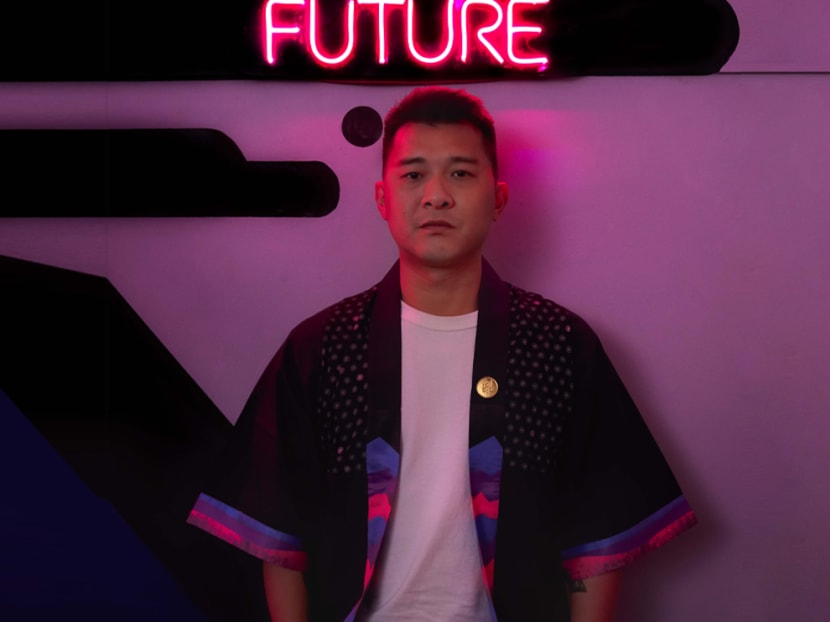 Among the industries that have suffered through the pandemic, music and its attendant subsets have arguably been the hardest hit.
While the likes of art and theatre have made a comeback, the return of clubbing, concerts, live music and, yes, karaoke continue to inch at a frustratingly sluggish pace, if at all.
How does one deal with these limitations when you're a career musician and turntablist?
In Wayne Liu's case, you dream up a space where you can bring people from all walks of life together again.
In February, Liu debuted Honcho, a three-storey space that occupies the historical Da Men Lou shophouse along Ann Siang Hill. Billed as a lifestyle venue, Honcho houses a modern izakaya on the ground floor, a craft beer-centric rooftop bar, and a members-only space in the basement.
"I saw an opportunity to bring people together again and to fill a void in the industry," said Liu, who is better known as DJ KoFlow. "I felt that with clubs dead, creative people don't really have a place to hang out, and this is where I can bring them together in a way."
Bringing people together is, after all, what musicians intrinsically do. They serve as a powerful social glue that connects individuals through the emotions they evoke with their sounds. And Liu has done much more than that in the span of his almost 20-year career. A pioneering hip-hop artiste, he is widely credited with building the hip-hop community and culture in Singapore.
"So this is how I see it," he explained in the neon trimmed basement of Honcho one afternoon. "Besides (offering) food and drinks in a venue, we can use music to bring people together, which most restaurants don't emphasise."
FROM HIP-HOP TO HONCHO
For the uninitiated, Liu is one of the co-founders of Solid Gold Production, whose hip-hop events were all the rage at venues like Velvet Underground and Zouk in its Jiak Kim Street days in the early aughts.
The award-winning selector (defined loosely as a DJ that finds rare and obscure tracks, itself known as "digging", to play to a receptive audience) has represented Singapore in the prestigious DMC World DJ Championships in London in 2003.
DJ KoFlow has the honour of being the first Singaporean hip-hop act to headline a show at The Esplanade Concert Hall, narrating his story in Flow – The Story Of KoFlow alongside guests like rapper Shigga Shay and breakdance crew Radikal Forze.
He opened for Kanye West when the American artiste brought his Glow In The Dark Tour to Singapore in 2008, and shared the stage with Missy Elliot at her Work It single promo event at Zouk in 2003. Solid Gold remains a bastion of Singapore's hip-hop scene, putting together events and grooming a new generation of hip-hop artistes.
In his early days, Liu was the embodiment of the struggling Singaporean artiste going against the traditional grain of corporate work life.
"It's acceptable these days to follow your dreams and make a living out of your passion, but my generation was the one who had to keep proving to society that we can believe in ourselves, love what we do, and make a living out of it," said the 41-year-old.
"I used to be that broke artiste. Every time I went out, I would order just one beer because I couldn't afford more. My friends who had (regular) jobs could afford food and drinks, but I just couldn't. I knew I had to hang on to my money because I wasn't making enough. And then there're your parents who keep telling you to get a proper job."
It was only in his early 30s, when his friends were thinking about houses and children, that Liu's career began to take off. "In 2014 or 2015, it dawned on me that, 'hey, this is not so bad. I can finally sustain myself.'"
YOU GET WHAT YOU PAY FOR
"Someone once told me that as an artist, you have to keep doing what you're doing until people realise what your art is. It took me about 10 years for people to realise that turntablism is different from DJing. Turntablists are more technical. We are like the jazz musicians compared to pop musicians. It took me a long time to get there," he continued.
Acknowledging his own worth was another challenge to overcome. The Singaporean mindset of undervaluing creativity was well and alive, even when it came to his own work. "I always had to tell myself: 'If I book a foreign DJ, it would cost me like S$5,000 to S$10,000. Why am I paying myself so little?"
Eventually, a friend stepped in as his manager and took over negotiating his rates, in the process making it evident that Singaporeans are more than happy to pay to experience Liu's work. "That was my turning point. That's when I realised you have to kick down the walls and say, 'we may be local artists, but we are good enough'."
SIR MIX-A-LOT
Liu may not have business experience in the conventional sense, but building his artistic identity as DJ KoFlow was much a part of his induction into the business world. "I learnt a lot about brand building and marketing from it. My partner at Honcho, Amos (Poh) comes from a fintech background… so we complement each other that way."
Liu's artistic bent informs the way he runs Honcho, especially in his emphasis on the need for his chefs and mixologists to try new things. "I understand passion and I want a place that is driven by passion. Of course, experimentation comes with failure, but we want to encourage the other side of it."
Honcho is as much an experimentation process for him as he finds himself learning new skills, such as managing a team and negotiating deals for the space. "I knew I could do it, but I never had to handle it, and now I do," he said matter-of-factly.
If anything, Honcho has awakened Liu's inner entrepreneur. "I would like to expand into a few more businesses. I'm looking at a small club that pushes more boundaries where we will house more left-field and independent music, as opposed to clubbing music. Eventually, there are a lot of smaller businesses that I want to go into as well, like maybe a food court, because Honcho has given me a lot of inspiration to do things that I believe will work."
In the meantime, he is deep in rehearsals for his appearance on Northern Lights, a live experience that will take place in April as part of Seasons In Session, a music series presented by 24OWLS. He will perform alongside violinist David Loke, creating a blend of electronic beats and classical sounds in a synchronised set.
And with the 10.30pm ban on drinking finally lifted at food and beverage establishments, Honcho and its head honcho, DJ KoFlow, look set for a busy year ahead.