This Singapore doctor is now saving people in a different way – as a life coach
Healthcare professional Dr Jade Kua is pivoting into entrepreneurship as a life coach to empower people to live their best lives.
To say that emergency medicine specialist Dr Jade Kua has had a challenging year would be an understatement. Like many other doctors and healthcare professionals, she has been working hospital shifts under stressful conditions during the COVID-19 pandemic and limiting social interactions as a precautionary measure.
On top of this, the President of the Singapore Anti-Narcotics Association (SANA) and Director of the Dispatcher-Assisted First Responder (DARE) programme, continues to embrace different ways to make a positive impact. She has just established her life coaching practice Jade Life and Wellness to help others to change their lives for the better by assisting them in mindfully achieving their goals.
Her interest in this field stemmed from her curiosity about other forms of healing beyond Western medicine, such as traditional Chinese medicine or homeopathy.
"There are other ways of healing other than the one that I had spent such a long time training in," said Dr Kua. "And as I started to do more research, I also discovered that there are ways of helping someone that does not involve medicine, which is essentially what coaching is as you are a catalyst for change."
Dr Kua, who will receive her associate certified coach accredited by the International Coaching Federation next week (Oct 10), says she finds coaching a powerful tool that she can harness to help others.
"I feel that this opens up a new avenue for me to help people other than as a doctor who diagnoses and heals someone who is sick. As a coach, I work with clients to accomplish their goals."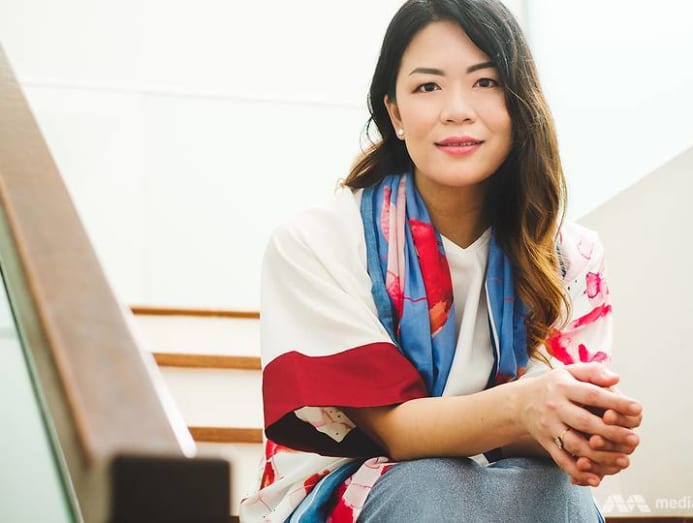 Those who know the good doctor would not consider this a surprising development in her multifaceted career, where she is known as a paediatric emergency specialist, a mentor to younger doctors and also has her own YouTube channel to teach emergency medical responses.
A well-liked figure in Singapore's social scene, Dr Kua is known for her warm and nurturing personality and ability to strike up a conversation with just about anyone.
Still, she notes that her style of communication when coaching differs from when she is seeing patients or mentoring juniors. "As a doctor, you lean towards diagnosing and giving advice. But as a coach, I ask open questions without really directing the flow of conversation anywhere as this helps the client emote freely," she observed.
Dr Kua, who began offering life coaching sessions to private clients this year, says the best part of her practice is working with people to help them achieve "clarity".
This is especially so when clients have broad aims such as achieving a better work-life balance or becoming a better mum that she can help refine into achievable targets. The key to this process of setting out concrete goals is to give the individual space to learn about themselves, she observes.
"Allowing them the opportunity to gain insights about themselves and understanding why their goals are important to them is how an individual can meaningfully make a change," she said.
She is not giving up her medical practice either – she is currently the senior consultant at the Department of Emergency Medicine of Woodlands Health Campus. Instead the mother of six is relying on savvy time management, such as by scheduling weekend shifts at the hospital and conducting coaching sessions via Zoom, to wear multiple hats.
She does get tired, she admits, but her drive to make a difference keeps her going. She muses, "If I am not curious and brave, then these doors would always be closed right?"
While her chosen profession is rooted in science and logic, she also enjoys exploring her artistic side. In July, she launched her first-ever fashion capsule collaboration with art-inspired brand Ying The Label, featuring a T-shirt, blouse, shawl and a twilly scarf in various colours and designs.
Although she was disappointed that she had to shelve plans for a launch party with a fashion show because of the pandemic, she chose to find the silver lining in this.
"During this pandemic, everyone has been worried about their physical health. However both Ying The Label and I wanted to highlight something beyond physical wellness. I wanted to take the opportunity to encourage empathy, acknowledge fears and focus on mental wellness," she wrote in a recent blog post.
To raise awareness about caring for one's mental health and to offer assistance to the arts industry, which has been severely affected by the pandemic, she is donating 10 per cent of proceeds from the sales of this collection to Pangdemonium. The local theatre company helmed by thespian Adrian Pang has previously staged shows that focus on mental illness and caregiver stress.
She speaks candidly about the personal toll that the pandemic has taken on her. "Everyone has been quite stressed mentally and emotionally and for all the benefits that safe distancing has, it's tough to be socially isolated. It makes it difficult for people to unpack their emotions," she said.
When she recently switched jobs, she says she felt a pang of sadness at not being able to have a farewell party at her former hospital. "It may sound frivolous but not having that closure is hard."
While the world may have to continue practicing safe distancing for the time being, Dr Kua has found comfort in connecting with her tribe via digital means.
She holds daily Instagram Live sessions in the evenings where she converses with guests and followers on a wide range of topics from everyday successes like getting her son to do his homework to the trials and tribulations she has to overcome.
The nightly sessions, which she started earlier in the year as a form of virtual journaling, were so well-received she decided to continue running them. She said, "I keep it real and do not sugarcoat anything and the feedback I received was that people enjoyed tuning in as the topics were relatable and helped them cope with various issues that they might be facing."