This Michelin-starred chef is creating healthy meals for students in Singapore
Emmanuel Stroobant of two Michelin-starred Saint Pierre launched institutional catering arm Mycelium Catering in 2021 to provide freshly cooked and balanced meals to school canteens.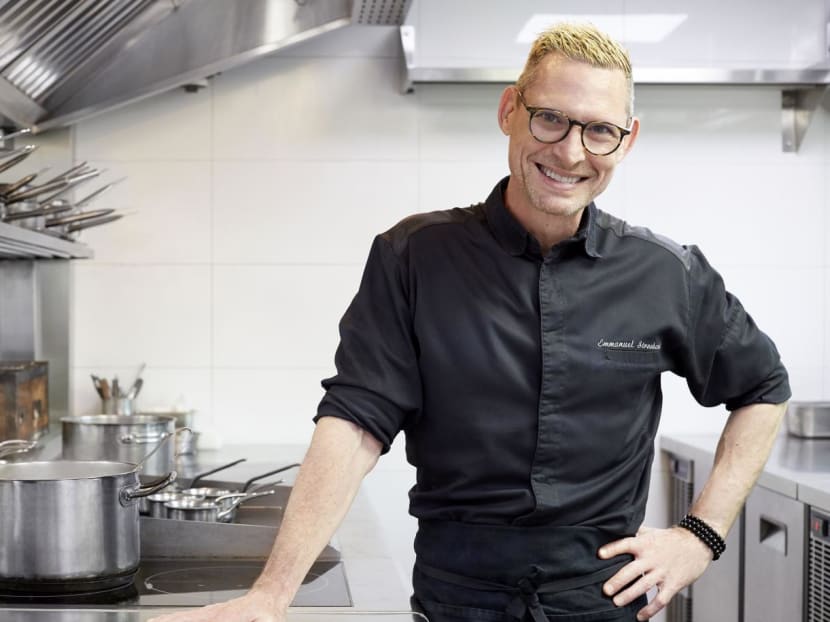 When one of his daughters was in pre-school, Emmanuel Stroobant once saw nuggets and ketchup being served to them as snacks.
"I asked the teacher, 'Where are the veggies?' and she pointed to the ketchup and said, 'There's tomato in there'," recalled Stroobant with a wry smile on his face.
It got the chef-owner behind the Emmanuel Stroobant Group, which includes two-Michelin starred French restaurant Saint Pierre and edomae sushiya Shoukouwa, thinking about what he could do to improve the quality of school meals. In 2012, a chance encounter with a representative from the Stamford American International School resulted in him being appointed to operate their canteen. For four years, he worked with the school not only to deliver nutritious meals but also implement engaging ways to get students interested in what they were eating.
In 2016, Stroobant took a hiatus to focus on his restaurants. Last year, he decided to venture into school meals again and launched institutional catering arm Mycelium Catering. It has been operating the canteen at international school XCL World Academy since August 2021 and was just appointed by Dover Court International School in August 2022 to do the same. Mycelium is also in charge of the canteen offerings at EHL Campus (Singapore), the Asia Pacific branch of Switzerland-based hospitality institution Ecole hoteliere de Lausanne.
Celebrity chefs advocating for healthier school meals is not new; British chef Jamie Oliver pushed for better nutrition for children in schools in the UK as early as 2005. Stroobant himself was struck by a comment Oliver made in his The Jamie's School Dinners documentary.
He shared: "The 'aha' moment was when he said that people aren't cooking at home anymore. And it's very true in Singapore. We send our helpers down the road to 'packet' food, and we eat in front of the TV or next to a computer while the kids are playing games on their phones. We've lost the connection around the table. It's not about the food but about a recipe being passed down and a family sharing moments together."
At XCL World Academy, the menu changes daily across a variety of Asian, Western and vegetarian choices. Children with allergies can opt for dishes that don't contain eggs, dairy or gluten and these are prepared in an area in the kitchen specially set aside with exclusive equipment to prevent cross-contamination.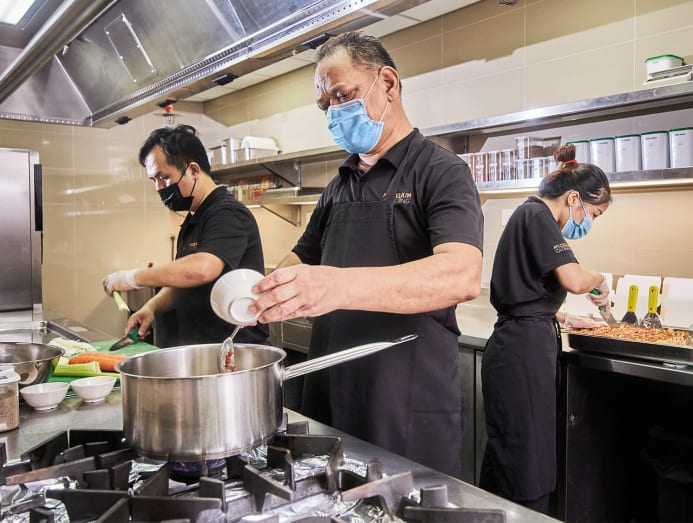 Would a fine-dining chef eschew fast food? Thankfully no, in the case of Stroobant, whose daughters are now 10 and 13 years old and studying in a local and international school respectively. He said: "I've no issue giving (pizzas and burgers) to the kids, as long as I know where the ingredients come from." The burgers are made from sirloin cuts that are minced in-house and paired with sauces made from scratch. Vegetables are brunoised and mixed into patties, mashed potato or lasagna to ensure the children eat them willingly albeit unwittingly. He makes sure that each dish looks and smells enticing, and Mycelium's staff eat the same meals they dole out to the kids.
Stroobant said: "We want to give the children homemade, balanced meals cooked daily. At first I was very ambitious; I wanted to go organic, have 75 per cent vegetables, then I realised we're dealing with young customers who are very flexible. We can teach them a lot through food, but we still need to give them something they recognise and enjoy. The last thing you want is for them to take one mouthful then throw it away."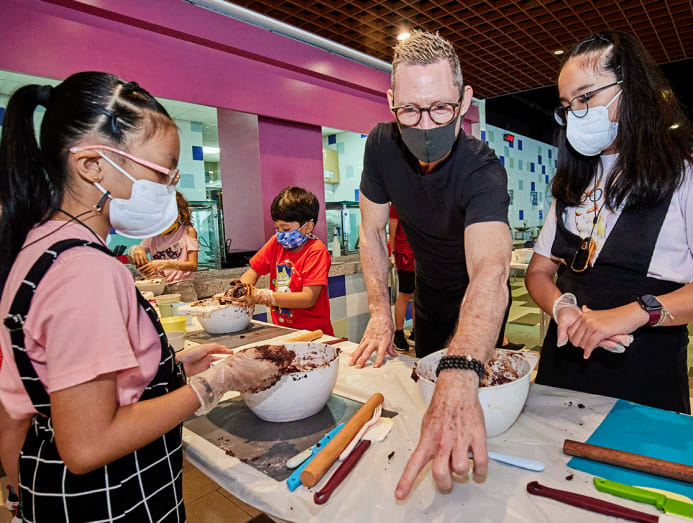 Portions are catered to specific age groups. Nursery and kindergarteners (three- to five-year-olds) get 200g, Year 1 to Year 4 students (six- to nine-year-olds) receive 250g while the rest of the students up to Year 12 get a 300g portion, with the option to upsize an additional 150g.
With more than 20 nationalities among the more than 800 students and teachers at XCL, Stroobant sees an opportunity to expose children to a wide variety of food in a delicious yet educational way. Dishes range from lamb rendang with biryani rice and chicken stew with carrots and macaroni to stir-fry kway teow with vegetable gyoza.
Previously, at the Stamford American International School, the three- and four-year-olds have their meals in their classrooms communal style, where they learn to set the table according to the cuisine and serve the food. With safe-distancing measures being eased, Stroobant plans to discuss with the two schools on how to implement this practice again. "It's amazing to see the interaction between the little ones as they learn about the food in each other's culture," he enthused.
On the day CNA Luxury visited XCL for a behind-the-scenes look at its canteen operations, the menu was Japanese curry chicken katsu don, fish fritters with coleslaw and potato mash, and vegetarian lasagna. The chicken katsu and fish fritters were crispy and the curry was savoury without the taste of being overladen with salt. Even the potato mash was creamy and tasty. Everything is freshly prepared onsite and served in individual wrapped portions instead of being scooped from the conventional bain-marie food warmers. Each server aims to dish out each order within 15 seconds whether the student has pre-ordered the food or is buying on the spot.
Mycelium also organises five-day Star-Chef Academy culinary camps for XCL students aged seven to 16 years old where they learn things such as how to handle kitchen equipment, the history and culture of food, and table etiquette as they prepare snacks, meals and desserts.
Stroobant is in no hurry to expand his operations, preferring to focus on one school at a time to make sure the operations are stable before moving on to the next one.
He said: "I may not be able to change every meal, it's ok, my job is to plant seeds. I've been in Singapore for 23 years, my career has bloomed here, so I want to give back, and I think doing something for children is a nice way. If I can make an impact on some, I can sleep with a smile."