Meet the Singapore couple bringing you Japan's top beers and sakes
Disenchanted by the lack of Japanese craft beers served in top restaurants here, Charles Ng and Joan Lim of Epicurean Nomads embarked on a passion project to bring in premium sips from Japan.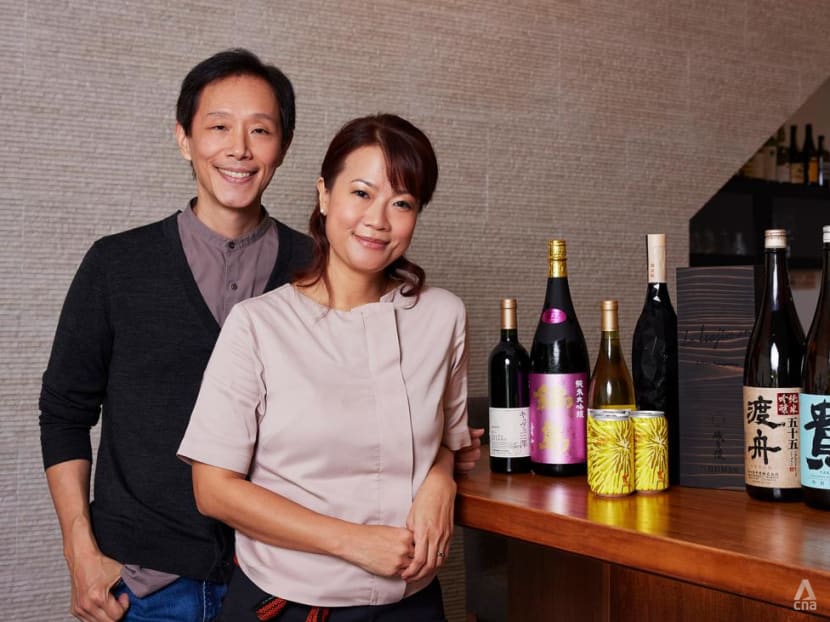 On weekends, friends and customers of Charles Ng and Joan Lim have a habit of messaging them screenshots of sake menus in restaurants, asking them what they should order.
Ng jokes that he and Lim are like sommeliers on duty, providing a "somm-anywhere" service on WhatsApp.
It's a favour the couple have no qualms indulging in. After all, as co-founders of Japanese alcoholic beverage importer and distributor Epicurean Nomads, Ng, 47, and Lim, 44, have made promoting sakes – and Japanese craft beers – their mission. The pair, who have been married for 13 years, are also certified sake sommeliers.
Epicurean Nomads began as a pop-up in 2013, promoting a range of Japanese craft beers at the now-defunct Takumi Tokyo restaurant at Keppel Bay.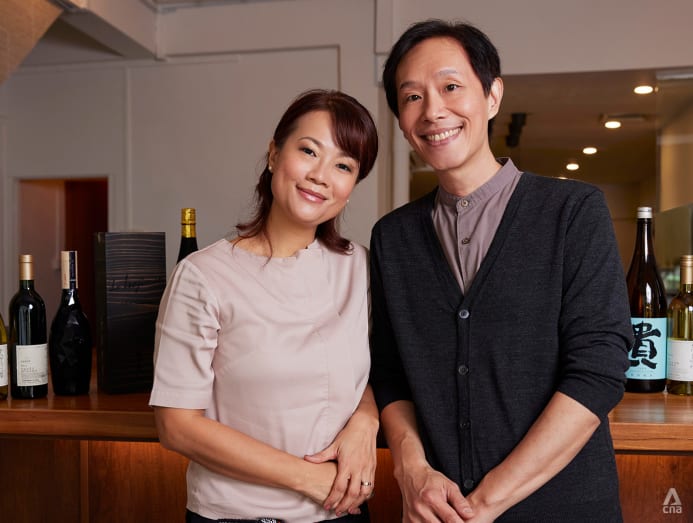 The idea of bringing in such brews into Singapore was born out of a love for Japanese craft beers and the lack of such products here back then, said the soft-spoken Ng, who was working in the hospitality technology industry for 12 years before starting Epicurean Nomads.
Meanwhile, Lim was working for a wedding gown business that had a joint venture with a wedding hall in Japan. It was an arrangement that gave the couple ample travel opportunities to Japan.
Ng was amazed at the range and quality of the beers he could find in Japan. "I was puzzled by what I saw at kaiseki restaurants and high-end sushiyas here [in Singapore]; you'd see so much effort being put into the sourcing of ingredients and the backbreaking preparation but the beer they'd serve was something that was available from a kopitiam or 7-Eleven," he said.
"There was this big disconnect between the food and the beer selection, which I could not wrap my mind around. I said to myself: There are so many great Japanese beers. Why don't the restaurants here serve them?"
Swan Lake, one of the Japanese craft beers they brought in, is now available at top sushi restaurants here such as Sushi Ayumu and Hashida Singapore. The crisp, floral beer is a rice lager made from Koshihikari, a rice cultivar from Niigata that is more commonly associated with sake production.
"Compared with American or British beers, Japanese craft beers tend to have a cleaner taste to suit the Japanese palate. They taste more precise," said Ng. "But if you don't have the palate for such beers, you may not appreciate it."
Lim said Singaporeans are generally quite adventurous and willing to try something new. "Once you taste how different a craft beer is [from a commercial beer], there's no going back," she said.
CONNECTING WITH SAKE AND FATE
The couple started bringing in sakes after restaurants and customers began asking for them during the pop-up. Although they were not very familiar with sake at the time, they decided to explore this segment and sought out some breweries.
Meeting the owners of sake breweries brought its own fair share of cultural challenges, such as navigating the ambiguities of Japanese-style communication.
"The Japanese don't tell you 'no'," said Lim. "And even after a few drinks, you still aren't sure if it's a 'yes' or 'no'."
Sincerity is key to winning the Japanese over, said Ng. "If you are persistent, they will, over time, relent," he added.
For example, one of Epicurean Nomads' sake brands, Nabeshima – a sake brewery based in Kyushu's Saga Prefecture – was the result of a two-year pursuit. They had first tried its sake after a friend brought a bottle back from Japan. "We had never tasted a sake this good," recalled Ng.
"Through an introduction [by a mutual friend], we got access to Nabeshima. The first year we started working with them, we were only allocated 10 cases [120 bottles]; it wasn't one label or variant for each case but a mix. That was what we had to work with," said Ng.
Other times, fate played a part in securing a deal.
In 2014, with the help of a translator, they wrote a letter to the president of Nagai Sake brewery, Noriyoshi Nagai, to tell him how much they enjoyed his Mizubasho Pure, a sparkling sake.
In return, Nagai-San (who till this day, according to Ng, likes to tell people about his "love letter from Singapore") offered to host them in Gunma Prefecture, where his brewery is located. After their meeting, they left Gunma the next day, hoping to receive a favourable reply from Nagai.
Two days later, while they were in Tokyo Station, amid its gargantuan complex – a city in itself – where more than half a million commuters weave through its passages and platforms daily, they bumped into Nagai-San, face to face.
"What were the chances of us meeting each other like that in Tokyo Station?" recalled Ng. "So he said, 'Because of this chance encounter, I will do business with you'."
Nagai's faith in unmei ("fate" in Japanese) paid off. Ng and Lim later managed to get Mizubasho sakes on board Singapore Airlines' First Class and Business Class; a deal that really pleased the president. "Never in his wildest dreams did he imagine he'd see his sakes on Singapore Airlines one day," said Ng.
BACKING THE OWNER-BREWERS
Today, Epicurean Nomads carries about three dozen brands of sakes and Japanese craft beers in its portfolio. It's not a wide range by any extent, especially when compared with other bigger sake importers, but it's a selection that reflects the company's emphasis on breweries led by owner-brewers.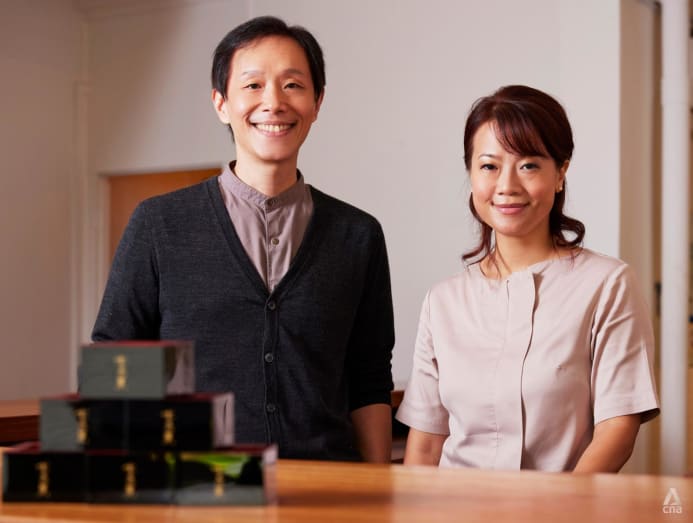 "Owner-brewers make up 90 per cent of our portfolio," said Ng. "Owner-brewers weren't that common in the past, as back then the president would engage a toji or master brewer from the toji guild to manage the brewing. Out of desperation to keep their family business alive, a lot of owner-brewers have had to learn sake-brewing themselves and try to pass on their skills to the next generation. We realise that owner-brewers are the ones who take risks, push boundaries, and do a much better than job than hired tojis."
Ng also likes supporting the rising star; the non-conformist. One of his favourite brands in his portfolio is Taka from Nagayama Honke brewery in Yamaguchi Prefecture.
Nagayama Honke's fifth-generation owner-brewer, Takahiro Nagayama, had spent some time making wine in Burgundy before returning home to take over the family business.
Influenced by Burgundy and the concept of terroir, Nagayama decided to grow his own rice – a rare move for any brewer as most sake producers buy rice from contracted farmers across Japan – and also looked for limestone soils (a Burgundian rub-off) to plant the crop, which he believes lends minerality to his sakes.
Apart from sakes and beers, Epicurean Nomads also carries Koshu wines from Grace Wine, a renowned Japanese winery in Yamanashi Prefecture. Ng is optimistic that "Japanese wines are going to explode in the next 10 years".
"The Japanese have done beers well; they have done whiskies well. There's no reason why [Japanese wineries] won't be successful. There's no stopping them," he said. He hopes to explore the wine scene in Japan once travel is possible.
Before the pandemic, they'd take turns to travel to Japan because they have a young daughter at home. They are looking to catch up with their business partners in Japan.
Lim said: "Many of the breweries were badly affected when restaurants and bars had to close [during the state of emergency] in Japan. The 'circuit breaker' here affected us, too. The breweries' exports suffered. It was a humbling time for everyone."
They have two staff, both sommeliers, based in Singapore. There are plans to have them being attached to restaurants for a day, to train service staff on sake knowledge and conduct tasting sessions.
Ng is optimistic that the market will rebound soon. The next big thing to look out for, he said, is sake on tap. They are currently working with KeyKeg, a company that sends kegs to sake breweries, where they'd fill them and then send them to bars and restaurants. The kegs come with internal sterile pouches so there's no contamination of the liquid. They keep beers and sakes fresh, especially namazake or unpasteurised sakes, which are known to have fruitier aromas.
"I think the younger and progressive sake brewers are keen [on this arrangement]," he said. "With these kegs, we may soon see a cross-pollination between beers and sakes at craft beer venues. We are quite excited about it."