Singaporean handbag designer Ethan Koh finally sets up shop on home ground
Singapore's most famous arm candy designer, whose bespoke creations are coveted by celebrities and royalty, now has an atelier of his own on the little red dot.
Like sightings in the wild, designer Ethan Koh's luscious yet understated exotic skin handbags often turn up on the arms of some of the most famous women in the world without the slightest notice. Eagle eyed observers have spotted Princess Eugenie carrying Ethan K clutches on the red carpet while actress Carina Lau is known to tote favourites from her collection to various society soirees. Then there are the models Hailey Bieber and Sofia Richie who prefer dressing down their bags with athleisure wear.
Although the Ethan K bags do not display showy logos – at most, the brand's signature hedgehog emblem may adorn a clasp – the designer's quirkily stylish designs and use of vibrant, jewel-hued crocodile leather are showstoppers in their own right.
No wonder for the past decade, the Singapore-born, London-based maestro has become the go-to bespoke bag maker for those in the know. But scoring an appointment with Koh can be elusive.
While a selection of his creations can be found in exclusive boutiques around the world, including Harrods in London, The Ritz Hotel in Paris and Malmaison by The Hour Glass in Singapore, the truly determined had to travel to his private atelier in London to meet with him. But even then, they would have to make plans to sync their schedules with the globetrotting designer, or their voyage would be in vain.
Not anymore. This Singapore boy made good has finally set up his first permanent gallery locally to be within closer reach of his clients in Asia.
"There is a growing demand for one-of-a-kind handbags among luxury consumers in Asia. Also, Singapore is my birthplace and my design DNA is very inspired by nature and the tropics so it is a natural next step to launch an atelier here," said Koh, who intends to spend more time in Singapore now that the atelier is launched.
Still, there is an air of mystique around this rarefied bag procuring process. Access to the Ethan K gallery is strictly by-appointment-only and the address is kept secret until details are confirmed. He will only hint that it is located in a heritage building in the River Valley area.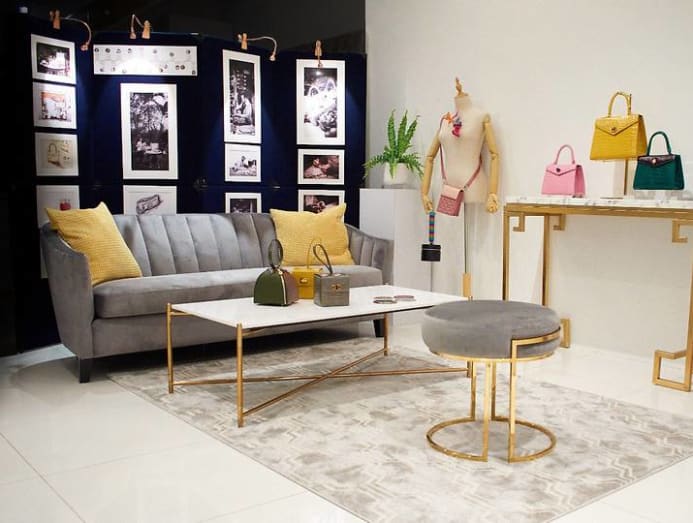 The space is simply but elegantly decorated, with a plush velvet settee and marble topped display tables that evoke a comfortable reading room – ideal for perusing the wares on display.
Here, besides taking bespoke orders, Koh has also made available a selection of bags that are available for immediate purchase. This will please his growing pool of eager customers who are loathe to wait between a month and a year for an order to arrive before they can post about their acquisition on Instagram.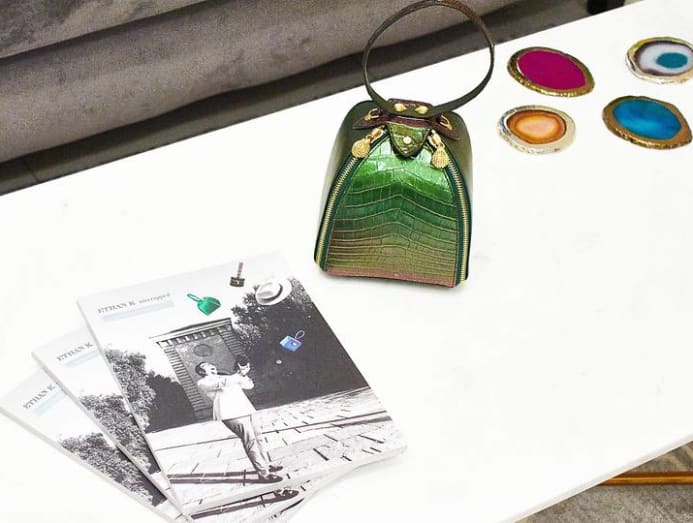 "Our business has evolved as the modern luxury consumer prefers instant gratification. She has evolved from wanting creations that match an outfit to carrying pieces that stand out and tell a story," he said.
Indeed, over the past year, Koh has been focusing on creating statement pieces that add punch to an outfit. Recent highlights include the cuboid shaped Glamourbox which looks compact but can fit a smartphone and the even tinier crossbody Minibag which can barely hold a compact, lipstick and credit cards – but looks cute in photographs.
The gallery also stocks his newly launched fragrance and candle capsule as well as designs from his latest Mystical Landscapes collection where he made his first foray into mixing exotic skin with other materials such as calfskin and even rattan. Up next is a full leather collection which Koh, who famously does not follow the fashion calendar, says he will launch when he is ready.
In the meantime, here's an insider tip for Ethan K fans: At the Singapore atelier, if you ask nicely, Koh and his assistants might just trot out brand new, never-before seen pieces from their "secret" stash. Now, that is how exclusivity meets instant gratification.
For more information, email info [at] ethan-k.com () or privateorders [at] ethan-k.com ().