Here's how The Executive Centre is redefining the concept of an office and the way we work
Realising a space for performance goes beyond mere form and function. It's a careful construct of design, wellness in the workplace, customised options and meticulous attention to detail.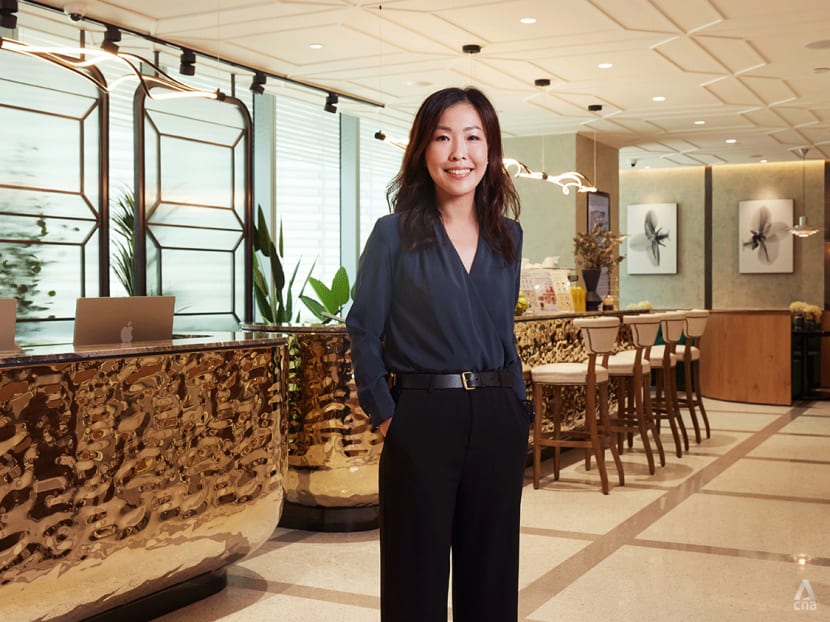 It's half past ten in the morning when we arrive at The Executive Centre (TEC) at Ocean Financial Centre. Already its co-working lounge is bustling. Most of the elegant tables and both its huddle corners are taken up, even if not all seats (and there are plenty enough) are occupied.
In the background, from the 37th floor, is a breath-taking panoramic view – bayfront no less to match the limitless horizon of blue skies – and quite the prime spot to watch the F1 night race that is about to happen in a few days. Yet people are busy working, some independently, others deep in group discussions. While there is chatter, it's not loud enough if one needs to hear themselves think. It hints of how shared space is managed here, because it is business as usual, even if the surroundings are beautifully posh.
What defines an office space goes beyond mere form and function now, largely because the way we do business has changed, especially after the COVID-19 pandemic. The work standard is evolving as we speak, because even hybrid work arrangements are as varied as organisations are. While companies adjust to a new normal that is still trying to find settling ground, it has given rise to service providers like TEC that offer flexible office spaces and support enterprise solutions that can grow with your business. 
In 2021, the global co-working space industry generated US$6.89 billion (S$9.89 billion), and is projected to generate US$24 billion by 2030, according to a report by Next Move Strategy Consulting, a premier market and management consulting firm. It is a sizeable chunk of change eyed by many players – it's estimated that there are 19,400 co-working spaces, globally.
WHERE LUXURY MEETS PERFORMANCE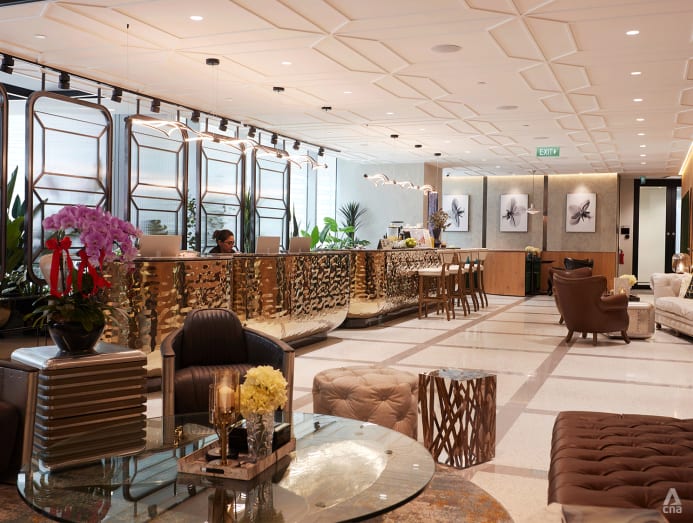 A distinct ethos is what distinguishes TEC from other co-working spaces, and this is where it makes its mark, by marrying quiet elegance and understated luxury with efficient performance. It cuts an impressive first impression with its state-of-the-art fixtures like the Salto Bluetooth system that allows members seamless 24/7 entry into their offices via a mobile app, Zoom rooms that are not only sound-buffered but also lit for flattering video calls, and industrial art sculptures that hang on the passage walls – all big nods to modernity. But there are also artisanal accents like the handsome heritage furnishings by Timothy Oulton in the shared lounge areas, and a barista-manned coffee bar that serves up ethically sourced coffee to make it personal and warmly inviting for collaborative sit-down.
There are a variety of flexible packages that the TEC offers, from Hot Desking, Dedicated Desk, and Day Office (you get use of a private office 10 days in a month) for hybrid work needs, to longer-term leases of offices with customisable enterprise support solutions.
Comfort is an obvious priority here - ergonomic Herman Miller Aeron chairs are a ubiquitous feature in all TEC centres, ditto 9AM height-adjustable smart desks to offer one better wellness while at work.
Mothers returning to work have access to a private nursing room, thoughtfully kitted with both a sophisticated baby bottle steriliser system, and fridge. The inclusive centres are wheelchair accessible with generous passage space to facilitate ease of mobility. Pantry nooks are unobtrusively interspersed among office spaces, offering a well-stocked fridge of soft drinks (it's an honour system here, just write your name and account when you take one), snacks and complimentary tea and Nespresso coffee.
Whether it's the oat milk that's stocked in the pantry fridge for lactose-intolerant stomachs, to the subtle demarcations in the flooring that delineates workspaces from more relaxed ones – office spaces are fully carpeted for optimal sound insulation, while common spaces like the reception and lounges are not – there is meticulous attention to detail.
Most of TEC's office rentals are taken up by banking and financial clients, law and tech firms, undoubtedly drawn by the TEC's prestigious business locations and enterprise solutions. This makes up about 90 per cent of TEC's business, while 5 to 10 per cent of it comes from co-working memberships.
It's a strategy that seems to have worked in TEC's favour for it has consistently maintained profitably pre- and post-pandemic and continues to be the third largest serviced office business in Asia, with an annual turnover in excess of US$260 million. In the past five years, it has doubled the size of its business both by revenue and profit. It has also established its presence in 14 countries and 33 cities, with 165 centres (six of which are in Singapore) in prime business addresses. The business has over 40,000 members worldwide, 76 per cent being multinational companies (MNCs) with a high credit standing. In 2021, it was among the Top 500 of FT Asia-Pacific High-Growth Companies.
In Singapore, TEC just expanded one of its centres, taking up the whole fourth level of the Ocean Financial Centre, with 295 stations added. As Yvonne Lim, TEC's managing director of Southeast Asia, takes CNA on a tour of the new floor, she tells us that even prior to its official launch on Oct 6, they are already 93 per cent pre-sold.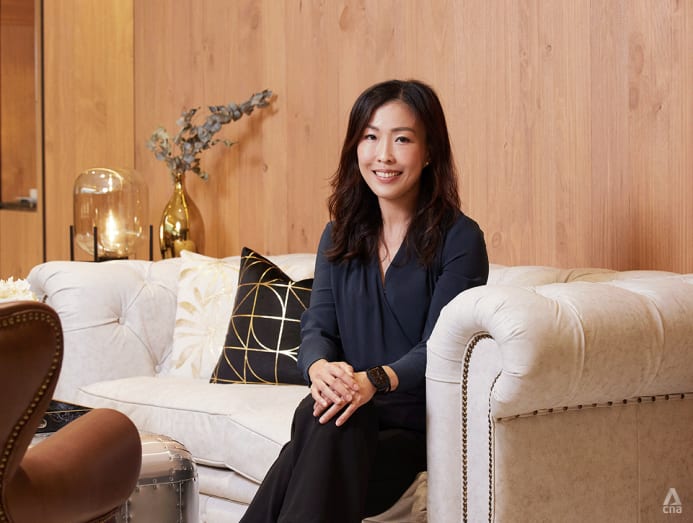 Lim herself is the perfect embodiment of the company's ethos. There is the business efficiency with her poise and confident aura, but she's also very personable, with a keen interest in what's trending, and how she can always better the customer experience.
One of the uncompromising requirements she has for the centres, is that her staff members know all the clients by name. Not unlike the personal concierge or butler services you might find at an upscale hotel. (Incidentally, Lim's previous career portfolio includes almost a decade's experience in the hotel industry.) It's no mean feat considering there are six centres (and nine floors in total) in Singapore, and that her teams are rotated every quarter across all locations. It's challenging mental gymnastics, and yet TEC has one of the lowest turnover rates in the industry. She confidently tells me that many of the staff members have been with her for at least five years.  
She also lives by example – Lim doesn't have a fixed desk space, despite her rank. "I don't have an office," she said, and instead gets into one of the many private phone booths the TEC has, to take business calls or find quiet respite and works out there on the floor like many of her co-working members and her staffers. Not that she minds because again, it puts her within reach of her clients, to understand their requirements better and suss out new collaborations and opportunities.
HOW THE PANDEMIC HAS CHANGED BUSINESS
It wasn't that the pandemic didn't have some repercussion on business, Lim shared. On average, office leases at the TEC tend to run for 12 months. But in the second half of 2020 to 2021, clients were only taking up three-to-six-month leases; likewise with renewals. Occupancy rates dipped to 80 per cent at the height of COVID-19, but by Q4 of 2021, they were back up at 90 per cent again. By the second quarter of this year, occupancy now stands at 97 per cent.
In January 2023, TEC will be launching another centre at Capital Square with 430 workstations. Other plans in the pipeline: A new centre at Singapore Land Tower in Raffles Place. It will take up the top three floors of the building and will see another 490 workstations added to the stable. This is slated for January 2024. Elsewhere in the region, a new TEC centre will also be opening in March 2023, although Lim shared that TEC is always on the lookout for more opportunities.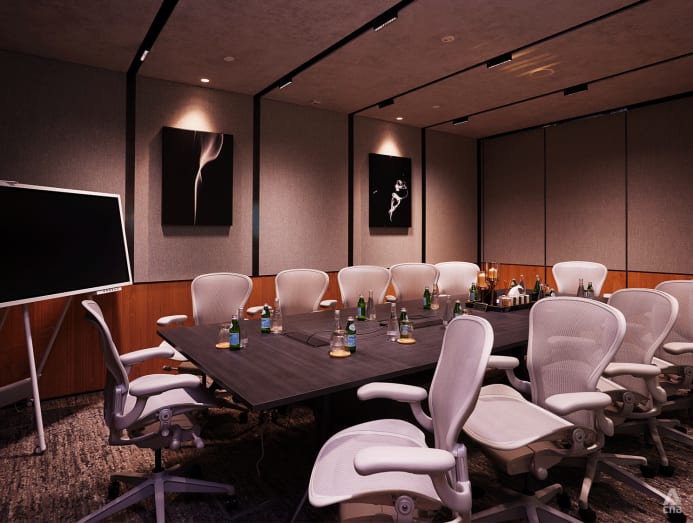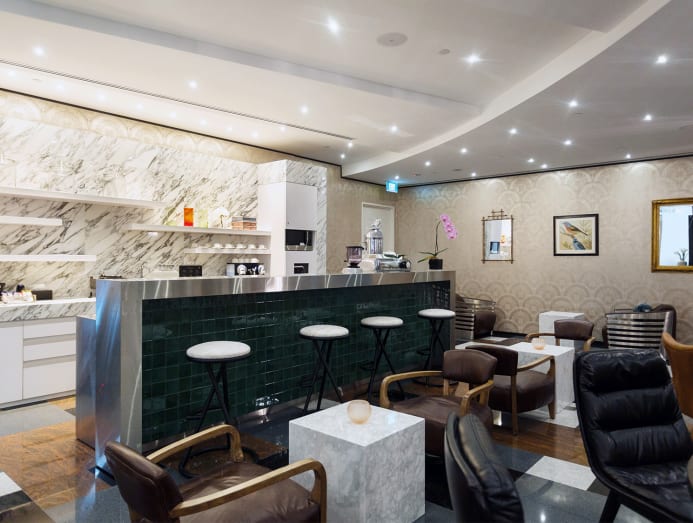 She also shared that hybrid work arrangements have worked largely in TEC's favour. The reality is that "companies do not want to pay for unused space that are not fully utilised all of the time, such as meeting rooms or lounges". They also want flexibility for down or upsizing as the situation changes, especially when they are entering or expanding into new markets.
In that way, TEC gives that accordion flexibility for growth, and its solutions grow with your company. These services aren't just about niceties like a concierge service, a barista bar or gourmet ice cream stocked in the pantry fridge. Nor does it hinge solely on generous desk space or carbon sound-absorbing carpets. It extends to enterprise solutions that fall in line with your corporate playbook, whether it's providing a business with 30 or 300 workstations, the customised utilisation of space within the office so you can fit in a snooze room, a library for your employees,  high-speed digital infrastructure or even the vendors on-call to support a company's web presence.
They are a combination of all that, plus opportunities for networking and collaborations. The TEC hosts regular social events like drink nights every quarter, webinars or talks with esteemed speakers and industry insiders for its members. Its app doesn't just gain you entry into a building, but also access to social exchanges with other likeminded professionals. It's like LinkedIn meets country club.   
This intricate balance of business and wellness in the work sphere transcends just a beautiful space to work from. It's a sum of parts that's greater than its whole, and that's where TEC has found its niche.