F1 driver Alex Albon: 'I consider Singapore my home race'
F1 Williams Racing driver Alex Albon also declares his love for Singapore food, and explains why he no longer wears his favourite underwear during a race for good luck.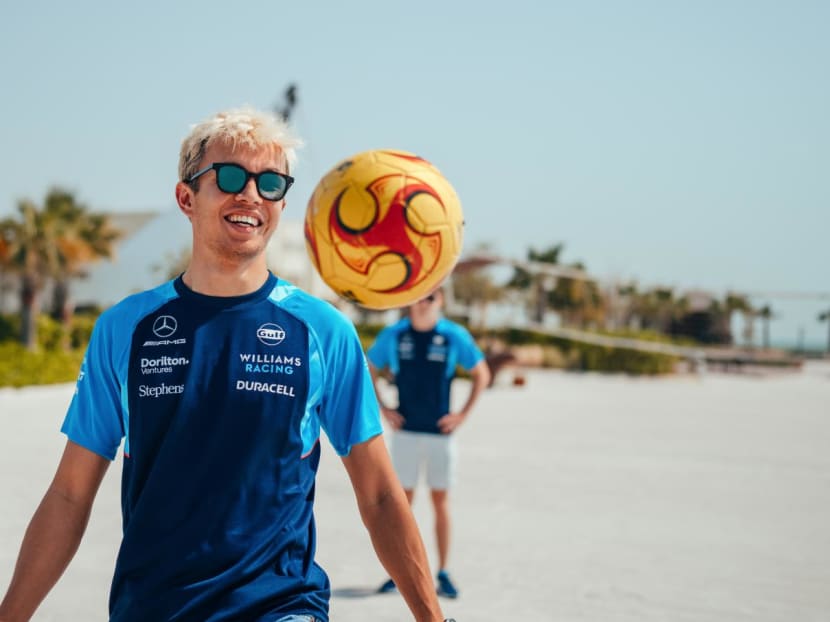 "I consider Singapore my home race," Alex Albon told me as we sat to chat at the Williams Racing Fan Zone at Raffles City ahead of this weekend's Singapore race.
The half-British, half-Thai Williams Racing Formula One driver is certainly well-loved in this part of the world. And, as a nod to how special the Singapore race is to him, it's here that Albon is launching his own brand of footwear, Alex Albon Athletics this week. It's minutes before the exclusive fan Meet & Greet and, according to Williams officials, the crowd has been gathering since 6am for a chance to catch Albon in the flesh. And, perhaps, snag an autograph. 
The energy is electric. Albon arrives and the crowd goes wild at the sight of the 1.86m-tall lad and that signature megawatt smile. He's no longer sporting a blonde mop. "When I dyed it in Monaco, they destroyed my hair," he opined.
His girlfriend has accompanied him on this trip and one can't help but remark what a cute couple they make. Make that power couple.
She's Chinese professional golfer Muni Lily He who plays on the US-based LPGA Tour. The crowd erupts every time "Lily" is mentioned by the emcee or Albon himself. Fans clearly approve. There's just something very sweet about this four-year romance, and you can't help but want to root for them, too.
The pair have an easy rapport and are great at charming the crowd. Albon, only 27, is personable and mild-mannered, rating high on likability. Observing the couple together, it's obvious they rank well on compatibility, too.
They've just arrived from Thailand and Albon is stoked to have been able to spend time catching up with family and sponsors, pack in a round of golf and a visit to an orphanage back home. So, no jet lag for him, thankfully. But the heat is still taking some getting used to, according to him.
"The thing about Singapore is it's so hot and humid and the weather can be a bit unpredictable so the concentration you need is so high," said Albon in anticipation of Sunday's race.
At last year's race, for instance, both Williams drivers crashed out amid the torrential downpour that caused over an hour delay to the race start.
Perhaps this year he might consider reinstating his pre-race ritual of wearing red underwear during a race for luck."
I used to be quite superstitious," Albon revealed. "I'm Buddhist and my mum is Buddhist and being from Thailand, people are generally quite superstitious. Before, I used to always carry lucky charms and bracelets or only get in the car from one side or make sure I wear my favourite underwear but I've started to try to get away from it because I didn't want it to mentally play a part in my preparation."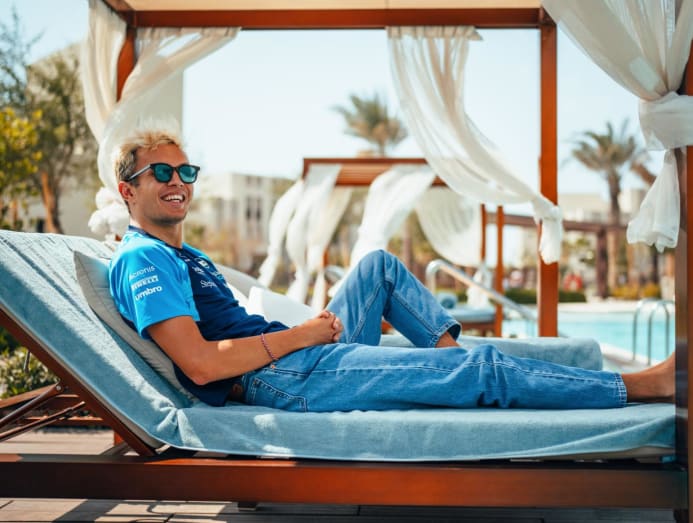 So what result is Albon hoping at the Singapore circuit this year?
"This circuit is also so technical and very bumpy, which is very challenging for the car. There's high chance of DNFs (Did Not Finish) and crashing. So if you can stay on track, you tend to have a good chance to score," Albon explained.
"Last year, the track highlighted some issues in our car and we've definitely improved on it this year. But we've kept the same base characteristics of the car so we don't expect something transitional, but I hope we can fight much more than we did last year. Points would be amazing," he said.
Most of the F1 drivers stay on UK time while out here in Asia and Albon is no exception. 
"It's quite strange for us because it's a night race. When we have free time, everywhere is closed, which is sometimes a nice thing. I went for a run around the Botanic Gardens at 4am last night. So if you want to see drivers, you should stay awake at 4am and you'll see us running around," he joked. 
With such a gruelling travel schedule, maintaining a stringent routine is what helps keep Albon and his F1 mates in top form on their extensive travels.
"It's very meticulous how we plan our logistics around the world. I have a jet lag doctor who does my schedule for me, who tells me when to exercise, when to eat, etc," he shared. Staying in nice hotels helps, too, he says.
"Travelling around the world, it's always nice to have a sanctuary away from the racetrack, where we can switch up and recover. I feel like Jumeirah does that better than anyone," said Albon, referencing the partnership with Dubai-based hospitality group Jumeirah Hotels & Resorts that began with the first race of the 2023 season in Bahrain. 
At the Jumeirah Gulf of Bahrain Resort & Spa located just 10 minutes from the circuit, for instance, it was the unique combination of both beach and desert that made the resort one of Albon's most memorable yet.
"You have to kind of drive to the desert to get to the destination and the beach was really something. We had a week in between our first practice session and our first race, and we could use that time to train. The gym was amazing, the food was great, it was just a nice place to relax," he recalled.
As someone who's practically in the air and on the roads more than he sleeps at home, the Formula One driver does have some travel tips to share for those constantly on-the-go: "Travel light and stay in nice hotels to maximise your rest time."
Though he won't be getting much rest this weekend, Albon has at least been indulging in his favourite Singapore food like Hainanese chicken rice and laksa earlier this week. And if you thought these athletes have to adhere to a strict diet during the season, he quips: "We do, but we can make exceptions for when the food is very good."