Meet the three siblings building Singapore's own fitness empire
With a new gym in Orchard Road, CRU Orchard, the Ding siblings – Valerie, Calvin and Bebe – add another feather to their ever-growing cap of fitness studios, which includes CruCycle and CruBox, as well as virtual fitness platform CRU TV.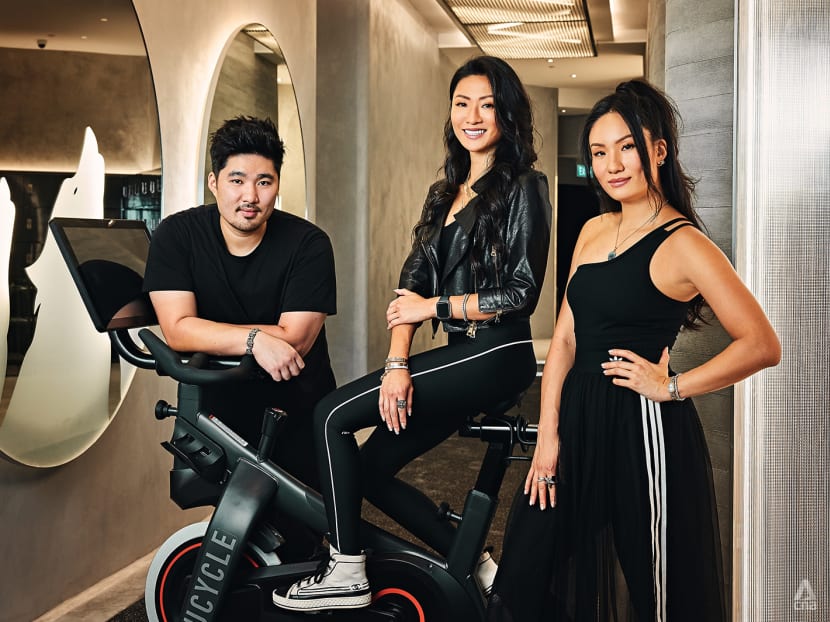 The disco lights are flashing and thumping music is blasting from the speakers. All around, lithe young things clad in form-fitting lycra outfits are grooving in sync to the music.
Wait a minute, this is not Zouk or Marquee – nightlife establishments have not been allowed to operate since 2020 due to COVID-19. Instead, this is a high-octane spin class at CruCycle, the homegrown cycling studio that played a key role in popularising the concept of rhythm indoor spinning in Singapore.
In this strange, pandemic-riddled world we live in, a sweat-soaked workout session done to the beat of club music might just be the closest thing that music (and fitness) lovers have to experiencing the thrill and camaraderie of a concert or music festival.
Even better, spin classes are not the only type of exercise that the CRU68 group offers. Founded by siblings Valerie, Calvin and Bebe Ding, the trio also launched CruBox's rhythm-based boxing classes in 2019.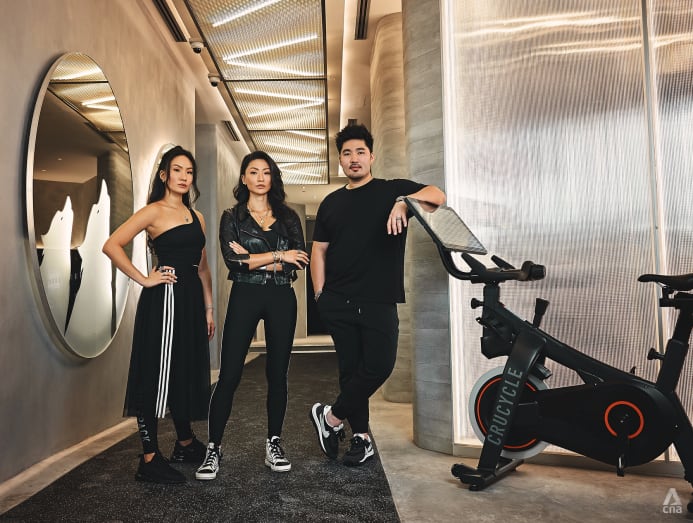 But there's still more. Their fourth Singapore studio, the 5,500 sq ft CRU Orchard, which opened on Sep 25, boasts a brand new line-up of yoga and high-intensity interval training (HIIT) class concepts. So, will these classes also be infused with the Cru difference, such as the unbeatable playlist and hugely motivational instructors who have no qualms sweating it out with everyone else as well?
It is a unanimous yes, said the dynamic trio. "Over the many years that we've been running, we've become synonymous with rhythm-based workouts that are like a rhythmic musical experience. This makes it different from basically all the other studios in Singapore," said youngest sister Bebe, 30, who is the group's master trainer.
More accurately, the Cru difference is the Ding difference, simply because their ever-growing fitness and lifestyle empire has always been very much shaped by their personalities and experiences. "A lot of our inspiration has to do with our experience living in Los Angeles," said Valerie, 34, the eldest.
Indeed, at the behind-the-scenes preview of their gleaming new studio at Claymore Connect, we spotted captions like "I got my peaches out in Georgia" printed on the mirrors that references American culture and also their style of cheeky irreverence.
They spent much of their childhood in California and had always loved the fitness-driven vibe of the city of angels. CruCycle, which they launched in 2014, was their first concept inspired by American-style spin classes. Their next studio, CruBox, was developed by Valerie and Bebe when they noticed how boxing was experiencing a resurgence in the United States.
Then, there is the company's howling wolf mascot, which is derived from the Dings' pet huskies. Much to the delight of those attending classes, the good-natured dogs are often spotted hanging out at the studio and ever-ready to pose for selfies. By extension, the Cru community is called the Wolfpack too.
 
"We've always lived together, we take care of each other and our friends have always been around us, so that is what our brand is about too. It is all about our friends bringing friends and joining the pack," explained Valerie, who is in charge of brand development and marketing.
Their greatest achievement thus far, they say, has been launching CRU TV, their virtual fitness platform and their own CRU TV bike. Consider it a proudly homegrown version of Peloton, the American bike and fitness streaming company.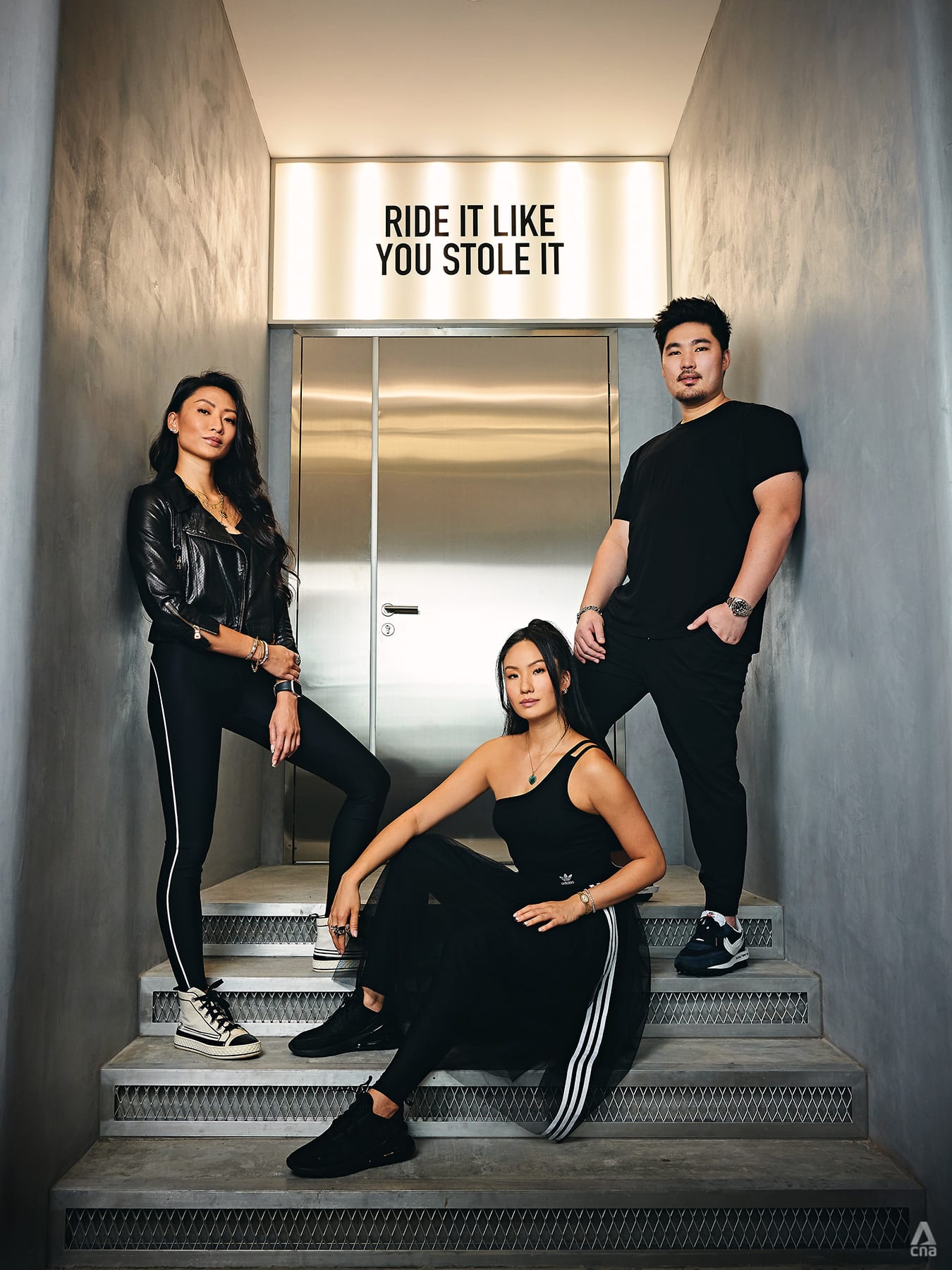 This foray into streaming, they say, has been key to the company's survival over the past year, when many gyms and studios have struggled due to various lockdown regulations. Just like every other aspect of the business, everything is developed in-house from training the instructors to adapt to this new medium to filming the classes.
Even the bike, which features a large 21.5-inch touchscreen display that rotates 180 degrees so that the user can easily hop off the bike and start another mat-based workout, was built to their specifications.
"CRU TV has been on the drawing board for a long time as we've always thought this is the next big thing, especially with the rise of tech. But we never really got down to it because we were so tied up with our physical studios," said Calvin, 33, who is in charge of operations. "But the first circuit breaker gave us time to take a step back to think about all this."
Launched last August, the CRU TV classes are quite possibly among the best being produced in Singapore. Slickly filmed with excellent sound effects and editing, the videos feature well-versed instructors who are as comfortable talking to a camera as they are to a studio full of students.
So it is hard to imagine that the first classes were actually a humble two-man show – when last year's circuit breaker restrictions eased, Bebe would conduct the class in the empty CruBox studio and Calvin would film it.
Valerie, who was under lockdown in Los Angeles at that time, would test the classes out and provide feedback. She also conducted research by comparing and "dissecting" the various exercise bikes available in the US to come up with a definitive list of what they wanted out of their own bike.
This included an in-app function to track and store the rider's stats including distance, cadence and power output, which are a boon to today's stat-obsessed fitness enthusiasts as these go above and beyond what can be found on an Apple Watch or Fitbit. And for technical types, the bike, which comes with a top-of-the-line Stages power meter and runs on magnetic resistance modulation, purrs silently and runs ultra-smoothly when used.
For the fitness junkie of 2021 who has had to weather a series of gym closures since the pandemic hit, it seems almost inevitable that the industry would arrive at this point of offering a blend of home workouts and studio classes.
But the siblings say they had their fair share of detractors when they first embarked on this enterprise.
"Some didn't see the point when it seemed we were going back to normal but how many lockdowns have we had to this day? Fortunately, we kept pushing and this has brought about the evolution of the brand," said Valerie.
Interestingly, the fitness platform and bike, which can be shipped globally, has in fact accelerated their expansion plans which they were working on pre-pandemic.
"It can be a little slower to grow a brand with bricks-and-mortar studios," said Bebe. "So with tech, it is exciting that we can reach an audience that is bigger than we imagined. We were pretty surprised when we looked at the CRU TV stats and realised we have viewers from Australia, South Africa and England."
In time, Bebe said, there may be Cru retreats in Bali. Perhaps even a Cru branded tequila, she quips – a nod to the sibling's party days of their youth, the energy of which they clearly bring to their fitness studios.
One thing is for sure, their ambitions are not limited to the fitness sphere. For instance, they currently run side hustles such as the Pups by Cru dog treats and helped their mother launch Dingamombakes, a boulangerie business.
What's next in their quest for world domination? Anything that organically strikes their interest, really, they say. But more than that, they are enjoying building all of this together.
Calvin said, "Not only has the pandemic kept us on our toes so we could evolve, it has brought us closer. We used to be spread out around the world doing our own thing but now we are all back working on the same goal and seeing other people enjoy what we enjoy."