Top fitness tips from Singapore's successful entrepreneurs and company chiefs
What are some of the healthy habits of highly effective people? Just keep moving. And oh, wake up early.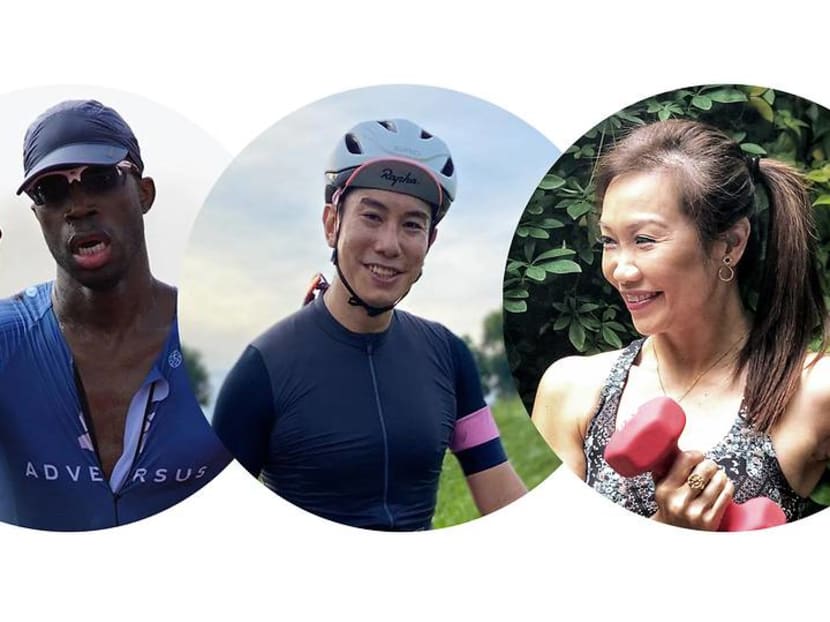 The late US President John F Kennedy once said: "Physical fitness is not only one of the most important keys to a healthy body, it is the basis of dynamic and creative intellectual activity." In these turbulent economic times, company heads need to be physically, mentally and emotionally resilient to steer their ships confidently through troubled waters.
CNA Luxury spoke to four C-suite professionals on how they counter the daily stress of management and decision-making with a practical and disciplined fitness lifestyle.
ANDREW LI, CEO, ZOUK GROUP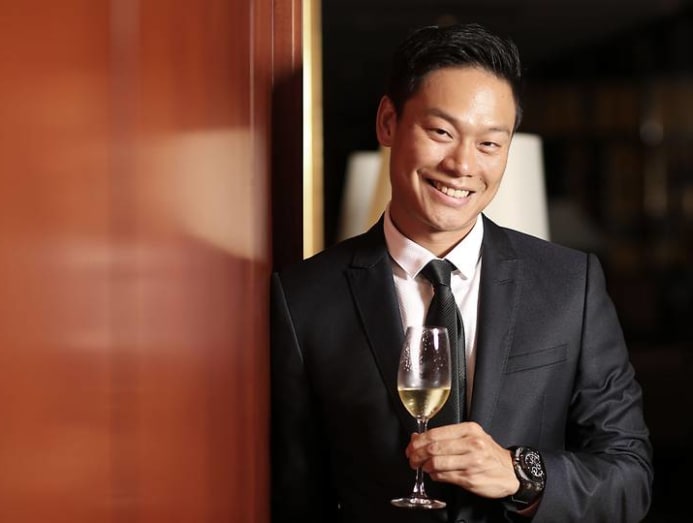 I spend eight to 12 hours exercising every week, depending on whether I'm preparing for a race. To date, I've participated in six Ironman 70.3 competitions in Busselton, Colombo, Bintan, Da Nang and Cebu.
I usually complete the race within six to seven hours. It's not so much about the speed, but about challenging myself to beat my last timing and not give up in the middle of it.
My annual trip with my two brothers would be to race in the Ironman competitions together and then relax at a resort afterwards as a reward. They are a lot fitter and more competitive than me, so they always inspire me to keep improving.
I run five to eight kilometres on weekdays and 10km to 15km on weekends. I also cycle for an hour on weekdays on a bike attached to a trainer and with an online programme called ZWIFT.
During the weekends, I do a long ride of around 40km to 80km. Twice a week, I also swim 1.9km, which is the length of the Ironman 70.3 swim distance. These are all part of a strict morning routine that I adhere to.
After training I meditate for around 20 minutes, and this sets me up physically and mentally for the day. This routine gives me clarity, especially when I need to make challenging decisions.
The motivation is being able to eat all the delicious food I dream about after working out! I do intermittent fasting so my first meal is after 3pm, where I'd have blended vegetable soup and some fruits.
I don't hold back for dinners. I love my carbs and I love cooking, so it's pasta, steaks, fried rice, et cetera. I save crisps for special occasions or cheat meals because I know how unhealthy they are.
My all-time favourite indulgence is spaghetti bolognese. When I'm stressed, I reach for soft chewy cookies with a glass of milk.
When I am not travelling, I'm usually asleep by 9pm or 10pm and wake up between 5am and 6am. If you don't give your body a chance to rest and recuperate, you will never be able to improve your fitness levels."
"If you don't give your body a chance to rest and recuperate, you will never be able to improve your fitness levels."
JEREMY NGUEE, OWNER OF DREAMSHOP.COM, MRS KUEH, BATU LESUNG SPICE COMPANY AND PREPARAZZI
My life used to be full of late nights, cigarettes, and too much drinking and rich foods. My health took a backseat until I started cycling with my son for bonding.
Since then, I've been cycling two to four times a week for at least 45km each time. I can burn as much as 3,000 calories in a single cycling session. The rides start at 5am, so I'm in bed by 11pm.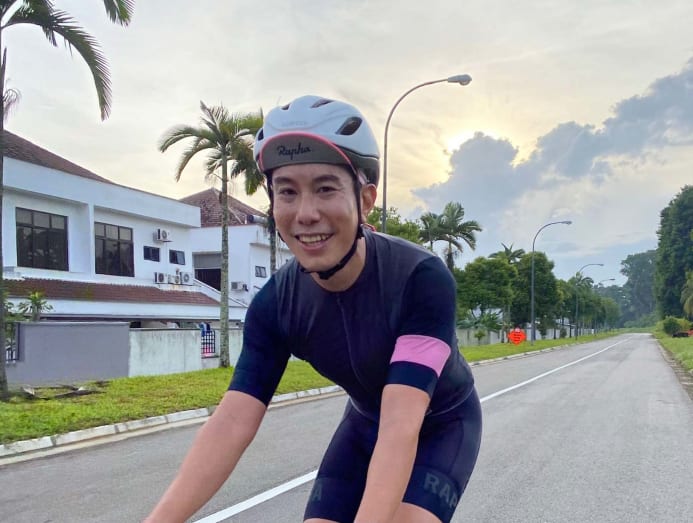 Start your fitness programme with something fun and easy, and find people to do it together. It doesn't have to be people you know. The Rapha Cycling Club has been a huge factor in my current fitness level and improvement in mental well-being.
I was inexperienced when I joined, but the members were always encouraging and helpful. I learnt good values from them too, such as the power of teamwork and the ability to dig deep when the going gets tough.
I've attempted a duathlon – a run-bike-run route of 3.5km, 21km and 3.5km, respectively – a few times. It was painful, but also satisfying in seeing how I could go beyond my perceived physical capabilities.
I try to find quiet moments for myself every day in which I don't take calls or let myself be interrupted by work or family duties. Keeping a healthy body and being mentally agile is part of my work and expected of me as a leader.
Breakfast is a must. If I exercise that morning, it'll be a protein and fruit smoothie with eggs and toast. Otherwise it's coffee and yoghurt with granola, or a dorayaki.
Lunch at work is steamed rice, braised meat or curry, and stir-fried vegetables. Dinners at home are more elaborate: Steamboat, steamed fish, or grilled burgers with homemade potato rolls. I eat whatever I like and enjoy a tipple with my wife in the evenings.

I avoid most processed foods, but will have the occasional instant noodles with luncheon meat or three-piece KFC meal. Food helps me to manage stress so if I've had a hard week, it's grilled fatty fish or a hearty granola and fruit acai bowl for breakfast. I think snacking is essential! But choose something small, healthy and filling like a turnip soon kueh.
"Start your fitness programme with something fun and easy, and find people to do it together. It doesn't have to be people you know."
MICHAEL LINTS, PARTNER, GOLDEN GATE VENTURES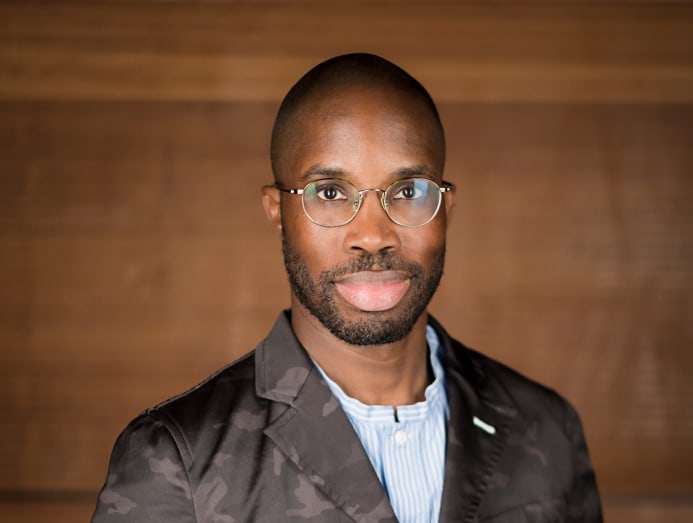 Sport has always been an important part of life. I was a member of the Dutch national karate team for three years and also did competitive martial arts. I have always enjoyed being fit and am pretty religious about running or cycling every day with one rest day per week.
With two very active kids and a busy schedule, the only way to fit in any exercise is to get up at 4am or 5am for a 10km run or a quick bike ride.
This gets me in a focused state of mind and gives me an early start to the work day. I feel less tired and I am definitely more present. Work can be overwhelming, with back-to-back meetings, conferences and a lot of travel.
I wouldn't know how to manage this lifestyle without exercise. Sometimes in the middle of the day I'd add core strength exercises, usually with a kettlebell.
The weekends are for longer, like 18km, runs or rides. I have amazing friends whom I ride with regularly. It's the best way to stay in touch while staying fit. Another routine I started a few years ago was to go for a run the moment I arrive in another country. It's a great way to explore the surroundings and see another side of a city.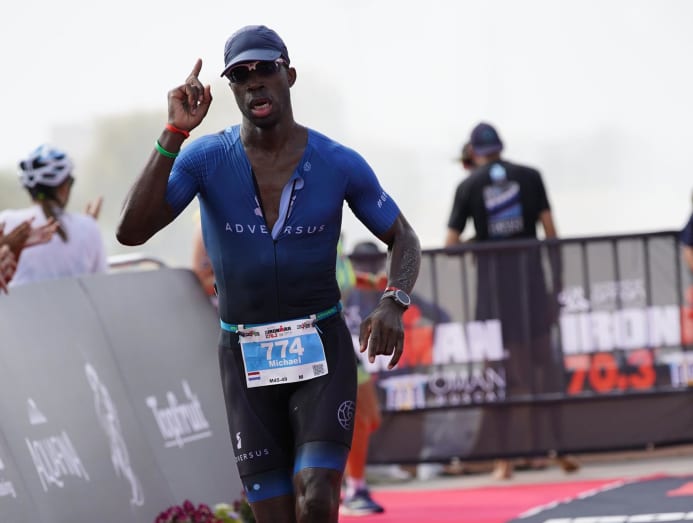 I don't have a strict diet. I eat everything I feel like eating. I have a sweet tooth and when I'm stressed, I turn to Surinamese Saoto soup for comfort. I think snacking every now and then is fine. When I prepare for a marathon or Ironman 70.3 – the most recent being the Ironman 70.3 in Oman in February – I spend more time watching my diet. I have done water fasting prior to a running or cycling event.
Tips to start: Find an exercise that lifts your spirits and gives you positive energy. This makes it easier to stick to it. Start small with short routines; it might feel like it takes forever to get in shape, but being consistent will lead to faster results. And lastly, having a buddy to motivate you is the best way to keep going."
"Start small with short routines; it might feel like it takes forever to get in shape, but being consistent will lead to faster results."
TRINA LIANG-LIN, MANAGING DIRECTOR, TEMPLEBRIDGE INVESTMENTS; AND CEO, HALO HEALTH ASIA
"I work out five to six days a week, doing both cardio (my favourite is spin classes) and strength training. My home gym consists of a Keiser M3i spin bike, an elliptical machine and a rower.
I try to do 100 push-ups daily, usually 15 at a go. I was an avid sportswoman in my youth so getting up early to train and compete is familiar, and in many ways, comforting.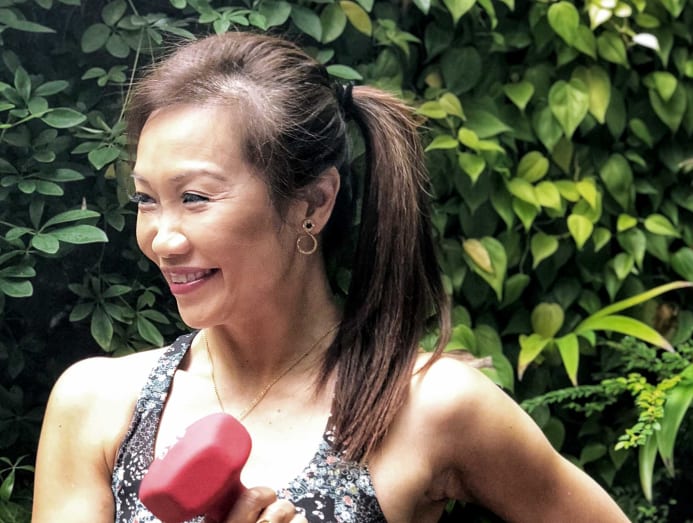 I rarely don't feel motivated to work out as I feel invigorated to start the day energetically and with purpose. My best work ideas also come when I am doing cardio.
I can't do meditation because my mind races off to a hundred different things the moment I wake up! But I've been to retreats such as Kamalaya in Koh Samui and Como Uma Ubud in Bali. They are excellent places to focus on the mind, body and spirit.
Last year I dislocated my left arm and had a major operation on the right side of my body that prevented me from working out for two months. The long march to recovery twice over made me even more aware of my physical strengths and limitations. So I'm focusing on building muscle strength, especially towards rehabilitation and full recovery. 
I drink at least a cocktail every day and refrain from eating carbs at night. During this time, I eat a lot of fresh and clean food such as salads with 150g of protein and homemade cookies.
Now in Phase 2 it's harder to regulate my diet as there are more lunches and dinners to attend. During the "circuit breaker" I kept my weight within a tight 1kg range, but now, I try to sustain a more manageable 1.5kg range. 
I don't have cheat meals; I just try to eat right and keep my food intake realistic when I am able to, and indulge freely especially with friends and family. I love snacks and enjoy pairing crunchy Japanese seaweed with a saketini or a G&T.
The first few workouts are always the toughest but it will get better. Keeping fit is an ongoing challenge but enjoy it! Push yourself daily by asking: 'Can I go faster, heavier or further?'"
"The first few workouts are always the toughest but it will get better. Keeping fit is an ongoing challenge but enjoy it! Push yourself daily by asking: 'Can I go faster, heavier or further?'"