Five celebrity chefs in Asia on the places they'll go once travel is back
More importantly, the chefs also reveal the first thing they'd eat once they arrive at their chosen destinations.
It's a simple premise and one that we've all ruminated on time and again in recent months: Once travel is once again safe and viable, where would be the first foreign destination you'd venture to? And crucially, what is the first thing you'd eat there?
While we all have our own answers – mine would be an over-stuffed banh mi in Hoi An, followed by a bowl of the town's famed cao lau noodles – five renowned chefs working across Asia reveal their long-awaited dishes and where to get them.
Starting in Manila, Filipino chef Jordy Navarra has forged a path as one of the country's foremost culinary talents at Toyo Eatery. His cuisine celebrates the remarkable, diverse food history of the 7,107 islands he calls home, in a tasting menu that has won public and critical acclaim, including a highly-coveted spot on the list of Asia's 50 Best Restaurants.
"Here in Manila we've had one of the longest lockdowns anywhere, 100 days and counting. As a result my wife and I have had time to go deep into Korean TV dramas, so all we can talk about currently is when we can finally get there as we've never been! I want to try kimchi at the source, all their soy bean ferments and chilli pastes, as well as visit the famed Buddhist monk chef Jeong Kwan in the Chunjinam Hermitage at the Baegyangsa temple."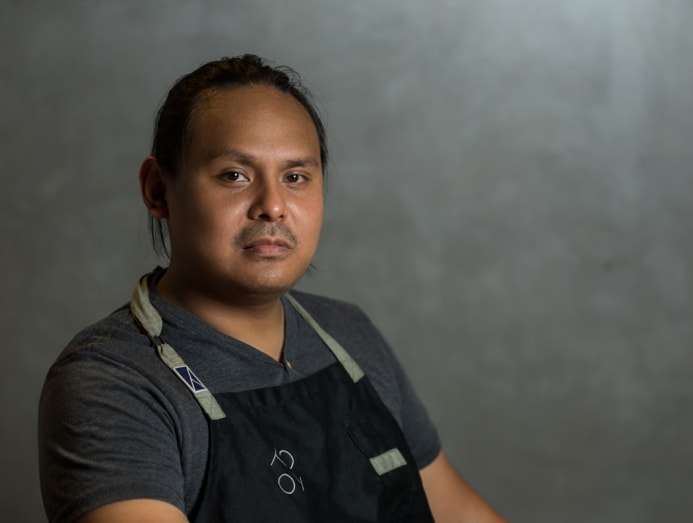 But, Navarra added, the one dish he has been missing more than any other is a choice that doubtless many would echo.
"As far as just one dish is concerned, after lockdown we agree it absolutely has to be sushi, so we'd head first to Hakkoku in Tokyo where sushiya doesn't get fresher from star chef Hiroyuki Sato. I also like the idea of eating raw food, served by people using their bare hands – call it embracing 'positive bacteria' to declare that COVID-19 is well and truly over!"
One of the most well-known faces in Singapore's vibrant culinary scene is Chef Julien Royer at Odette, holder of three Michelin stars and no less than the number one spot in Asia's 50 Best Restaurants. Royer also has a restaurant in Hong Kong called Louise, a vibrant spot that the 37-year-old has sorely missed as much as the city itself.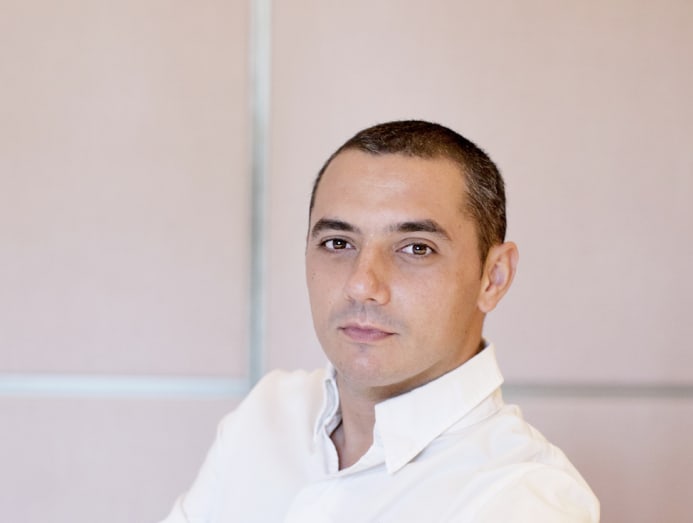 "I would definitely sign up for a trip to Hong Kong! First of all, my restaurant Louise that we opened with Yenn Wong and JIA is there and I miss going, cooking there and being with Chef Franckelie Laloum and the team. Then I have many friends in Hong Kong and love to eat out there. One dish is really hard to choose, but if I really have to pick one, it will be the superlative Peking duck from Xin Rong Ji."
Xin Rong Ji specialises in Taizhou cuisine from Zhejiang Province and their duck is indeed rightly famous, its crispy skin the perfect accompaniment to tender meat.
"I ate there in January last year while collaborating with Chef Vicky Cheng from VEA. I have some great memories of this dinner, the flavours were really nice with the perfect 'char' and the texture was just insane! Ha, I'm getting hungry thinking about it!" Royer enthused.
From Singapore to Bangkok, by way of San Francisco. That's because Chef Pim Techamuanvivit at Nahm in Bangkok's COMO hotel is currently in San Francisco, home to her three other restaurants.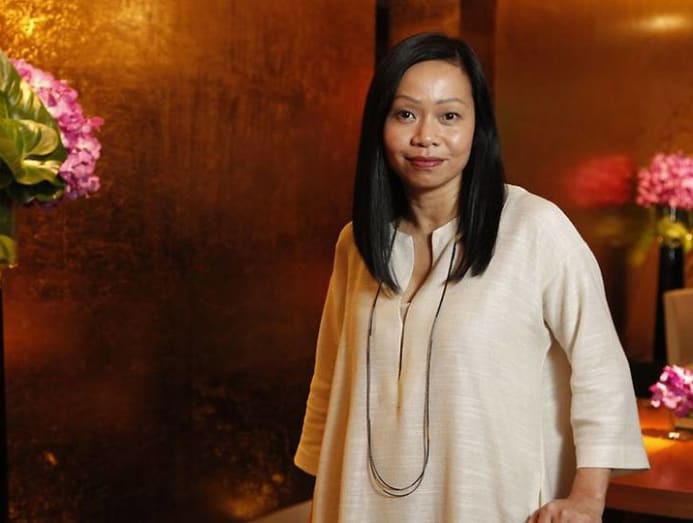 She has wowed diners since taking on the reins at Nahm, where her 'heritage Thai cuisine' was again awarded a Michelin star and retained its place amongst Asia's 50 Best Restaurants. Born in Bangkok, she pivoted from working as a Silicon Valley cognitive scientist to opening her first restaurant and continues to go from strength to strength.
"I split my time between Bangkok and San Francisco. During the COVID-19 lockdown, I've been in the US, so, as soon as travel is possible again I'll return to Bangkok and visit Jay Fai. Everyone knows about her superlative crab omelette, and of course I'll have one. But the dish I miss most at her little restaurant is her dry congee. It's like a super reduced, super intense congee brimming with pristine seafood. It reminds me of a breakfast jok I had growing up in Bangkok, but this version deserves her Michelin star!"
The famed queen of Bangkok's street food, Supinya Junsuta is better known by her nickname Jay Fai and dons her trademark goggles as she shows total mastery of her craft, cooking everything from crab omelettes to crab curries and dry congee to order. When Bangkok reopens to foreign visitors, she is bound to once again be one of the most popular culinary stops.
Kuala Lumpur is home to restaurants including Troika Sky Dining and Mr Chew Chino Latino Bar, both of which are overseen by executive chef and founder, Christian Bauer. When it comes time to travel again, he is set to head to Vietnam and seek out one of the more unusual choices, namely bun oc, or snail soup, often served as an appetiser.
"It is not restaurant food that I've missed, but the street food of all the countries I've visited in South East Asia. If I had to pinpoint the one dish I miss most, it is oddly one I have only eaten a handful of times, but it left such an indelible impression that in my mind.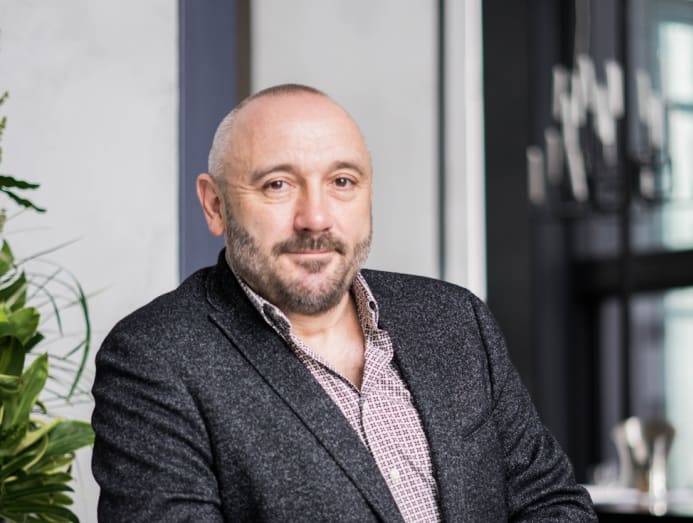 "When I return to Hanoi, I'll walk down the little, crowded lane in the old town of the city and take my seat at the metal table at Bun Oc Thuy and wait for my fragrant bowl of snail and vermicelli soup to arrive. The beauty of bun oc is in the depth of its flavour. The different ingredients bubble away in their individual pots and are ladled into your bowl just before it comes to your table."
Finally to Hong Kong and the two Michelin-starred temple to innovative contemporary cuisine Amber at the Landmark Mandarin Oriental Hotel. It's where Richard Ekkebus is known for his progressive approach to dining, obsession with the finest ingredients and laser focus on delivering memorable dining experiences. Many of the ingredients he champions are Japanese, so his choice of an Asian destination is understandable.
"I'm almost having convulsions at the moment going cold turkey from good food and travelling! I have great love for Japan, especially as you can easily have two or even three meals in a night – there are very few places where you can do that. It has to be Tokyo and sushi for sure, followed by a night out where you invariably end up eating ramen.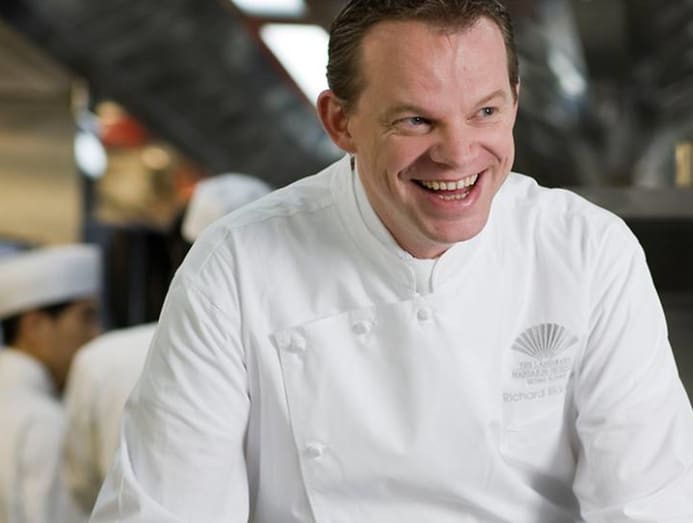 "A lot of people would assume that fine dining chefs want that fine-dining experience, but I want the sort of smaller places where chefs take you when you're in town and want to look after you. They're not in a guidebook and are often hidden down little alleys."
Known across Asia as a chef's chef, always ready to offer advice from his more than three decades of experience, the affable Dutchman has one particular spot in mind.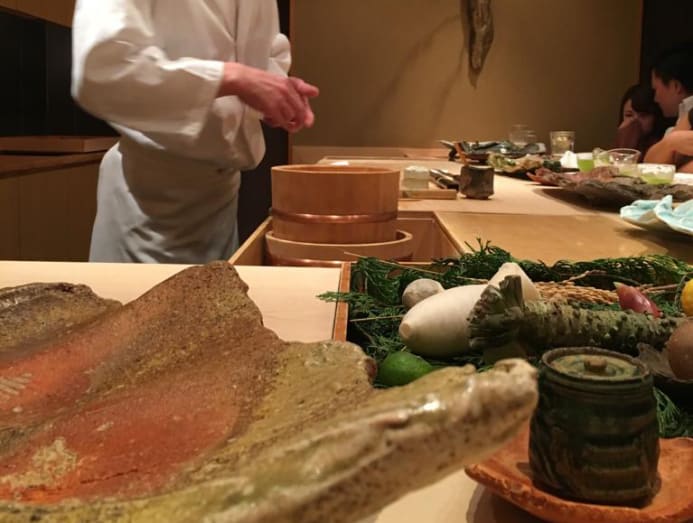 "The big secret spot for chefs in Tokyo, where you'll find people like Luca Fantin and Narisawa, is Ootanino Sushi in Minato. He has amazing produce and he's a funny guy, although the food is taken seriously, with great sushi on offer and just nine seats.
"Whenever I'm in Tokyo I go there, followed by a really old ramen shack like something from a 1950s yakuza movie. Every time I go I discover new places with people who have similar bad habits. It's always one of the best nights which are made by the people and the food. Not being able to travel and eat is so frustrating as it's such a big part of a chef's inspiration, so I can't wait to get back out there."
Wise words – and ones that would surely resonate with any lover of travel and food across our brilliantly diverse continent.