With NFTs and AR, a pioneer Singaporean artist's daughter is helping bring his works closer to the next gen
Together with his daughter Hazeleen Goh, Cultural Medallion recipient and pioneering Singaporean abstract artist Goh Beng Kwan is experimenting with technology to create NFTs and augmented reality works to appeal to younger art lovers.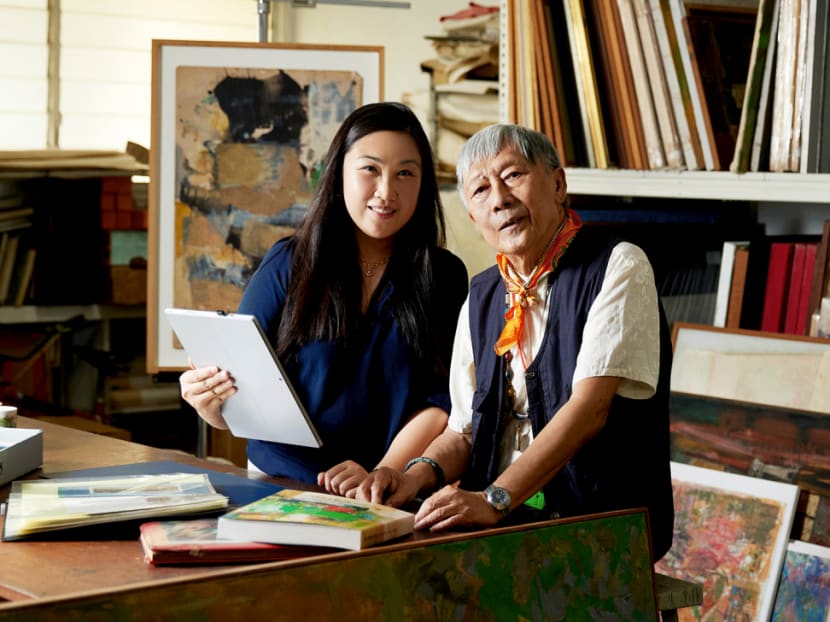 One of Hazeleen Goh's earliest childhood memories is of making art alongside her father, the artist Goh Beng Kwan. She recalls cycling with him through the Outram neighbourhood to his studio, where she would mix paints and create her own artwork, while he painted away. At times, she would even serve as his muse.
The elder Goh, a Cultural Medallion recipient for the visual arts and one of Singapore's modern art pioneers, has on occasion even sneaked in bits of his daughter's art into his own work. For example, he incorporated her paper cuttings into his 1991 mixed media piece Dotting The Eye, which is now part of the National Gallery Singapore's collection.
Decades later, Hazeleen is back in her father's studio, but things have changed. Since the pandemic in 2020, she has been taking a more active role in helping her father preserve his legacy by helping him archive and catalogue his body of work. Last year, she left her finance job to establish the platform ArtAF (short for Art Affairs), to support Goh's work and to connect him with younger art aficionados.
"In the olden days, my dad would ask me to hold up his art while he photographed them with a film camera. Now, he holds his paintings up for me to photograph with a digital camera for archival purposes," she said with a laugh.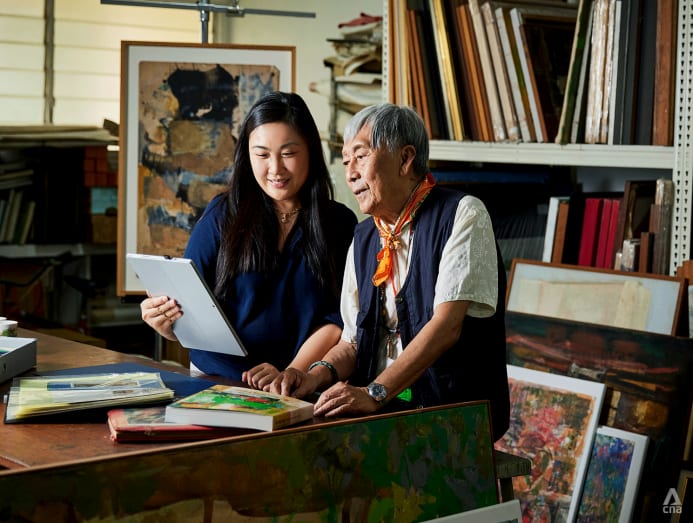 To celebrate Goh's 85th birthday this year, ArtAF is currently holding an extensive solo exhibition spanning his works over the past 60 years. Titled #GBK85, the show is being held at the Conrad Centennial Singapore until May 29. It covers the entire 6th floor of guestrooms and a suite as well as the lobby area – and it is a rare chance for art lovers to experience the breadth and depth of Goh's oeuvre.
One of the most influential second-generation artists in Singapore, he was born in Medan, Indonesia, and migrated to Singapore after World War II with his family when he was eight. He went to The Chinese High School where he studied art under pioneer generation art luminaries Chen Wen Hsi and Cheong Soo Pieng.
Over the years, he developed a distinctive, innovative style of abstract, mixed media art that spans collages as well as a wide range of mediums including Chinese ink, acrylic paint, tapestry, paper pulp and even ceramic paintings, with many of his works shaped by his travels, life experiences and the people he met along the way.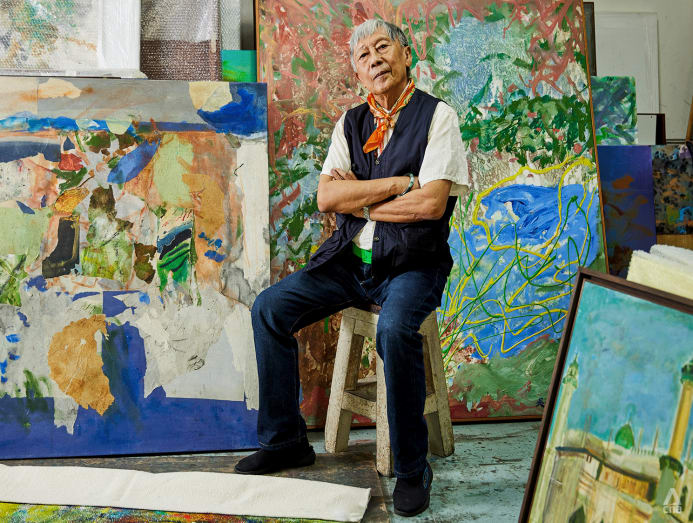 Curated according to key artistic periods in his life, Goh wanted to include selected pieces from his personal collection that he feels a special affinity towards. For example, he insisted on having a 2007 painting titled Phuket Island in the show.
"I paint to express my feelings," said Goh, who is still sprightly enough to climb up the four storey staircase to get to his corner studio at Telok Kurau Studio almost every day. 
"I've travelled to many places around the region, including Malaysia, Thailand, Indonesia and Philippines many times because I have good friends there and to participate in workshops. I've always enjoyed the beach at Phuket and one day, when I viewed the ocean from a hill, I felt the moment was right and the colours were good so I painted this. Looking at this painting reminds me of those good times."
There is also a sentimental reason for holding the show at the hotel – Goh was commissioned to create a work, Underwater, for the lobby in 1995, where it still hangs today. And if Goh's name or artistic style seems familiar to visitors at the #GBK85 exhibition, it is because he has created many notable commissions that continue to be on display around the country, such as at Punggol MRT station, Farrer Park Hospital and Maybank Tower.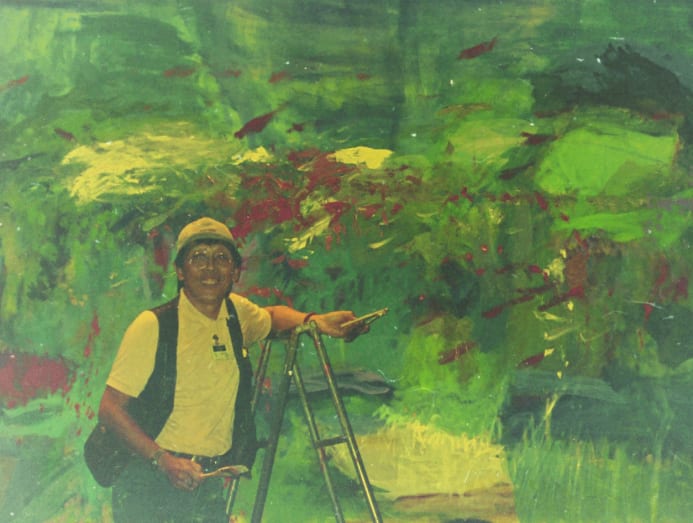 Another highlight of the show is the section featuring his early days, from the 1950s to the 70s when he was honing his craft. Here, viewers can witness the evolution of his style during his time as a student in New York and Provincetown in the United States, where he began incorporating Chinese artistic principles and calligraphic strokes into modern abstract paintings and collage.
There is also a series he created during the COVID-19 pandemic, which features works of mixed media on newspapers to document the significance of this period in human history. Besides marking time by using English and Chinese newspapers with specific dates and headlines published during these two years, the artworks also feature a darker colour palette in a reflection of the mood of the times.
In addition, tech-enabled innovations will allow viewers the opportunity to get even closer and more personal with Goh's works.
For example, through the ArtAF app, visitors will be able to view, through their phones, a series of 11 augmented reality (AR) works virtually installed within the exhibition. Four of these works include NFTs based on the artist's original works that were minted for the National Gallery Singapore's fundraiser in January this year.
Art lovers can also access the catalogue of all 85 works in the show to virtually "display" them on their own walls at home via AR technology.
Goh, who has recently started dabbling with digital art on a tablet, is more than game to experiment with newfangled technology. "I like to try new things through art. I also enjoy how the process of creating art could be simplified and streamlined. For example, with oil paintings, it could take some artists a few months to complete a work. But with a tablet, I do not even need to bring paper out with me," he commented.
For Hazeleen, harnessing technology is one of the ways she hopes to enhance the public's access to second generation – or senior – artists like her father. Unlike the pioneer generation of artists who have been the subject of much fascination and nostalgia in recent years, there tends to be less attention on senior artists among art collectors.
"This generation has fallen into the black hole as they are not so proficient with technology. They could get confused when they have to handle tech on their own. For example, if you sent them a PDF to sign digitally, they would not know how to do it and would rather not be involved," she said. "There is a learning process for them to understand this is a new way of showcasing their work."
After her father's #GBK85 exhibition, she hopes to work with more senior artists who are her father's peers to showcase their work to a wider audience. Some plans in the pipeline include pairing senior artists with younger artists so that they can draw inspiration and learn from each other. For instance, the older artist might pick up digital art skills from his partner while the younger artist can refine their hands-on art techniques like brushwork through practice with the senior artice. 
She also envisions holding art exhibitions in different hotels, not just in Singapore but in other countries too, to offer an alternative to viewing art in conventional white box galleries.
As for Goh, who remains young at heart and as adventurous as ever, these innovations could well mark the start of a new era in his career.
He said: "The goal is to get the younger generation to start appreciating art and to encourage people to collect art. In Western countries, the first thing people buy for their homes is a piece of art. I would like to see this appreciation for art be ingrained here too."
#GBK85 is held at Conrad Centennial Singapore until May 29, 11am-9pm. Tickets are available via Eventbrite and a portion of ticket sales will be donated to Singapore Association for Mental Health.