The 29-year-old Singaporean illustrator who counts Chanel, Dior as clients
Grace Ciao found fame on Instagram, and has since gone on to work with some of the world's top luxury brands. Soon, she'll have her own collection of self-designed wedding gowns.
If you shop regularly at ION Orchard, you would have seen Grace Ciao's illustrations around the mall. When the mall reopened after Singapore exited the Circuit Breaker last year, it collaborated with the Singaporean artist to produce a series of illustrations outlining enhanced safety measures.  
Her stylish and elegant drawings remind shoppers to check in with SafeEntry, wear a mask at all times, and to maintain a safe distance. They inject a sense of fun, and a human touch, into what would otherwise be dull and unexciting signage scattered around the mall.
The talented 29-year-old artist, and recent Forbes 30 Under 30 listee, has been illustrating professionally for eight years now. Her works have caught the attention of international luxury brands, including the likes of Bvlgari, Boucheron, Chanel, Christian Louboutin, Dior, Pomellato and more. She's also a familiar face at VIP fashion, jewellery, beauty and lifestyle events in Singapore.

Her journey, Ciao shared with CNA Luxury, was one that began on Instagram. "Since a very young age, I've always loved drawing. I used to doodle a lot on my school textbooks, or even on loose paper lying around the house. But I never went to art school," she said.
"Living in a pragmatic society like Singapore, I never knew that I could make a living out of becoming an artist, so it wasn't a career path I even considered," Ciao continued.  "When my mum saw me drawing too much, she would say things like 'focus on your studies', 'go to university' and 'get a good job'."
Afraid to break the mould, Ciao took the more conventional path. "I studied in a junior college. Following which, I went to a local university and studied business. While I didn't think of becoming an artist, I did want to be an entrepreneur."
The pressure of having to keep up her good grades in her youth meant that her love for drawing took a back seat. But a university exchange programme to the Netherlands, and her subsequent travels around Europe, ignited her passion once again.
"When you travel around Europe, you tend to see a lot of street artists around, something you don't usually see in Singapore. For example, you can be having tea at a cafe, and an artist would be painting underneath the Eiffel Tower in Paris. I was very inspired, and it motivated me to pick up drawing again," shared Ciao.
"Living in a pragmatic society like Singapore, I never knew that I could make a living out of becoming an artist, so it wasn't a career path I even considered." – Grace Ciao

GOING VIRAL
Back in Singapore, Ciao would spend hours in her hostel room in school, drawing on her sketch pad. The subject of her drawings, she shared, are mostly women and girls. "It's sort of like a representation of myself," she reflected. "I used to draw mums with their daughters, girlfriends hanging out, and as I grew older, I started watching a lot of fashion shows. So I began drawing runway outfits."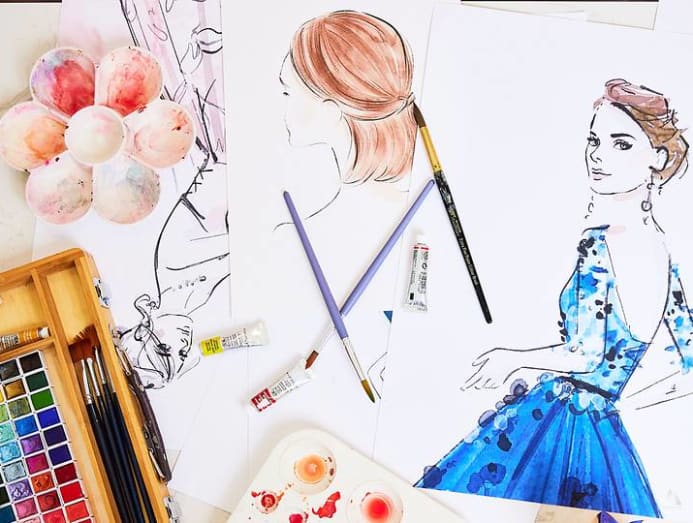 Ciao would upload her works on her Instagram account, eventually building a substantial following. One day, a wilting rose on her study desk, given to her by an admirer, caught her eye. "I started placing the petals on my drawing, and I got carried away." She ended up creating a couture gown made entirely of rose petals.
"My likes on Instagram suddenly blew up to a few hundreds. I realised I must be doing something right, so the next day, I bought another flower and tried again."
The flower girls, whom she affectionately calls Bloom Belles, have now become her signature. Ciao's works on Instagram eventually caught the attention of US entertainment site Buzzfeed, which described her illustrations as "unconventional".
The viral nature of the article started attracting more followers to her Instagram page, including those from the US, Singapore and around the region. Today, Ciao has over 78,000 followers on the social media platform.
SCORING HER BIG BREAK
Ciao scored her big break in 2014, when she was still a student in university. Swiss watch company Jaeger-LeCoultre (JLC) had sent in an email, expressing their interest to fly her to Hong Kong for a timepiece showcase they were holding.
"As a student, to have such a big brand approach you was quite amazing. I was even scared that it wasn't real," quipped Ciao.
After a couple of meetings with the JLC Hong Kong team, Ciao flew over to the city to do a live art demonstration for the four-day press and VIP event, held at the International Financial Centre. "I did some drawings of gowns and cocktail dresses to pair with the timepieces showcased."
From there, Ciao says that her career began to blossom naturally. She soon caught the attention of other luxury brands, and quickly became a constant presence at VIP, press and customer events for Chanel, Dior, Elie Saab and more.
With a list of notable names as clients, Ciao decided to take the plunge and pursue a full-time career as an artist after graduation.

While there was concern from her mother that she would only be "famous for a while", Ciao was certain that success was in her own hands. "It's within my control to make sure that this career is sustainable. If I'm no longer famous, I would have to think of ways to branch out. I always felt that whether I am successful or not is on me, it's not circumstantial," she reasoned. 
EVOLVING THROUGH THE YEARS
As a Singaporean artist working with top international brands, Ciao says she feels "honoured and humbled". "I see it as a validation of my work."

These days, "people don't see me as just an artist, but more of a business", Ciao said. Over the years, she has taken great care to innovate. It's where her business background, and knack for entrepreneurship, have certainly come in handy.

Aside from live art demonstrations and workshops, Ciao also does art licensing for advertisements and commercials, as well as merchandising and brand collaborations. 
On hindsight, this has proven to be a shrewd move, considering how events are almost non-existent in a pandemic era. While Ciao used to fly to countries and cities like Japan, Shanghai and Beijing for events, the pandemic has put a stop to her travels. "Thankfully, I have evolved. You can't be too fixated on one aspect of the business," she said.

In 2015, Ciao collaborated with beauty brand Estee Lauder to create illustrations for a collectible series of liquid compacts. "When I saw my products on the shelf, and people wanting to buy them and own them, that really made me feel fulfilled as an artist," she said.
A year later, she illustrated her Bloom Belles for a UK TV commercial for women's personal care product company, Soft & Gentle. "They animated my girls and brought them to life. It was something I had never done before."
There are also the illustrations she has done for ION Orchard, which Ciao said "helped to present information in a digestible way". "This is the value that artists can bring, where they make things simpler and easier to understand," she added.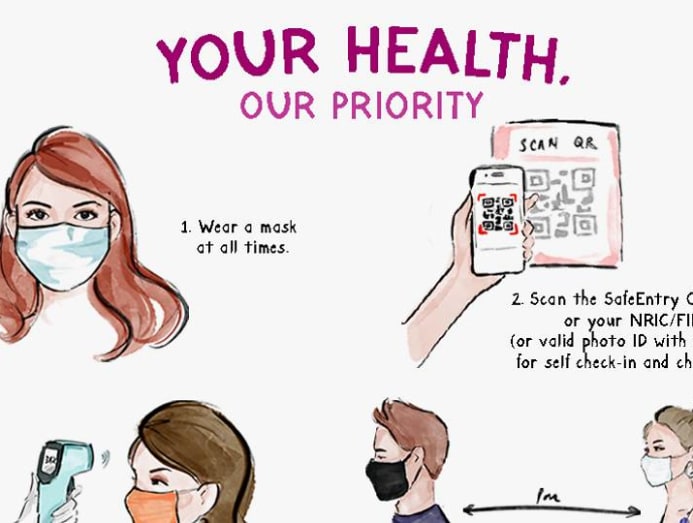 Through the years, Ciao has also had the privilege of illustrating portraits of local celebrities, her favourite of which was JJ Lin. When the singer was announced as ambassador for OSIM in 2019, the brand engaged Ciao for a custom illustration. 

"I couldn't give him the portrait in person, but I posted it on my Instagram. He actually commented on the post to say thank you, and then he followed me! That was quite cool," Ciao chirped.
Other celebrities and influencers she has illustrated include Rebecca Lim, Arissa Cheo and more. "I also did an illustration of a Singapore minister, but I wouldn't consider him famous," she laughed.
For those who'd like to get their hands on a custom illustration from Ciao, once a year, she takes in orders from the public, a service she describes as a "small access" to her works, which are usually reserved for clients and high-end brands.
However, to maintain the exclusivity of her works, and to balance her demanding schedule, orders for custom portraits are limited, Ciao stressed. "Clients would also have to wait at least three weeks for the illustration to be complete," she said.

CHASING HER OWN DREAM
Soon, Ciao's dream of seeing her ethereal gowns worn in real life will come to fruition. She recently collaborated with a Japanese bridal company to design a collection of wedding gowns. 
"Some brands have used my illustrations on their apparels, but this is the first time that my designs are turning into ready-to-wear gowns," she shared.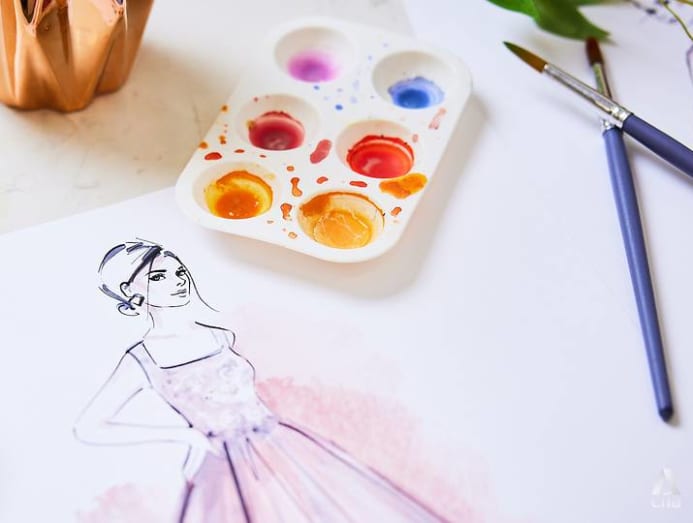 Details are still kept under wraps as the launch of the collection has been pushed back due to the pandemic. But Ciao is excited to see her designs come to life. "I'm getting married soon, so I was thinking of asking them to ship one of my gowns to me!" she quipped.
As a creative in Singapore, Ciao admits that not everyone "understands what I do". "People don't really appreciate the value of art in Singapore. Last year, there was talk that artists are non-essential. But I don't really care what people say. As long as I am happy by my standards, good by my standards, then that's fine," she stated.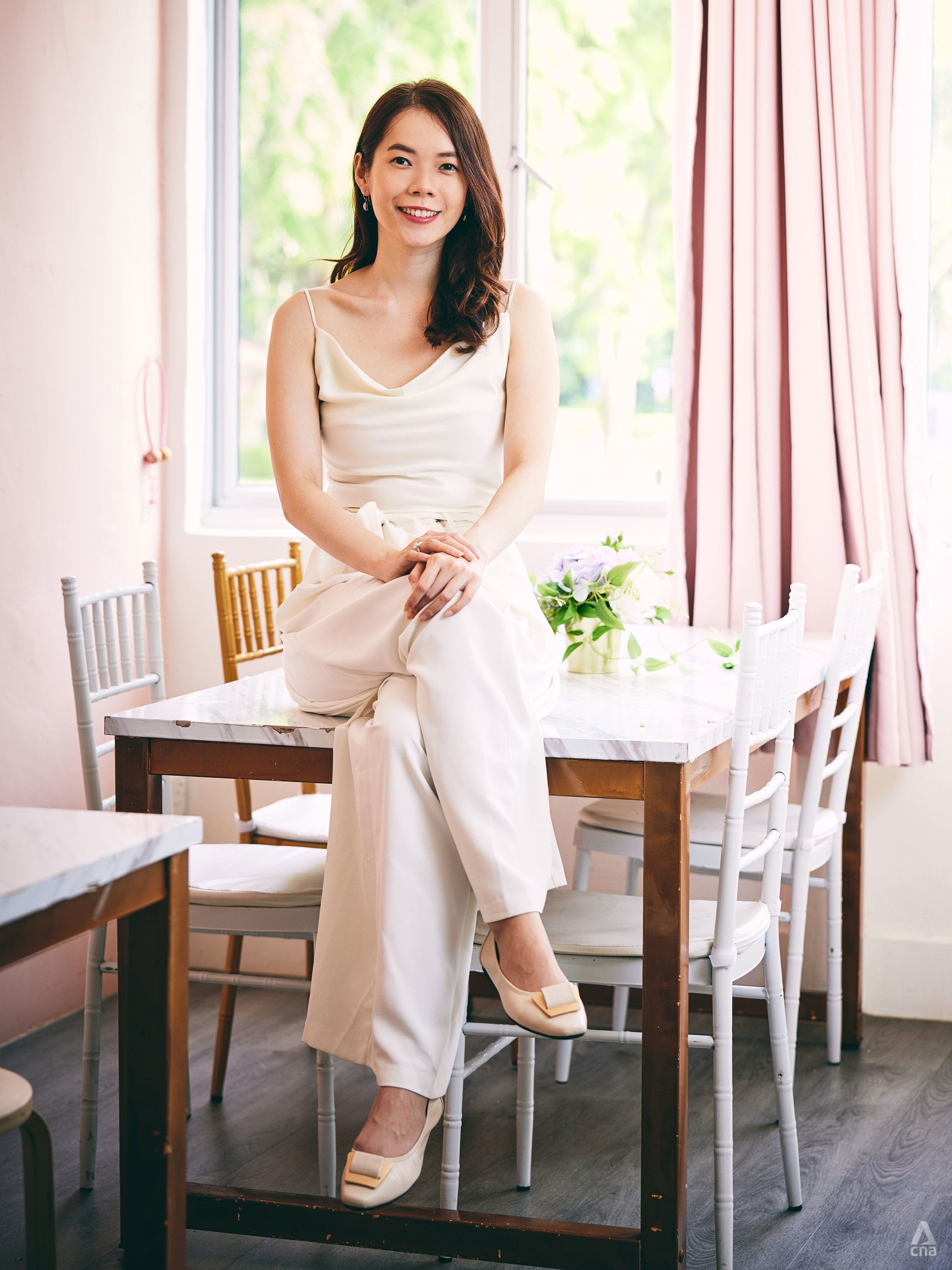 Reflecting on her career, Ciao is thankful to be able to live out her dream. "Throughout my youth, I felt like I was always chasing other people's dreams. I was trying to take the prestigious route, going to a local university, studying business, even doing an internship at a bank at one point. But now, I'm chasing my own dream and working hard for myself."
Looking towards the future, she hopes to one day see her signature Bloom Belles turn world-famous. "My idea is to make them so popular to the point that everyone knows who they are," she said, before taking a pause.
"I don't know if it's a good comparison, but they could be as famous as Hello Kitty or Mickey Mouse. I know it's a bit farfetched, but why not, right?" she continued with a smile.

"I don't really care what people say. As long as I am happy by my standards, good by my standards, then that's fine." – Grace Ciao