Podcast rooms, sky gardens: The Great Room's Jaelle Ang is reinventing the post-pandemic workplace
From a meditation room to a podcast studio and a soon to launch social business club, the co-founder of co-working space The Great Room shares her vision on what the future of a post-COVID-19 office should look like.
Picture this: It is a regular workday and post-lunch drowsiness has started to set in. Instead of guzzling that triple espresso in a panic or – heaven forbid – slinking off to the toilet to sneak in a short nap, you make your way to a "wellness room" instead.
In this calm space clad in soothing earth tones, you settle into the lotus pose and plug in to your favourite meditation app to re-centre yourself and regain your focus. Refreshed, you head back to your work desk where you take a moment to enjoy the natural daylight filtering in through soaring windows before you get back to your tasks with renewed vigour.
Welcome to The Great Room's fifth Singapore location at the Afro-Asia building in the CBD area, which launched last October.
It is a given that the newest outpost by this premium coworking space operator is beautiful – this light-filled space was designed by award winning London- and Hong Kong-based designer Joyce Wang.
But more than that, the 37,000 sq ft space, which spans four floors, was created to take into consideration the wellbeing of its members as a way to boost productivity and creativity.
"Wellness is becoming a big part of the conversation at the workplace and is a part of getting employees to perform the best they can. With a pandemic and different things happening at the same time, how can we help individuals and companies cope with that?" said Jaelle Ang, co-founder and chief executive officer of The Great Room, which also has one location each in Bangkok and Hong Kong.
One obvious way to do so was to "allocate very precious square footage" to create its first ever wellness room for members. Already, the studio, which can hold up to five people, has been a popular retreat for those working in this outpost of The Great Room.
"The receptivity of people in trying new things in the area of wellness is growing," said Ang. "We like pushing boundaries and doing esoteric things. About five years ago, we already introduced gong therapy and I remember there was so much marketing and only two people turned up. Now, when we hold such sessions, they fill up quickly."
The Afro-Asia space also has a well-equipped podcast room for those who wish to engage in and amplify thoughtful conversations, as well as a sky garden serving as a "treetop sanctuary".
EVOKING STYLISH HOTEL LOBBIES
Widely regarded as a disruptor in the co-working space scene, it comes as no surprise that The Great Room is once again reinventing the concept of a workspace.
When it launched in 2016, it turned heads with its focus on hospitality-led design. Think: Lounge spaces and meeting areas that were curated to evoke the vibe of stylish hotel lobbies.
"We've always built in a way that was not overly cramped and are very focused on what I call the spaces for the high value part of the business, which is about gathering, collaboration, sparking ideas, amenities and common areas," said Ang.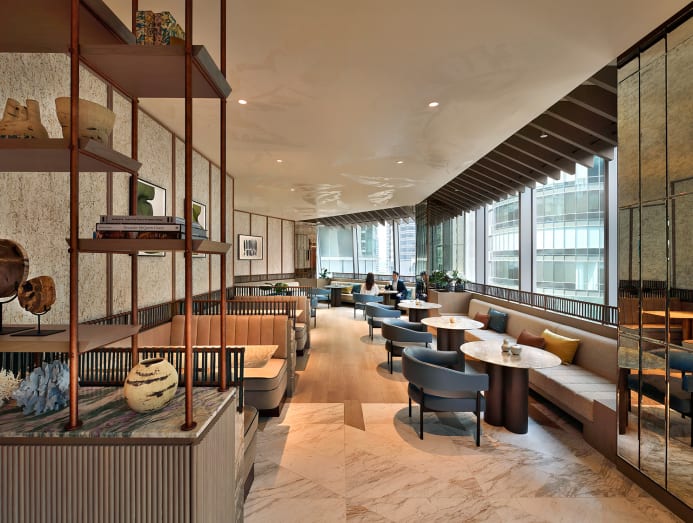 "The pandemic made it even more important to do so because people would get the work behind a computer done at home but when they meet, they need to focus on the high value part of the business."
This ethos was born out of Ang's observations that workplaces were "kind of uninspiring and sterile".
"Why shouldn't workplaces be uplifting like the places we go to such as hotels, restaurants, cafes and bars where you feel inspired to do something exciting and be a part of something more. It is really the design that creates the causal collisions, that heightens productivity and is fun and inspiring – all this should be in the workplace because we spend more time at work than almost anywhere else," she said.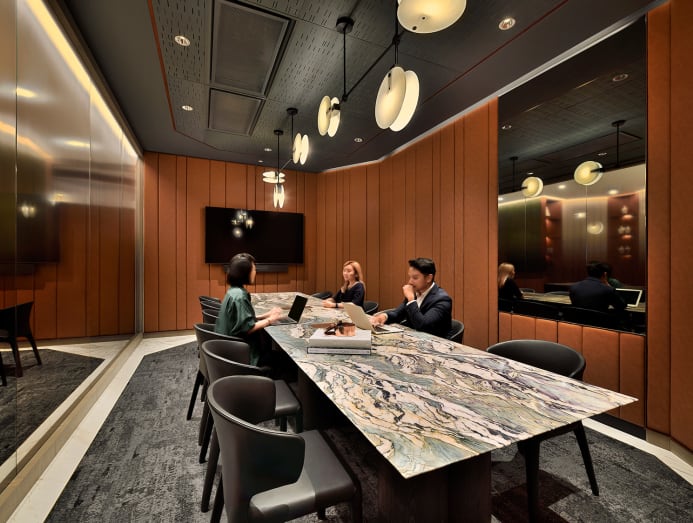 Today, in this post-pandemic world, Ang is ready to push this notion even further by championing the office as a place for learning too.
"I believe in the role of the office as a modern agora of learning. Today's technology is changing fast and the part that adds high value to our work is learning from field-tested experts who can decode it for us. So the office has to facilitate this learning and companies who can help their employees with this will end up being the companies that do the best," she said.
To achieve this, the locations offer a variety of spaces from hot desks and offices to phone booths, private meeting areas and cosy lounges to accommodate a range of needs.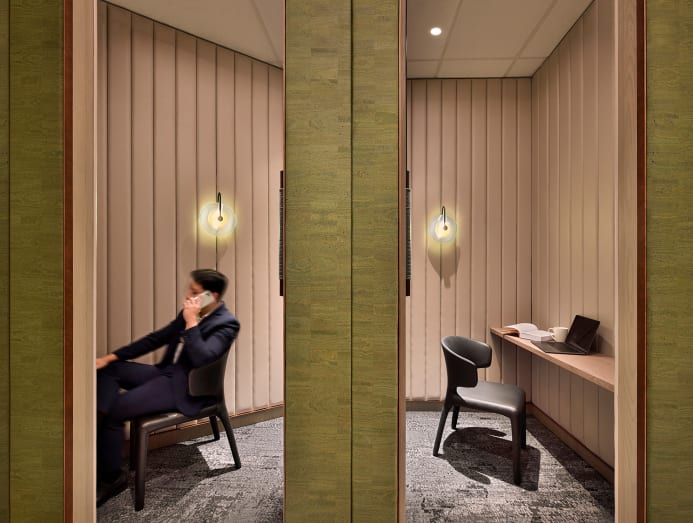 More importantly, the team has also taken on the role of content curator by organising members opportunities to take part in various events such as fireside chats or professional networking events.
"The idea of community may no longer be one big event and a great party of 150 attendees. There are more micro-tribes now that foster lots of connections. Besides being able to foster more intimacy, we also noticed that people are more open to growth and learning in smaller groups," she observed.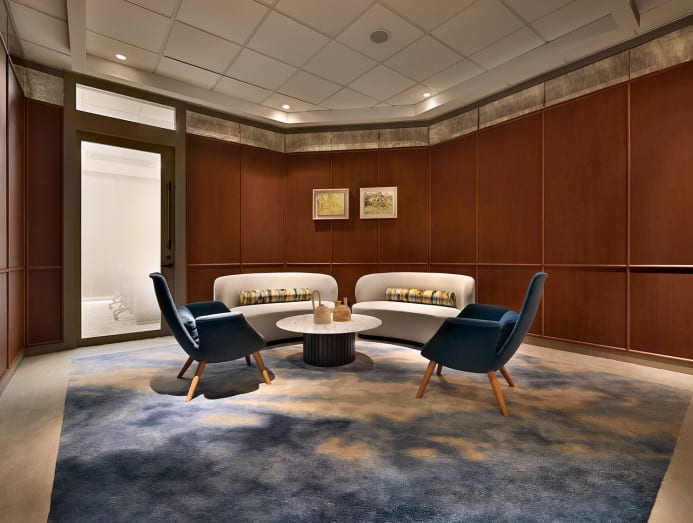 FROM GREAT TO GREATER
This year, the team will be also launching Greater, a social business club to offer more individuals the opportunity to access The Great Room's range of programming. 
"It provides a platform where culture, global affairs, purpose, commerce and learning come together – all the things we already do for the members. We feel like we are in a position where we have the right audience, speakers and content so it is our responsibility to create all these learning opportunities," Ang said.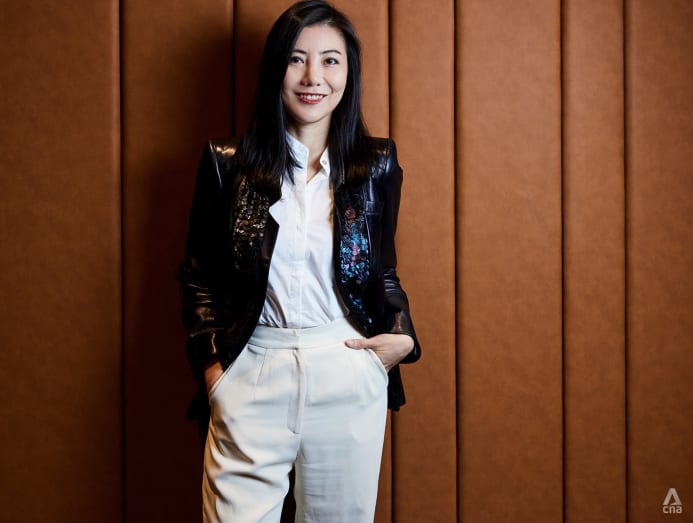 The target group for Greater will be "people who want to invest in their own careers and trajectory, whether or not their companies are situated in The Great Room," she added.
Additionally, she also has her eyes set on opening more The Great Room locations in its existing markets, as well as in new locations such as Sydney and Shanghai – COVID-19-willing.
"I think of us as being in the business of flexibility. Flexible workspaces are currently only about 2 to 3 per cent of total commercial office space and the big prediction is that this will be 30 per cent by 2030," she observed.
"With this demand, how are we going to do it better and address the changing needs of people whether it is hybrid working, working from home or the role of the office. We are keen to expand the footprint we are in – we see ourselves as an Asia Pacific brand, not just a Singapore company."