Hoteliers take to high seas and railroads in hunt for ultra-luxury travellers
Hotel groups including Accor and Marriott launch vessels and opulent trains as sector booms.
Later this year, hundreds of craftspeople in rail yards near Florence and Milan will begin work on restoring 17 original carriages from the Orient Express train, which marked the apex of luxury travel when they first entered service about a century ago.
From November, deep-pocketed travellers will be able to book a place on board the train, immortalised in Agatha Christie's 1934 murder mystery, for its first journey along the historic route between Paris and Istanbul in more than three decades. Scheduled for 2026, suites are expected to go for between €3,000 (S$4,400) and €6,000 a night.
The revival of the Orient Express — overseen by its French parent company Accor — is part of a sea-change for hotel conglomerates as they push into more rarefied forms of travel such as rail trips and cruises, betting on strong demand for luxury and the lure of their loyalty programmes for high-net worth customers.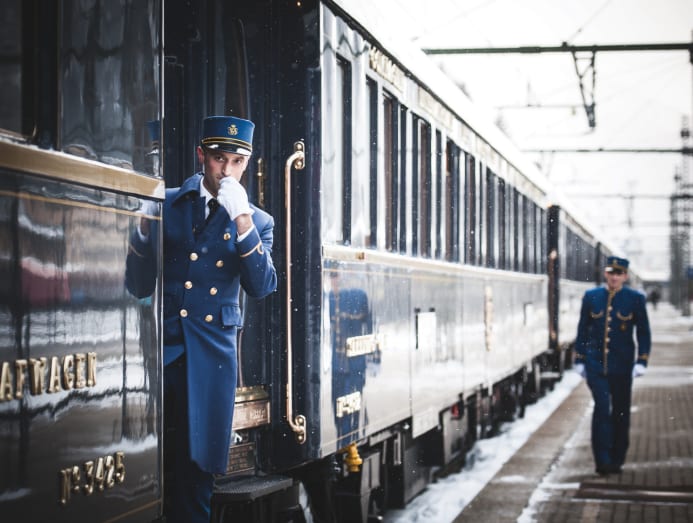 The global luxury travel market is projected to grow by 45 per cent over the next five years to US$2 trillion (S$4.06 trillion), according to market research cited by consultancy Deloitte in a recent report. Luxury travel has rebounded even faster from the pandemic than mid-market travel, as the economic slowdown has held back middle-class spending, according to analysts.
Some 58 per cent of high earners from the ultra-rich to those on salaries over £120,000 (S$205,083) plan to spend more on international travel over the coming 12 months than they did in 2019, compared with an average of 36 per cent of travellers across all salary brackets, according to a survey of 4,500 people conducted by travel technology firm Amadeus.
Luxury hotel resort operators Aman and Four Seasons have announced launch dates for their own luxury cruise liners. In October last year, a luxury ship owned by Marriott brand Ritz-Carlton took off on its maiden voyage and two more vessels will set sail by 2025.
The luxury travel market "continues to look very favourable", according to Scott Rosenberger, a partner specialising in travel and hospitality at Deloitte. "Build it and they will come," said Rosenberger.
Bankrolled by roughly US$1 billion of investment from Accor and in large part its partners, Orient Express is also planning to launch six more trains across Italy in collaboration with Italian luxury hospitality group Arsenale. It is also building the world's largest sailing ship, named Silenseas, where cabins will cost up to €20,000 per voyage.
Accor's chief executive Sebastien Bazin says that of Accor's 300 million customers every year about 3 per cent are "ultra-rich", creating a large opportunity. "That's roughly 9 million clients and I need 110 [people onboard the ship]," he said. He predicts that for a third of the year the 720 sq ft yacht and its 56 suites will be hired out for private use.
"For 40 years we only had one desire — to kidnap the [customer] for as long as we could in the premises of the hotel to make sure he was having breakfast, lunch, dinner, cocktails," said Bazin. But now Accor aimed to "be a curator, and if needs be owner and operator, of those activities when he walks out of our walls", he added.
Offering more varied experiences is also a way for hotel groups to keep their wealthiest customers attached to loyalty programmes. The luxury cruise ventures are "more of a brand marketing loyalty play than a revenue play", said Clayton Reid, executive chair of hospitality marketing agency MMGY Global.
Amir Eylon, chief executive of travel consultancy Longwoods International, said a shift into cruises was "their way to hang on to their luxury traveller".
About half of the nearly 300 passengers on the maiden voyage of Ritz-Carlton's Evrima superyacht last year were members of Marriott's "Bonvoy" loyalty programme, one of the largest in the world.
Jim Murren, chief executive of the Ritz-Carlton Yacht Collection, said the trips offered Bonvoy members "another extraordinary opportunity to earn and redeem points", noting that passengers onboard were 10 years younger than the typical luxury cruiser.
Murren said the "growing interest from various hotel operators in the ultra-luxury cruise category" underscored the "rising demand" for more tailored, high-end travel.
But entering the cruise industry is not without its risks. Ritz-Carlton's first ship launched two-and-a-half years later than planned because of pandemic-induced delays at the shipyard.
"While it's shown to be quite profitable . . . there are just as many disasters that you've seen in years past where a ship ran aground off the coast of Italy," said Rosenberger. "This is high risk, you absolutely have to have your game on."
It is also expensive. Vlad Doronin, chief executive of Aman Resorts which together with PIF-owned Cruise Saudi is investing US$600 million in a luxury cruise liner set to launch in 2027, said the capital expenditure was "far greater per room key than in our hotel and resort destinations on land". 
LVMH-owned luxury hotel group Belmond has provided a template that many of its bigger rivals are trying to replicate, according to its chief executive Dan Ruff. Founded as Orient Express Hotels group before being renamed in 2014, the company began offering rides on luxury sleeper trains and river cruises soon after its inception in 1976.
"We've been a pioneer in this type of business," added Ruff. "The big hotel groups see what we've been doing as an opportunity." Belmond is itself launching a new overnight trip to the French Alps on its Venice Simplon Orient Express train this winter and resurrecting a historic route through Singapore, Malaysia and Thailand next year after a long hiatus. Both trips start at about US$3,000.
Passenger capacity on its vessels has been reduced. "What we've done over the past couple of years is built bigger and bigger suites," Ruff said. "Reducing the number of passengers elevates the guest experience, it makes it more intimate."
But Manfredi Lefebvre d'Ovidio, an industry veteran overseeing the relaunch of luxury cruise line Crystal Cruises, said the push by hotel groups into the sector was unlikely to be major competition for traditional operators, which carry just over 1mn luxury cruisers a year.
"I don't think it's a threat," he said. "All of these hotel brands are not going into the luxury level, they're going into the ultra-luxury level."
The test for hoteliers is whether the move will pay off even with ultra-high prices. "There are only so many people that will be signing up," warned Rosenberger.
But Accor's Bazin argued that evidence for the allure of luxury train or yacht travel can be seen throughout history. The original carriages were found disused on rail tracks on the Polish-Belarusian border in 2015. "We're doing something which is audacious that's never really been offered before, except oddly enough . . . 100 years ago," he said. "We're bringing back the golden age of luxury travel."
Oliver Barnes © 2023 The Financial Times
Source: Financial Times/bt