How Kyoto artisans keep their traditions alive with Instagram and Airbnb
On a recent visit to Kyoto, CNA Luxury ventured to three workshops specialising in traditional Japanese crafts to find out how these centuries-old businesses maintain relevance in the modern era.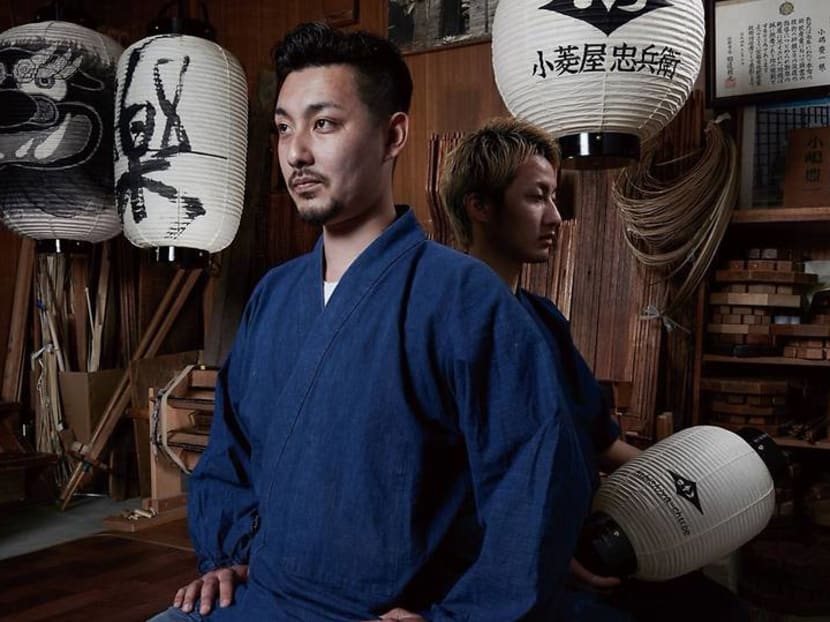 In Kojima Shouten's home atelier, brothers Syun, 34, and Ryo Kojima, 31, and their father Mamoru, 59, are deftly working on lanterns measuring 1m in height and 42cm in diameter using the traditional technique of jibari-shiki, carrying on a family business that has existed since 1800.
This manufacturing technique involves creating a lantern frame by bending thinly cut bamboo strips into spiral rings, which are then fixed together with hemp strings. Its laborious nature makes it a rarity these days – most lantern-makers go for the quicker makibone-shiki method that winds one long thin bamboo strip into a spiral frame – but it produces hardy chochin lanterns with striking structures.
During a recent visit, we observed how Syun cut and bent the bamboo strips, Ryo tied the hemp strings, and their father pasted washi paper onto the frames before painting the design. It would take them three to four days to finish one.
"We don't feel we have to continue this work, we just love it," said Syun, speaking through their marketing coordinator Shinya Takeda, a childhood friend who was roped into business. "We grew up watching our father and grandfather at work and we want to continue this beautiful art."
Previously, chochin lanterns were mainly used in temples and restaurants as signages. Thanks to the Kojima brothers' efforts in creating unusual, contemporary designs, they are now gaining popularity overseas in countries such as France and the US as interior decor objects in luxury homes, light installations in retail shops and even as pavilions huge enough for people to sit in. They are now launching a collection of fashion tees and soon, customised jeans.
On their Instagram page @kojima_shouten, behind-the-scenes and updates of their latest projects and products are regularly posted. That strategy has paid off: Kojima Shoten's orders come almost exclusively via the social media channel and by word-of-mouth, But the family places a premium over quality. Ryo said: "We want to enjoy the creative process. After every lantern, we always want to say 'this is perfect'."
COMPETITIONS AND COLLABORATIONS
Kojima Shoten's success story illustrates the need for traditional arts to constantly invent itself while keeping to its core values to stay alive. Another case in point: Takezasado, a family studio that has specialised in traditional Japanese woodblock printing since 1891.
Woodblock printing is one of the oldest printmaking forms in the world. It involves applying ink or paint on a piece of carved block, placing a sheet of Japanese paper on the block, and then rubbing the paper with a disk covered with bamboo.
Sometimes multiple blocks are used or different colours are used on different sections of the same block. So the sketch designer, the carver who sculpts the block, and the printer applying the colour layers need to be skilful specialists with a sharp eye for details – the very reasons why Japanese woodblock prints are highly appreciated around the world.
Its fifth generation master Kenji Takenaka, 49, has made bold moves in design and educational collaborations to give the craft a modern appeal. Besides original woodblock prints, Takezasado also stocks a range of items such as kitchen towels, silkscreen handkerchiefs, and book covers with kawaii prints at its store to tug at your purse strings.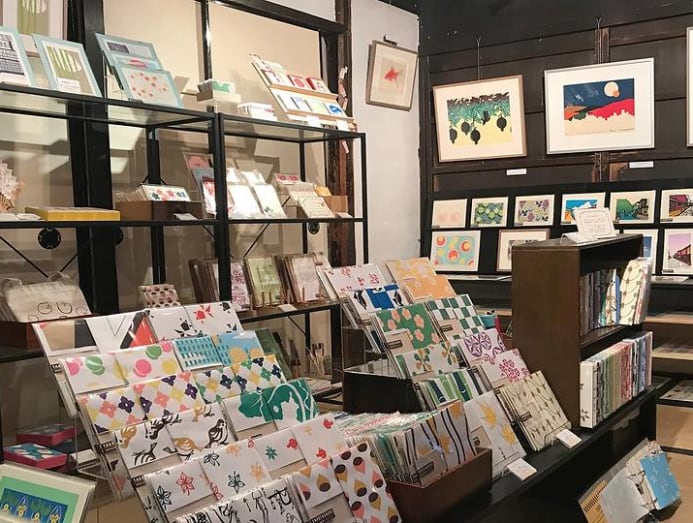 In 2013, Takenaka partnered art director Yoshiki Uchida to create a print that won the Bronze Pencil Award at The One Show 2013, one of the most prestigious international competitions in the creative industry. It was the first time that a piece of work employing traditional craftsmanship had clinched a prize. In September 2019, Takezasado's record jacket "Rare Groove UY" design won the silver prize at the Pentawards 2019, an annual award that recognises the best in package design worldwide.
Takenaka told CNA Luxury: "Traditional artists don't usually join these kind of competitions. But I want to show that woodblock printing can be attractive in many ways. Many companies have seen what we've done and have asked us to make things for them."
While he acknowledges that profits are not huge ("sometimes we are busy, sometimes business is low"), it is undeniable that his collaborations with educational institutions, museums, and even popular anime television series, have made the art of traditional woodblock printing more widely appreciated.
There is also a youthful vibe in the Takezasado atelier. Besides Takenaka's father, Seihachi Takenaka, 89, the other artisans who do the carving and printing are in their 20s and 30s. And in a departure from tradition, Takenaka appointed a female woodblock artist and product designer who is not a family member, Yuko Harada, 38, as the sixth generation successor, believing that her talent in contemporary design will hold the business in good stead.
A SLOW RIDE
But while some seem to be making strides, it's been a slow ride for others such as Tatsumura Koho, which is well known for nishiki weaving since 1876.
Introduced from China over 1,200 years ago, nishiki weaving uses silk threads that have a prismatic structure to create a fabric that has a three-dimensional effect and a sparkling luminosity.
From looms re-created from the original ones used in China to the jacquard punch cards that guide the weaving and whose pixel-like specks are punched out one at a time, and the rare Miyazaki red oak loom shuttles made by only one man in Japan, the process is all about rare skilled craftsmanship.
Founder Heizo Tatsumura and his son were instrumental in restoring ancient textiles, including works designated as national treasures, and creating new tapestries for the Showa Imperial Palace. They also established the Japan Traditional Weaving Preservation Research Society to study the techniques and pass them to a younger generation.
Current art director Koho Tatsumura is the third generation, and has been credited for introducing contemporary designs that have been made into state gifts for foreign dignitaries as well as everyday accessories such as kimono, obi, pouches and clutches.
The Tatsumura Koho studio is open for visits and weaving workshops (it's a popular Airbnb Experience and the only one of its kind in Kyoto). However, it currently only has two weavers working in the atelier as it typically takes ten years to learn nishiki weaving, said Amane Tatsumura (@kyoto_traditional_textile), 45, the fourth generation successor.
While his father has developed a curriculum that shortens the learning curve to two years – Amane himself learned the skills within a year only because he used to be a rock drummer, which gave him a huge advantage in hand-leg coordination – finding young people committed enough to take it up has proven to be challenging.
Nevertheless, Amane is determined to continue breaking new ground with the craft and has been working with students at the local Doshisha University on creative ways to use the textile, such as a spoon fashioned out of gold nishiki-woven fabric. "The number of families doing this craft is becoming fewer. I joined the business as I feel it is worth continuing this art form, which represents Japanese culture in many ways."