How this Singaporean earned a Michelin Bib Gourmand award in Seoul selling chicken rice
One Degree North, owned by Joel Lim, started as a delivery-only Asian roast joint during the COVID-19 pandemic.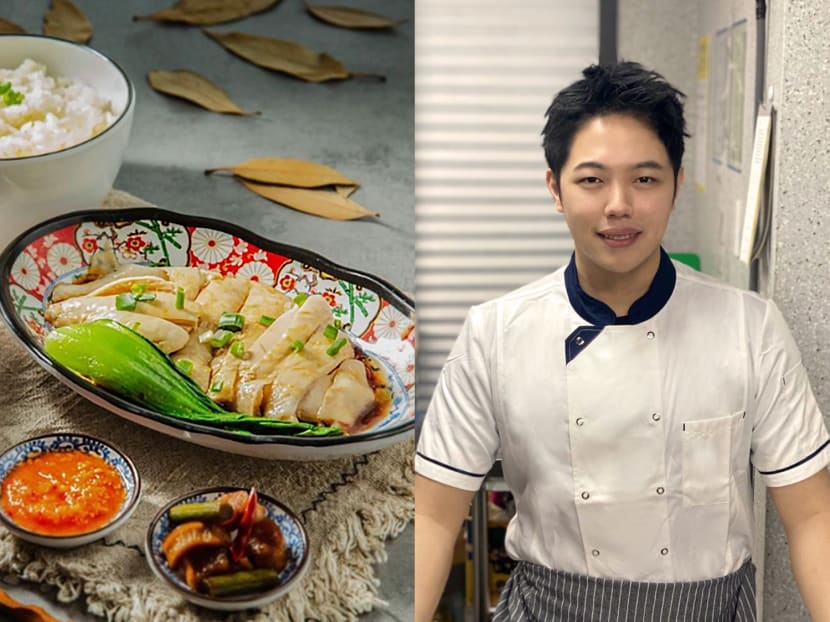 One Degree North, which first started as a delivery-only Asian roast joint, put itself on the radar of foodies last year when it clinched a 2023 Michelin Bib Gourmand award in Seoul (it was announced in October 2022) under the watch of its owner, Joel Lim.
A Singaporean millennial, Lim's journey could have moved in a completely different trajectory. A role in the kitchen, not to mention being the owner of it, requires a combination of mental and physical involvement at every step of the way. The easier way out would have been to simply take over his father's business QuicSeal, a company that manufactures and supplies products which include waterproofing, tile adhesives, joint sealants, epoxies, concrete repair mortar. However, after a two-year stint with Singapore Airlines as a flight attendant and another two more as a project manager for a sales company, Lim felt it was time to take his career into his own hands. "I don't want to be known as an 'ah sia kia' (a Singlish term describing those with rich parents)," he shared.
Several reasons pointed Lim in the direction of Seoul, South Korea. He let on during our interview that he felt as though he wasn't able to find anything he wanted to do in Singapore. While he didn't want to take over his father's company, he looked up greatly to the elder Lim, who ventured overseas with his business too. When you take these reasons together with his South Korean wife into the equation, it made sense he ended up in Seoul. 
IT'S ALL ABOUT TIMING
Why a restaurant? Lim's decision was also based on identifying opportunities at that particular juncture. "This was in 2020, right in the middle of COVID. I was taking a Korean language course in Seoul and was thinking about how there aren't Singaporean dishes here. Yet, risking all my capital on a brick-and-mortar shop wouldn't have made sense since there were many dining restrictions at the height of the pandemic. What I did instead was run a cloud kitchen with my wife. We were working 12 hours a day, six days a week and used that experience to build our customer base and conduct market research."
Thankfully, that investment paid off. He recounted that once their year-long lease for the cloud kitchen was up, the restrictions started to ease, and they managed to rent their current space at a low price since many shops were suffering from the effects of the pandemic and trying to let go of their space.What he served at the restaurant would be another key decision to make. Why chicken rice and Asian roast meats and not chilli crab? The strikingly red dish makes a statement and is impressive for anyone at first glance. It is also the first dish that many celebrities talk about having when they come to Singapore. Lim, however, has chosen a different approach and focused on four main dishes you'd find at any hawker centre in Singapore: Chicken rice, char siu, roast pork and roast duck. "I wanted to sell something that's attainable when it came to the price point that would also be more sustainable for the business."
ON AUTHENTICITY
When talking about food, especially a dish that's not 'native' to the country, one cannot escape the label of authenticity. While there's always a sense of responsibility to ensure legitimacy, it's inevitable that changes and adaptations have to be made, especially when it's being served in a different cultural landscape.
The chicken rice here, for instance, makes use of the short grain rice that Koreans are used to instead of jasmine rice. The rice is also less oily and leans a little saltier compared to the ones found in Singapore, such as Tian Tian Chicken Rice. The chicken? Served at room temperature rather than cold. Yet, these changes aren't a deal-breaker.
Lim echoes similar sentiments by trying to strike a balance between keeping with the original taste and making modifications for the bulk of his customers, the Koreans themselves. While some might argue about losing the 'original' taste to the market, Lim offers an alternate perspective. "Every country has their own adaptation when it comes to food. Similar to how the Chinese's Ja Jiang Mian has gotten its own version in Korea that's well integrated within the community and known as Jajangmyeon, my goal with One Degree North is to have a version of chicken rice and char siu that's so prominent and everywhere here too. I don't know how long it'll take for that to happen, but I hope that it'll be part of the culinary landscape here one day."
Setting up shop on home ground is tough. Having to do so in another country where you aren't fluent in the language is a completely different ball game altogether. While Lim did have the added advantage of his wife being South Korean, there were cultural differences he had to adapt to. "The challenge of managing kitchen staff that aren't fluent in English was tough so I had to work around it by hiring foreigners and then hire Koreans for tasks that I didn't have to train as much." Climate differences were also an aspect that he had to take note of. Singapore's temperature stays relatively consistent, which makes it easier to be consistent when it came to cooking. He recounts that he had to learn this the hard way: "The meat for instance seemed to be tougher during the colder seasons so we had to overcome and adjust the cooking times and the heat depending on the weather."
Has hard work and luck paid off? It certainly seems like it. A feature in a local TV programme, Master of Living, brought eyes and more customers to the humble locale, but the biggest break yet? Being awarded a Michelin Bib Gourmand award in 2023. "I was in disbelief at first, and the next few days after the announcement was crazy. This was also the point when I felt like all the hardship I went through over the last two years — all the late nights and these burn marks on my arms — were all worth it."
Now, there's no time to lose for the ambitious 34-year-old. "One Degree North is in the midst of expansion. We are opening our second brick-and-mortar store in Seongsu in a month or so. We've mainly operated from the south of the river in Seoul, and so with the store in Seongsu, we can cater to more customers in the northern half of the city, as well as a younger clientele. With this proof of concept, we're also looking to open a central kitchen so that we can go into franchising after."