Advice from a top whisky collector: Don't buy spirits you haven't tried before
If you want to start a whisky collection, know what styles you like and don't be swayed by brand power, says Garreth Anwar, whose collection numbers in the thousands.
Listening to Garreth Anwar expound the finer details of cask-ageing and whisky regional styles is like listening to a whisky maker himself. Except the man isn't. The 28-year-old Chinese Indonesian, who grew up in Jakarta before moving to Los Angeles in the late 1990s, works in the finance industry, and splits his time between Hong Kong and Singapore. He reckons his whisky collection numbers "somewhere in the thousands".
"I can't compete with my dad's wine collection, so I decided to collect whiskies," he quipped. Wine, however, was what led him to whisky in the first place. During his college years, he was into wine appreciation, a pursuit influenced by his wine-loving father. He soon realised that whiskies could be kept for a long time even after they were opened, and also easily stored without a chiller. "I didn't have to finish [the whisky] all by myself in one sitting," he added.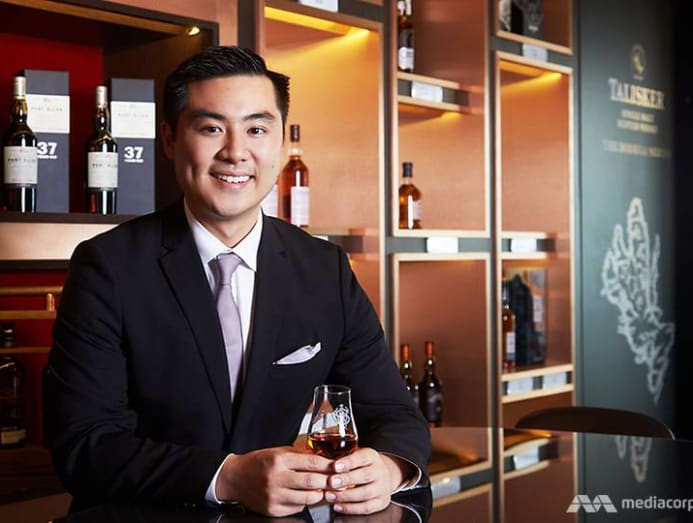 He began exploring Japanese whiskies – this was in the 2000s, before they became highly coveted – and then moved on to Scotch, developing a liking for single malts. Eventually, he looked at auctions in Los Angeles and Hong Kong to acquire rare whiskies for personal consumption and investments. The oldest whisky he has in his collection is a John Walker Masters' Edition 50 Year Old, a blend of whiskies from six distilleries.
In recent years, Anwar has been collecting rare editions from Port Ellen, a shuttered distillery known for its smoky whiskies; a style that he enjoys. "The smokiness adds another dimension to the whisky," he said. "There's this progression in your mouth, from the sweetness in the beginning, to the smokiness at the end."
His favourite Port Ellen is the 1978 as it offers "a deep flavour profile". The whisky is the 16th edition of a special release series from Diageo, the drinks giant that owns the distillery. Anwar has the entire series – the 1st to the 17th edition – a collection he acquired through Diageo as a Diageo Private Client customer.
Launched in 2018, Diageo Private Client is a service that gives whisky lovers access to rare whiskies from Diageo's portfolio, which includes those from Caol Ila and Lagavulin distilleries in Islay, and Brora, a shuttered distillery due to reopen in 2020 (a highly anticipated event by fans of this brand). Customers can order from events organised by Diageo or at the Diageo Private Client suite in the company's office on George Street.
Diageo Private Client also offers Casks of Distinction, a programme that lets you own a cask of whisky selected by Diageo's master blenders. From a sampling session, you pick a cask that you like, after which you have up to five years to bottle it.
Anwar will be bottling his very first cask of Caol Ila 1997 in February 2020 via the Casks of Distinction option. "This Caol Ila has been aged in a first-fill sherry cask, so it has a nice balance of complex flavours: You get the sweetness [from the sherry], some woody notes on the mid-palate, and the smoky finish of Islay," he said.
For those who are new to whisky, Anwar suggests starting with sweeter whiskies, before trying the smoky or peaty ones from Islay. "Generally, the ones from the Highlands region offer the sweeter styles – the easiest to drink. The Lowlands region offers something light and aromatic, while those from Speyside are a little spicier and woodier. Then the Islay ones would give you the smoky flavours," he said. "But you can try the different types all at once and figure out which is your favourite. Whisky enjoyment is very personal."
He cautions against buying – as well as investing in – whiskies you haven't tried before. "Don't buy it for the sake of the brand or how old it is. Just because it has an age statement doesn't mean it should have a high price. Some of the ones I really enjoyed are actually less than 20 years old," he said. "If you purchase a big amount of whiskies purely as an investment or financial goal, it may be hard to offload such a quantity. I'm lucky I bought the ones that I enjoyed drinking."
Gathering like-minded friends is another way to deepen your whisky appreciation. Anwar runs a group called Abbott Whisky, an informal club of friends and family members who have a love for the dram. "We pool our money to buy [the spirits]. They also trust me to pick unique whiskies such as limited editions," he said. "A big cask can produce 400 bottles – that's a lot to drink in my lifetime. At the end of the day, whisky enjoyment is about sharing."