Who are the designers behind some of Singapore's fanciest society weddings and events?
From long beans spilling over tables to wild foliage dangling from banisters, the quirky installations of homegrown botanical studio This Humid House are a hit with Singapore brides and grooms. Now, they are venturing into Paris.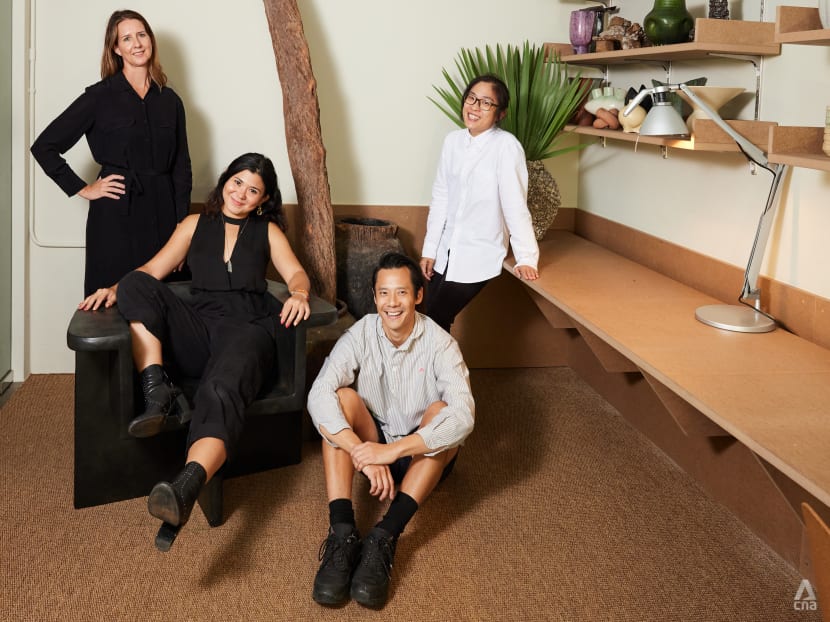 While the past year has been a parched one for many companies, homegrown botanical studio This Humid House (THH) is flourishing and breaking new grounds.
Founder John Lim is establishing a studio in Paris, which will be helmed by head of design Francoise Ozawa, a French native. It will be operational and available for destination weddings and event styling bookings at the end of 2021.
Lim said: "It all happened very naturally. We've been consulting for high-end fashion brands on how to implement events in the lifestyle space, so having a base in Paris would help us to communicate more efficiently with their headquarters there and consolidate our presence in both Europe and Asia."
"We were also getting a lot of interest in destination weddings in Europe pre-COVID-19 and Paris is the most sought-after wedding venue in that region for the Asian market. On the creativity level, it'll be great exposure for our designers," Lim added.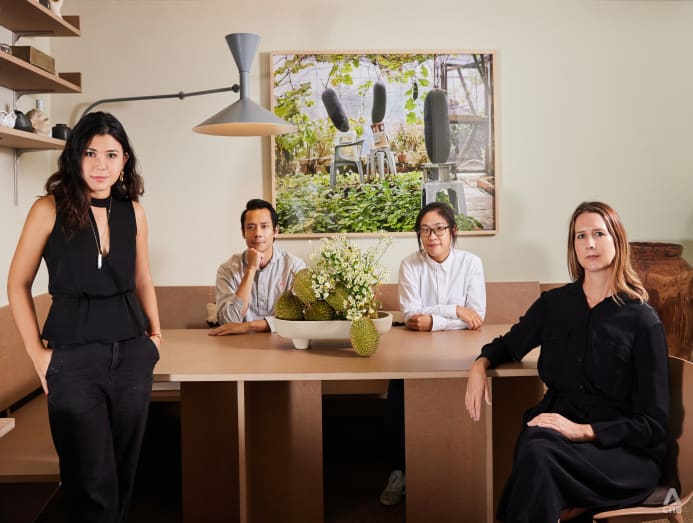 "We were also getting a lot of interest in destination weddings in Europe pre-COVID-19 and Paris is the most sought-after wedding venue in that region for the Asian market." – John Lim
Lim and his team are excited as they share with CNA Luxury the latest expansion plans and the trends that they have been observing the past 18 months. And in the company's true biophilic spirit, Ozawa joins the conversation from a morning walk through a lush forest in Saint-Pierre-Eynac in south-central France.
Lim, who is trained in architecture, has always believed in contextualising floral design to the zeitgeist of the day since he started This Humid House in 2017.
"We were critical about the kind of floral trends out there then. We wanted to use local materials in a fresh, non-cliched way. It didn't make sense that we were pursuing some kind of an English romantic style while we are in the tropics. It's like a weird blind spot," he said.
At first, its organic and unorthodox approach to floral design was too out-of-the box for Singaporeans used to picking from standard choices for event florals. Four years on, not only is the studio the florist du jour of the sophisticated, cultured set, it also counts the likes of luxury brands such as Cartier, Hermes, Tiffany & Co and The Macallan among its clientele.
Lim is looking forward to bringing a new dimension to the concept of floral installations in the European scene where he feels that they are still being conceptualised from a very traditional perspective of French luxury.
He said: "I think that the conversation can really be expanded. It's not about recreating what we're doing in Singapore over there, but bringing an approach of using indigenous elements and reflecting contemporary times in the installations and botanical arrangements."
In Singapore, the team has noticed a perceptible shift in the approach towards floral design for weddings and corporate events: It is now more adventurous, intimate and leaning towards meaningful elements rather than ostentatious displays.
Lim shares: "The idea of luxury is changing. Before, it was about overwhelming people with flowers, which is obviously a sign of opulence and showing off material value.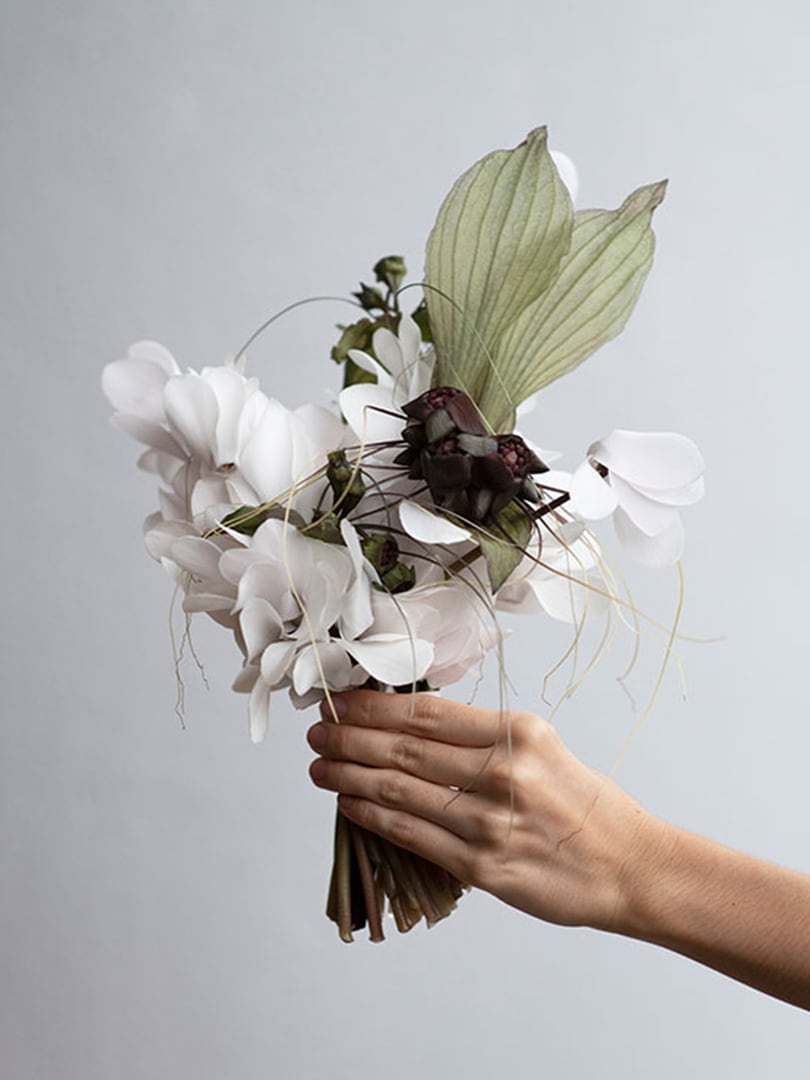 "One thing I always hear from wedding couples is, 'Can I do this, can I do that?' and I want to say, 'Do anything you want!'" – John Lim
"It has shifted gears into something more atmospheric, meaningful and transportive, especially when people can't travel now. For example, making your guests feel like they're eating in a field or being in Tuscany. Our clients want the venue and mood of the guests to be transportive."
Earlier in the year, at a fundraising gala by National Gallery Singapore, THH styled various venues around the museum in evocative settings themed after the late Georgette Chen's paintings. Unusual materials used included long beans, lotus root and bananas, as well as mango branches from a resident of Siglap Hill, just a street away from Chen's former abode at Siglap Plain.
Weddings have also become very bespoke as many are being held in private residences with a much smaller number of guests due to COVID-19 restrictions.
Case in point: Local fashion designer Elyn Wong's wedding, which was styled by the THH team. Ozawa recalls how they applied different decor to different rooms in the couple's house for a collection of beautiful photo moments.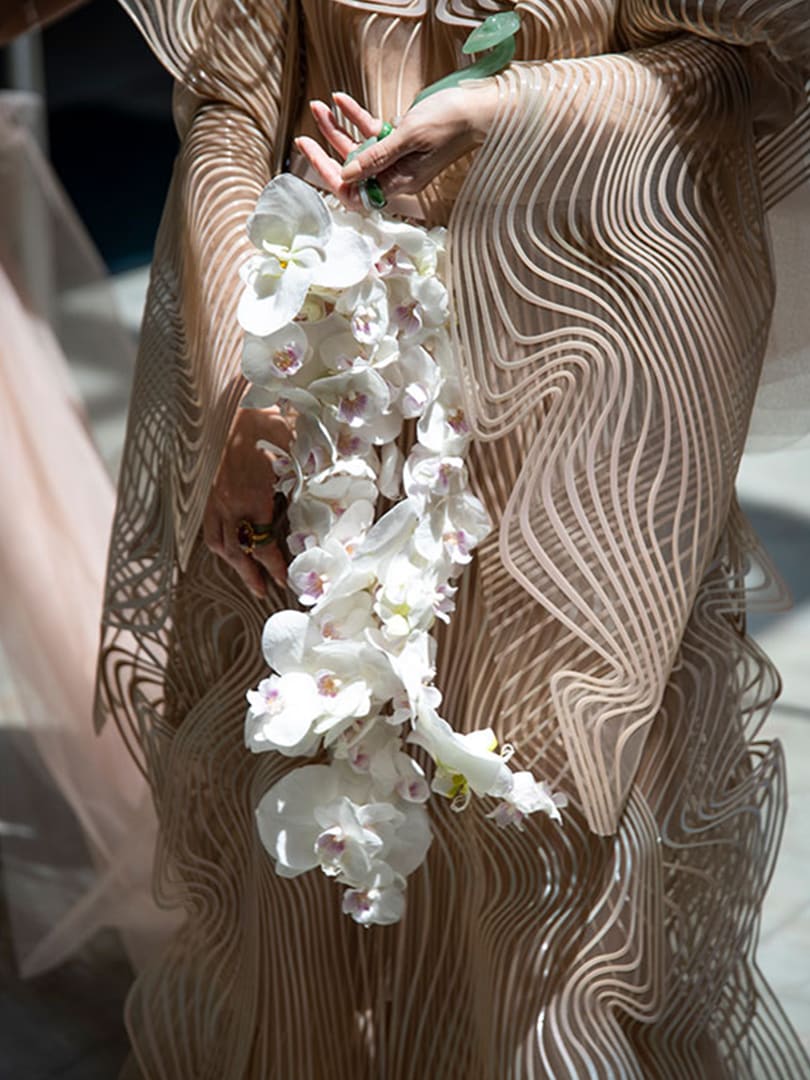 "You get to feed off the architecture in the space. We used palms from the couple's garden as part of the decor so that felt extra special. And the fact that the couple can enjoy the decorations in the home after the wedding makes it feel totally unique," she said.
The team also applied unique spins to scaled-down celebrations in churches, ballrooms and restaurants. In one instance, floral arrangements were placed on pews to facilitate social distancing and to create the feeling of being in a meadow. In another held in a ballroom, where only five people were allowed per table, the seats were placed on one side, dinner theatre-style, with floral arrangements tumbling off the tables instead of the conventional centrepieces.
Lim said: "We could play with the rules in a way that's advantageous. With ballroom capacity cut by half, another challenge was to make a big space look smaller. But it was nice because our clients still had about the same budget and they allowed us to source for interesting materials and do interesting things."
Another new perspective: Big bridal bouquets are not a must. "One thing I always hear from wedding couples is, 'Can I do this, can I do that?' and I want to say, 'Do anything you want!'", exclaimed Lim, throwing his hands up, chuckling. "We tell our clients it's absolutely ok for them to define how they want their wedding and what has meaning to them."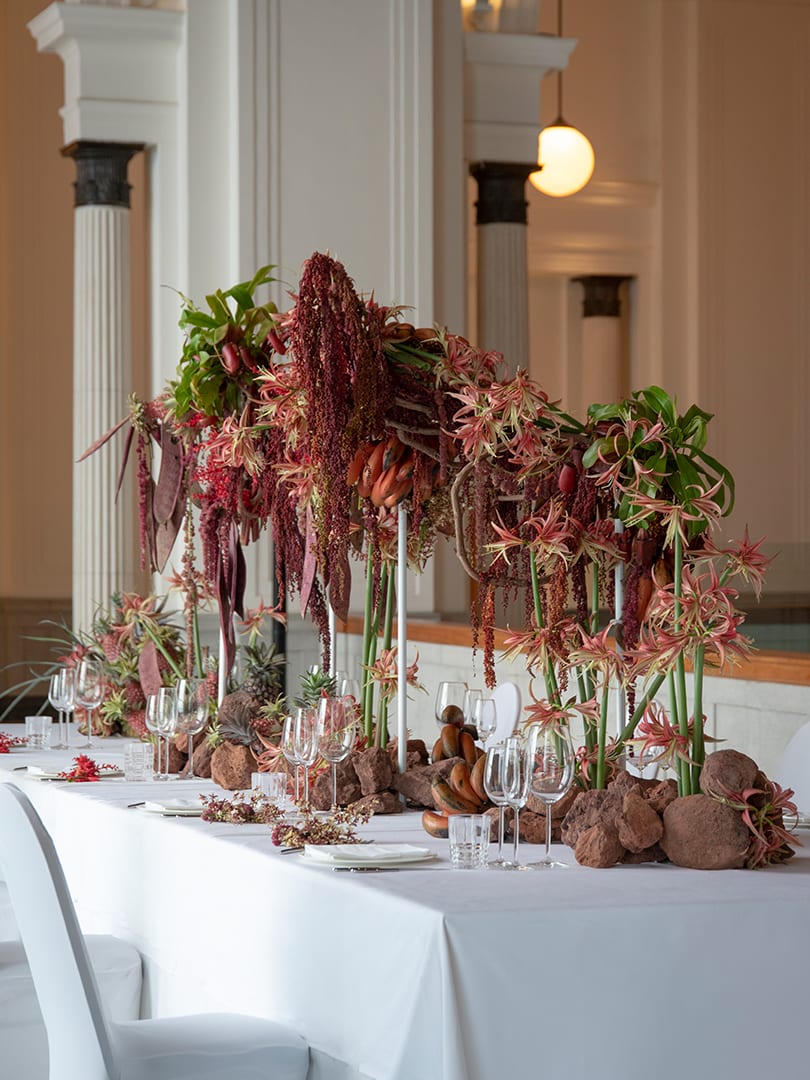 Senior designer Carol Melbye recalls making a cascade of Elyn Wong's favourite orchids to be attached to an heirloom jade sceptre that was to match her stunning Iris van Herpen wedding gown.
Another bride wanted delicate lilies of the valley on an antique sterling silver bouquet holder. "Putting the flowers on the tiny holder was a challenge, but the effort was worth it because it was something precious to her," said Melbye. "We don't do something just for the sake of doing it. Whenever we choose an ingredient for a bouquet, there's a specific reason for it."
This doesn't mean that rare and expensive botanical species are picked for bragging rights. As much as possible, the team uses plants found locally and in the region and at least 20 per cent of the materials come from THH's garden, which was started in 2020. This includes whole branches of ladies' fingers, colourful heirloom corn, marigold and white sunflowers – varieties that are not available commercially.
Lim said: "What is luxurious to me is having people put a lot of thinking into making things meaningful for you. We love juxtaposition, but fun is also really important to us. Our arrangements always have this bit of quirk and the sense of being delightful."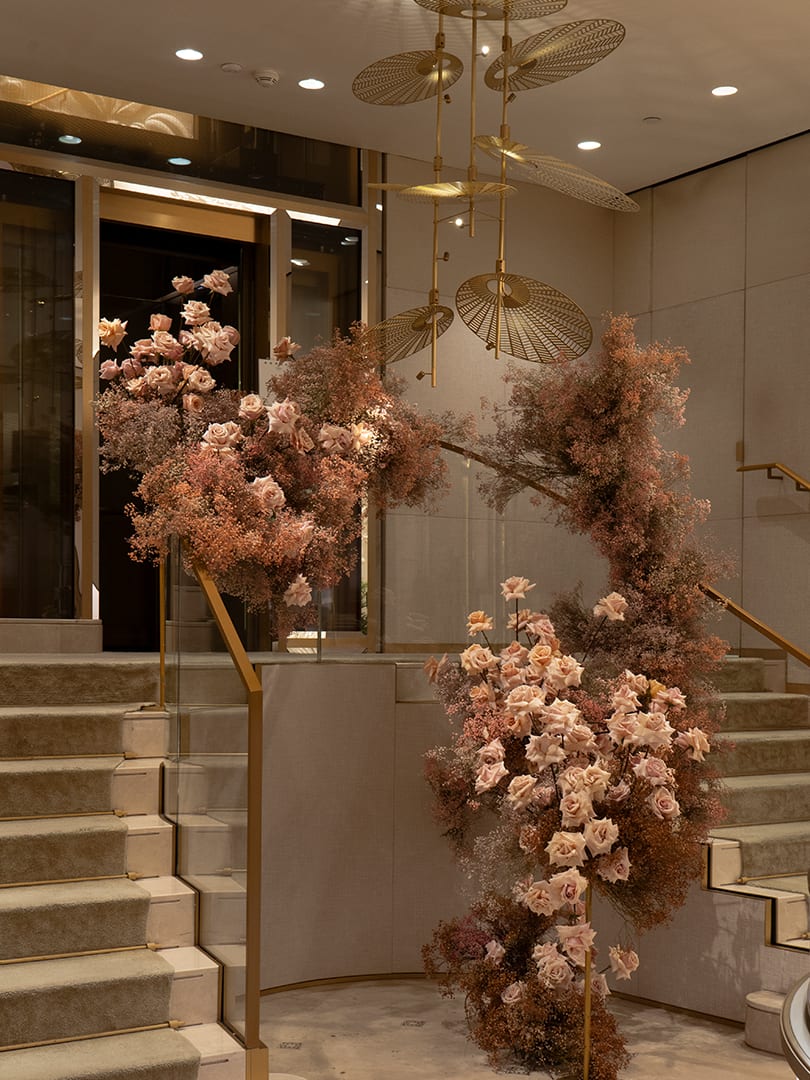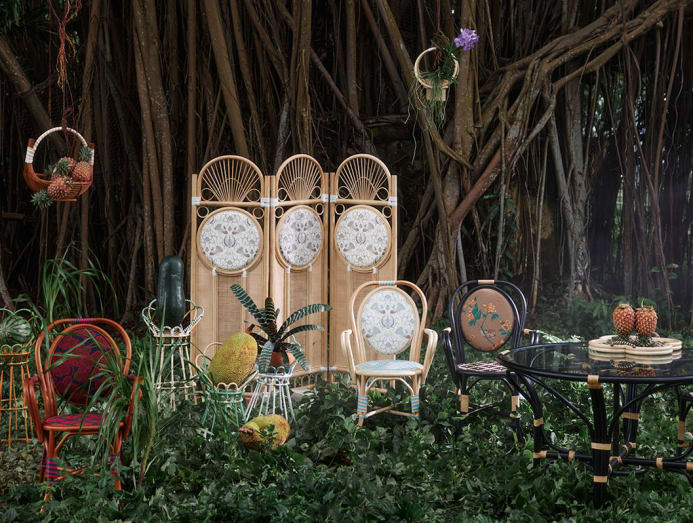 "We don't do something just for the sake of doing it. Whenever we choose an ingredient for a bouquet, there's a specific reason for it." – Carol Melbye