'I was like the towkay kia when I first joined the business': Wine retailer Lim Jing Zhe
Lim's father established 1855 The Bottle Shop in 2010, but he only joined the company in 2016. Today, the 32-year-old helms the business, and says that younger customers are becoming increasingly sophisticated drinkers.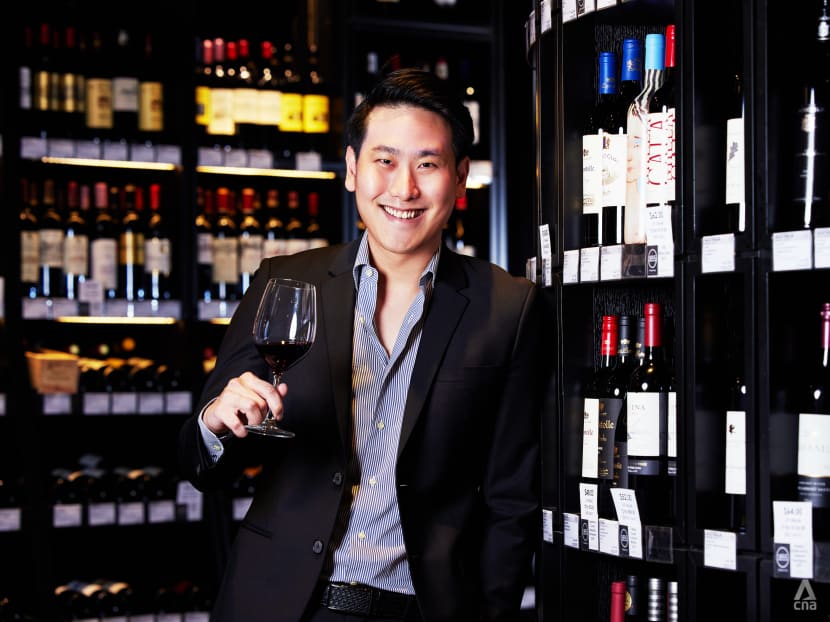 When Lim Jing Zhe joined 1855 The Bottle Shop, his family's wine retail business, in 2016, he expected a better work-life balance, having bade farewell to 100-hour work weeks in his previous job in investment banking. It turned out to be quite the opposite.
"I thought [the workload] would be better with the family business, but it was actually worse," said Lim, 32, with a chuckle. "You obsess about it over the weekends, when you are in the shower, and when you are sleeping."
Recently, he has been thinking about competitive pricing. COVID-19 has changed the wine e-commerce scene: Wine retailers who have always had an online presence, such as 1855 The Bottle Shop, now find themselves competing with wine importers who had traditionally never ventured into e-commerce until the pandemic, with its dining-in restrictions and stay-at-home initiatives, prodded them into the fray.
"Retail has many overheads, but when consumers make a purchasing decision, most of them are not going to think so much. They just look at your price. If it's 20 per cent above what someone else is offering online, they'd think you are being expensive," said Lim.
Currently, 1855 The Bottle Shop imports 80 percent of their wines directly from wineries. Lim plans to increase this figure to 85 or 90 percent. "We have been moving towards this direction, but the pandemic pushed us to accelerate this initiative. When we source wines directly from more wineries, we can provide a more competitive price and reduce markups," he said.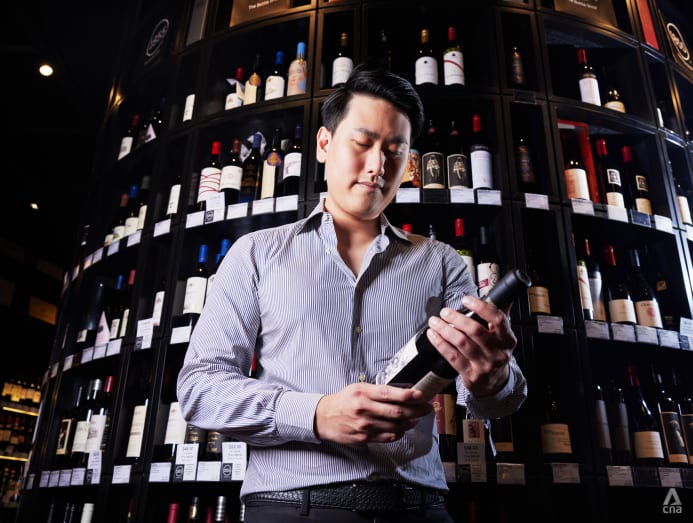 "When I first joined the business, I was very green, I had no wine knowledge. I was like the 'towkay kia' [business owner's son], you know, the one who comes in and doesn't know anything." – Lim Jing Zhe
NOT JUST ABOUT NUMBERS
Lim knows that the art of selling wine is more than just a number's game, though.
After completing his business administration degree in Boston's Northeastern University in 2015, he landed a job in Goldman Sachs, doing six-month stints in Boston and London.
Unsure about his career path then, he decided to return to Singapore, making good on the promise to his father that'd he come home after his studies. Dad persuaded him to join the family business.
1855 The Bottle Shop was established in 2010 by Lim's father, who, according to Lim, is a private man who has since retired and prefers to stay out of the limelight. Vinicole Asia was set up in 2011 as 1855 The Bottle Shop's wholesaler and distributing arm.
The first 1855 The Bottle Shop opened in 111 Somerset mall (the store has since closed), followed by a second shop in Sixth Avenue, which has remained its oldest outlet to date. Today, there are eight outlets across Singapore. A ninth outlet will open in Marina Bay Sands in October. The company is one of Singapore's leading wine retailers.
"When I first joined the business, I was very green, I had no wine knowledge. I was like the 'towkay kia' [business owner's son], you know, the one who comes in and doesn't know anything," recalled Lim, who was appointed managing director in 2018. "The company was run by experienced people. So I kept a low profile and learned from the sidelines to get a big picture of how the cogs of the machine work."
He joined the purchasing team to learn about procuring wines. Still fresh from his spell in finance, he began scrutinising the sales data, trying to analyse which wines made the highest profits.
"Over time, I realised it's not just about math when it comes to selling wine," he said. "It's not like selling a T-shirt. Wine is a product that can be impacted by many things such as trends, which come and go."
Lim said he has been seeing younger customers at his shops and previous editions of Wine & Whisky Week, a biannual wine and spirits fair held in Suntec City since 2016. (The event was cancelled last year because of the pandemic. This year's edition will be scrapped too.)
He knows that reaching out to today's customers, especially Millennials, require a different approach. Simply sending out an electronic mailer with the price of the wine isn't going to wow them. He brainstormed with his marketing team to discuss how they can make better use of social media platforms like Instagram to get their message across.
The team styled and shot their own wine products, creating snazzy, lifestyle-themed visuals for their Instagram posts. They also talked to winemakers to find out more about the stories behind their wines, so they could weave the information into their posts and mailers.
For Lim, social media gives them a chance to dispense wine education in a fun way.
"Our Instagram followers have grown a lot, especially since the pandemic and [circuit breaker]," he said. "I think it has kind of affected the way our customers purchase wine.
"These days, our customers don't view wine as just a beverage anymore. They are getting more inquisitive and asking more educated questions about wines. They look for wines that tell a story."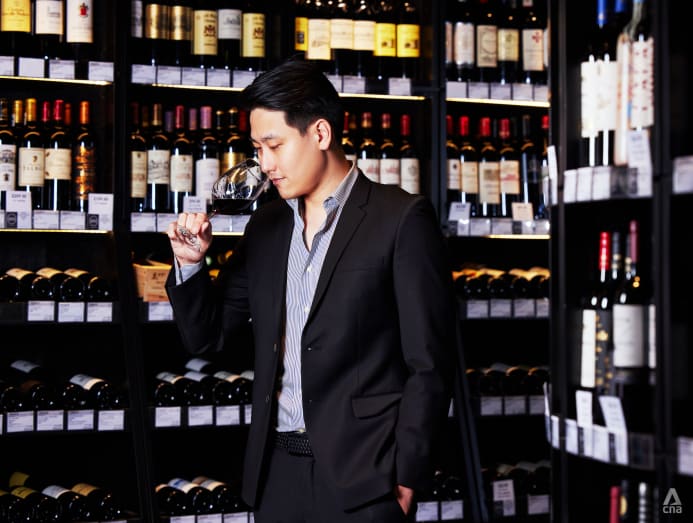 "These days, our customers don't view wine as just a beverage anymore. They are getting more inquisitive and asking more educated questions about wines. They look for wines that tell a story." – Lim Jing Zhe
A REPUTATION FOR BORDEAUX
1855 The Bottle Shop's wine offerings are "very French-focused" – Bordeaux has always been the company's forte. (The company's namesake references the historical 1855 Classification, a ranking of Bordeaux's top wines.) Despite the increasing popularity of Burgundy, Lim will still keep Bordeaux as the majority of their stock.
Bordeaux isn't just for fuddy-duddy oenophiles anymore. In recent years, Lim has noticed more younger customers placing orders for Bordeaux en primeur. (En primeur or "wine futures" is a form of wine investment: Barrel samples of Bordeaux wines are sold to customers – the wines will be delivered to the buyers at a later date after they have been bottled. The en primeur price is cheaper than what you would pay for after the wine has been bottled as market demand and critics' scores would have pushed up its price.)
"In the past, most en primeur customers were in their 40s," he said. "Now you'd see these younger customers buying cases of Lafite Rothschild and Mouton Rothschild."
1855 The Bottle Shop sources only mature Bordeaux vintages that are 10 to 20 years old; a trait that underscores their understanding of Bordeaux wine enjoyment. Bordeaux wines are best drunk after several years of cellaring – young vintages would taste too tannic and robust (although this depends on personal preference).
"You'd find 2018 or 2019 Bordeaux vintages in other wine merchants. But for us, we'll evaluate to see if there is a need to bring in something so young," said Lim. "We'd prefer to have most, if not half, of our Bordeaux stocks to be at least 10 years old. A lot of top Bordeaux wines are meant to be drunk at a certain age – that's when you'd get the secondary and tertiary aromas and flavours.
"For Bordeaux, we buy direct from negociants in Bordeaux; we don't get them from distributors or traders. Provenance is important. If you buy them from someone outside of Bordeaux and they are not authentic, it will have massive repercussions."
Lim personally enjoys Pinot Noir and makes an effort to "promote quality Pinot Noirs from around the world". "[Outside of Bordeaux], we tend to skew towards boutique or family-owned wineries when we source for wines," he said.
Some of his bestselling Pinot Noirs come from wineries outside of Burgundy, for example: The renowned Burn Cottage from Central Otago in New Zealand, and Lethbridge from Geelong in Australia.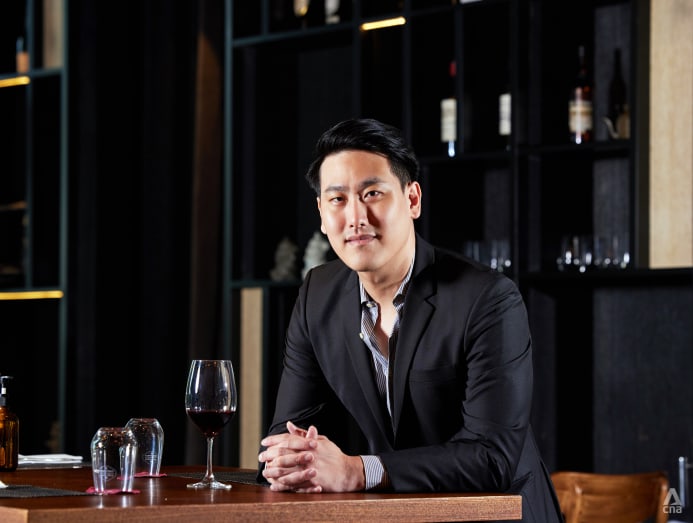 "With the family business… You obsess about it over the weekends, when you are in the shower, and when you are sleeping." – Lim Jing Zhe
DRINKING AT HOME THE NEW NORM
1855 The Bottle Shop has an F&B operating arm, 1855 F&B, which owns three restaurants: Wakanui, a steakhouse; The Spot, a casual European eatery; and Perch, an Asian fusion bistro at Jewel Changi Airport. Lim's younger brother, Chang Run, is currently learning about the F&B business from their F&B general manager, Kelvin Koh.
The Spot and Perch are physically connected to 1855 The Bottle Shop outlets: Customers can purchase wines from the retail shops and enjoy them at the restaurants without any extra charges.
Despite the doldrums of the pandemic, Lim and his team are setting up two new restaurants, which will open in October and November. He said the new restaurants will be standalone joints without any retail shops as selling wines at retail prices for consumption in fine dining-style restaurants isn't sustainable.
While the pandemic has affected their F&B business, it also has a silver lining for Lim: With the COVID-19 restrictions, more people have started drinking at home with friends and families.
Lim said that for years, wine merchants have always wondered how they could get the locals to change their mindset that wine is something they enjoy only when they dine out.
"I guess the pandemic changed [this mentality] for us," he said. "[After COVID-19], I think a lot of people will continue drinking at home. It's here to stay."