Industry icon Jean-Claude Biver and his son Pierre are launching a new independent watch brand
The duo discuss their relationship and goals for Biver Watches.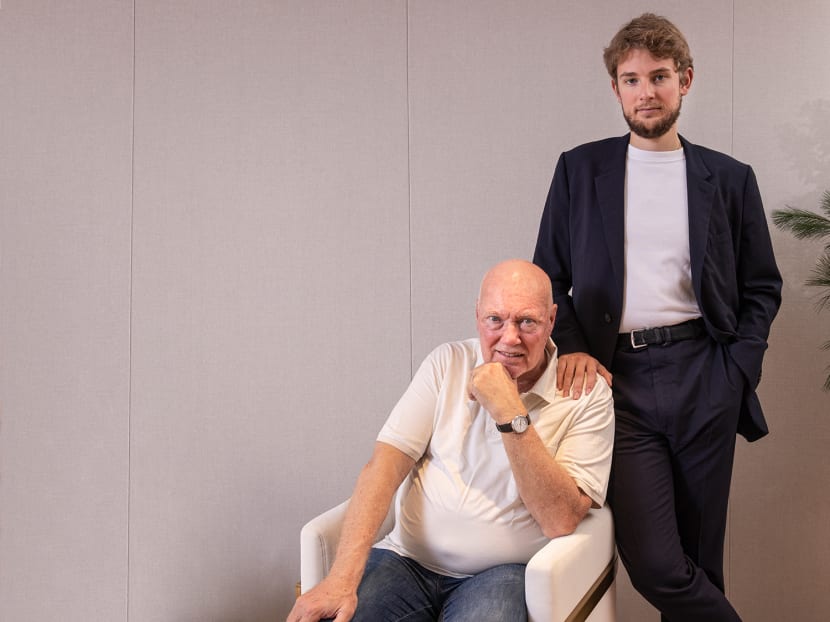 Most people would be happy to hang up their hats after 50 years of service to one industry. Jean-Claude Biver, the titanic figure of the watch world who revived Blancpain, transformed Omega and Hublot, and finally headed LVMH's watch and jewellery division, was "happy and proud" to retire at the age of 70 in 2018. "I thought I could retire. I did my job, but it turns out my job wasn't finished," he said. "I learned that you cannot retire from your passion. It's in your blood. It's in your heart. It's in your brain. A person without passion is like a person who is dead."
Jean-Claude Biver is a dramatic man. One who still has enough vigour to punctuate his points with excited slaps to the table despite operating on just an hour of sleep prior to this interview. But this particular proclamation was the likely result of his own brush with death following a bicycle accident last October that landed him in the hospital for three months. An accident that reminded him that "you don't need a break from love". That love for watchmaking is what made him decide it was time to return to the arena. Only this time, it will be his name on the watch, and with his son as his right-hand man.
Compared to his father, 22-year-old Pierre Biver is the picture of serenity. His manner is thoughtful and calm, his words often chosen with care. The Richard Mille on his wrist was probably the loudest thing about him. "We want to make watches that are intrinsically of good quality," offered Pierre, who had derived some industry know-how from his previous stint at auction house Phillips. "Even if you don't like our aesthetics, you can at least agree that every little detail is well made." Jean-Claude added, gleefully: "If you buy our watch, you buy it for its spirituality and for the pleasure of buying something nobody knows about."
The watches may be unknown for now since they are still in the prototyping stage, but everyone knows who the Bivers are. And that has at least mitigated some of the difficulty in finding the right suppliers and partners to get their little independent project going. "If you have Rolex as your client, you are basically assured that you will be producing for them for the next 10 years. You don't have to think," explained Pierre. "But luckily, with our reputation, we found people who really appreciate us going to them, trusting them, and bringing them innovation."
Some of this innovation will be in case materials, which is to be expected from the former Hublot CEO, since it was Jean-Claude who spearheaded the brand's development of its scratch-resistant and unfading gold alloys. But Biver Watches won't be following Hublot's famous "art of fusion" in exactly the same way. As much as they admire and respect the useful properties of today's many high-tech composite materials, priority must be given to whether the material can be decorated and repaired.
"If you damage a carbon bezel, you will have to replace the whole bezel, for example. It needs to be everlasting because we are selling eternity," explained Pierre. "We want to add value, but this is a challenge because many components today have been industrialised and are not designed to be decorated anymore. Of course, things like bridges and other visible parts still are, but some of the things you don't see, like certain wheels, aren't. Every component has to fit our vision."
The masochism doesn't end there. Their titanium will be polished to a such a degree that it resembles platinum or white gold, and even unseen screws will be black polished. "We do it for the art," shrugged Jean-Claude. "When every detail is mastered, the soul of the watch comes out." In an age where lugs and cases can be easily cut by CNC machines, welding is considered a highly traditional method normally attempted by high-end brands with a lot of time and know-how. Not only have the Bivers chosen to weld their lugs, they're doing so in titanium, which is far harder to work with than precious metals. "We spent a lot of time trying to figure that out, and then have the lugs aligned by hand. It was a bit of a mess, but we have to go where no one else has gone before," said Pierre.
Since Biver Watches is essentially a startup, their roles are not clearly delineated. "In six to eight years I won't be so healthy, so the more we work as one now, the better he can follow up," admitted the senior. "One day, he will not need me anymore, I hope." Which is why Pierre has more direct contact with the team and their partners, only circling the information back to his father when a decision needs to be made. "I make sure everything is going right on a daily basis, like if there's a pen missing, or if we need to buy paper," junior quipped.
And he's happy to do the heavy lifting, a task some might assume is even heavier given the weight of his father's legacy. "I enjoy it. It's a privilege to learn from and work with my father. I didn't do anything to deserve it. I just happened to be born at the right time and into the right family," he said plainly. "And because I don't deserve it, it motivates me to do better than anybody else."
Pierre is acutely aware of the gap in their knowledge and experience but believes that their dynamic is now in a sweet spot where his relative inexperience brings fresh ideas that complement Jean-Claude's seasoned input. "The design team and I sometimes want to push things really far with super nice, conceptual ideas, but my father will come in and suggest we change this detail or make that bit a little smaller. These details don't sound important but they reflect the quality of his experience, and they end up making a big impact," said Pierre. "It's been very humbling working with him. I see how he treats everyone with respect. Young or old, he listens, believing everyone has good ideas."
"I'm more interested in young people," added Jean-Claude, who has also recently joined the board of another independent watch brand, Norqain, which is led by a team with an average age of 35. "People my age — what can they bring me? They know as much as I do; but young people know other things. They have other visions. They bring ideas and disruption. That is why I always try to avoid people my age."
The Bivers will be debuting two watches next year: One in titanium and one in rose gold, with a new and innovative material to be unveiled in 2024, though all Pierre had to say about it was that "it is known, it is used a lot, and we found a way to prevent its disadvantages." Presently, the goal is to make 30 watches for next year, with a view to double that number by 2030.
"This is my Everest now," said Jean-Claude. "And you of course can't go on expedition like this one without doubt. But the doubt wakes you up in the morning asking, 'Can you double check? Are you sure you are right?'. But I listen, I do the checks, and then I can say to doubt: 'I will show you how much you are wrong.'"