Interior designer Matthew Shang shares ideas on how to create spaces with personality
Matthew Shang is the creative mind behind F&B spaces such as Revolver, Barood and The Manhattan Bar.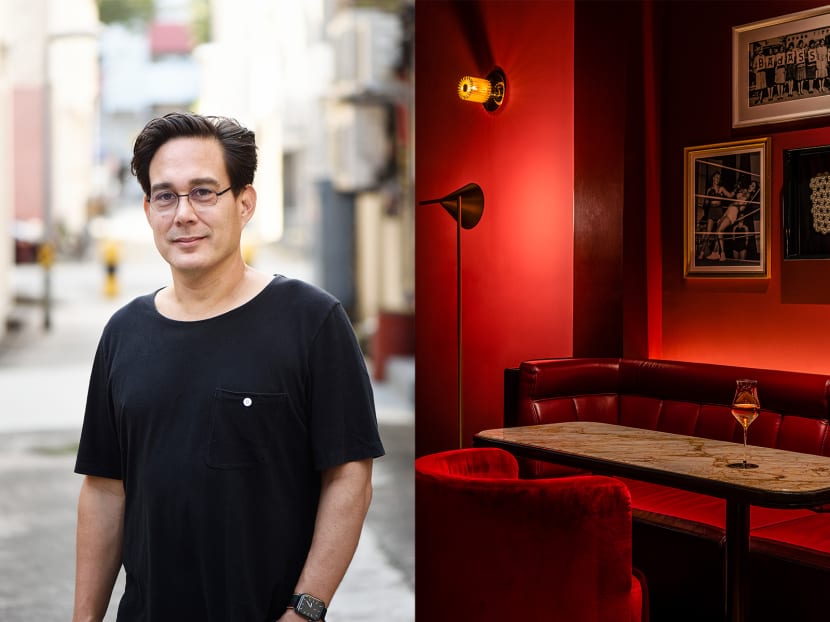 Matthew Shang's father was a skilled craftsman who built the family's childhood home in North Queensland, Australia. "I remember the materiality vividly. It has deep-red timber floors and front steps made from solid, wide timber boards. A love of craft and crafted construction has thus always been with me. I inherently love the crafting of solid timbers, the joining and the expression of different grains and tone of the different timber varieties," shared the interior designer who co-founded MSDO Design in 2020 with partner Paul Semple.
This sensibility for artisanal details as well as rich material exploration is palpable in striking spaces such as Revolver, Hamamoto, Yantra and most recently, modern izakaya bar Barood. In progressive Indian restaurant Revolver, a stepped beaten metal feature floats above the brick-clad grill station. In omakase restaurant Hamamoto a brushed hinoki wood counter – the only curved sushi counter in Singapore – arcs across the space.  The use of hinoki wood pays homage to traditional Japanese restaurants, shared Shang. "The rest of the design itself is less traditional, with a sweeping arch above the open kitchen more of a theatrical-style presentation of the chef as the hero of the space. Next door at Revolver, a great hearth was created [to spotlight the fire used during grilling], showing its importance as a major part of the theatre of cooking, as well as highlighting the traditions of Indian cooking," Shang elaborated.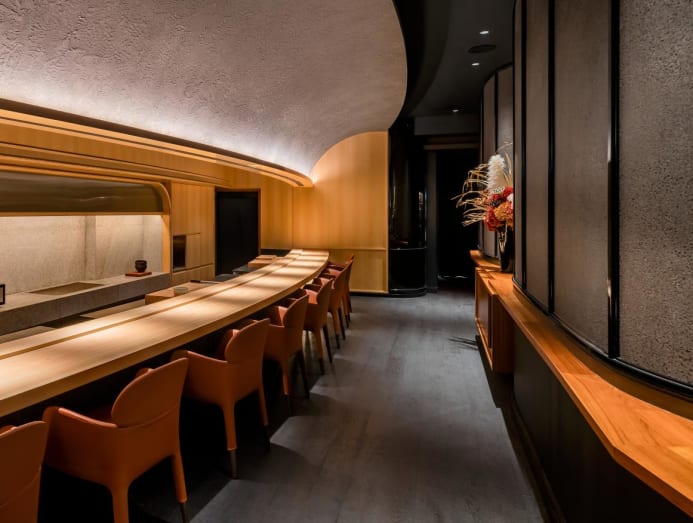 This is another aspect of the Australian-born, Singapore-based designer's style – the use of textures and forms to create spatial spectacle that draws patrons in with memorable encounters. Readers might also remember other iconic venues designed by Shang, such as the voluminous Atlas Bar at Parkview Square and The Manhattan Bar in Conrad Singapore Orchard (formerly The Regent). He is currently breathing new life into the hotel's other restaurants, such as Dolcetto, Basilico and Summer Palace.
These settings stem from a storytelling approach; they are perfect for today's Instagram culture, where patrons seek vivid backdrops to frame their experiences.
In order to develop these strong narratives, it is important to understand the drivers and ambitions of the clients, and seek out "cues" from the cuisine and style of service, said Shang. He offers some examples: "In terms of Revolver, a talented young chef creates amazing contemporary cuisine using traditional Indian techniques, so the narrative revolved around celebrating the chef, creating a stage for both him and his cooking. The journey was both moulded and enhanced by the nature of the shophouse environment, as well as the client's desire for the energy to be dynamic and infectious. In Barood upstairs, however, they wanted a chilled-out, romantic and sensual atmosphere, hence the red saturated hues, glossy elements, [ample banquette seating] and candle lighting,"
Shang credits his ability to conjure drama and mood to his theatre and film background. After completing his interior design degree at Queensland University of Technology in Brisbane, he studied at the Australian Film and Television School (AFTS) and worked for a time in film and television production design.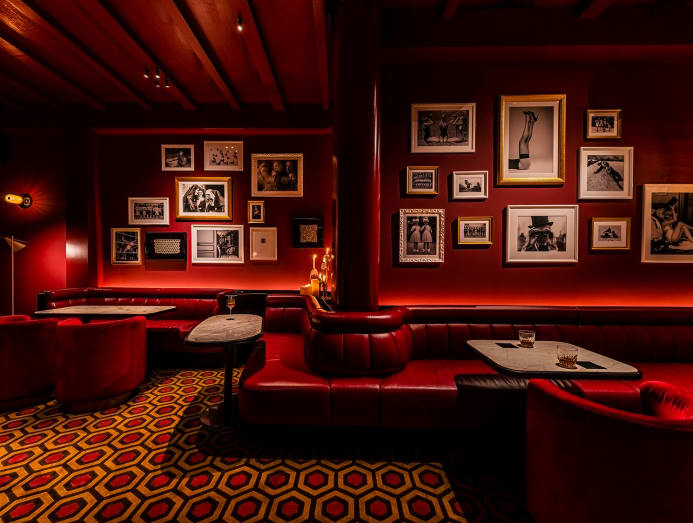 His design for Junior Bar at Ann Siang Hill is a literal stage, where the decor and cuisine theme change every now and then. "We designed the space and some fixed elements such as the high-backed banquettes and tables, and then places where the themes could be easily transferred at the higher levels [in the space] and presented as a mural element that runs throughout. The ceiling and track lighting are easily moveable and flexible from theme to theme," Shang explained.
Understanding and working with the nuances of a site help to create narratives unique to context and place. For The Work Project at 6 Battery Road, Shang drew inspiration from a faceted red granite edifice at the building's entrance as well as the tale of the Singapore Stone. Which explains why anchoring the co-working space is a chunky column stripped of any finishing, with its rawness celebrated with accent illumination.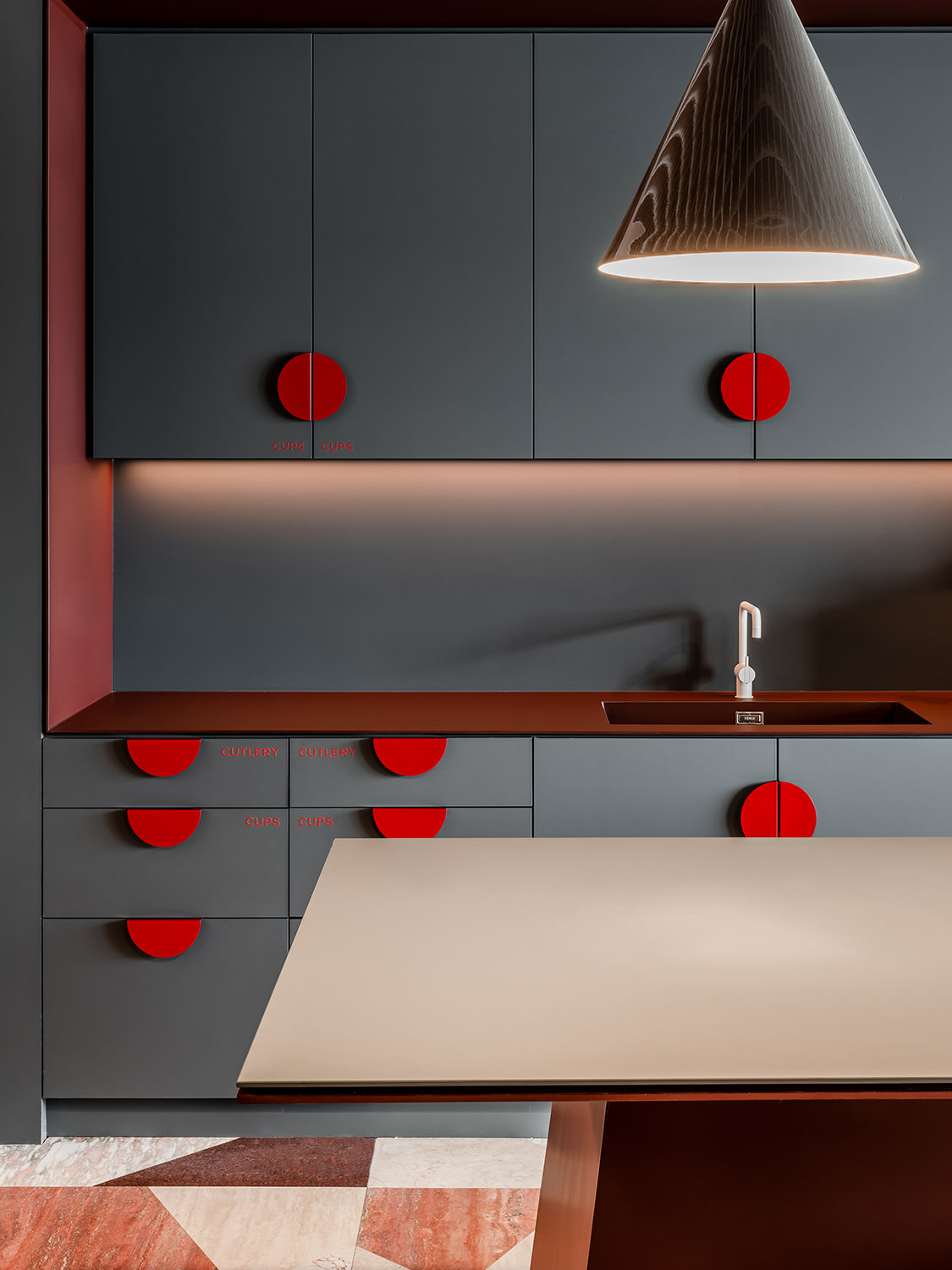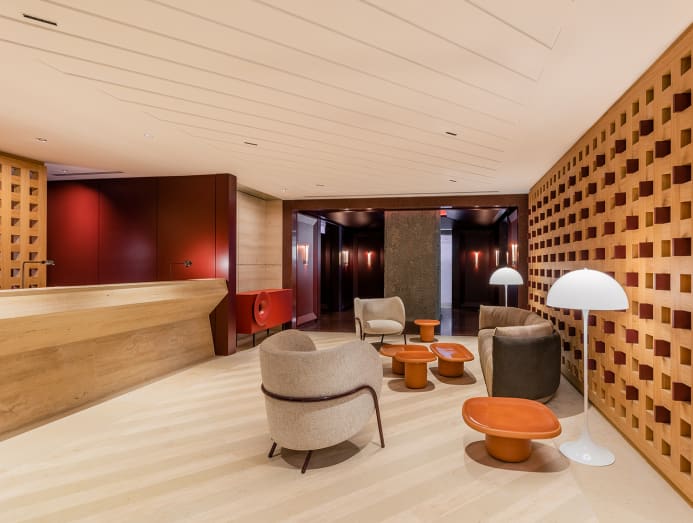 Similarly in the office of commercial real estate company Cushman & Wakefield at Capital Spring, meeting rooms opening to internal 'verandahs' highlight the views from the 47th floor. The expansive vistas are countered by the intimate ambience, filled with natural light, warm materials, artwork, curated furniture, decorative lamps and object d'art on timber-framed shelves.
It feels more like the cosy living environment of a home than a ubiquitous office, thanks to all these elements and the design of comfort, Shang shared. "I think it's the designer's responsibility to make people feel comfortable in a space. We've always taken the idea of the intimate and things that are close at hand, as well as tactile elements so that the individual feels as important as the group," he continued.
One way of creating a personal sense of belonging is to put thought into the smaller elements within a large space, Shang highlighted. "Sometimes, you want to create a sense of drama and excitement with theatrical elements, but you also want to have that counterpoint, that nook that someone can nestle into. This is particularly relevant in F&B environments where patrons want to kind of 'own' that space while they are there," he said. These spaces can be made inviting through the choice of materials, creating a sense of comfort and getting the correct scale. For example, making sure that the banquettes are well sized so that users can sink into them, he elaborated.
These are ideas that homeowners can borrow to create their own sanctuaries. Natural materials such as timber create a sense of emotional warmth and calm, Shang suggested. He added: "Without huge effort in changing ceiling lights, I always like to use a range of decorative lights throughout the home. There is such a variety that you can place at different heights and locations that make it an easy way to transform the mood of a place. I was recently gifted a battery operated Takku lamp from Artimede that immediately changes the atmosphere of a table when placed there."    
How one displays artwork can also instantly freshen a space. "When challenged by limited wall space, the use of easels for larger artworks and leaning artworks on wall shelves are elegant solutions. We often hang many artworks together, connected by a single theme such as a colour or texture," offered Shang.
Most importantly, a home should reflect an owner's personality. "I think the secret is celebrating the things you love. By bringing forward those things you are proud of, you show your personality," said Shang. His own walk-up apartment is, as he described, "a bit of a lab for experimentation", where he surrounds himself with an eclectic mix of ornaments, artworks and a vast collection of books to inspire him.
On inspiration, Shang shared that travel is a vital source that helps him create authentic environments. One of his favourite places to visit post-COVID is Italy. "There is truly a great mix between the layers of history, contemporary design and lifestyle. The last trip I did a pilgrimage to see some of the works of the late-Italian architect Carlo Scarpa – a design hero of mine – such as the Castelvecchio Museum in Verona and the Olivetti Store in Venice. There is nothing better than seeing and experiencing an environment to appreciate the love and craft – and in Scarpa's case, the time – put into creating it," he enthused. 
The inspiration gleaned from travels directly influenced his design of fine-dining Indian restaurant Yantra, which is a sensorial treat of silk wallpaper, a fort-inspired door, glass wall installations, latticed Jali screens, marble floors and arch doorways reminiscent of Rajasthan palaces.
"For the journey through that restaurant, I drew a lot on my travels in Rajasthan, especially those wonderful forts where you would pass through narrow, ramped tunnels polished with araish (a hand-burnished crushed marble) and emerge into a wonderful audience chamber," Shang recounted.  
Immersing himself in the richness and 'theatre' of the world awakens his spirit. "It's about those moments of experience. One of our roles is to lead people on journeys in our environments, and I think part of our responsibility as designers is to find new experiences for ourselves."