Italian footwear designer, Giuseppe Zanotti: 'The perfect stiletto does not exist'
Yet the stiletto is an empowering tool for women, he stresses, because the taller the heel, the more confident she feels. And when she is empowered, she is a super woman.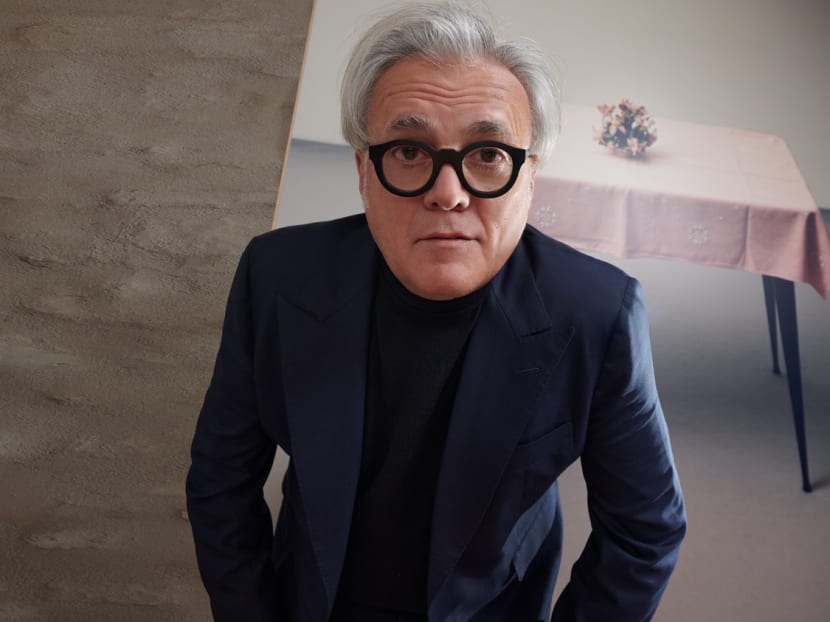 It isn't every day that a famed shoemaker will tell you to forget the idea of finding a perfect stiletto: It doesn't exist. Yet here is Giuseppe Zanotti (no less), the Italian footwear designer, whose sexy, sculptural, and stunning shoes are coveted by women all over the world, confirming it's an elusive idea. Because all stilettos will hurt you at some point. "It's only whether they hurt, more or less," he said, candidly.
It is perhaps this candour that makes him even more charming. Not that he needs it to make you more smitten with his shoes. With their eye-catching boldness, and often gilded and bejewelled designs and silhouettes, they are exquisitely beautiful. They are also known for their lightness (read not clunky or heavy) because Zanotti is meticulous about creating this airy feel – each shoe is designed to make the wearer feel as comfortable as they possibly can; even when they are slinky and sculptural, he is very particular (to the point of being studious) about their balance.
That Zanotti's shoes make women feel sexy and feminine, is undeniable. Which is exactly what he set out to do when he became a shoe designer, 30 years ago. He wanted to give women shoes that would match and accentuate their beauty. For him, a shoe – but more specifically a pump or a stiletto – is like an extension of the leg. "They enhance a woman's silhouette," he said.
It's no surprise that Taylor Swift, Rihanna, J Lo, Lady Gaga and the Hadid sisters are among his well-heeled fan club. Currently, he is also working on shoes for Beyonce's upcoming Renaissance world tour. The men too love his luxury sneakers, suede and leather loafers, and canvas boots – Zayn Malik, Swae Lee and Kanye have all had popular capsule collaborations with Giuseppe Zanotti.
In his design stable are also handbags, jewellery, and leather ready-to-wear, but CNA Luxury was at his suite at the Fullerton Bay Hotel to talk about his shoes.
THE SHOE STYLE THAT EVERY WOMAN NEEDS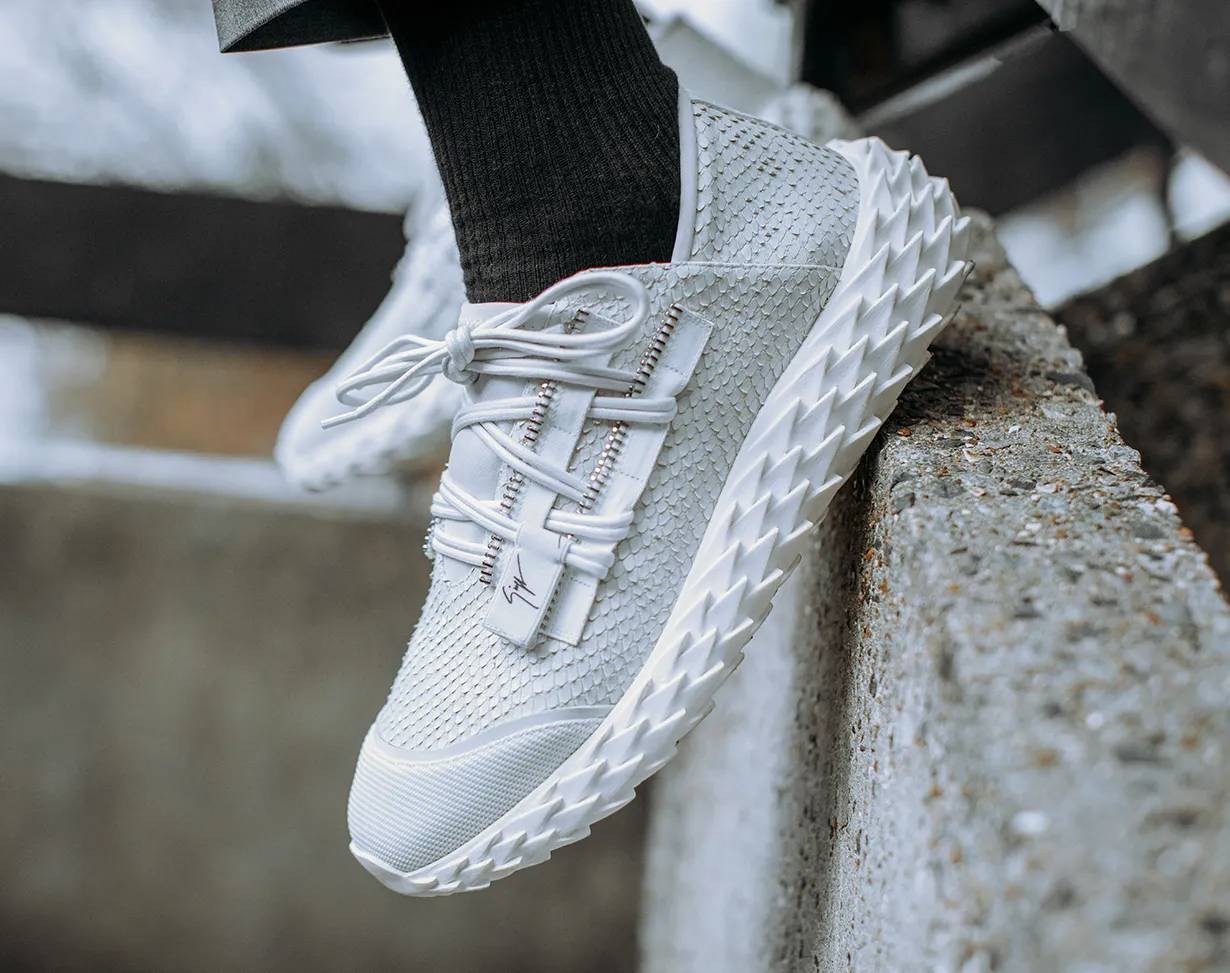 The bespectacled shoemaker is back in Singapore (the pandemic kept him away for the last few years) to launch his new eponymous boutique at The Shoppes at Marina Bay Sands, and perhaps find inspirations on his travel. In a previous trip to Singapore, he was inspired by the facade of our Esplanade, and it inspired the Urchin sneaker in his spring/sumer 2019 collection.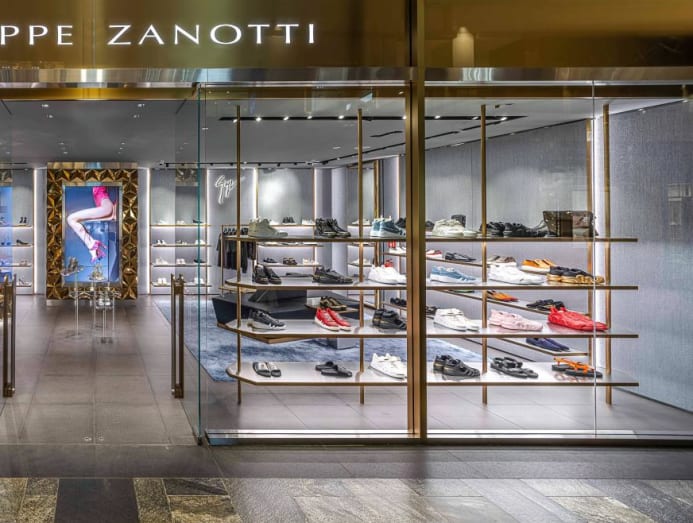 While the boutique stocks his beautiful shoes from the current season, we wanted dibs on what's upcoming. He obliged graciously, because it gave him the opportunity to wax lyrical about his favourite shoe style – the pump, which he says is "a classic timeless fashion shoe", and one that every woman needs.
"Years ago, plain pumps were the iconic and classic, timeless fashion shoes. In the last 10 years, sneakers have become the daytime shoe, when before the daytime shoe was a pump," he said. While he does note the popularity of sneakers and has created many stylish iterations of them to meet that demand, a pump to him will always be a classic, with either a high stiletto or mid-high stiletto, he declared passionately.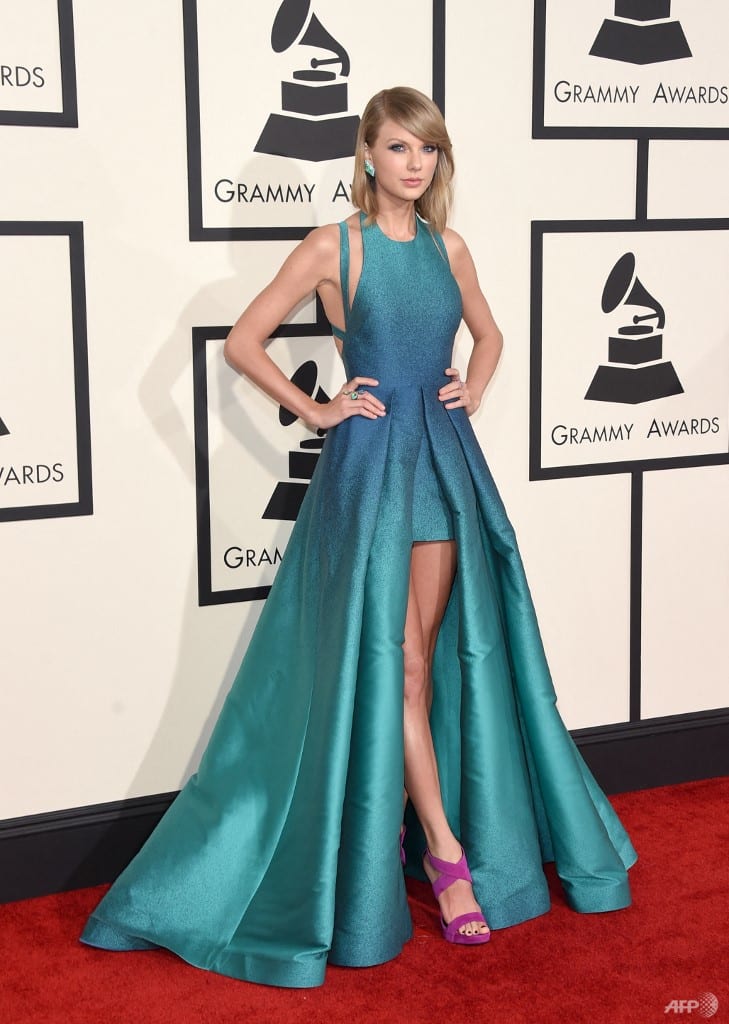 His upcoming fall/winter 2032/2024 collection will explore the dynamic revival of familiar shoe models, and he is shining the spotlight on the iconic shoe style: The pump. It will take on new modern proportions, combining sharpness and gentle delicacy, he said.
Expect shiny coated leathers for a super-glossy finish, metallic, fluorescent shades that change according to AM and PM lighting (for example from blue-violet to fuchsia), and the signature shape evolves into different styles, with a futuristic influence.
There are also boots to look forward to – "they are not just for winter, but all year round, like a super bootie for summer". They span from glossy booties with eye-catching metallic buckles, high-heeled glamourous boots, to over-the-knee boots showing the pump's curved heel morphing into a wedge.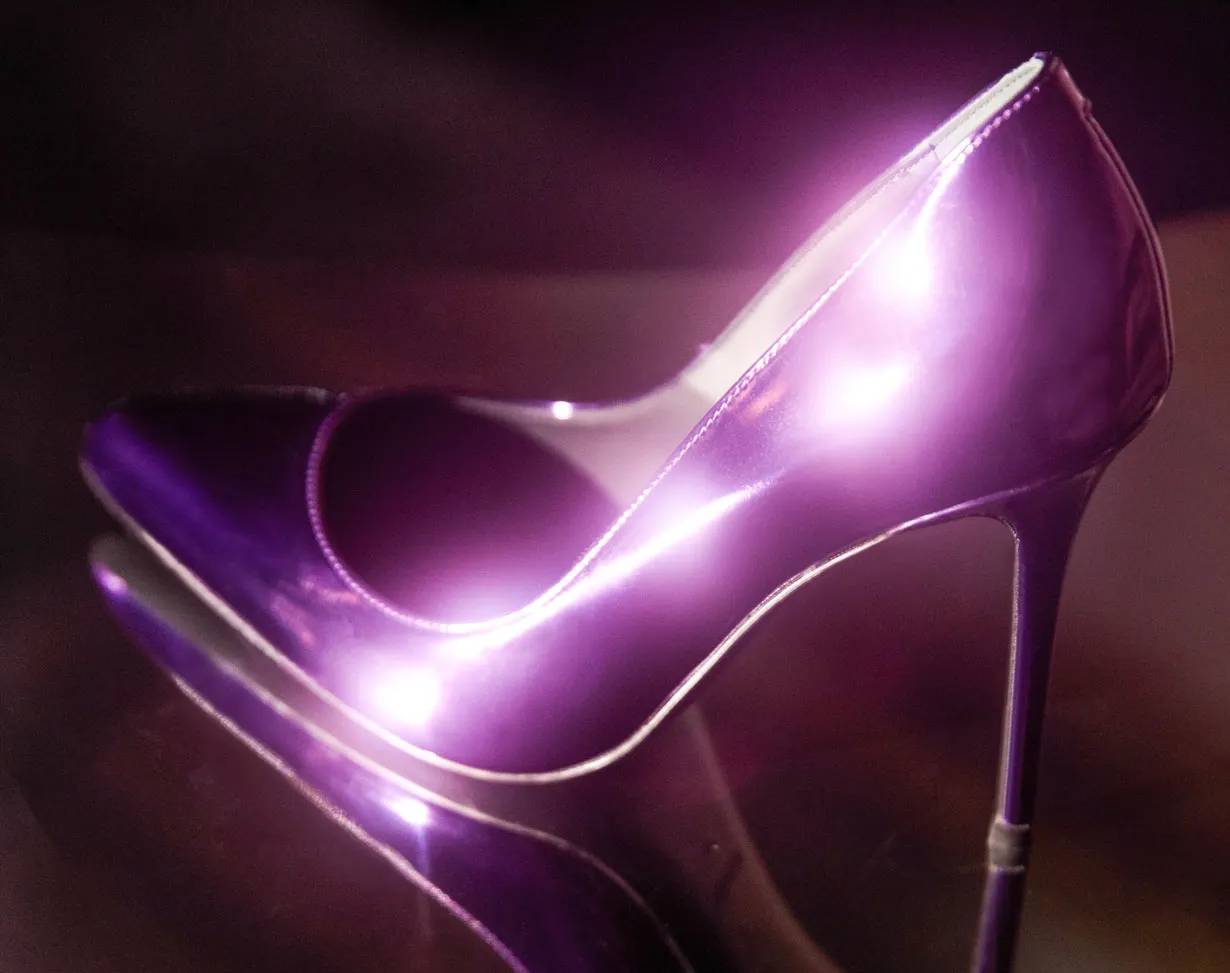 Sandals feature significantly in the collection too. "They are important for me, since I come from a seaside town, San Mauro Pascoli," he said, smilingly. The town, in Northern Italy (near the city of Rimini) is renowned for its shoemakers and where footwear manufacturing has been the primary industry for decades.
He added that the collection has vintage references, but with an outlook that is very much created for the present. 
THE STILETTO TRANSFORMS
In this progressive shoemaker's mind, a woman going barefoot and feeling comfy is the most beautiful, natural and sexy. "But we cannot be going around barefoot, all the time," he chuckled.
Enter the stiletto. While some may think a stiletto is the patriarchy's way of crippling women, Zanotti sees it quite differently. He feels it is a tool of empowerment, much like giving a woman another arm or appendage that gives her strength and a bit more aggression (read assertiveness). 
He elaborated: "You can walk comfortably at home or on a beach, barefooted, but in a stiletto, a woman's gait is sexier like a panther, there's sensuality in her step."
Then there's the confidence: "The way she carries herself, psychologically. The attitude."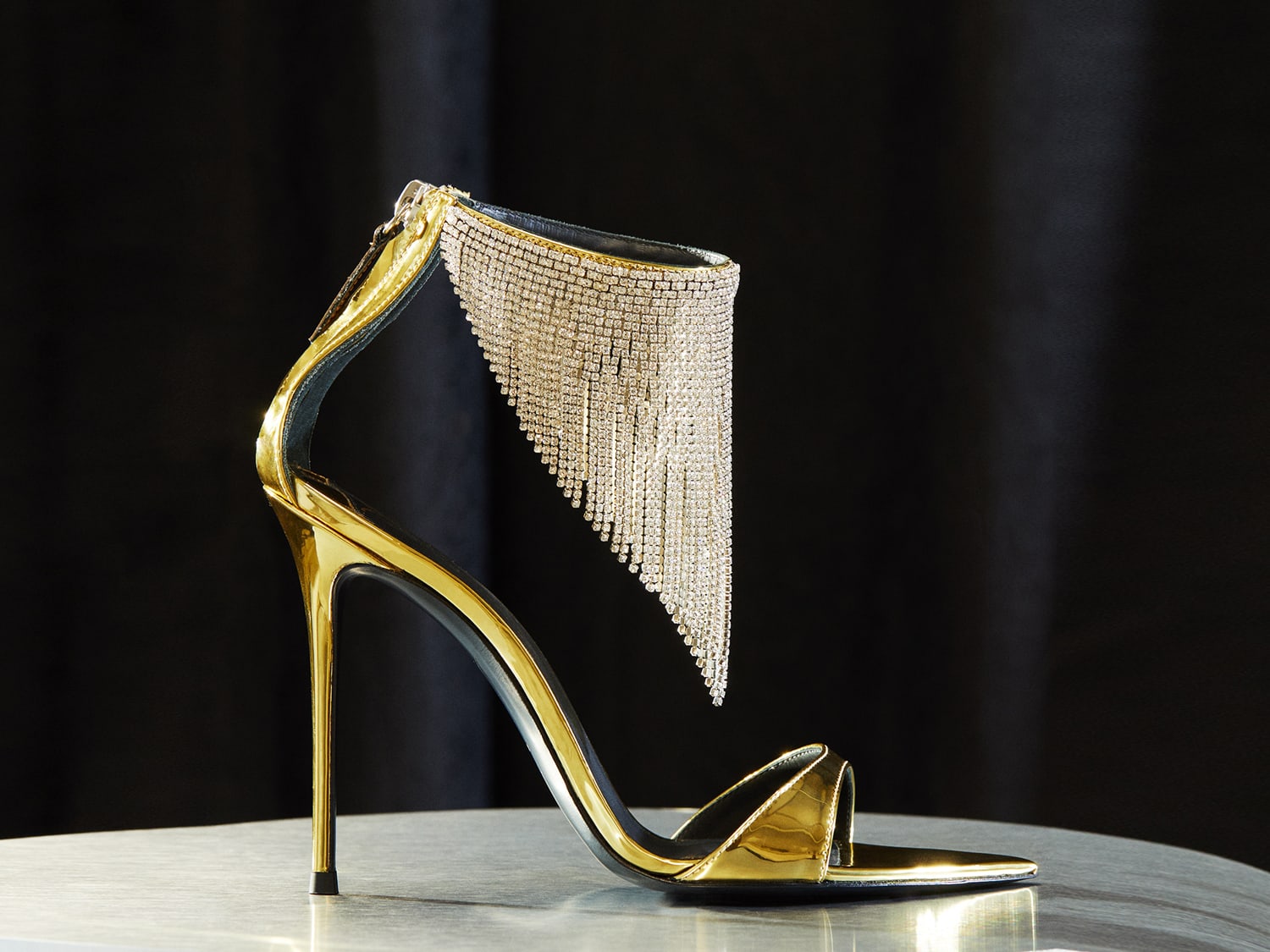 Heels are transformative, he stressed. He cited the example of the women he works with. Many of his 480 staff are women, and he notes that they behave differently when they are in a pair of heels at the company functions, versus when they are in flats and on the work floor. This distinction in behaviour begets the question (for him): Who is this woman?
"There is a change in her attitude and demeanour, this being beautiful for yourself," he shared, as he animatedly tries to mimic their behaviour to show how they posture themselves and hold their cigarette or their wine glass differently when they are in heels.  
"The higher the heel, the more empowered she feels; with a taller heel, the sexier she gets, because it gives women extra energy," he observed.
"It's like one of those extra boosts you get in a video game, like a superpower, and then she becomes this super woman," he added, excitedly.
"I can certainly do my best to make them feel less painful, or try to redefine the possibility," he added, with a conspiratorial wink. "But in my 30 years (in the business), I have yet to meet someone who can make the stiletto a completely comfortable shoe."
Ultimately, there is so much more to a shoe than just arresting design. Zanotti isn't just a creative, he is also a man of science, one with a mathematical mind. The kind of sculptural shoes he's known for – they look gravity-defying yet miraculously, you're not tipping over in them.
One part engineering, one part artistry, the shoes reflect Zanotti's obsessiveness with balance and fit, and how he cleverly pairs the correct heel height and broadness with shoe style. Because these nuances can make or break a shoe and affect how they feel on our feet.
He peered down from his statement dark-rimmed glasses, looked at my sneaker-clad feet, and correctly identified that I'm a (EU) size 37. Then he whipped out pen and paper to illustrate to me the physical challenges of designing a stiletto. A size 37, he said, is rarely a universal. Women may wear the same shoe size but not have the same shaped feet – differences in broadness and the curve of the arch, for example. Then you need to consider the aerodynamics – the shoe style, the heel (height and broadness), and even a woman's weight as well, because gravitational balance is also involved.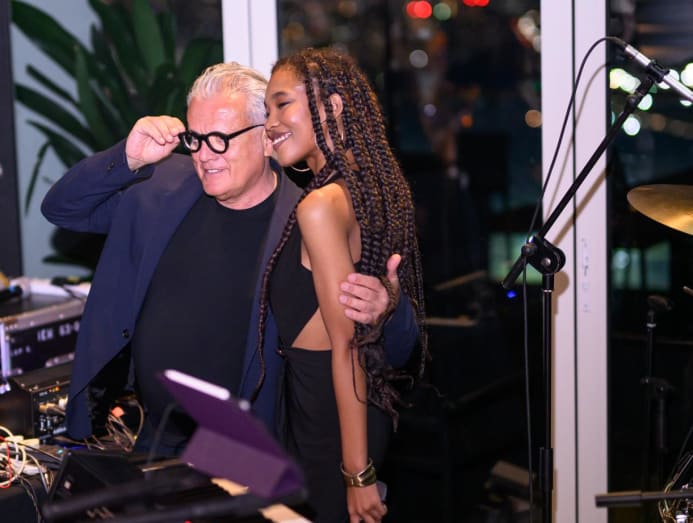 Zanotti shared: "On average, we make about 6,000 movements a day. A heel needs to be flexible to withstand all that, much like how a building needs to have a firm foundation to prevent it from swaying."
Therefore, to expect a stiletto to be a perfect glove fit is unrealistic, at least not where ready-to-wear shoes are concerned. For that, you would need to custom-make your shoes, but made-to-measure comes at a cost, and isn't practical (see he's not frivolous) when you multiply it by numerous pairs of shoes and shoe styles, every season.
GROUNDED EXPECTATIONS  
You're better off finding a shoe style that feels more comfortable for your feet. Or there is always adjusting our expectations, if not our heel height, when we step out in a pair of beautiful stilettos.
Not that it's all pain and despair, because while you can expect to suffer some, you can also suffer a whole lot less. Realistically a stiletto will never feel as comfortable as being bare feet, so maybe we should stop expecting that, and instead find ways to compensate for the discomfort, he said. His suggestion? Look for softer sole materials, or a more supportive heel for better balance.
Pain is also relative to what you get out of the shoe; much like how you don't buy a beautiful pair of shoes because you need them, but because it's a gift to yourself, he said.
We pick irresistible shoes for the reason they cut an impression. "Since it's usually for an event or occasion, that will last one or two hours. Even if it gives you a little pain, you can live with that slight discomfort because the shoes get you noticed; then when you are home, you can go bare-feet and be as comfortable as you want," he said, matter-of-factly. It's a sentiment that is hard to argue with, when it's so neatly presented.