Italian high performance carmaker Lamborghini is now in the NFT market
CEO Stephan Winkelmann also said that Lamborghini's biggest challenge ahead is in electrifying its supercars. Here's how the Raging Bull is managing the transition and what else is new with the brand.
Stephan Winkelmann kept referring to Lamborghini as a "young brand".
Technically, the Italian high performance carmaker is 59 in business years – officially more junior than both Ferrari and Maserati – but we suspect it's the youthful energy of the brand the Lamborghini CEO is alluding to.
"We have the youngest crowd in Asia by far," Winkelmann told this writer, on the alfresco terrace of a restaurant in The Fullerton Hotel. It was the week of the Singapore Grand Prix, and Winkelmann was in town to host VIP guests at Lamborghini's exclusive The Lounge pop-up at The Lighthouse restaurant on the rooftop, which offered guests a bird's eye view of the Formula One night race.
According to Winkelmann, the average age of a Lamborghini customer currently hovers around 45 years. And, like other luxury automotive marques, the company is seeing its customer demographic trending younger.
"We have studies that show that by 2025, more of our customers will be aged 40 and below, and we are already seeing this in Asia, especially in China," he said.
Winkelmann attributed this to the newer ways in which people are gaining wealth these days, giving rise to a younger wave of nouveau riche. Or crypto-riche, as I like to call it.
In light of this trend, Lamborghini's foray into the world of NFTs (non-fungible tokens) certainly makes sense. 
"We are a luxury brand but we have to cover two bases of the business. On one hand, we have to maintain a limit on everything we do but on the other, we also have to give access to the fan community," explained Winkelmann. He took over the reins in 2022 from Stefano Domenicali, who incidentally, was appointed CEO of Formula One last year.
LET'S GET PHYGITAL
In February this year, Lamborghini launched its first-ever NFT comprised of five pairs of both physical and digital artworks for auction via RM Sotheby's.
Based on a "phygital" approach, the series dubbed Space Time Memory was created by renowned Swiss artist Fabian Oefner and featured a Lamborghini Ultimae lifting off toward the stars. The digital artworks were accompanied by physical versions that contained actual carbon fibre pieces that Lamborghini had sent to the International Space Station back in 2020, as a part of a joint research project. Then in April, the brand released its second NFT as a tribute to its legendary Aventador, which was nearing the end of its production in September. 
This 'Ultimate' drop was the world's first supercar 1:1 NFT whereby the very last Lamborghini Aventador LP 780-4 Ultimae Coupe ever produced was auctioned off together with a one-off NFT, created in collaboration with contemporary artist Krista Kim and world-renowned DJ Steve Aoki. 
In addition to being part of the brand's iconic legacy, the auction also gave the one lucky collector access to a private tour of the Museo Lamborghini, as well as a virtual meet andgreet with Kim and Aoki, plus other VIP perks.
Now, Lamborghini's third and current NFT release is perhaps its most democratic drop yet, accessibly priced at just US$196.30 (S$279) each, and limited to an edition size of 1,963 as a nod to the year the brand was founded. You can still get a piece of the action so here's how the eight-month The Epic Road Trip programme goes: From this August until March 2023, anyone can collect the four NFTs released each month over four consecutive days, which are available for purchase for 24 hours only. The fourth NFT per month, however, will be an even rarer collectible of which only 63 are minted.
And at the end of the campaign, those who have acquired all the monthly NFTs issued will receive a special Lamborghini NFT.
For impassioned fans who desire something more tangible, though, there's a host of other ways you can still be part of the Lamborghini universe via its many collaborations and licensing ventures that extend to Lego, wines, yachts and even a sold-out real estate project in Dubai launching in 2026, to name a few.
ADIEU, AVENTADOR
The Aventador NFT was particularly poignant as it marked the end of an era, as Lamborghini's beloved naturally aspirated V12 was retired this year to make way for an electrified version of a new V12-powered plug-in hybrid coming onstream soon.
Electrification, Winkelmann concedes, poses the "biggest challenge ever" for the Raging Bull. 
Climate change concerns and emissions legislation has altered the automotive game dramatically in the last few years, with most carmakers aggressively augmenting their product matrix with an increasing bias towards a larger electric vehicle line-up these days.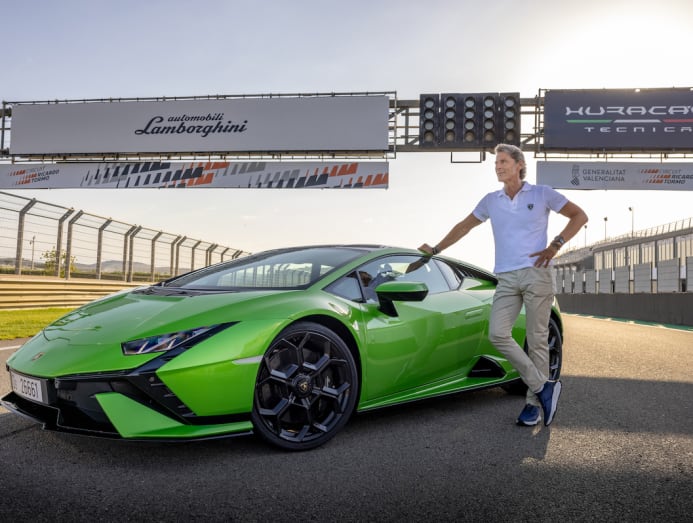 But for sports car manufacturers at the pinnacle of the high-performance pyramid like Lamborghini, managing such a transition is a little more complex. Particularly for a brand whose DNA is so synonymous with the technological pre-eminence of its naturally aspirated engines that deliver a soundtrack so unmistakably Lamborghini.
"The big challenges ahead of us are electrification and digitalisation. There is no way out; there's an end for the internal combustion engine so it's good that the lawmakers are making us adopt (new engine technology)," Winkelmann acknowledged.
How, then, can the carmaker distinguish itself and maintain its competitive edge in this new and possibly more even playing field, when the very thing that placed it peerless will inevitably become extinct?
Lamborghini's continued success, he believes, hinges on four elements: Sustainability, design, performance and emotional engagement.
"In terms of the distinctive features of a Lamborghini, first and foremost is the design. Then, it's the perceived performance and the emotion you feel. When we talk about electric cars, they might be fast, but they're not really emotional," said Winkelmann. 
"The design and performance are a no-brainer. Now the fact that it has to be very emotional as well – we have to prove that we can do it," he added.
According to Winkelmann, the next two years will see a "hybridisation" of current Lamborghini models: The Urus, its best-selling SUV, and the Huracan, in addition to the Aventador.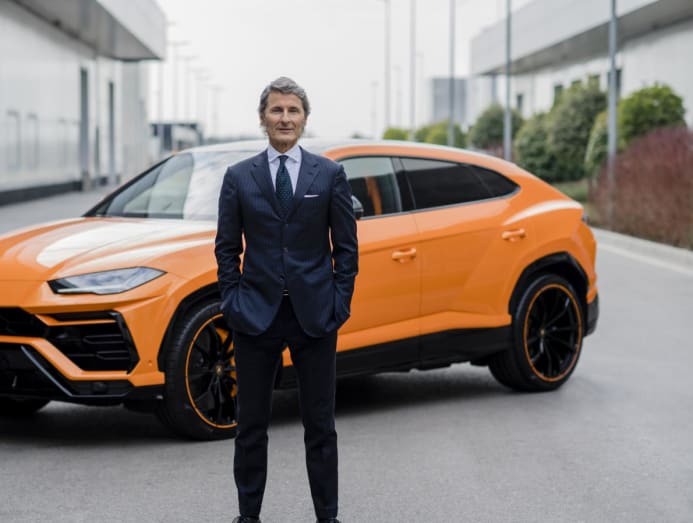 But how will Lamborghini's first fully electric car fare when it rolls around in 2028 – without that signature, throaty growl?
First off, it may not even be in the form of your typical supercar, he hinted.
"It will not be like the Aventador super sports car. It would be more of a daily drive: A 2+2 seater in a new body style. So it will be a new era," he shared.
This would add a fourth model to Lamborghini's current line-up and we can expect an electric-only second-generation Urus to swiftly follow, too.
It's an interesting road ahead indeed, and we can't wait to see the revered supercar powerhouse define the soundtrack of a new electric era.