Singapore's Ivy Singh-Lim: 'We've got to bring the countryside back'
With Bollywood Veggies newly rebranded as Bollywood Farms, we meet with Singapore's favourite firebrand Ivy Singh-Lim to find out what plans she has for the Kranji Countryside.
She's the Singapore icon known for being outspoken, opinionated and outrageous. She makes provocative, controversial and sometimes abrasive comments and she could not care less what you or anyone thinks about her. She's unafraid to ruffle feathers, often publicly criticising, questioning and challenging the authorities and its policies.  
The angelic troublemaker, to quote the African-American civil rights leader Bayard Rustin, has held many high-profile roles including serving as the president of Netball Singapore and the Asian Federation of Netball Associations. 
After retiring from her corporate career, the fierce animal advocate reinvented herself as a "farm-preneur" and established the 10-acre Bollywood Veggies in the Kranji Countryside. She was later inducted into the Singapore Women's Hall of Fame for her contributions to the environment and conservation in 2014. 
Her larger-than-life personality even snagged her cameos in Singapore's beloved sitcoms like Phua Chu Kang and Under One Roof. More recently, she's been entertaining the internet with eight seasons of her own YouTube series, Coffee & Whisky with Ivy, a professionally-produced collaboration with Happy-TV, which draws tens of thousands of views for her weekly monologues punctuated with meme-worthy quips. 
She's also said to be very, very rich. 
She's Ivy Singh-Lim: A journalist's dream. Or nightmare.
'CHEAP CHARLIE' AND THE SIMPLE FARM LIFE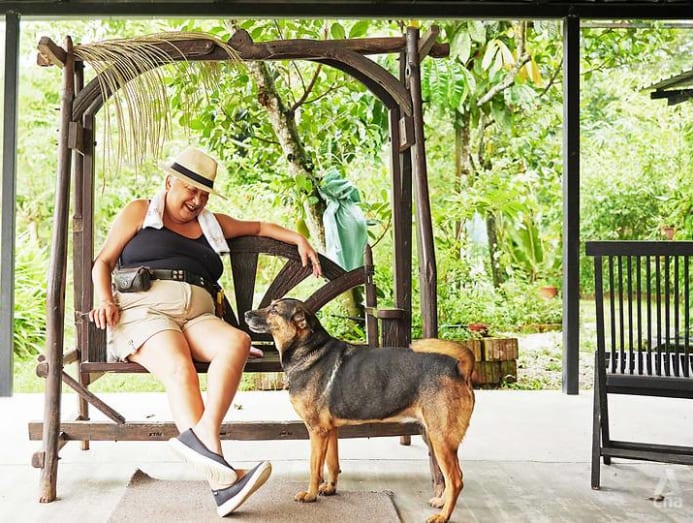 It was April showers that brought me to Bollywood Farms' flowers.
Rolling up to the farm grounds wet from the downpour, I noted a sense of trepidation at meeting the Gentle Warrior for the first time, given everything I had heard and observed over the years.
Thankfully, this was soon tempered by the tranquility that enveloped me, as the stresses of city life gave way to the peacefulness and fresh air permeating the land. 
This took place before the current Phase 2 (Heightened Alert) restrictions, so we sat down to a languorous lunch together in air-conditioned comfort in a building on the farm compound. 
Before we got down to business, Singh-Lim summoned for her whisky to be brought to her: In a glass full of ice, half-filled with Johnnie Walker Black Label. 
It's a habit she said she picked up at the age of 15 while studying at CHIJ Katong Convent, and has stayed faithful to the label ever since. 
"People think I'm a 'Cheap Charlie' drinking Black Label but Black Label was the most expensive whisky when I was young. And because we are rich, we always drink the best and most expensive things so we never grew out of the taste," she shared, acknowledging that she has sampled more trendy Scotch labels of late, like Laphroaig, but still prefers what she grew up with. 
Lunch was a delightful spread of farm-to-table creations beautifully prepared by Le Cordon Bleu-trained resident chef Lynn Ee, whose grandfather happens to be one of the founding fathers of Singapore, the late politician Lim Kim San.
Ee, who studied in Australia and the US, could be creating fancy meals at posh Michelin-starred restaurants anywhere in the world but she's here, helming the on-site Poison Ivy bistro and dreaming up wholesome and delicious Asian dishes with a twist, like the soft-shelled crab taco wrapped in prata skins and nasi ulam with crabmeat she whipped up for us, starring crustaceans from next door.
This turned out to be quite the feast for the self-professed "simple eater", whose daily meals typically still mirror those of her childhood: Sardine on Monday, spam on Tuesday…
'Make it comfort food, but elevated' appears to be the unofficial brief for the bistro and officially, every item on the menu is proudly zero-carbon, as all ingredients used are sourced from neighbours in the Kranji countryside itself or from within two hours around the region by plane.
While the bistro may currently be closed due to the new restrictions on F&B outlets, you can still do your part for the #SupportLocal movement, as some of the farm favourites like the Nasi Lemak Platter and Family Roast comprising a roast chicken, roasted potatoes, grilled corn and honey glazed carrots are available for takeaway.  
UNAPOLOGETICALLY IVY
In a world where the cancel culture phenomenon is in danger of oversteering society into extreme political correctness that's extinguishing individuality, creativity and personality, Singh-Lim's unfiltered candour is refreshing, to say the least.
And we were not a smidge surprised to find that expectation synced up with reality as the conversation meandered through a host of F-bombs and unpublishable comments over our two-hour meal.  
"A lot of girls (and boys also) hero-worship me," she announced at the start, as a self-reminder to restrain her use of swear words in view of the interview recording. Well, she tried her best.
Singh-Lim's authenticity and raw honesty makes her a national treasure that ought to be celebrated, not doused. 
As a strong, powerful woman who knows her own mind, her reputation does precede her, but we caught a glimpse of a side to her different from typical portrayals in the media.
You have to peer beyond the unyielding persona to penetrate through to the real Gentle Warrior within to see how deeply Singh-Lim cares for Singapore and her people. You must not easily fall prey to offence and offer the brash comments generous pardon to fully appreciate the virtues of her fight – for her country and for humanity.
"From young, we were told to be upright. One rule in the household was to always tell the truth, otherwise we could get beatings by the maids."
For decades now, Singh-Lim has assumed the role of social justice crusader.
The 72-year-old firebrand may have been born into an immensely wealthy family (we'll get to her net worth in a bit) but you wouldn't know it from looking at her. Often spotted around her farm in a spaghetti top, shorts and a utility belt holding her ubiquitous knives, one might imagine Singh-Lim as a local Lara Croft back in her day. Save for that classic Good Morning towel slung over her shoulder, maybe. 
Singh-Lim has been living a simple existence since she breathed life into Bollywood Veggies in 2000, when both she and second husband Lim Ho Seng (former CEO of NTUC FairPrice) retired from corporate life. 
No stranger to privilege, her relationship with the land is deeply personal. The daughter of an Indian immigrant who came to Singapore as a poor 14-year-old boy in 1920, she is the third and only girl of four children and her father had amassed a fortune as one of the biggest landowners in the country by the time she came along. 
Despite their extraordinary wealth, the kampung spirit pervaded their household. 
Growing up with servants and bodyguards in a house on Rose Lane in Tanjong Katong, the children were exposed to the realities of poverty early on, surrounded by less-well-off neighbours where several families would squeeze into a single rented home.
"My brothers and I would go and fish in the drain and keep chickens to help [our neighbours] have something to eat. And we would fly kites together. There was no understanding of rich or poor; we all did everything together," she recalled. 
It was also a "strict" upbringing that taught Singh-Lim discipline.
At home, truthfulness was prized above all and as a student at St Anthony's Convent and Katong Convent, the nuns also kept a firm hand. 
"From young, we were told to be upright. One rule in the household was to always tell the truth, otherwise we could get beatings by the maids," she shared.
And, she said, kidnapping was an everyday affair back then. 
"That's why I always carry a knife. We've been trained to protect ourselves so I can also kill you with my towel," she deadpanned. 
'HONESTY IS MISSING FROM SINGAPORE SOCIETY'
It's hard to tell when Singh-Lim is joking. A natural storyteller, she readily regales you with her brow-raising philosophies on life, love, money and everything in between. Some observations may be incendiary but they certainly get you thinking.
Such as her call for the authorities to devise a way to enable even the lowest income workers to earn S$3,000 a month in order to live a dignified life.
"They talk about a progressive wage model but give me a break. Let's cut to the chase. Everybody needs to earn at least S$100 a day to live a dignified life in Singapore and that's my biggest beef about this country: Honesty is missing from Singapore society," she declared.
"Honesty is missing from Singapore society. I think people should be honest, speak out and address the real issues."
What, then, would she recommend?
"It starts with leadership, not just in politics but in business and even religion. We need to bring goodness back into the system. I think people should be honest, speak out and address the real issues," she suggested.
Take the whole foreign worker debate, for instance.
"If I employ one Singaporean and pay him S$10,000 to work in the garden, after three days, he'll be dead. So the reality is, we need these foreigners who can stand working [in the sun all day] and we must remember that it takes an army of people to do this work [of maintaining our nation]. One day, we will never have cheap labour anymore. Then what's going to happen? We must relook the entire design of our country," she urged. 
"What the authorities should do is to hold the cage and let the bloody rat take a breath, not make the cage go faster or the rat will die of exhaustion. Just help the bloody rats live a little bit easier, that's all. And we can do it: We are a rich country," she added.
Speaking of rich, just how wealthy is she really? 
"Well, my net worth depends on the property market in Singapore. It can be anything from S$50 million to S$500 million. Who knows? Do I care?" she retorted.
A generous employer, Singh-Lim pays her staff above-average wages. Her driver, she said, is paid a monthly salary of S$4,500 while the young waitress serving us lunch is paid the same. Polytechnic and ITE student part-timers get S$15 an hour.
EXPANDING THE CIRCLE OF LIFE
As a woman of means, Singh-Lim has taken it upon herself to elevate communities by promoting the Kranji Countryside, creating a "Circle of Life" around it. Soon, she'll be exporting the Bollywood Farms concept overseas.
"Why must our leaders concretise every piece of land they see?" she asked pointedly. 
"When I, as a born land owner, look at land, I see life. We've got to bring the countryside back. And when I say countryside, I don't mean prim-and-proper gardens, which people are not interested in. People like things that are natural," she continued.
Having established the Kranji Countryside Association in 2005 and served as its president, Singh-Lim is therefore highly critical of policies that take away from the land rather than nurture it. 
"When we started Bollywood Veggies, I told myself I can create a 'Circle of Life' from where I am so I put the farm in the centre and drew a circle around it. So here, we employ women who are less educated as well as disabled and blind kids," she shared.
In addition to creating employment opportunities for marginalised groups, she has also added a culinary school and museum to the property. 
"When I, as a born land owner, look at land, I see life. We've got to bring the countryside back. And when I say countryside, I don't mean prim-and-proper gardens, which people are not interested in. People like things that are natural."
According to Singh-Lim, the farm draws about 10,000 visitors monthly and pulls in an estimated S$120,000 worth of business each month. And the multi-millionaire, who's owned three Jaguars before, now drives around the countryside in a 3.5L Mitsubishi Pajero (because more premium Land Rovers and Range Rovers are "too heavy").
Sustainability is a priority in the farm operations, with no pesticides or fertilisers used on site. Just don't utter the word "organic" around her. Call it "planet-friendly" instead.
"This thing about organic actually divides people more because organic food is expensive. So does it mean poor people should not eat organic things? As far as I'm concerned, 'organic' is a seven-letter word invented by foreigners so that we pay more for the food that comes from their countries. I never use the word 'organic'. I use the word 'planet-friendly'. I don't add anything more into the soil except my dog shit and cat shit. It's called the 'Circle of Life'," she quipped.
In conjunction with the new lease granted by the Singapore Land Authority, Bollywood Veggies has been rebranded Bollywood Farms to reflect the larger vision of the brand.
Plans to revivify the surrounding countryside with digital detox initiatives like a Heritage Trail and Fruit Tree Trail may be put on hold now due to the return to Phase 2 restrictions, but she can still push ahead with her plans to replicate the Bollywood Farms concept around Southeast Asia.
She has already purchased a plot of land in Iloilo in the Philippines, and an architect has been engaged to plan the site. To develop the new project, Singh-Lim has earmarked one of her long-time employees who has been with her for 20 years to run this first Bollywood Farms outside Singapore when she retires and returns to the Philippines.  
"If I can find a powerful woman in every Southeast Asian country, and they started a 'Circle of Life' in their country, something like Bollywood Farms, it would empower women especially to be able to earn a living. So one strong woman starts something for so many other people and this is how you create the 'Circle of Life'. Now if everybody who is as blessed as me did what I'm doing to help a few people, Singapore will be paradise," she explained.
For now, paradise for the Gentle Warrior is her home in Kranji Countryside, and you are more than welcome to visit.