Karva's celebrity power couple Jai Wahab and Rozza Ramli: Serial entrepreneurs, business partners, dream chasers
Singer Jai Wahab and former actress Rozza Ramli are the founders of Karva, a leading Muslim-friendly hair salon for women in Singapore. They chat with CNA Luxury about falling in love, starting several businesses and why they're not afraid of dreaming big.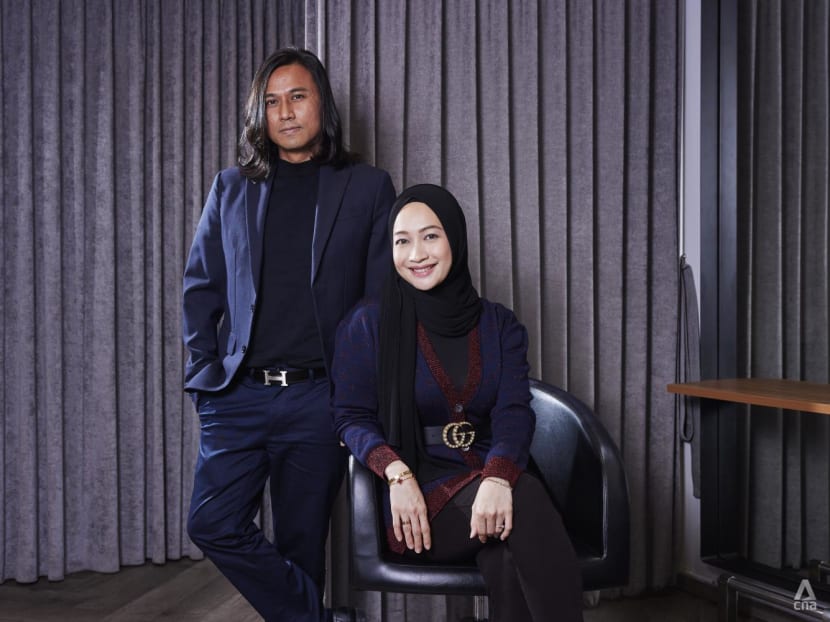 As cliche as it may seem, it was love at first sight for celebrity couple Rozza Ramli and Jai Wahab. In 2003, Rozza, a former actress and flight attendant, met Jai, a singer and songwriter, at a charity event organised by local television channel, Suria.
The stars aligned for the pair. "He was lucky because I was hardly in Singapore back then as I was flying with Singapore Airlines. But it was during the SARS period and I took voluntary unpaid leave so that I can get more involved with Suria," quipped Rozza.
Jai, who was based in Malaysia at the time, also happened to be back in Singapore. He concocted a plan that would allow him to keep in touch with Rozza. Before the event ended, Jai approached her for a photo. "I always tell her that I invented the selfie. Because at that time, all I had was a Nokia phone with a back camera," the 49-year-old joked.
"We took the picture and then he asked if I wanted him to send it to me," Rozza, 39, recalled. From there, the pair began communicating. Five days later (yes, you read that right), Jai proposed over the phone. A year later, they were happily married.
FILLING A GAP
Fast forward almost two decades later, Jai and Rozza are now parents to four children – two sons (aged 16 and 12), and two daughters (aged 14 and eight). But not only are they partners in life, they are partners in business too. Together, the pair founded Karva Hair Salon for Ladies, a popular Muslim-friendly hair salon for women.
Prior to embarking on his entrepreneurship journey with Rozza, Jai had established a career in marketing and operations, including stints with IBM and children's amusement park KidZania Singapore.
Prior to KidZania's opening in Singapore in 2016 (it has since closed down in 2020), Jai had moved the family to Kuala Lumpur for a short stint in order to learn more about its operations in its homebase of Malaysia.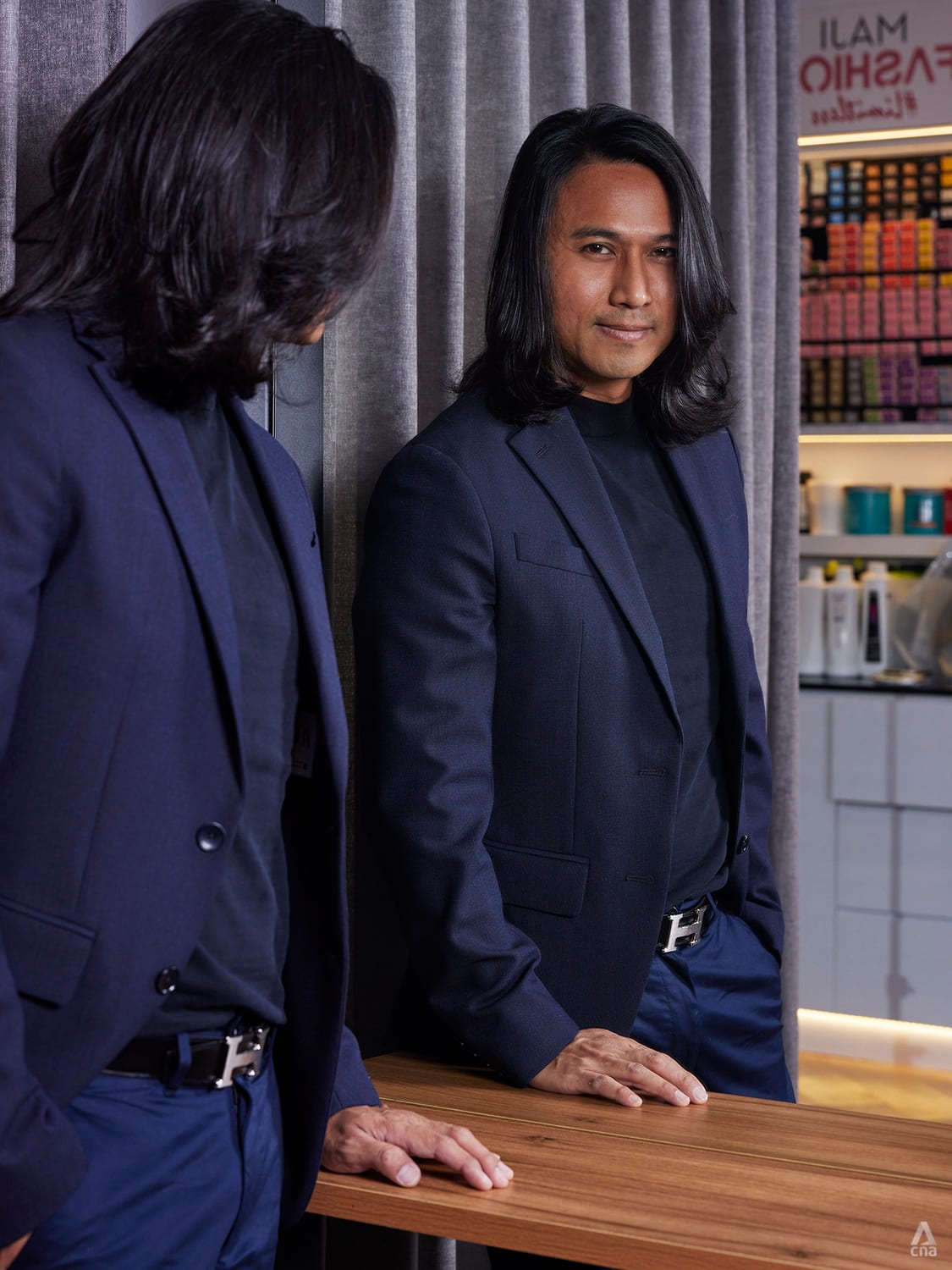 It was there that Rozza was inspired. "In KL, it's the norm for affluent ladies to go to the hair salon every day for a hair wash. They have VIP rooms for those who need a little bit of privacy," shared Rozza.
Muslim women who wear the hijab are unable to remove their headscarves in public. "When I came back to Singapore, I started wearing the hijab. I got frustrated as there were very little places to go to in Singapore. So I thought, why not open a salon that can benefit me and others?"
Karva – a Finnish word that translates to hair, chosen by the couple's children – opened its first outlet in East Village in 2015. Aside from ensuring privacy for women, Karva also uses Muslim-friendly products for all its formulations.
The salon was meant to be a casual business for Rozza, who simply wanted to fill a gap for an underserved community, while filling up her own time. "I dedicated my life to my kids, but what about when they get older and have their own things going on? I needed something for myself," she mused.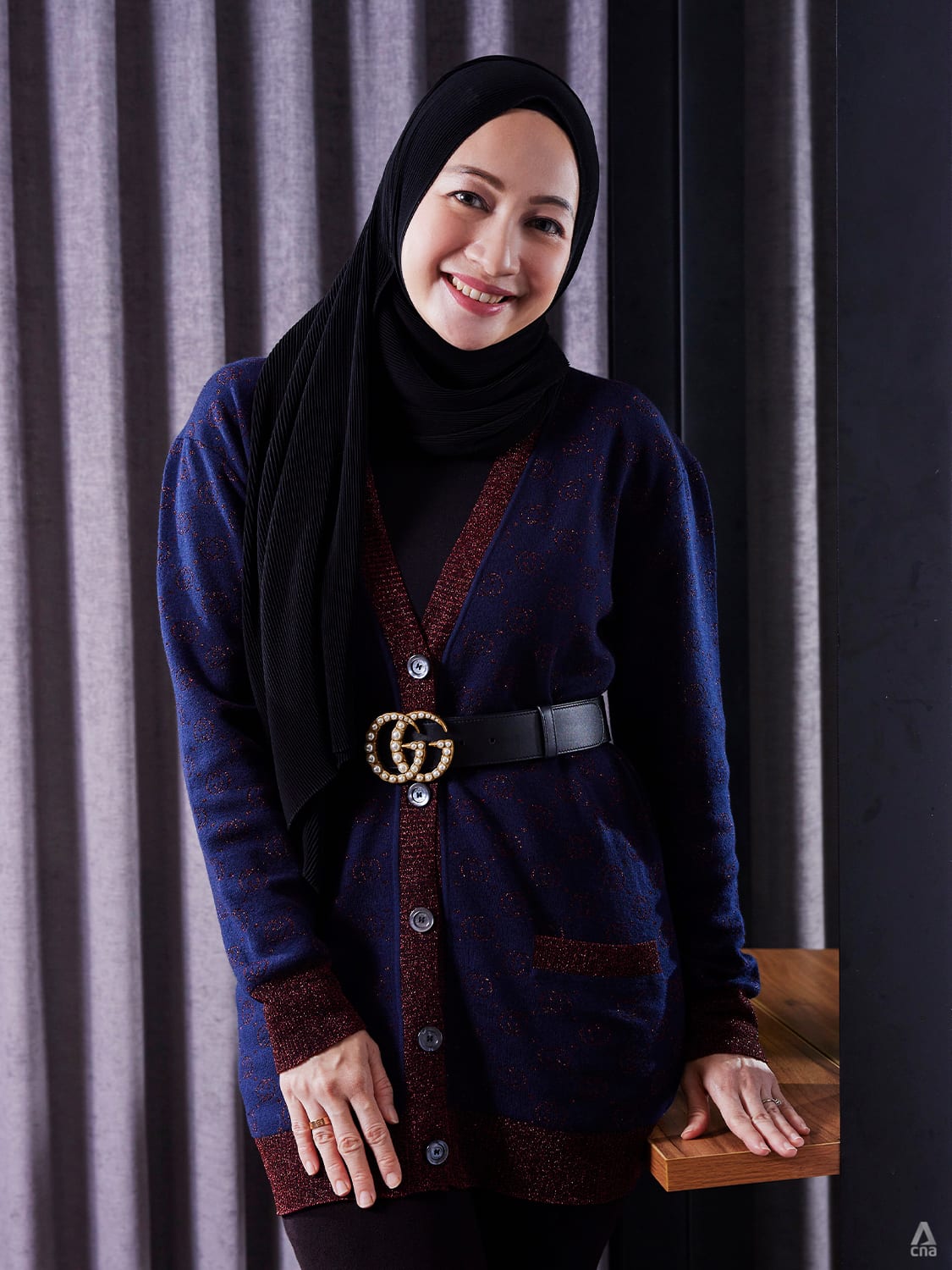 But soon, the concept took off and Karva expanded into a second outlet on Bussorah Street. It was then that Jai decided to leave his job to join the business full time.
Today, Karva has four outlets island wide, including in Yishun's Northpoint City mall and Jurong's JCube. It also has a flagship outlet in KL, a business partnership with Malaysian celebrity Nora Danish, a friend of the couple.
The Karva brand has also expanded with a new concept – Karva Salon for Family. Located at Century Square mall in Tampines, this unisex outlet is targeted at busy families who wish to get hair services together. "As we continue filling in the gaps with the Muslim community, we don't want to limit our brand to women. We have a growing number of non-Muslim clients as well, and we have embraced that by opening a family salon," Rozza explained.
THE VIRTUE OF GIVING BACK
Karva is not the only business the enterprising couple has started together. The serial entrepreneurs have also started various other ventures, such as facial and body treatment spa Aura Wellness, e-commerce bespoke jewellery brand Marquise and women's health and beauty brand Tara Wellness.
They have also collaborated with other entrepreneurs to start halal nail polish brand Zahara and Eri Su hair salon, the latter of which is helmed by a former freelance stylist. In 2021, they ventured into F&B by working with a chef to open Gus Pizzeria, a casual bistro serving up Neapolitan-style pizzas.
"We have managed to build our own brand, sustain the business and be operationally effective. What we did then for a couple of years was to look at talents in various industries who are not full-fledged entrepreneurs. For example, with Eri Su, he didn't have his own salon. We feel that it is within our capacity to help entrepreneurs like him to realise their dreams. A lot of these talents are not equipped with business fundamentals. So we feel responsible to help them own their own brand," said Jai.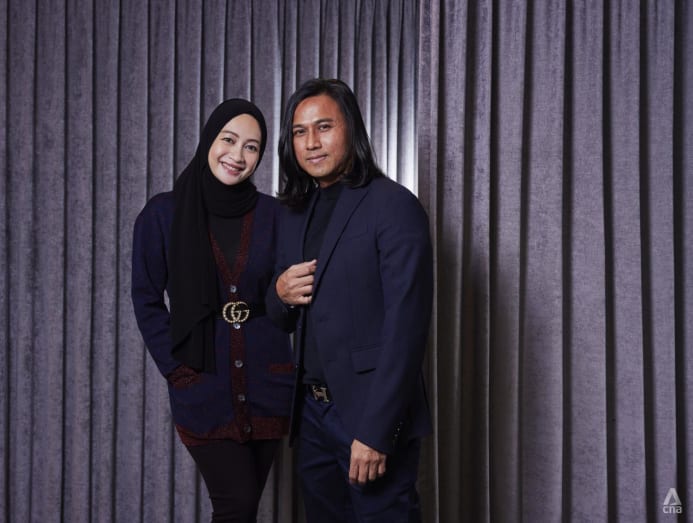 While Karva continues to grow, Jai also believes that the company should give back. As part of Karva's corporate social responsibility efforts, the company partnered with Pertapis Centre for Women & Girls – a welfare home for young women who are victims of abuse, come from dysfunctional families or are in conflict with the law – to set up a training centre to empower its residents with hairstyling and beauty skills.
"Our business is very niche because 70 per cent of our customers are from the Malay community, and the other 30 per cent are from other communities. It seems to work for us and we recognise that we have a role to play in our community to provide job opportunities," said Rozza.
The couple hope to start their own Karva charity foundation, with plans to build mosques and learning centres within the region. "It's important for us to show our community and our team members that they are working with a company that really cares about giving back. I don't want the company to be a multi-million-dollar business without a [charity] foundation."
THE CELEBRITY EDGE
When asked if they believe their celebrity status has contributed to the success of the business, Rozza answered with honesty: "I would say it helped to kick off the business. But at the end of the day, I must applaud our team members and our hairstylists who have forged relationships with our clients. It's a whole team effort."
"It's important that people see there's a lot of work going on behind the scenes. There's also a lot of responsibility that we carry as public figures who run a business," Jai added. "We feel the pressure to deliver. Sometimes, it's nice to have a brand without people knowing who's behind them. But at the same time, Rozza and I have taken up the challenge. With every negative review, we are determined to them into a success story."
Seven years on, the couple also believe there is now "some form of detachment of us to Karva", Jai said. "It has become a brand [in its own right]. So if we think that one day we would like to focus on other things, we are confident that Karva can run on its own, with a new set of leaders." 
"It's important for us to show our community and our team members that they are working with a company that really cares about giving back." – Jai Wahab
THE SKY IS THE LIMIT
Mixing work with romance can be a complicated affair, but Rozza and Jai believe that as business partners, they get along relatively well. "The only challenge we have is we don't know how to stop talking about work," Rozza quipped.
"Rozza and I dream chasers," Jai enthused. "Actually, she is the dreamer. I'm the one who tries to turn them into reality. Sometimes when she's talking, I secretly take notes."
To unwind from work, the couple enjoy travelling with the family. "Jai is a workaholic, so I'm always the one who ensures that our lives are balanced with work and family. I'm the one who tries to slot in holidays amidst our schedules and plans our trips," Rozza shared as Jai chipped in with a laugh, "I'm the one who slots in my laptop on holidays."
While the pair already have their hands full with helming several businesses, they are far from done. There are ambitious plans on the horizon, including the opening of a sixth Karva salon in Sengkang Grand Mall in the fourth quarter of 2022.
Soon, they'll be taking their love for travel to the next level by opening their own travel agency, Karva Travel & Tours, a business partnership with Saudi-based company, Anwaar Al-Himam Group, Rozza revealed.
"With the opening of Karva Travel & Tours, we hope to inspire the younger generation, particularly those with families, to join us on a spiritual journey to Mecca and Medina by offering affordable luxury packages. Halal-friendly tours to Spain, Istanbul and Morocco are some of the services we will be rolling out as well," she shared. Renovation works for the agency's office space in Golden Landmark shopping centre have begun, due for completion in August 2022.
Beyond Singapore, Rozza and Jai also have their sights on opening a Karva women's salon in the UK. While the pair had done some groundwork a few years ago, the pandemic inadvertently put the expansion on hold. "There are many Muslims in the UK, so it is an untapped market. We feel that there is an opportunity there, but it all depends on how crazy we want to be," said Jai.
Still, for the power couple, anything is possible. As Rozza put it: "The thing about being an entrepreneur is that there is no end to what you can achieve, as long as you put in your heart and soul. The sky is the limit."
"The thing about being an entrepreneur is that there is no end to what you can achieve, as long as you put in your heart and soul. The sky is the limit." – Rozza Ramli