This Michelin-starred Japanese chef once tasted leftover sauces to hone his culinary skills
Years of hard work has led to military-like precision and thoughtful treatment of Japanese ingredients in Hirofumi Imamura's signature menu at his eponymous restaurant in Sentosa.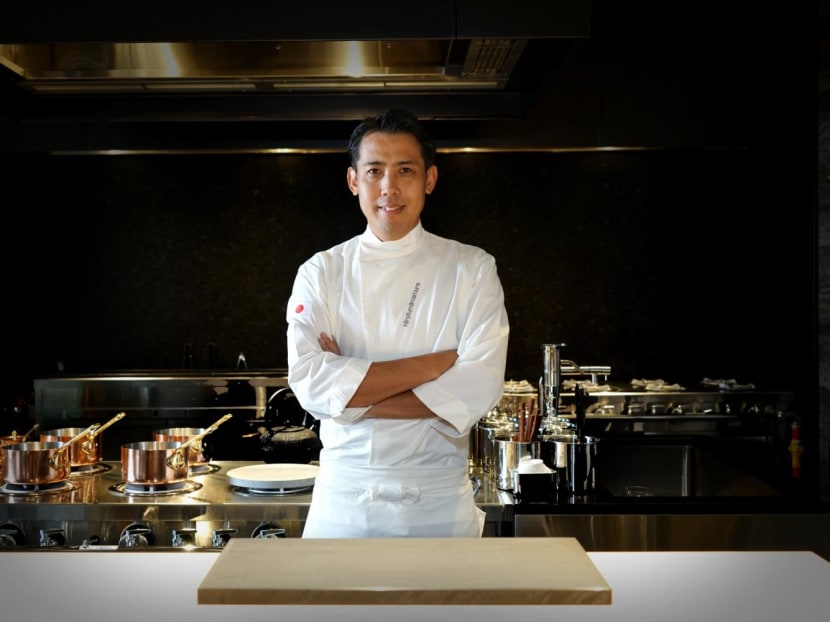 Amidst a flurry of Japanese omakase openings in an already crowded pool, Imamura is the champ that has jumped into the fray and quietly swum to podium position for those in the know.
The restaurant, housed within the grounds of Amara Sanctuary Resort Sentosa in a historic building that was once used as a chapel, is an elegant ode to a welcoming Japanese home. Head chef Hirofumi Imamura, who is partnering Japan-based hospitality group GHS Inc for this venture, not only chooses his ingredients with a fastidious palate, but even measured every counter, tabletop and seat down to the last centimetre and firm cushioning (the chairs in the eight-seater private dining room are different from those around the 13-seat chef's table).
Even the lighting and accessories in the male and female bathrooms and the table-top ikebana arrangement that he personally creates do not escape his personal yet meticulous touch. "My designer hates me," Imamura said, laughing. "I made them re-do the chairs a few times; it is so important that guests are comfortable throughout a meal."
At the young age of five, Imamura decided he wanted to be a chef when he made potato cream stew for the first time and saw the look of delight on his family members' faces. He recalled that eureka moment: "I saw that cooking is very good, it can make people smile."
The journey since has been marked by zeniths and troughs: From finding fame in his early 20s as the executive chef of sushi and sake restaurant Sakagura in New York, where the regularly booked out restaurant topped the American Zagat list, to eating humble pie when a Japanese mentor visited and declared that his food "sucked".
Devastated, Imamura returned to Japan where he worked for free at one Michelin-starred Waketokuyama in Tokyo for a year, washing dishes and tasting the leftover sauces in pots in a bid to learn from the best. He subsequently went on to earn a Michelin-star – and a fan base – with the now-defunct restaurant Kazuo Okada in Hong Kong and Kappou Imamura at the Okada Manila integrated resort in the Philippines.
Success has evidently not dented his zest to improve his cooking, which is guided by the Japanese culinary principle of "Gomi, Goshiki, Gohou" (five flavours, five colours, five culinary methods).
His eight-course Signature Menu begins with shiso-infused white wine with leaves grown in the restaurant's garden. A restrained hand to let inherent flavours shine is shown in dishes such as the surf clam entree in a clean-tasting dashi soup and the kuro awabi (Japanese abalone) with abalone liver, seaweed sauce and pickled vegetable, which is sweet with a pleasant acidity. A rock trout soup, topped by a nest of julienned vegetables such as watermelon radish, pumpkin and Nebuka scallion, was simple yet stunning in the marrying of crisp vegetal freshness, firm fish texture and a steamy invigorating broth (in all senses of the word).
The chef's drive for precision bears out in the next few courses. The fluke fish sashimi, with uni, caviar and shiso flowers, is layered with a collagen-rich jelly made by slow-cooking the fish bone, head and skin for eight to 12 hours until it is reduced before being refrigerated. A Kagoshima wagyu is first sprinkled with sukiyaki powder then cooked on a porcelain slab that has been warmed to 60 degrees Celsius before being "ironed" with an ancient kimono iron filled with hot binchotan.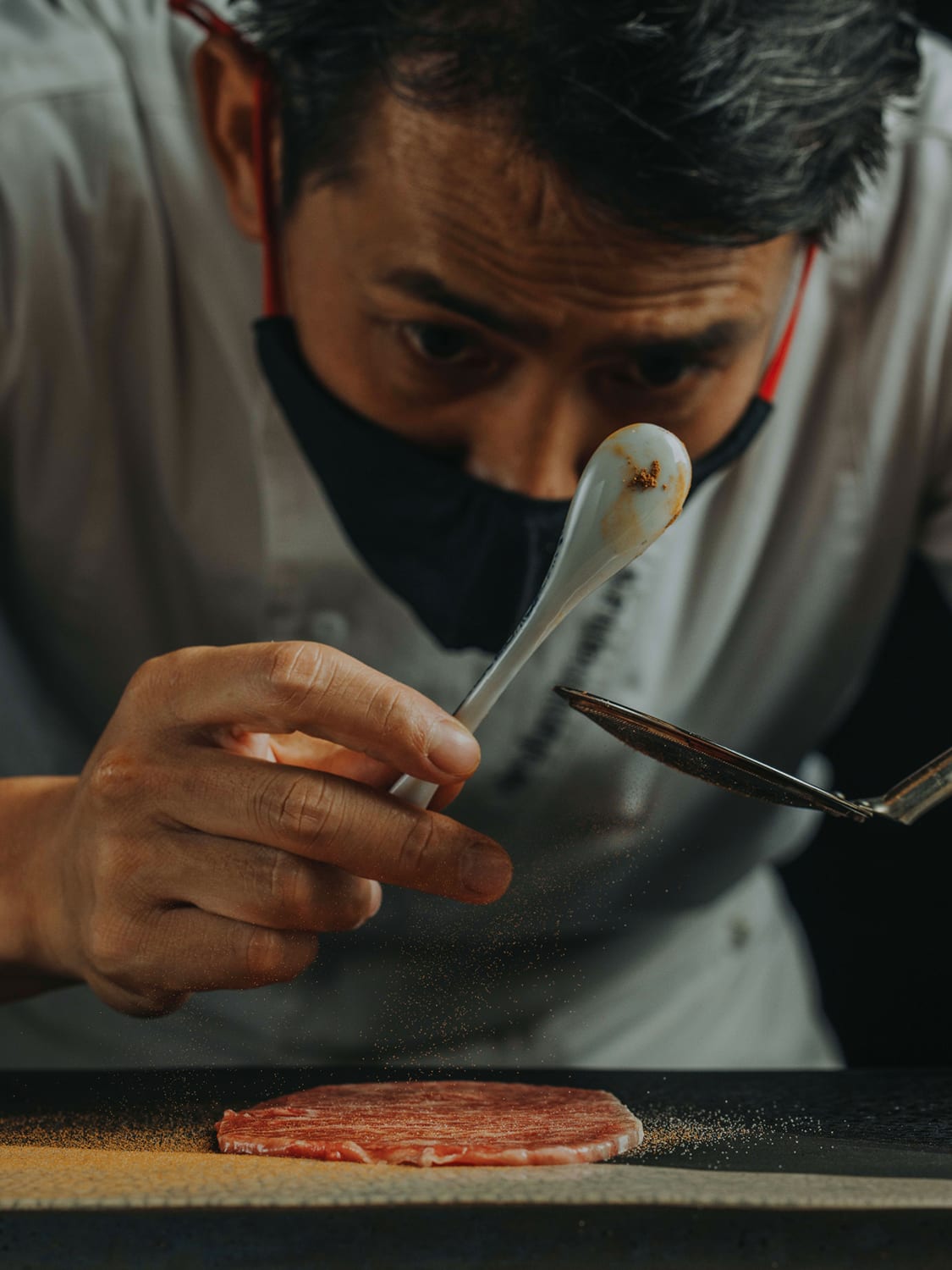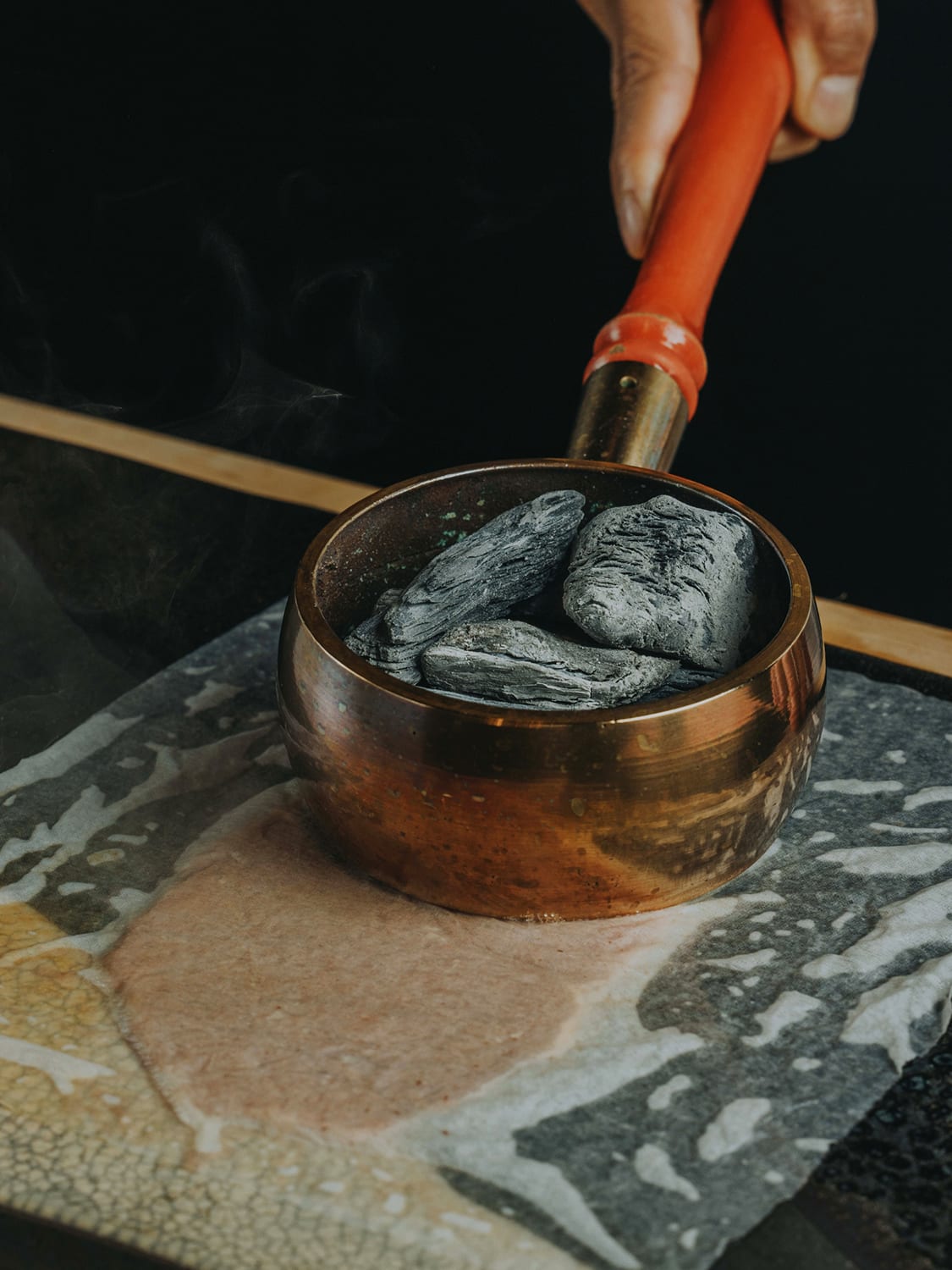 I could wax lyrical for hours on the desserts: A delicate cotton candy wafer that looked like a bouquet had bloomed in a cloud; a Japanese cheese ice cream that felt like milky honey trickling down the throat, with a chewy mochi to boot; and a hojicha pudding drizzled with burnt brown sugar and accompanied by matcha tea. The slightly bitter profiles rounded off the meal beautifully.
In Imamura's culinary arsenal are ingredient-specific condiments: Over 50 types of salt and a variety of soy sauces from different Japanese prefectures, as well as rice-based vinegar and sugar just for the maguro sushi. He eschews wastage and uses up every part of an ingredient as much as possible, and works with producers who share the same philosophy.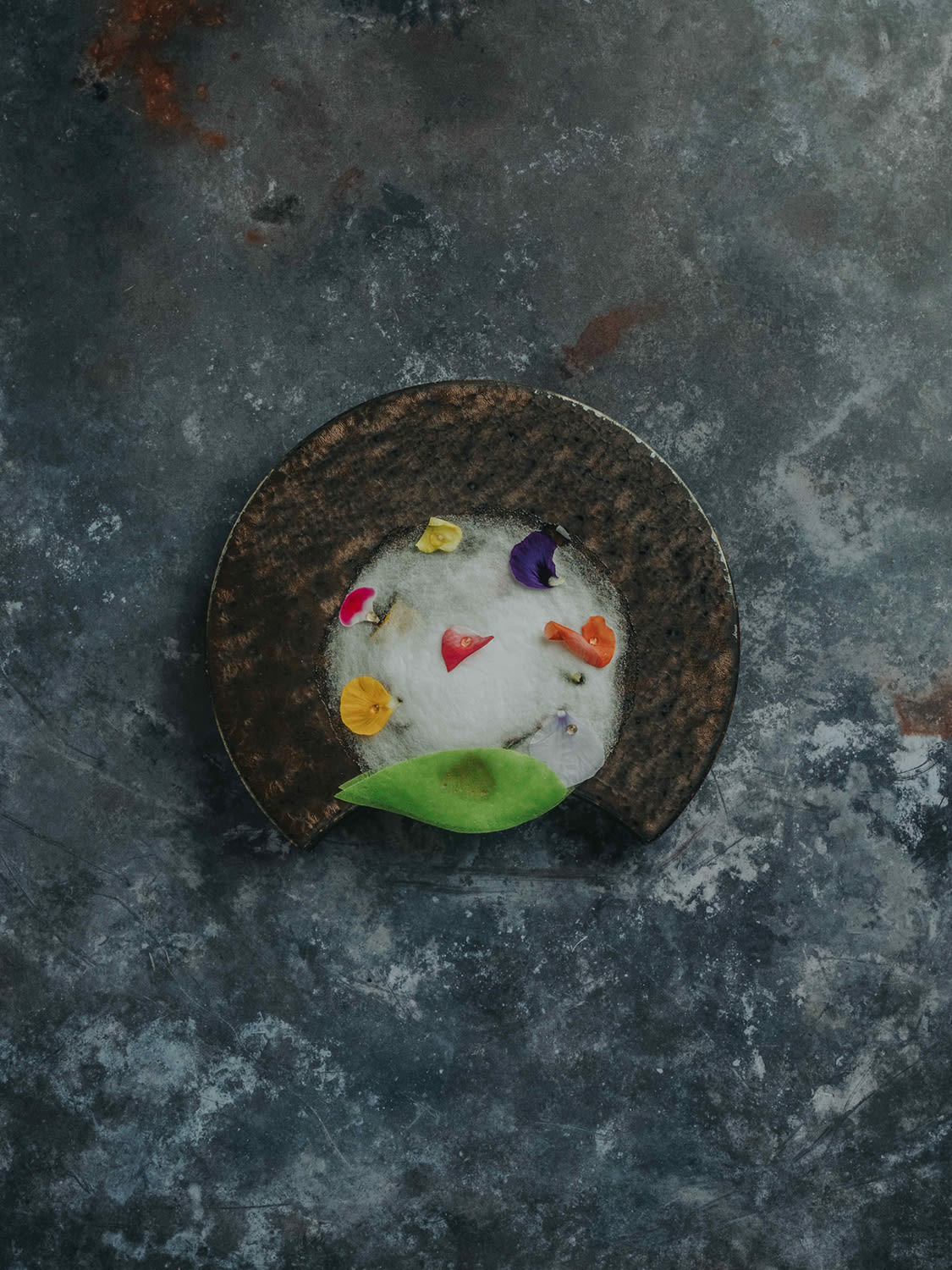 The Kagoshima wagyu, for example, is from a farm that favours well-flavoured meat over marbling and the 1,000 cattle it breeds each year are fed high-quality roasted soya beans mixed with recycled proteins collected from local food factories and the farm's koji (rice malt). Diners can pick their own chopsticks, which are made from salvaged cedar wood trimmings. After use, they are sent to ChopValue Singapore to be upcycled into furniture.
When the seasons in Japan change, so do the crockery. "Humans feel through our five senses. So I use bowls with silver-coloured insides during the summer months to give a cooling sense," Imamura explained. He discreetly observes diners when they enter to gauge their body temperature and adjusts the amount of salt level accordingly – if you look like you've been out and about, more salt would be used compared to someone who came straight from an air-conditioned office.
Imamura's goal is for diners to walk out of the restaurant with pictures of the seasons and his childhood memories in their minds, while appreciating the effort taken to grow each kind of produce. He said: "The Japanese philosophy is about helping each other and treating ingredients with respect. I want guests to enjoy healthy food made with love for our ingredients."
And of course, leave with smiles on their faces.