The Singaporean who collects Mars, a Japanese whisky you've never heard of
A chance encounter in Australia set Loh Chin Hui on his quest for the lesser-known Japanese drams. Today, he considers himself an unofficial brand ambassador for Mars whiskies, owing to his passion for the label.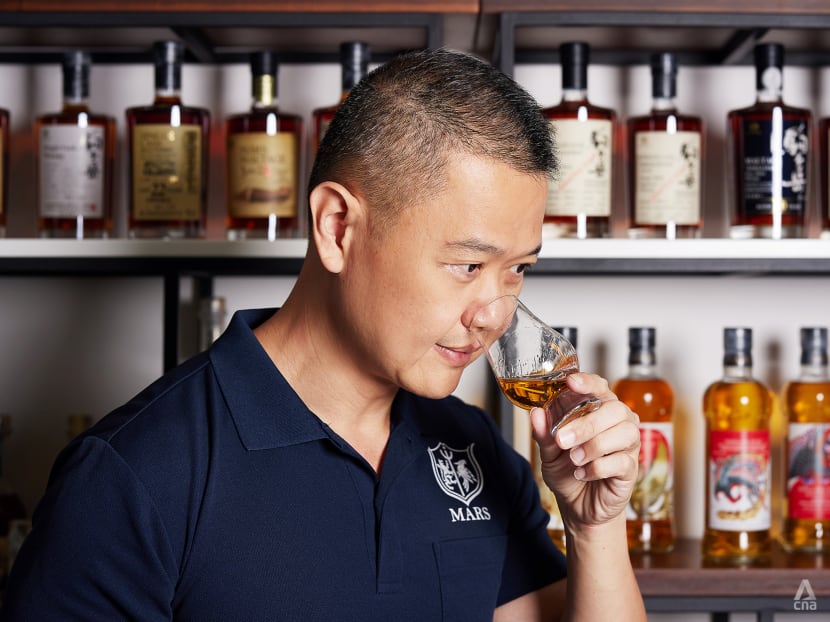 Eight years ago, Loh Chin Hui decided to visit a bar in Melbourne, a watering hole named Less Than Zero. He had walked past the place many times. The bar, which has since closed, wasn't a fancy setup, just a small, unassuming joint where people could enjoy cheap drinks and shoot some pool.
Little did Loh, then a postgraduate student, know that the bar would turn out to be ground zero for his passion for Mars, a Japanese whisky brand that was unheard of outside of Japan at the time. The Singaporean got to learn about Mars from the bar's secret menu of Japanese whiskies that included more famous brands like Yamazaki and Yoichi.
"[At Less Than Zero] I thought the Mars whiskies would taste quite terrible and I could joke about it on social media. The name itself was also very odd and it sounded like something that did not come from Japan," said Loh, 43. "But the whiskies turned out to be extremely good."
He tasted the Mars whiskies – a Zenkoji Komagatake Memorial Edition and a Sherry and American Oak – alongside a Yamazaki 18 Year Old. The spirits all had the characteristic honeyed and floral notes of Japanese drams but the Mars spirits stood out with their intensity and oily mouthfeel. Plus, they were much cheaper. He was "blown away".
He then started searching for Mars bottles anywhere he could, but finding the whiskies in retail in Melbourne was an impossible task, given the brand's obscurity then. After returning to Singapore a year later, he began hunting them down and found them from Barworks, its official distributor here.
Today, he has a modest collection of about 100 Mars bottles. He doesn't really see himself as a collector, though. "I fell into Mars by accident. I am more of an accidental accumulator due to my love for the brand," said Loh, who declined to reveal his profession.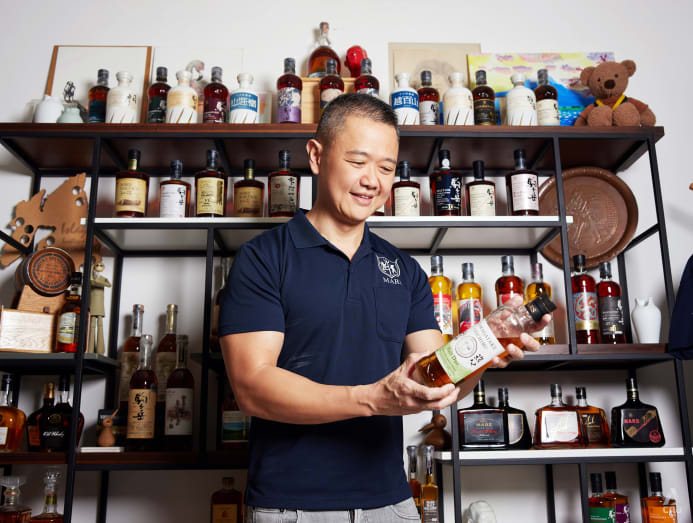 He added that he is a rather different kind of collector when compared with the investment-centric whisky collectors of today. He buys Mars whiskies to open and drink, with no intention of selling them (at a higher price) at some point in the future.
"Some whisky collectors have asked why I collect Mars because the bottles are not worth much in monetary value. I collect them because they are a connection to the history of the company. Even though their monetary value is low, they are important bottles of significance. The company has gone through tough periods but always managed to bounce back somehow," said Loh, referring to the fits and starts the distillery, known as Mars Shinshu, has undergone since its modern inception in 1985. He has been to the distillery once.
"Some whisky collectors have asked why I collect Mars because the bottles are not worth much in monetary value. They are important bottles of significance." – Loh Chin Hui
Located in the Japanese Alps of Nagano Prefecture, Mars Shinshu distillery, which is currently owned by alcoholic beverage producer Hombo Shuzo, was shuttered from 1992 to 2011. According to Loh, the whiskies that were distilled before 2011 or prior to its mothballing are the ones that are hard to find now. Depending on their rarity, they can also command a certain premium. 
He has about 40 of such pre-2011 whiskies, which he sourced from UK-based auctioneers Scotch Whisky Auctions and Whisky Auctioneer, and friends in Japan. He is saving those whiskies to drink on special occasions.
His favourite bottle from that lot is the Mars Hanshin Tigers Victory Road, a 22-year-old whisky released by Mars in 2003 as an unofficial tribute to Japanese baseball team Hanshin Tigers' victories that year. The bottle is shaped like a dome, with a wind-up toy of baseball players tucked beneath it. It cost him about S$600.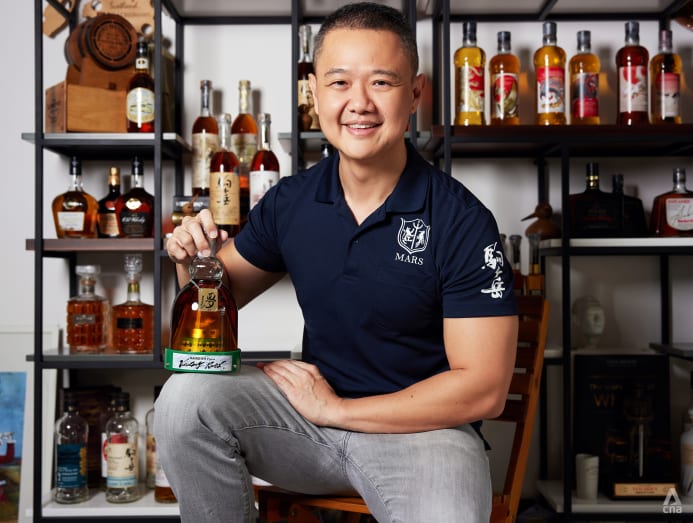 "For those special occasion bottles, even if I wanted to pay a premium for them today, I can't find them anymore," he said.   
Because Mars whiskies have only started to make their way out of the Japanese market in the past few years, the whiskies don't have a large international following yet, he added. Thus, the prices are increasing but at a much slower pace vis-a-vis marquee Japanese whiskies. For the "modern" bottles – those distilled after 2011 – the prices have remained largely stable and affordable.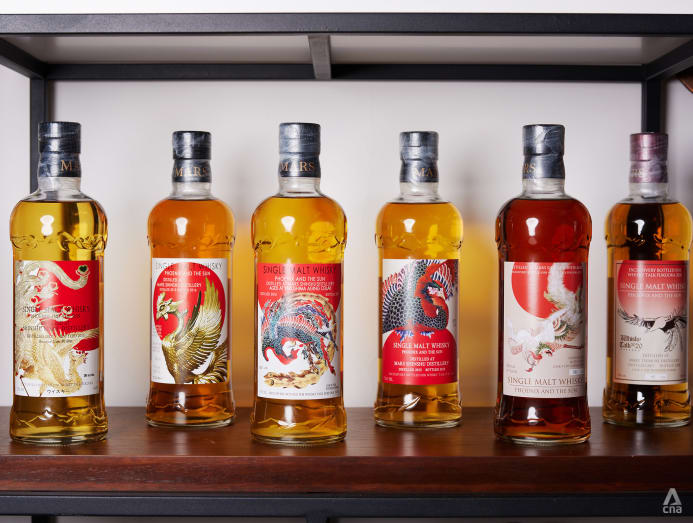 "Mars is slowly coming to prominence. They are winning awards in Japan. If you speak to Japanese bar owners, their impression of Mars is very positive. It's something like a cult distillery," he said.
He doesn't like the idea of whisky as a form of investment, though. "Anyone interested in [whisky as investment] should approach it with a lot of caution. While it's called liquid gold, whisky is a very illiquid asset to sell unless the country you are in has an active auction market or you have a strong network of buyers," he said.
"Personally, I think for those of us who love whiskies for what they are, [whisky investment] is not a good thing because prices get driven up."
Loh reckoned his buy-to-drink philosophy has earned the trust of sellers and his personal connections in Japan.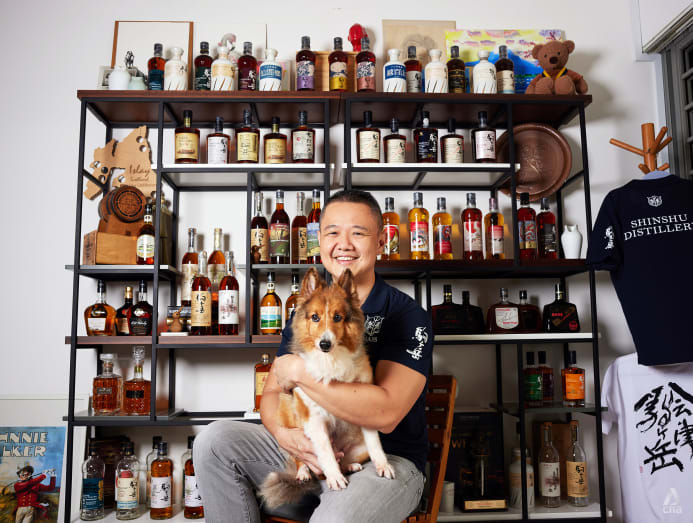 "I think, when you build your network of connections, it makes a difference whether they know you as someone who buys to keep and sell, or someone who buys to open and drink," he said. "They wouldn't normally sell to people whom they know are just going to sell it again, because they might as well sell it themselves."
For those looking to start their Mars whisky collection, Loh has a tip: It comes down to whatever you can find. 
For example, the Mars Komagatake Single Malt, would be a great dram to start with.
He is also a big fan of pairing Mars whiskies with hawker food – he buys takeaways and does the pairings at home. Mars whiskies that are softly peated work well with savoury dishes like fried hokkien mee and prawn mee, while those with sweeter, fruity notes pair well with desserts like ondeh ondeh, he said.
Loh also runs the Facebook group, Hooked on Mars, where people "can only talk about Mars whiskies and nothing else". He also sees himself as an unofficial brand ambassador, hosting Mars tasting events with Barworks for free.
"All this is done out of passion. I'm always happy to grow the number of drinkers who would appreciate Mars whiskies."
"While it's called liquid gold, whisky is a very illiquid asset to sell unless the country you are in has an active auction market or you have a strong network of buyers." – Loh Chin Hui