This Singapore start-up created a chatbot that can understand Singlish
Meet Jennifer Zhang, co-founder of WIZ.AI, a company that created chatbots that can understand local Southeast Asian languages and accents, including Singlish, to provide customer support.
Chances are, you've probably experienced first-hand the frustration of trying to have a conversation with a chatbot.
Sooner or later (usually sooner), you're likely to hear its crisp, impersonal and usually American-accented digital voice going: "I'm sorry, I did not understand".
On the other hand, traditional call centre customer service manned by humans have proved unsatisfactory as well, given long waiting times, and, usually, nine-to-five operating hours.
No wonder many businesses across industries believe digitalisation provides a competitive edge.
But Jennifer Zhang, CEO and co-founder of conversational voice AI firm WIZ.AI, noted: "In their race to automate, we are not only left with cold and emotionless self-serve options such as text-based chatbots, but more importantly, access is inadvertently taken away from the underprivileged, and people who are unable to adapt".
 
"Customer service should be accessible, human-like, warm and most importantly hyper-personalised. Good customer service creates lifelong customers, while great customer service creates brand advocates!" she declared, adding that "95 per cent of the people who interact with WIZ.AI Talkbots don't even realise they weren't even talking to a human".
"The main reason I founded WIZ.AI is because of my mother," said the 32-year-old Singapore-based China national.
Both her parents, now retired, were electronic engineers who worked in large enterprises, who "encouraged boldness and independence" and "never stopped me, allowing me to learn from my experiences... like, when I requested to do volunteer work in Africa, their first reaction was to check for flights with me; after I changed university major, moved countries or launched my first start-up, I knew they would always be there to support me".
Zhang describes her mother as "a strong, independent woman, who always enjoyed her freedom".
"One day, she asked me to help her reschedule a flight. The only channel available was an online customer service centre chatbot. The text was small, you needed to have a lot of the information on hand and it was extremely difficult to navigate. I could only imagine how inconvenient it was for her to handle it," she recalled.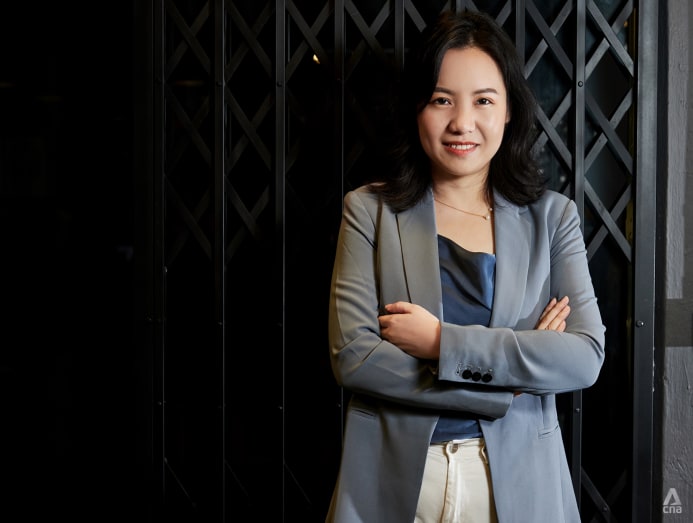 "[My parents] encouraged boldness and independence and never stopped me, allowing me to learn from my experiences." – Jennifer Zhang
SPREADING HER WINGS
After spending her undergraduate years at Keio University in Japan, then Zhejiang University in China, she headed to the University of California for a Masters in Public Policy, building her first start-up during the first year of her graduate programme. She later went into venture capital, learning about the Los Angeles start-up ecosystem.
She then moved to Singapore in early 2019 and co-founded WIZ.AI with two other partners.
"Launching in Southeast Asia is very challenging, as it is home to over 630 million people, speaking some 1,000 languages in localised accents. But this is the very reason why we wanted to target this market as our starting point: There were no other companies bringing voice AI products to Southeast Asia, even though it is the call centre capital of the world, and is still heavily reliant on human labour. Plus, not many Talkbots are able to deliver a truly human-like experience to such a wide variety of audiences, listening, understanding and speaking just like a local," she said.
In the cultural melting pot that's Singapore, our local patois Singlish, which stirs together English, Mandarin, Malay, Tamil as well as various Chinese dialects, is a perfect example.
In true start-up style, WIZ.AI "hired our first engineer, and launched without an office".
"Customer service should be accessible, human-like, warm and most importantly hyper-personalised." – Jennifer Zhang
Their initial goal was to prove that the idea was viable, to polish their English AI library and gather more feedback on how to best streamline their offerings to fit customers' needs, but were surprised to get so much attention from Singapore customers that that even the MVP (minimum viable product) "got a lot of attention from Singapore customers, and we got our first S$2.5 million as seed funding in mid-2019," she said.
The second stage of WIZ.AI's development was to build solutions on industry applications.
When the pandemic struck, it exposed the vulnerability of the traditional customer service infrastructure as countries closed their borders and safe distancing measures were implemented.
Almost overnight, call centres were suddenly forced to cope with a remote workforce and reduced capacity in the office. This exponentially accelerated digitalisation and innovation, leading to an increase in remote working technologies, telemedicine as well as self-help automation.
WiZ.AI's fortunes were thus sealed in 2020, when they started to work with hospitals, e-commerce platforms, insurance companies, banks as well as some of the major telco companies across the region. With more successful deployments, their Talkbot evolved rapidly, increasing in both capability as well as capacity.
"Launching in Southeast Asia is very challenging, as it is home to over 630 million people, speaking some 1,000 languages in localised accents." – Jennifer Zhang
A BOON TO BUSINESS
"COVID-19 proved a catalyst in increasing inbound leads, fast tracking Proof Of Concepts (POC) as well as opening up customers from both the government and private sectors. WIZ.AI saw a 200 per cent increase in growth in 2020 from the previous year," Zhang shared.
Its ASEAN chatbots' repertoire not only enables clients – telco, banking and finance, insurance, healthcare, logistics and e-commerce firms – to enhance customer experience at scale; they also reap benefits such as time, manpower and cost savings, as the bots work tirelessly 24/7.
The bots can even send out reminders for re-contracting, appointments and overdue bills, messages relating to ex-customer re-activation, special deals or new products, and upsell goods and services. In healthcare settings, they call up patients to check on their well-being, symptoms, reactions from medication and so on.
Clients are also provided with rich customer data through WIZ.AI's client portal, which automatically records and categorises intention data.
 
"This comprehensive depth of data allows companies to identify high-value customers, create a more comprehensive customer persona and makes it easier to uncover any gaps in their customer experience," Zhang noted.
"I am often asked how I managed to pack so much into just 24 hours. My reply is that I actually have a few clones running around." – Jennifer Zhang
A typical week, for her, begins with alignment meetings with her internal team to take stock of goals, progress and obstacles. She then schedules her time to focus on the most pressing issues and to conduct regular check-ins with her team, to see how she can help things progress and overcome obstacles. On Fridays, the teams review what went right and what could be improved.
"Being a workaholic is a prerequisite to leading a successful start-up in the fast-paced tech industry, and I am often asked how I managed to pack so much into just 24 hours. My reply is that I actually have a few clones running around," she joked, explaining that she usually breaks her day into segments, focusing on one activity at a time – working on a proposal for a key account, developing greater relationships with business partners, and slots to exercise and meditate. "Just like a ship, a business needs clear and consistent direction to successfully navigate it to reach its goals. However, just having direction is useless without a team who can execute your vision," she said.
"The true secret sauce of a successful business is not just having a clear vision and strong leadership, but empowering each and every member of the team to perform to the best of their abilities. Though I may have the vision for the business, it is the person on the ground who has the most valuable insight and expertise that can bring WIZ.AI to the next level.
"At WIZ.AI, we have an extremely flat structure, each member of my team knows that they have my full trust and that I welcome a healthy debate if they think that something can be done better or more efficiently," she said of her management style.
"The true secret sauce of a successful business is not just having a clear vision and strong leadership, but empowering each and every member of the team to perform to the best of their abilities." – Jennifer Zhang