Meet Jeong Kwan, Buddhist nun, influential vegan chef and Netflix star
Netflix viewers might recognise her from Chef's Table – and there's a reason why she's held in high esteem by the culinary world, particularly for her impact on how vegan cuisine is perceived in Asia and around the world.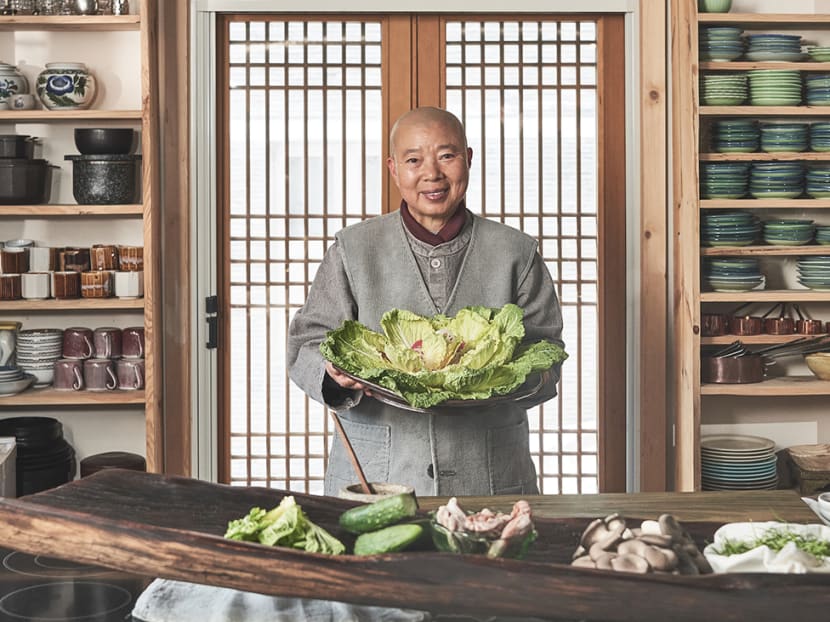 Even through the slightly depressing interface of a Zoom call, not to mention nine hours of time zones and 10,000 kilometres away, an indisputable radiant energy and joy emanates from Jeong Kwan through the screen.
Connection issues initially prevented her from being visible for the start of our call, but being a Buddhist sunim (a Korean monk or nun), with 48 years, spent since the age of 17, in Baekyangsa temple south of Seoul, technical challenges are the absolute last thing to prevent a smile being permanently fixed across her extraordinarily youthful face.
Dressed in grey robes and with a permanent cheeky glint in her smiling eyes, there's no better advert for the devotion, philosophy, lifestyle and eating habits that she so gently espouses.
Kweong was recently bestowed the Icon Award by Asia's 50 Best Restaurants, sponsored by S.Pellegrino & Acqua Panna. Not for her restaurant – she doesn't have one – but for the impact of her approach to vegan cuisine on the Asian and global food scene.
And chances are that you may recognise her from the sixth series of the cult Netflix show Chef's Table, where she wowed culinary legends, including Eric Ripert of New York's three Michelin-starred Le Bernardin.
She cooks for her fellow sunim, teaches students and – very occasionally – she hosts chefs. One such occasion came in New York, for diners including Ripert and journalist Jeff Gordinier, who said had said the dishes "easily have passed for plates served at Noma, at Benu in San Francisco... This was as good as any meal you could get from any chef on the planet."
Kwan entered the monastery at just 17, so has spent almost half a century with the produce that she helps to grow, harvest and cook.
In our interview, she tells CNA Luxury about winning the award, her approach to cuisine – and her suggestions on dealing with an increasingly anxiety-prone planet:
MANY CONGRATULATIONS ON WINNING THE ICON AWARD – HOW DID YOU FEEL ON HEARING THE NEWS?
When I first heard the news I was in the monastery. I was delighted and it has been a wonderful experience to win the Icon Award for 2022 in Asia's 50 Best. Korean chefs and chefs all around the world have been in touch to congratulate me, so it's been really nice to reconnect with some of them. I also received well wishes from a local Buddhist monk association here – they sent me a plant to congratulate me!
HOW WILL THIS AWARD SUPPORT YOUR MISSION TO SPREAD KNOWLEDGE OF TEMPLE FOOD?
I've been working to let people know about Korean temple cuisine for more than 20 years. The award allows me to meet with many people from around the world, many chefs, and to open doors to meet new people in food. It will allow me to share temple cuisine wider than I could ever have imagined.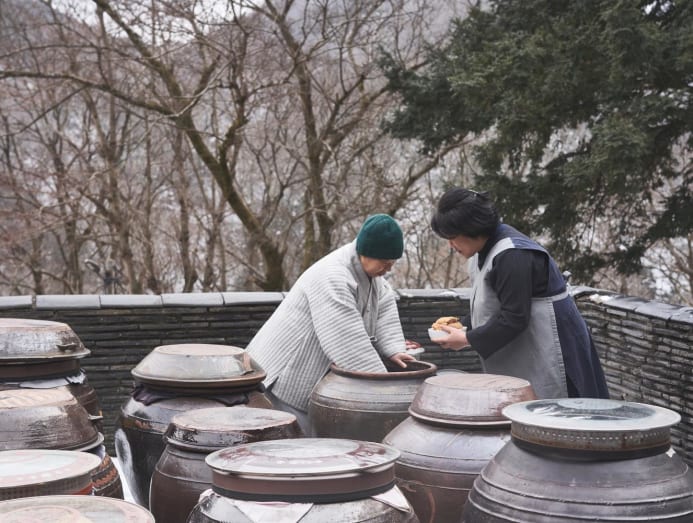 YOU'VE SAID THAT TEMPLE FOOD CONNECTS THE BODY AND THE MIND?
Food is the source of my energy to continue my practice as a Buddhist nun. I firmly believe that food plays a role in creating energy by connecting the physical, mental and spiritual. Food changes us, our bodies, our personalities.
Korea has four distinct seasons and through those seasons the food that we eat changes. The different foods connect us physically, mentally and spiritually to nature. People have a past, a present and a future and food is the one thing, the energy source that connects all of those together – that becomes my identity.
FOOD WASTE IS A CHRONIC GLOBAL ISSUE, YOU USE EVERY PART OF EVERY VEGETABLE?
Whatever comes from the earth is medicine, it is always good for your body. We must respect all the elements which help the plants grow – the sunlight and moonlight, the rain, the soil, all the nutrition.
By not throwing anything away and reducing food waste, eating the entire vegetables – the roots, stems, leaves, fruit, everything – we are contributing to balance and harmony in nature and helping to save the environment.
HOW DO YOU EAT WHEN YOU TRAVEL? FOR EXAMPLE, WHEN YOU WERE IN NEW YORK, DID YOU VISIT MANY RESTAURANTS?
I was lucky enough that when I went to New York, Chef Eric Ripert prepared a 100 per cent  vegan menu for me – I especially appreciated the vegan chocolate! I also went with Chef Eric to other vegan restaurants.
In Korea, I have eaten at Mingles by Mingoo Kang, he makes a special menu for me to ensure it's vegan. A lot of chefs here actually really enjoy when I visit because they can play with ingredients and make vegan-friendly menus for their restaurants at the same time.  I've never had any issues when I travelled and have always been able to have vegan food. I also always carry my stash of Korean bean paste, kimchi and pickles when I travel!
HOW DO YOU SEE THE FUTURE OF KOREAN TEMPLE CUISINE? ARE THERE YOUNG SUNIM FOLLOWING YOUR EXAMPLE?
Obviously because of COVID people are more interested than ever in health and their immune systems and the answer is a vegan diet. A few young chefs are currently staying at the temple to learn. One graduated from Culinary Institute of America, these are chefs who have been working abroad but wanted to find and understand more about their roots and the basis of Korean food.
So the future of temple cuisine isn't only limited to monks and nuns here in the monastery, but lots of people want to come and learn, understand the philosophy of the Buddhist vegan diet and the ingredients.
HOW WOULD YOU SUGGEST THAT PEOPLE ADOPT THIS PHILOSOPHY IN THEIR OWN HOMES AND KITCHENS?
Animals – including humans – and plants need four things for life: Earth, water, sunlight and movement. So in our daily lives, by understanding our ingredients and their energy, how to cook them and how to utilise that energy, we can all give back and contribute to the harmony of us all living together.
Also, if everyone can make small changes – and the changes begin with all of us, inside – to save our environment and respect living things, we can all help nature to last a lot longer and be in better balance with the universe.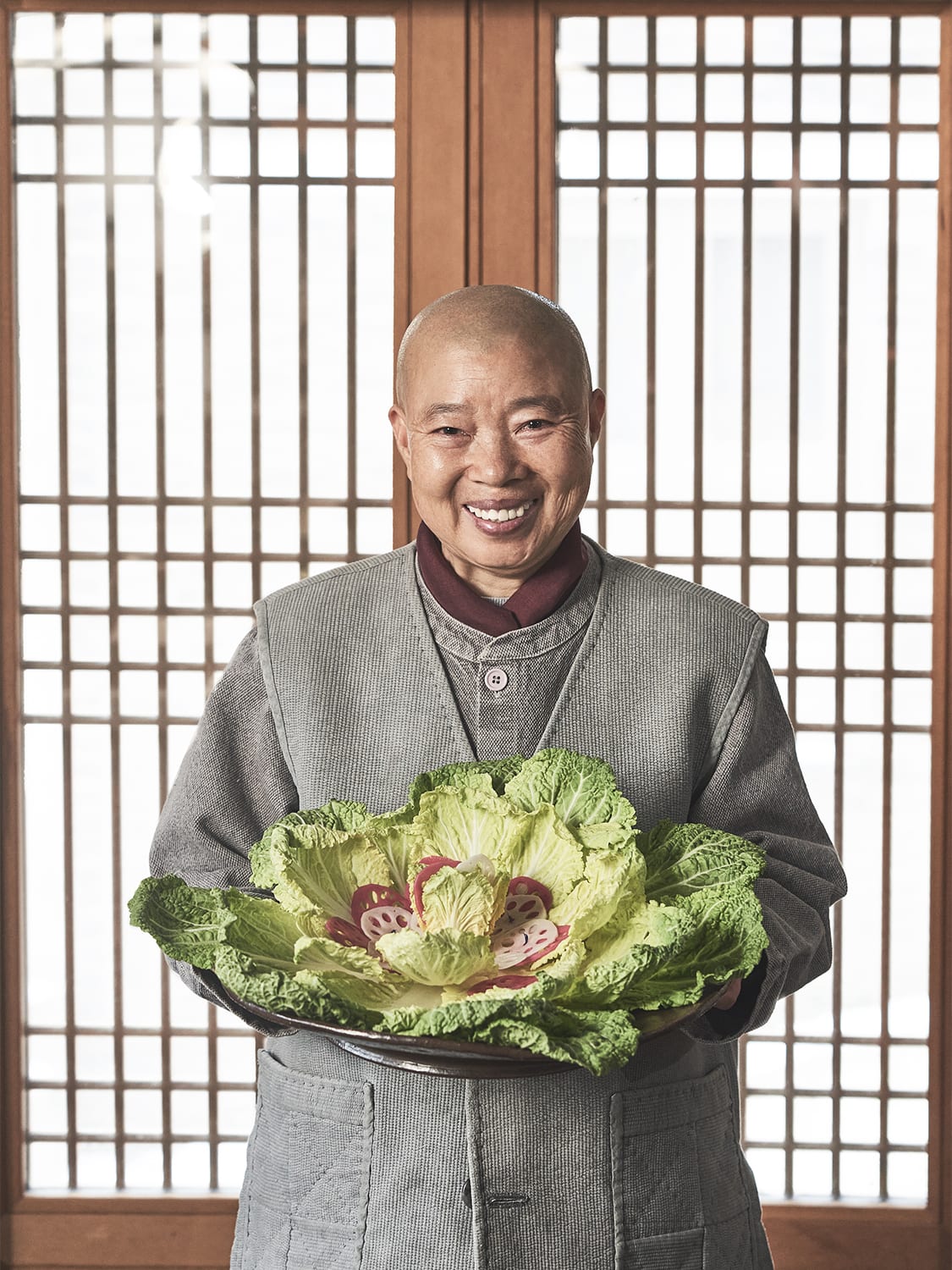 YOUR APPROACH TO FOOD WASTE HAS BEEN TO "TREASURE THE INGREDIENTS" AND "ONLY TAKE WHAT YOU NEED." CAN YOU GIVE A COUPLE OF PRACTICAL EXAMPLES ON USING EVERY PART OF A VEGETABLE?
We have a white and green radish, slightly lopsided, with leaves and a stem. It depends on when it is harvested, but early on when the leaves are quite young you can eat them in a dressed salad with Korean seasoning – similar spices to kimchi, although we don't use garlic. [All Jeong Kwan's cuisine avoids the use of five "pungent" spices or alliums, namely garlic, onions, scallions, chives and leeks.]
The little bit of green on top, where it connects with the stem and the leaves, it's best to eat raw as salad or vegetables, as radish sticks.  The hard white part in the middle is good braised, then the very bottom part which has been deep in the soil can be used for broths or soups.
Then there is spinach, a winter vegetable in Korea from November until February. A lot of people eat just the leaves of spinach but don't eat the roots or stems. They're all good to eat. If they're "difficult" to eat you can always make soup or broth from them.
YOU'VE TALKED ABOUT YOUR LOVE OF SOY SAUCE. HOW DOES IT EXCITE YOU MORE THAN THAN ANY OTHER INGREDIENT?
Soy sauce is the very base of what I cook, it's absolutely fundamental when I cook and I can't do without it. We ferment the soy into blocks for at least three months and that liquid eventually becomes soy sauce, while the beans become bean paste. As soy sauce is fermented, it continues to collect the energy within it. It becomes medicine for the body, especially as it gets older.
WHAT'S YOUR TYPICAL MORNING AT THE MONASTERY?
A typical day depends as we have a temple stay programme where people can come and experience living at the monastery. Part of the classes I teach are on food philosophy, health and wellness, so if I am teaching then I wake up at 5am. I'll do some yoga or stretching for an hour then pray in the temple.
Around 7am, I'll have a white rice porridge, either go and garden, collect ingredients for class, or go to the market. Class starts at 1030am and ends at 2pm, there may be a session on philosophy or how to use ingredients to their full extent. I'll demonstrate dishes, depending on what ingredients are available in the garden at that time of year. We eat together afterwards, then have time for team meditation, the mental and spiritual part of our learning, to complement the food.
Afterwards we clean the temple, the classes and prepare food in advance – especially pickled vegetables, whether spring plants, radishes etc. We have dinner from around 5pm to 6pm, then it's prayer and meditation, before I prepare for the next day, look back and reflect, before sleeping anywhere between 9pm and 11pm.
AFTER 48 YEARS IN THE MONASTERY, WHAT PART OF THE DAY BRINGS YOU MOST JOY?
Every day is a practice as a Buddhist monk or nun, everything happens inside of me so it's me who is changing, trying to become a better person and focusing on my practice – that brings me great joy.
Also, visiting the local market! It's on every five days, when all the local farmers bring out their local vegetables, we can buy or even trade things with them, I really enjoy the interaction. I also love going to the mountains or our garden to pick fruit or vegetables, I feel immense joy. Finally, the traditional pots which hold our bean paste and soy sauce, seeing all the pots lined up, I feel at peace because they are breathing, enjoying nature and I am enjoying them!
THERE ARE LOTS OF TROUBLES IN THE WORLD AT THE MOMENT – AS A BUDDHIST, HOW DO YOU VIEW AND DEAL WITH ISSUES SUCH AS THE WAR IN UKRAINE AND THE CORONAVIRUS?
There's a lot of hate, anger and selfishness in this world. People don't respect nature or each other. But change starts within all of us, so you need positive thoughts, good food, good energy – that small change within you, can help make a bigger change.
We need to respect life. By focusing on the impact of climate change and environmental destruction while respecting life, we can make the world a better place. Good food creates good energy and reflects how we live our lives.