Shoemaker to the stars Jimmy Choo talks tech, Princess Diana and paying it forward through education
The designer's journey from Penang to the pinnacle of the global fashion world is legendary. CNA Luxury met up with Choo in Bangkok where he talks about his stratospheric rise and the lessons he has learned along the way.
Abodes in Bangkok don't come much more uplifting than a penthouse suite at the city's Peninsula Hotel. Perched proudly at the crown of the property, the plush furnishings in the duplex unit exude a comfortable, slightly old-school, sense of luxe grandeur.
An outdoor terrace with a jacuzzi and widescreen views of the mighty Chao Phraya River and the city's space-age skyline would put a spring in anyone's step. And CNA Luxury was getting insight into the room's restorative qualities as Jimmy Choo greets us. Our encounter with the legendary shoe designer has been delayed, affording the 73-year-old some time to rest between appointments.
But the doyen of handmade women's footwear shows no fatigue when he rises for our introductions. Resplendent in a blue tailored suit and a shiny pair of black leather slip-ons – self-designed naturally – he bounces nimbly across the room.
He guides us to the window-side table where we will conduct our chat and regales us with a stream of anecdotes along the way.
Topics range from a Scottish single malt sampling session with footballer David Beckham to his distaste for the English "delicacy" of jellied eels – an aversion he nurtured as a gastronomy-deprived Penangite Chinese stranded in East London in the late 1970s.
"I got my formal education as a designer at Cordwainers Technical College in Hackney," he recalled. "There wasn't a lot of good Chinese food in that part of London at the time, and that was a big deal for me. I couldn't get used to how people talked, and it took me ages to find a good place for Singapore fried rice!"
The vagaries of the British diet aside, Choo's decision to plump for London as a base over other fashion capitals such as Milan, Paris and New York didn't turn out too badly. His diamante-encrusted journey from Georgetown, Penang, to one-man backstreet atelier, to a shoemaker to stars and royalty is the stuff of fashion fantasy.
"IT WAS HARD TO GET CLIENTS TO COME INTO A CREEPY OLD HOSPITAL"
And Choo – judging by his upbeat demeanour when we meet – is still living the dream. He is primarily based in Kuala Lumpur and is still very much involved in fashion and design. He makes shoes for friends, family and a privileged few under his Chinese name, "Zhou Yang Jie". He also continues to collaborate on several other lines including The Atelier, a wedding dress and evening gown company of which he is a creative director and works alongside his designer nephew, Yew Lau.
As an official brand ambassador for Huawei, he's in Thailand for the brand's APAC launch of a range of Smart Office products including tablets and laptops. His relationship with Huawei dates back seven years, and Choo credits the company's advanced technology for keeping him both sane and productive during the pandemic.
"I've got different bases and family scattered around the world, so it's been vital for me to keep in touch with everyone," said the designer. "Smartphones and technology are also essential for my work. I've been a designer for a long time, but I need to keep a close eye on what's new. With technology, I can keep a close eye on what's happening globally in fashion. It keeps me sharp."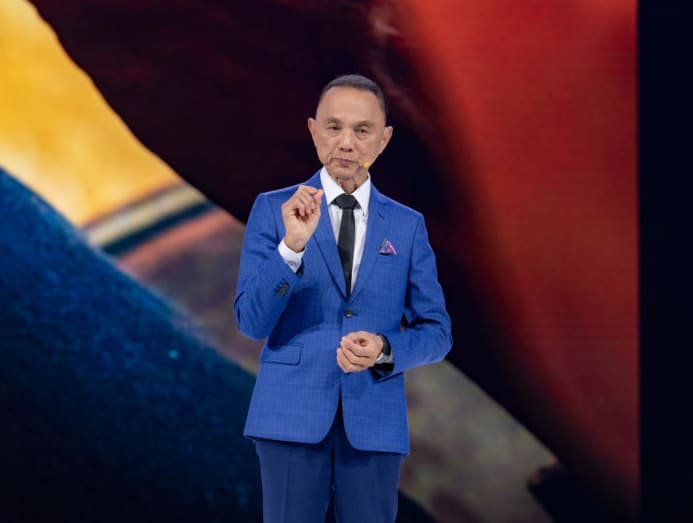 Nimbleness, diligence, and a fine-tuned ability to keep his eye on the prize have been a feature of Choo's odyssey from the backstreets of Georgetown to the centre of the world fashion stage. Opting to stay in London following his studies, Choo worked for a shoe design company for eight years. He then branched out solo with modest financial backing from his parents (his mother reportedly fronted him around S$10,000 from her retirement fund), setting up shop in a derelict hospital building in Hackney.
Choo's creativity and craftsmanship were creating an undoubted buzz in London fashion circles. But business was slow at first. "It was hard enough to get clients to come to the East End of London. Let alone to get them to come into a creepy old hospital," he recalled.
But things picked up dramatically in 1988 when he was asked to do London Fashion Week. This dramatic breakthrough achieved momentous proportions when Vogue UK afforded his designs eight pages of coverage.
"I WORKED WITH PRINCESS DIANA FOR A LONG TIME"
From that point on, Choo's rise was stratospheric. He started collaborating on fashion shows with the likes of Helmut Lang and Paul Smith. It was no longer a struggle to get people to come to see him in Hackney. Indeed, his client list rapidly gathered sheen from several stars – including a certain princess.
"That (London Fashion Week) was huge for me," he recalled. "Black was in vogue at the time, so I decided to do something livelier and more colourful. That year John Galliano did a collection with lots of flowers, and it proved to be a fresh combination that caught everyone's attention. It just boomed after that. Princess Diana became a client, and I had people like Kylie Minogue, Boy George, Janet Jackson come to see me. Nobody feared the hospital anymore!"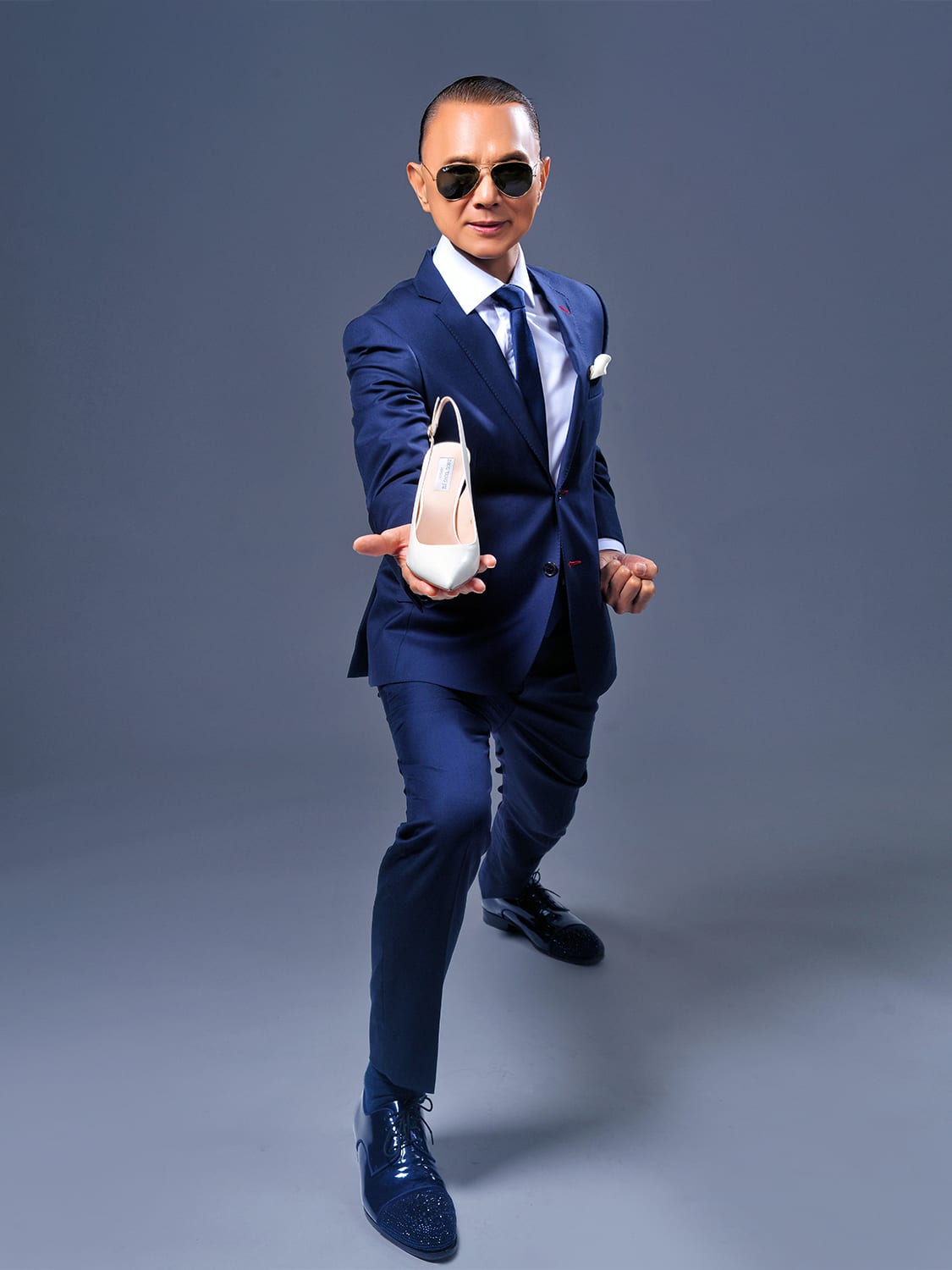 Having built his profile, Choo later joined forces with socialite-turned-entrepreneur (and accessories editor at UK Vogue) Tamara Mellon. Together they turned the Jimmy Choo brand into a globe-conquering high fashion icon with outlets in New York and Los Angeles. A string of A-list celebrities donned his footwear. And the brand was further immortalised by shoe-fanatic Carrie Bradshaw in the smash TV hit Sex And The City.
Choo later sold his 50 per cent stake in the company citing business differences with Mellon. But his name remains synonymous with super-premium hand-crafted footwear in the minds of fashion lovers.
"It's all about quality," he said, explaining his shoemaking philosophy. "My shoes may seem expensive, but you pay a premium for nice things. I worked with Princess Diana for a long time. We ran into each other at an event in New York once. She pointed to her feet and told me she was wearing one of the first pairs of shoes I designed for her. They are not value for money in the traditional sense. They are valuable because they look good, are comfortable, and last for a long time."
"I HAVE A LOT OF ENERGY THAT CAN BENEFIT OTHER PEOPLE"
Choo's nurtured his dedication to exquisite craftsmanship in London. But he sowed the seeds of his success in Penang. He learned how to make shoes by hand from his father, a cobbler. He credits those formative years for instilling a strong work ethic and knowledge of every facet of the shoemaking process.
"My father was a designer first and foremost, but he learned everything," said Choo. "And I take inspiration from his versatility. You can delegate, but you need a strong all-around grounding. It's so vital. The foundations that were set up for me in Penang were strong and then I went to London and took things to a higher level. My parents taught me the importance of honesty and kindliness, and those values will stay with me forever."
Given his gratitude for the parental wisdom bestowed on him, it's no surprise that one of Choo's chief passions is passing on knowledge to the next generation of designers. His JCA London Fashion Academy opened in 2021 on Hanover Square, within walking distance of Bond Street, London's luxury shopping hub and opposite Vogue House.
"I have a lot of energy that can benefit other people," he said. "If you don't have a good foundation, you cannot make it in fashion because people can easily figure out your fundamentals and substance. But education can instil that base. It's not what benefit you're getting for yourself, but how you learn the knowledge and give back to the future."