This Singaporean restaurant by the son of a hawker just earned three Michelin stars in Taiwan
Jimmy Lim's JL Studio is the first restaurant serving modern Singaporean cuisine that has won that accolade.
In 2020, Jimmy Lim sat in the Michelin Guide Taipei and Taichung ceremony, stunned to hear that his modern Singaporean restaurant JL Studio had shot into the list for the first time with two stars.
Last month, it was deja vu all over again as JL Studio, located in Taichung, became one of two newly crowned three-starred restaurants in Taiwan's Michelin Guide 2023. The other one was Taiwanese-style Tairroir.
"I couldn't believe it. It is usually the restaurants serving European cuisines that get (three stars), not the ones with southeast Asian cuisine," said the Singaporean chef in a phone interview with CNA Luxury. "I kept thinking, 'Wah, is it for real?'"
Lim's love for cooking was sparked by his late father, who ran a zichar (stir-fry) stall selling dishes such as chilli crab and fish head curry. From a young age, he would help out at the stall, intrigued by the heat and action and absorbing his father's tenacious spirit.
Initially set on a professional sports career until an injury derailed his plans, Lim ended up enrolling at the Singapore Hotel and Tourism Education Centre (SHATEC). After graduation, he further honed his skills in Michelin-starred places such as The French Laundry in Napa Valley and Noma in Copenhagen and spent eight years in the now-closed Le Mout in Taichung under Asia's Best Female Chef 2014 Chen Lanshu.
When Lim opened JL Studio in 2017, the initial plan was to serve modern European cuisine. Three weeks before opening, he decided to follow his heart to show that Singaporean cuisine can be on par with the Western ones dominating the global fine dining scene then."I hate to say this, but a lot of people feel that Singaporean cuisine is cheap food. I'm proud of our hawker fare but I was also wondering why no one is recognised for doing elevated, innovative Singaporean cuisine," said Lim.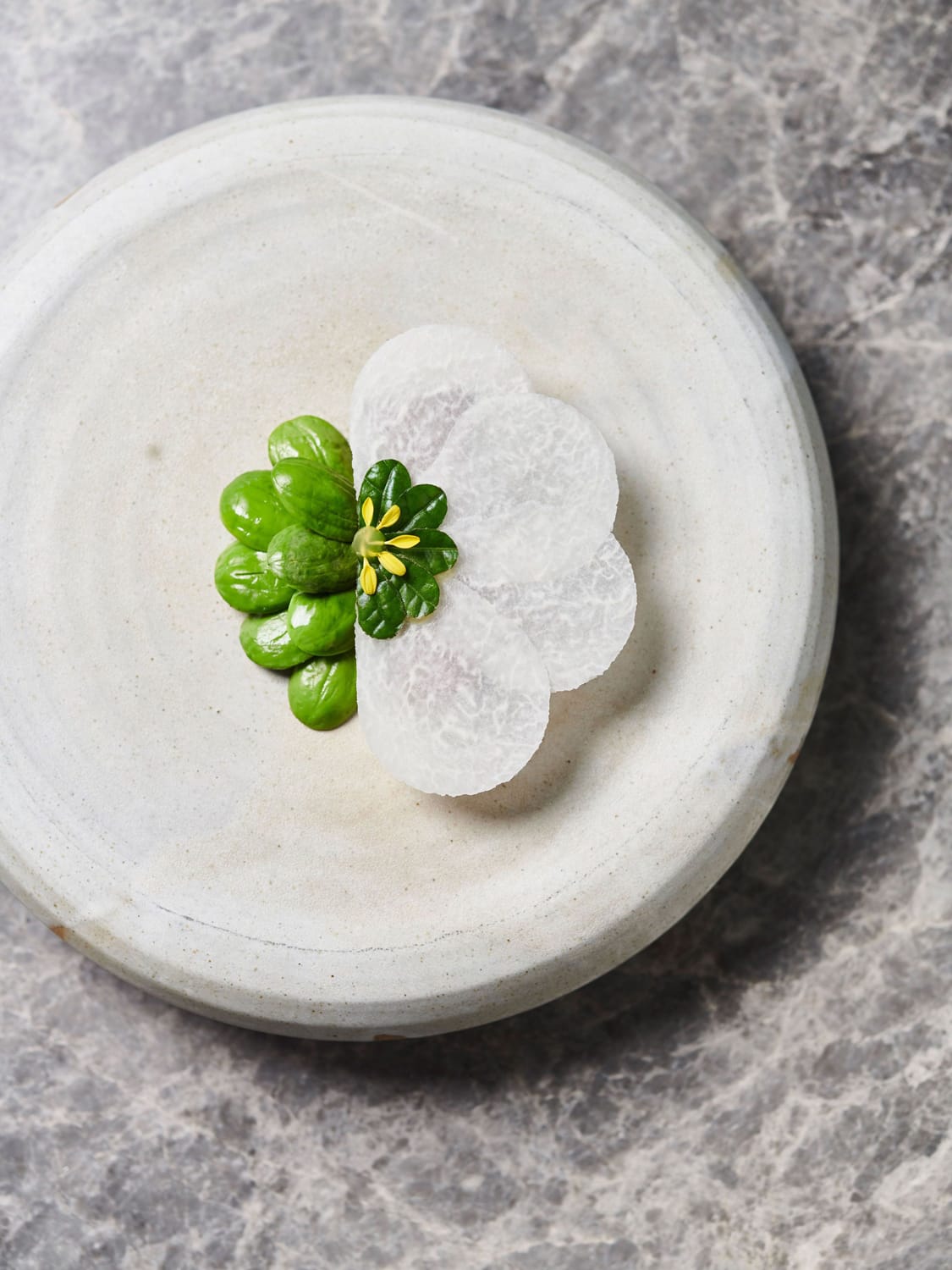 In the initial years, Lim faced an uphill task convincing Taiwanese diners, who are used to lighter seasonings and had a more refined palate, to take to the spice-heavy food. Lim would cook the dishes in the flavours he had grown up with, convinced that it was the best-tasting examples ever, only to face negative feedback.
He said: "I kept asking myself why they couldn't accept it, maybe they don't know (how to appreciate) — that is the easy way out, to blame others. Then I realised that what was wrong was my ego. I wanted to showcase so-called authentic Singaporean food, but I didn't consider what the locals were used to."
He started to moderate the seasoning and spice to a level more suited to the locals' palate yet acceptable by his standards. He explained: "Is that diluting the cuisine? Maybe it is. I take it as a way of taking a step back so that they'd accept me first before I slowly bring the seasoning levels up again."
For example, the spicy-sour fish stew ikan assam pedas was made into a cold dish of hamachi wrapped in radish. Instead of the usual tamarind, the sourness of the gravy comes from fermented and juiced local starfruit.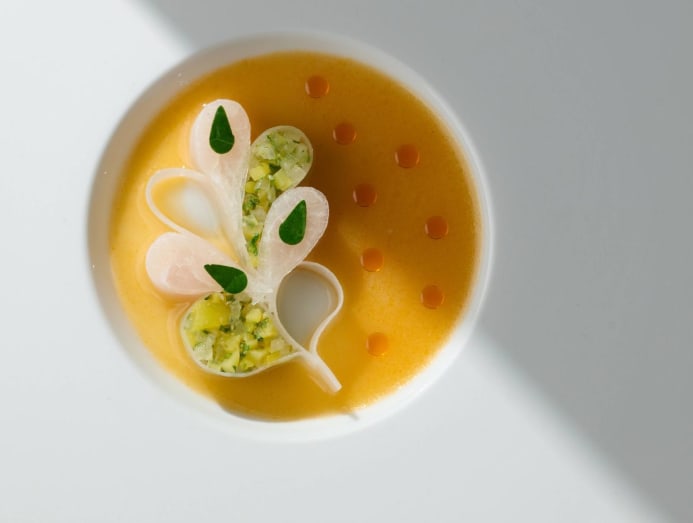 Even the much beloved durian was successfully sneaked into the menu after a few years of experimentation. Lim made a dessert dip by blending the durian pulp into a purée with lemon and longan to go with kueh kapit (a crispy wafer snack). Guests were not told what it was until they had tried it. They enjoyed it so much that the dip was almost always mopped up.
In a voice of excited triumph, Lim said: "They couldn't believe it when I told them they've just eaten durian. Some have never tasted it in their lives and told me that I had changed their perspective of durian. I felt so happy." There is now a sambal tempoyak (fermented durian and chilli paste) accompanying nasi lemak (coconut rice) and local sakura shrimp, which Lim uses instead of the typical ikan bilis (dried anchovies).Another re-imagined dish is a meatless version of Hainanese chicken rice. Local water bamboo and white asparagus are cooked until they have the soft texture of chicken, with a layer of Aiyu jelly to mimic the fatty skin. The accompanying sauce is made from porridge broth while the chilli is a blend of aromatic local peppers and chillies. Lim explained: "It's JL Studio's version of our food where the flavours are Singaporean but everything is from Taiwan," he said.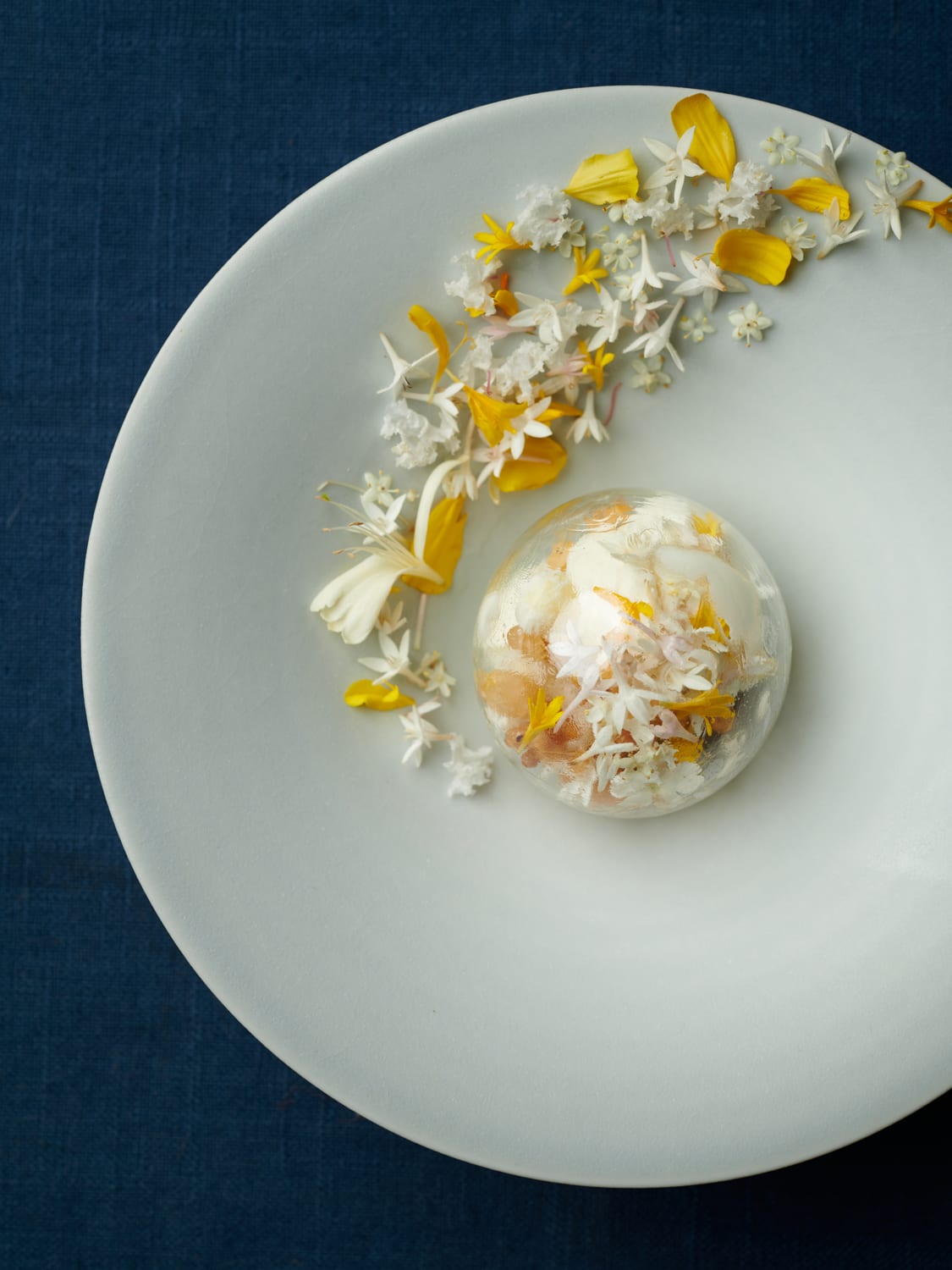 With the gradual return of international guests, which used to make up 70 per cent to 80 per cent of JL Studio's pre-pandemic dining crowd, the restaurant currently serves only 25 covers per meal service to ensure a quality experience. Lim often emphasises to his team that they are not there to push a cuisine's story, but to create memories, just like the fond ones he has of eating with his parents. He said: "Food without human connection is not food at all. The dishes are just a by-product of getting people together."
Lim's focus now is to continue refining his dishes while being open to collaborations that allow him to showcase Singaporean cuisine. He said: "I feel that I've just been given the ticket for people to slow down and look at what we are doing. We haven't arrived yet nor are we the best; we are just getting started."