Kane Lim in Singapore: The Bling Empire star on Rihanna, racism and life after the show
Back in town after two years to celebrate Chinese New Year, Kane Lim lets on about festive family traditions, his upcoming collaboration with Rihanna, and what to expect from Season Two of the hit reality show.
Whirlwind. That's the term I've come to associate with Kane Lim, the only Singaporean cast member of the Netflix hit series Bling Empire.
It's the day of our photoshoot and we're at one of the Capella Mansions on Sentosa. Bursting forth from his chauffeured black Toyota Alphard (the vehicle of choice for Singapore's elite), he declares, "I need to use the bathroom!" and, like a tornado, barrels into the Mansion. His hasty entrance is pardonable – the 33-year-old has just spent the last 45 minutes holed up in his MPV attending to a business call.
Lim, it seems, lives his life at breakneck speed. In the two weeks he's in Singapore, he would have shot a couple of magazine spreads, recorded a podcast, caught up with family and friends over Chinese New Year, and visited a few Buddhist temples and monasteries. All the while, he would still be working on real estate deals in Los Angeles (where he's based) while also keeping watch over his investments.
In the year since Bling Empire dominated our screens, Lim has busied himself filming Season Two of the docusoap, appearing on Ellen DeGeneres' talkshow, acting in a movie – A California Christmas: City Lights – and opening LA Fashion Week. He can't reveal exactly when Season Two will air, although he says it's likely to be within the next few months.
If Lim's rise to international stardom appears meteoric, at least the devout Buddhist is not under the pretence that fame will last forever. "Being in this field, being in the limelight, it's like modelling, where your runway is pretty short. Hopefully I'll have longevity, like Naomi Campbell. But you know, I'm looking at this in a positive way where everything's so fast that maybe this is my time to really squeeze everything in and work super hard and compete. I'm happy with whatever I'm doing. I'm having fun. I think that's the most important thing."
That much is true. Lim is perpetually buoyant: As our photographer and art director discuss camera angles, he's gleefully feeding and taking photos of Capella's resident peacock family, who have descended upon the Mansion, presumably to keep an eye on things. Four hours later, after the photographer captures the last shot in the pool, Lim leaps out to dry himself off, still very much a bundle of near-childlike energy.
As we settle in for our chat, he reminds me that he has another appointment that evening, so please make haste. Of course.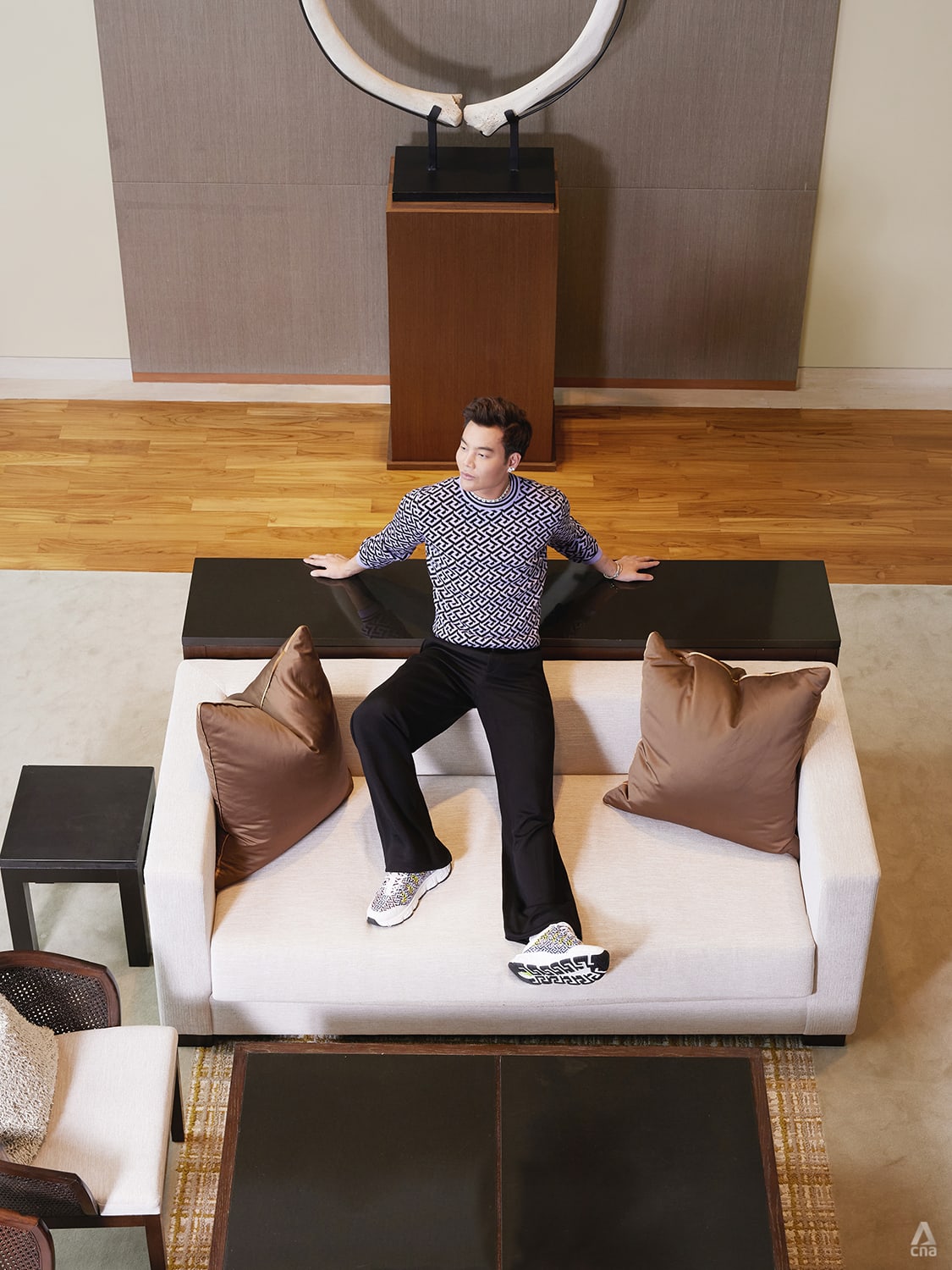 What's the first thing you did when you came back to Singapore?
I ordered hawker food from this amazing vegetarian place that I used to frequent. Because I miss it so much! I even broke my intermittent fasting, which I've been doing for the past five months.
You know, I feel like a pig now because I'm eating breakfast, lunch and dinner. And I'm not used to it. I feel like a stuffed animal all the time in Singapore. But I do miss the food.
There are some great vegetarian restaurants, like Mott 32, Paradise Dynasty, Taste Paradise, but I'm more of a hawker person. I don't really care for fine dining. I like it fast, easy, cheap.
Is there anything that has surprised you about Singapore after your two-year absence?
I mean, it's definitely quiet. Obviously, things are more restricted because of COVID-19. But I think that's good for the elderly and the young.
At the same time, Singaporeans are still the same. The national hobbies are eating, shopping. There's so many new restaurants that I didn't have the time to actually explore.
But Singapore is such a fast-paced country with so much new development that it's always incredible to see. So I think what surprised me most was how fast the economy is growing and how advanced and modern things are, compared to the States.
You've been in LA for eight years now. What's your favourite and least favourite thing about living there, compared to Singapore?
My favourite thing about LA is the weather. Honestly, it's like its air-conditioned the whole day long, you can just sit outside and really enjoy dinner. In Singapore, I have to shower three times a day! The least favourite thing right now is that there's so much political controversy.
My favourite thing about Singapore is the security. The government has done such a good job creating such a safe environment for us. The least favourite thing is – not that it's Singapore's fault – is that Singapore is small.
What have you been up to since you came back?
A lot of meetings, a lot of work. I look at my investments. I think what people don't know is that I actually do work a lot. In LA, I'm often up till midnight to deal with my family office here in Singapore.
We invest in this space called Happy Fish. It's a swim school for kids, adolescents and even senior citizens. We also recently invested in an Indonesian plant-based company called Burgreens and [its subsidiary] Green Rebel.
And I'm in the real estate business as well. Actually, just few days ago, I closed escrow with a friend. We're getting this US$8.5 million (S$11.43 million) house in Malibu. And we're trying to make it into something quite amazing either to sell or to keep. That's my main job, not social media. Not the show. The show is just a fun platform for me, and to highlight important stuff, but the core of me is an entrepreneur.
I have my schedule packed since the day I landed, and it's good. It's good to keep busy, although I did enjoy two days off over Chinese New Year.
Being in this field, being in the limelight, it's like modelling, where your runway is pretty short. Hopefully I'll have longevity, like Naomi Campbell. But you know, I'm looking at this in a positive way where everything's so fast that maybe this is my time to really squeeze everything in and work super hard and compete. I'm happy with whatever I'm doing. I'm having fun. I think that's the most important thing.
How did you celebrate Chinese New Year?
The day before New Year, I always go to the monasteries because it's something I like doing. To me that's sort of my therapy. It's also an Asian tradition to ask for blessings or to give back for the year. I went to four places to make donations: BW Monastery, Guan Yin Miao (Kwan Im Thong Hood Cho Temple), Balestier (Temple), Ju Shi Ling (Singapore Buddhist Lodge), and then the Buddha Tooth Relic Temple, to pay respects to my ancestors – the four of them – who are there.
I love being alone in such a calm setting and I feel like I've reset the year and at the same time it reminds me to cherish every moment.
This year I made a promise to myself that I would donate my red packets to the monasteries. In the past I used to use my angpows to buy Dior T-shirts or Dior jackets. But this year I'm reminded of all my successes, so I'm just going to return what I've received.
On Bling Empire you once said, "The white new year, what do you get to celebrate? [For] Chinese New Year, you wake up with money!" So how much money did you wake up with? :)
Hmmm… a few [Hermes] Birkin bags worth! Entry-level Birkins. Or a few [Chanel] 2.55s!
So you gave it all away to the monasteries?
No, just some. I'm keeping my parents' one. That's the big one! I'm quite close to the monks at BW Monastery so I'll probably just hand the rest to them.
What kind of Chinese New Year traditions does your family have?
The current tradition is to just spend time with family. Before COVID-19 it was crazy fun. We'd have people visiting our houses and gambling but no such thing this year. My grandparents came over for lohei. My [maternal] grandma makes the best yusheng. She dyes all the vegetables herself.
We went shopping in the end. I was trying to get my mum to buy a pink diamond but my mum was like, 'I don't understand pink diamonds'. I said, 'I do, so just get it'. So she's still thinking about it, but it's a pink diamond and I really want her to get it because I can have it in the end. Oops! Hahaha!
How important is family to you?
After shooting the show you realise – especially being in LA and how superficial this industry is – that family is the most important because they get you through everything.
How often do you keep in touch with your family?
Every single day. There's a family chat group. We talk every single day. Every two days, we regroup with my family office about business. It's a constant contact.
Your dad is supportive of your onscreen career. Are other family members just as supportive?
They're getting more supportive. Because I think they understand social media and this platform is sort of like a social currency, right? In the past, they were like 'Why do you expose your life like that', but now because of all our other businesses, you know, they're like, 'Okay, we need marketing for this', for example, Happy Fish. Now they understand how important marketing is.
What businesses are your family involved in?
We do investments – a lot of it is in renewable energy, hospitality, real estate, and health and wellness.
Out of all those, you picked real estate as your personal interest. Why?
Yeah, somehow real estate found me, because I love tangible assets. I love looking at things. I've always felt like there's so much opportunity in LA, because the US is not so expensive, compared to Singapore.
My dad has always been an investor for commercial real estate. But for me I was in the US, so I took my own licence so I represent myself in all my deals. I save on the commission, which is quite a lot in the US – 2.5 per cent.
In the past few years I've developed some cool properties in Venice Beach that sold very successfully so I'm just continuing to do what I know how to do.
You're friends with Chrishell Stause from Netflix's Selling Sunset. Did you join the Oppenheim Group after you got your licence?
No, I was with another group. And then when the show came out, the Selling Sunset team was like 'Hey Kane, join us'. I was like, okay, that makes sense, because we're both on Netflix and the office is five minutes from my house.
Is there going to be a crossover?
Netflix doesn't like crossovers, but it happens. So there you go. I can't say who crosses over where but there's definitely some synergy [between Selling Sunset and Bling Empire].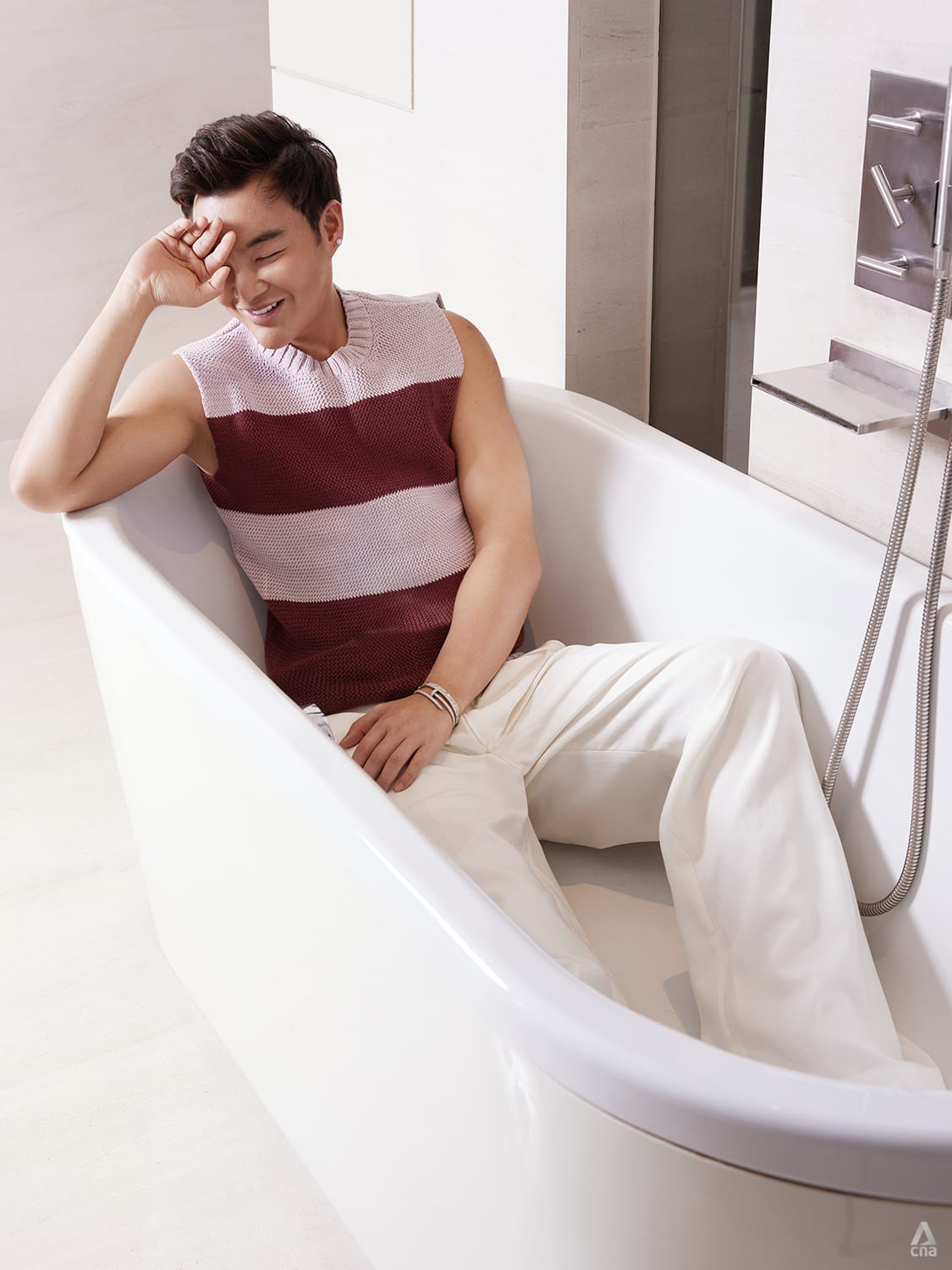 Speaking of collaborations, you've been pals with Rihanna for some time now. What's your relationship like and what can you tell us about your upcoming collaboration?
She just wished me Happy New Year the other day! I've known her for the past eight years. She's been super kind to me. In fact, I credit a lot of my success on social media to her because she's the one that followed me and got me tons of followers.
When Season One aired she sent me a DM and asked, 'Kane, when is Season Two coming out?'. I mean, I know it was a number one show but coming from Rihanna, that made me so happy. I did a collaboration with Fenty on social media, just a video on Fenty skin and beauty. But look out for more.
You're working on something together, right? Is it with her music or her other businesses?
It's more towards the beauty side. I don't know. Hahaha!
On a more serious note, why is it so important for you to speak up about Asian representation?
It is important because number one, I have the platform to do it. Not many people do. But I also have to be very careful, because everything I say can be misconstrued or taken out of context.
Asian representation is so important because when you live in LA, you realise how little Asians are represented on such a global platform. I mean, Bling Empire is one of the first reality shows that has an all-Asian cast, and we're not playing stereotypical roles like kung fu fighters or mathematicians.
I'm just representing Singapore and putting Singapore on the map as well. I hope I do it in the best light.
You're raising awareness for anti-racism. What was it like living through the wave of Asian hate crimes in 2021?
I was a victim of hate crime. Like I was targeted as well. Someone threw like a cup on my head. It was on Melrose Place, I was walking, just doing my own thing. Someone hit me with a cup which had cigarette ash and water in it.
I'm so thankful that that was the least that happened. I mean, you look at other people who were pushed on the trains and killed, people who were stabbed. There were aunties that were murdered in San Francisco's Chinatown.
How did I decide to deal with it? I didn't confront the other person's race. What I tried to do was highlight how the Asian community is, and has been, a part of America for the longest time.
So what I did was a charity thing at a hospital. I gave 80 nurses a surprise, a care pack with food, vegan dim sum. My personal way to combat racism is to talk about how Asian culture has been there since the start.
Did you fear for your life at any time?
Yeah. When the riots were going on, when the looting was happening. I called the police once when there were like, 20 people in my building. It was a party, but that kind of freaked me out as well.
How did you get over the fear?
You just have to be a little careful, less flashy. You have to be more understated, which is very tough for me! How do you tell me not to wear diamonds? I'm in gym clothes most of the time now, and I try not to be recognisable, because I do need my life as well.
What's a typical day in the life of Kane Lim like?
The first thing I do in the morning, I meditate for at least half-an-hour to an hour. It's just my reset button and to start the whole day. It gives me a lot of clarity when I go to work, when I meet people.
I also work out a lot, or I try to. I have my meetings. I check on my properties. Quite boring, right? The real Kane Lim is an introvert. Not many people know that.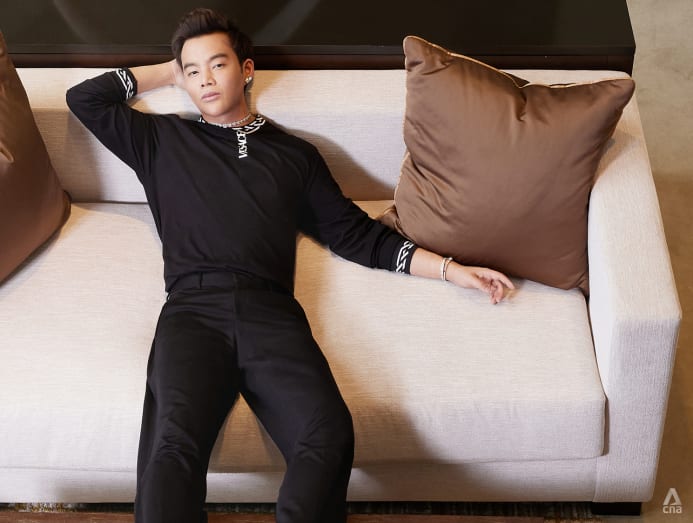 What were you favourite moments on Bling Empire?
Being able to show my Buddhist beliefs and practices. For me, it's a way of life.
Looking back on Season One, which was filmed before the pandemic, and which aired during the pandemic, what comes to mind? What do you think of all the excess? Because the pandemic made everyone think about what matters in life.
I still don't think it was excessive enough! Hahaha. That's part of our life. It doesn't show the 99 per cent of my work. I think so long as we entertain people and have fun with it, who cares about being excessive, right? We're not wasting food. We're not doing something that hurts the environment or hurts people.
Having extravagant things doesn't mean you're a bad person, it means that you're blessed. So I don't feel like there's anything wrong in being excessive. I think everyone's goal in life is to be successful.
What has the pandemic taught you?
It taught me that this happened because of our failure to look after society, the environment, ourselves and the animals because in Buddhism, when a pandemic happens, it means that you have either killed too much or not looked after the environment. It's a natural disaster. It also taught me to look inward. And not to blame Mother Nature, but to blame ourselves.
How different is your on-screen persona from the real you?
I'm an introvert. I did a personality test online and it was so accurate. I was like INFT or something. I'm 55 per cent introvert, 45 per cent extrovert. I'm only sociable when I need to be. But other than that, I like being alone. I like being at home, hanging out with my cats. I don't like to go out unless it's important. I'm selective.
What was it like acting in your first movie, A California Christmas: City Lights?
It was fine. Actually, I was given two scripts [after Bling Empire]. But one of them was like 10 pages long. I didn't want to do it. I'm not an actor. At that point in life, I didn't think I could do 10 pages.
And then this other opportunity came along. [Actress and protagonist Lauren Swickard] was actually a friend of mine who had a number one Christmas show already [A California Christmas]. And she was like, 'Kane, we actually need a rich Asian person to play someone from a tech startup in San Francisco'. I'm like, 'Yeah, I'm here'. So that's how the whole thing came about.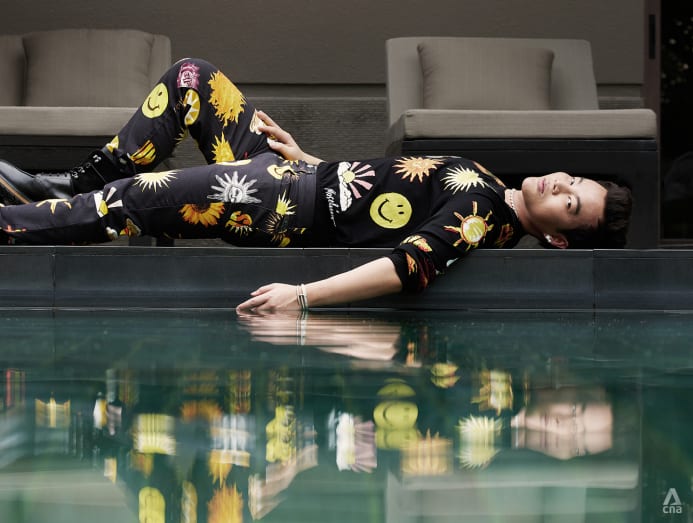 You also opened a fashion show during LA Fashion Week. Do you remember when you became interested in fashion?
I was young. I was insecure growing up and fashion was always like my defence or my cover-up. I love fashion not just because of the glamour of it, but also the workmanship that goes into, for example, a Chanel jacket, or something haute couture.
What are your insecurities?
My weight. It still haunts me. How I look. I think that's something I'm always trying to figure out. I'm okay now, but it's still a constant self-improvement. [My weight yo-yoed] when I was growing up and I was always made fun of in school.
But everything happens for a reason, right? So I look back at it and I'm like, maybe it was good that I was overweight. If I had money and good looks, I don't think I would be as compassionate. I would be an asshole. So being overweight teaches me to be compassionate around people.
How do you deal with negativity or criticisms?
I don't anymore. I just don't care about it. What you should care about is what your family thinks of you and what you think of yourself.
Having achieved this much exposure, what's the next goal for you?
I think for me, it's how we can grow better. Make a more fun show. I mean, I'm just so blessed already. Whatever comes next is a blessing. I'm not going to look past today.
So you're not looking out for your next role in a movie or talkshow appearance?
In my practice of Buddhism, tomorrow's not guaranteed, right? We focus on today, man.
This conversation has been around for a while, but the whole materialism versus Buddhism thing. How do you reconcile that?
When people look at me and say, 'How can you be Buddhist?' I'm like, 'You're judging me already? How can you be Buddhist?'
 
Having material things, nice things is a form of blessing. How you keep that blessing is important. You cannot be attached to it. You cannot be obsessed with it.
So you don't have an obsession with shoes? On the show, your apartment's living room has a huge wall of shoes!
I have an obsession with jewellery, shoes, travelling. It's still something I'm working on. I'm not sad if I don't have it.
What can we expect from Season Two of Bling Empire?
I think you're going to see a lot more depth from me. I'm going to be in the centre of a lot of drama, because unfortunately, I'm the social glue, right? You're also going to see a lot of my work stuff, my personal life, my stories and more of the real me, I hope.
Then there will be A-list celebrity appearances, singers, as well as James Beard award-winning chefs who are my guests on the show.
What's your favourite thing to binge on TV?
I love Shark Tank. It's not on Netflix but I love it. I like watching people build businesses. I also like Survivor and Amazing Race. It's something I want to do after the show. I think I'll kill it on Survivor. I think I want to try for Survivor. I feel I might go far.
Photography: Kelvin Chia, photo assistant: Roy Yap, art direction: Chern Ling, styling: Daryll Alexius Yeo, styling assistant: Phua Yue En, grooming: GregO using Keune Haircosmetics and Fenty Beauty. Special thanks to Capella Singapore