Kane Lim and his friendship with Singapore jeweller Vihari Poddar
Having known each other for more than a decade, Kane Lim and Vihari Poddar reminisce about the first time they met, how their friendship has evolved, and what they appreciate about each other. It's an all-round lovefest!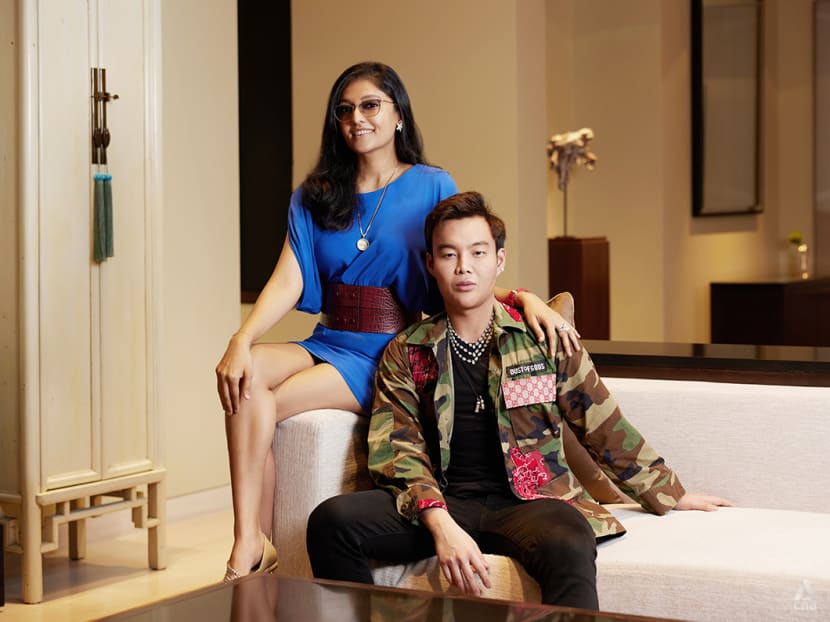 When you can saunter out of a shop with S$200,000 worth of unpaid merchandise, you know that a certain level of trust exists between shopper and shopkeeper. This was the case with Bling Empire star Kane Lim and jeweller Vihari Poddar, when CNA Luxury caught up with the pair at Poddar's boutique in Paragon in February.
Lim, back in Singapore to spend Chinese New Year with his family, had arranged a visit to Poddar's boutique in an attempt to persuade his mother to pick out a pink diamond (his efforts failed, but that's another story). Of course, as a big fan of jewellery himself, Lim behaved like a kid in a candy store, bouncing from showcase to showcase, happily trying on rings, chokers, and necklaces.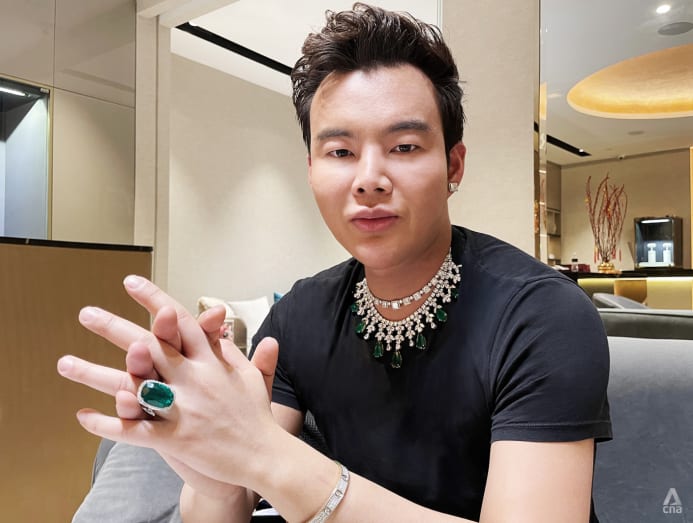 The S$200,000 item in question was a diamond choker, which Lim put on before cheekily darting out of the store, yelling, "I'm going to the washroom!" To which Poddar just laughed – such is the nature of their kinship, forged over a decade. Besides their shared passion for jewellery, the pair are also vegetarians: Lim is Buddhist while Poddar is Jain.

The two are fairly close, texting each other every so often to give updates on their respective lives. Lim shares photos of jewellery that he encounters on his travels, while Poddar lives vicariously through Lim's glamorous Hollywood life. On a deeper level, they are also each other's sounding boards, discussing fears and concerns, doling out advice and moral support.
How long have you two known each other?
Vihari: I have a picture of Kane when he was 18! (Laughs) It was my 21st birthday at Oneº15. I could get a lot of money for that picture! (Laughs) Even at 18 he was like an entrepreneur. He always wanted to do something for himself.
Kane: I was gonna say a decade, but looks like it's much longer than that! It's quite rare to find friends like that.
Vihari: And it's not like we meet or we talk every single day but you know, when we do there's always a connection.
Kane: And a trust as well.
Vihari: There's an unspoken trust, which is quite amazing because you don't have that with everybody.
Kane: I grew up loving jewellery. I've always been attracted to precious stones. Every piece tells a story. My friends are jewellers from all around the world, from you to my friend in Greece. But you are honestly Singapore's icon for high jewellery and workmanship.
Vihari: Do you remember the first present you gave me? It was a Fendi necklace with a black fur pom-pom. I still have it! It was the cutest thing I owned, because I really wasn't into fashion back then.
Kane: That's how old our friendship is… when fur was still in [fashion]!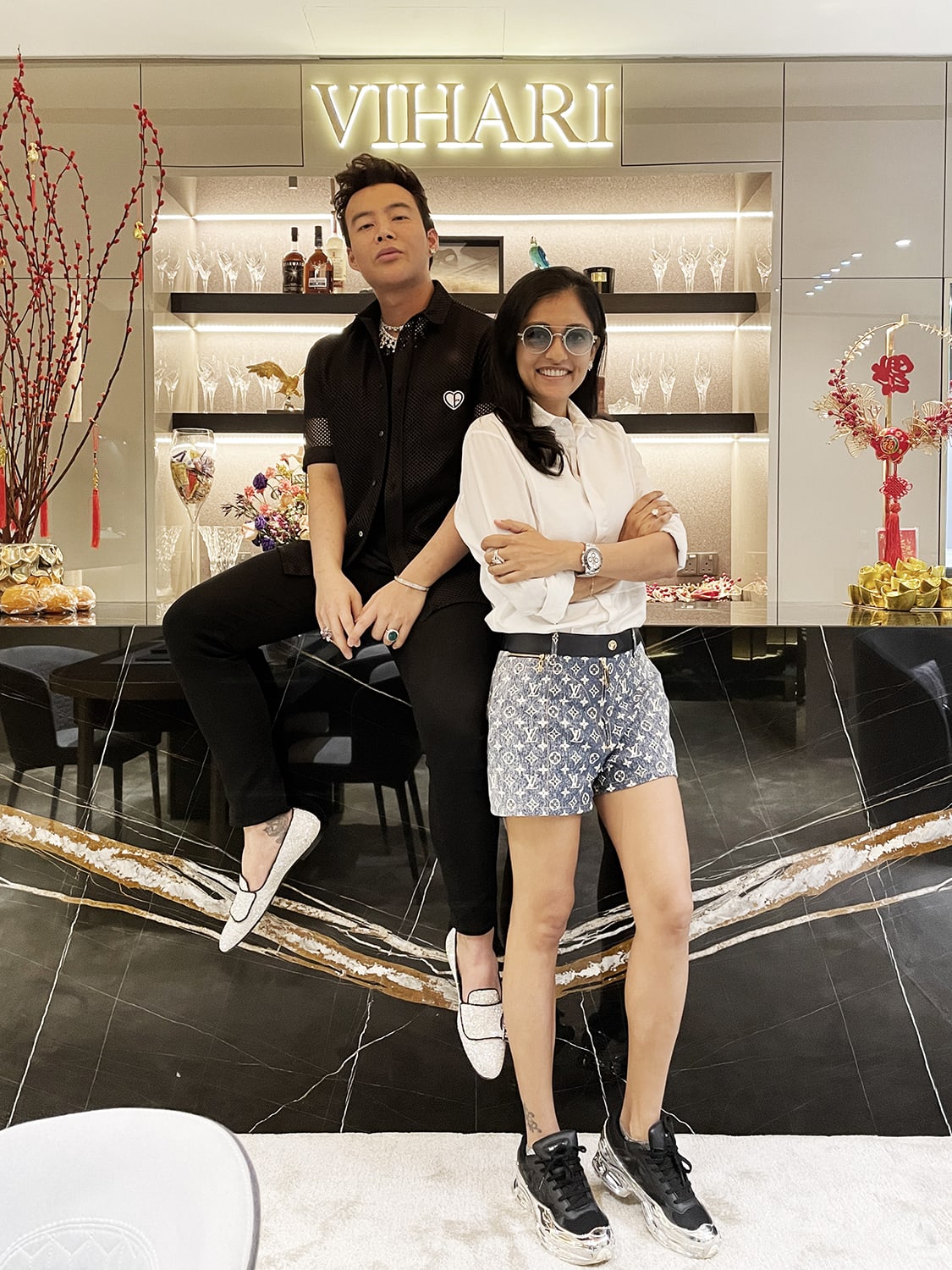 Vihari: He always wanted to step [out of his father's shadow] and make a name for himself.
Kane: Being Asian and coming from very successful families, there's always this pressure and challenge to step out of [our families' shadows]. Like you named your business Vihari, without the family name. On my Instagram, I just put Kane (@kanelk).
Vihari: Well, [our parents] gave us the stepping stone, that path, and then it's up to us whether we want to take it or not. The fact that we have that path that makes it a bit easier to grow. But it is hard to prove to them that we can be independent and that we can do something without them being there all the time. I think that's the biggest challenge. Oh, there's also something else that we have in common. We're both vegetarian. He's Buddhist, I'm Jain, but we both believe in karma and reincarnation.
Kane: Maybe I was a maharaja in a past life!
Vihari: I think in your past life you did something really good, so now you are the maharaja, the Bling Maharaja of Singapore! I think it's his time to shine, like he's starting at the bottom and then he's just gonna shoot up. I feel so.
Kane: I was looking at Instagram just now and Netflix just posted my picture. Like, I'm on a global platform and being Singaporean, there's so much pride in that. But there's also a pressure to live up to that and be a good citizen, you know? I'm very humbled to have this platform, on such a global scale. Not many Singaporeans have done that. I mean, of course there are people like Fann Wong and Fiona Xie, but I think I'm one of the first Singaporeans to shoot an LA production that was the number one unscripted show of all time for Netflix, which is incredible. And it wasn't just a hit in the US, it was a hit in over 50 countries. So crazy!
So you weren't expecting that kind of success?
Kane: I knew that what we shot was a hit, because the content was so fun. We had diversity – people who were 21 to Anna [Shay], who's 60. Oops! It's not easy creating a hit show on Netflix, which has so much content. Rihanna reached out to me when Season One came out and she was like, 'When is Season Two coming out?'. For me, having my icon watch my show was [incredible].
Describe your relationship by finishing the sentence, "Kane/Vihari is the kind of friend that ___"
Kane: Vihari is the kind of friend that would pick up the phone at midnight because I'm in LA and we'll talk [then and there].
Vihari: Kane is the type of friend who will always be encouraging you at any point of time even if you're at your lowest or highest, he will always tell you you can do it, there's no limits, just go for it.
Kane: With this store, she called me and said, 'Kane, it's such a big store, it's in such a prime location, rent is high…' and I'm like, 'You just gotta trust what your dad has set for you'. And also, trust your brand as well. I've travelled the world, seen craftsmen from Cartier, Van Cleef & Arpels, and then to see your work, you have something solid here. So just stay on your path, don't look at your competition. In fact I told you to ship some stuff to me in LA to wear on the show. I hope it'll make it to the final cut.
Vihari: He's so supportive. I wouldn't have done it. He's the biggest lucky star. I don't have any other friends with fame. And neither do I run after it.
What are your midnight chats all about?
Kane: A lot of it is about the show, and how we can get her stuff on the show!
Vihari: I felt bad because I didn't wanna take advantage of you being my friend.
Kane: There's no such thing. My mum bought stuff from her and she gave really good prices. There've been a lot of exchanges as well but it's always been give and take, never 'take, take, take'.
Vihari: There are obviously other things we talk about like how fun his life is and how boring mine is… you're like living your life while I'm breastfeeding! (Laughs) His texts are always positive. It's not like I have a lot of entertainment in my life right? It's about schools and teachers asking what to do. He's also very encouraging when I tell him about haters or there's so much stuff going on. He's like, 'You have to learn to ignore, you have to learn to step forward'. It's very motivational.
Were you two going to design a jewellery collection together?
Vihari: We haven't done it yet, but we do wanna do one that's quite extensive, maybe like with pandas [as motifs].
Kane: I'm obsessed with pandas! I think there has to be a charitable aspect to it as well, because she's known to give back a lot, and my family as well.
Do you guys have a timeline?
Kane: I always believe in timing when you launch something. So hopefully, when the show comes out in the next two or three months, that'll be a great time. The charity aspect is most important to me. I always do business that has a positive impact on the planet, or with people.
So Season Two will be released in two to three months' time?
Kane: Netflix will only tell us a month prior because – you have to understand – they have to translate the show into many languages. We wrapped [filming] in December, but the translation process takes three months. It'll be soon. There'll be a surprise at the end of Season Two. That's all I can legally say!
Kane, tell us about the orchid ring that you just bought from Vihari.
Kane: The orchid is Singapore's national flower. I thought it was really smart to do it. It's really stunning. I definitely want something bigger from Vihari but I need to work harder! I need to watch my expenses because the show is not cheap.
How much is the ring worth?
Vihari: So it has multicoloured sapphires and white diamonds, and is set in 18K white gold. It retails for S$17,000.