In her early 20s, she started a company to bring in independent luxury watch brands to Indonesia
Her father's love for watches led Kartika Winata to discover a lack of presence for independent luxury watch brands in Indonesia. Find out how she built her business, and which watches she has in her own personal collection.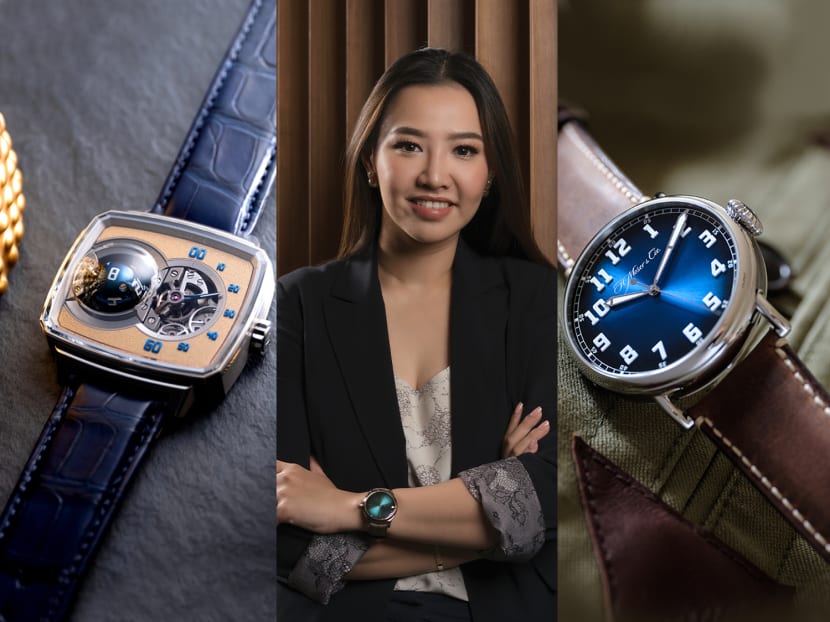 Kartika Winata grew up surrounded by watches. Her father, a businessman, is an avid watch collector, and for almost every birthday or milestone, Winata was given a timepiece as a gift.
Still, when it comes to her affinity for horological tickers, "I wouldn't say it was love at first sight," Winata admitted. "As a young girl and a teenager, I just naturally knew a lot about watches because my dad kept talking about them."
Winata spent most of her childhood in Singapore, before moving back to Jakarta when she was 12. As a young adult, she studied at the University of San Diego, majoring in marketing and communications. She also pursued a psychology course at Oxford University.
Out of all the watches owned by her father, his Delacour watch always stood out to Winata. Delacour is a luxury Swiss independent watch brand and its timepieces are known for their unique, distinctive tonneau shape. "All other watches are typically round. So whenever I saw my dad wearing his Delacour timepiece, I would tell him, 'nice watch, Dad'."
A chance encounter with the founder of Delacour in Singapore during a Lamborghini event then turned into a business opportunity for Winata. At the time, Delacour was just finishing up its contract with the original retailer that brought it into Indonesia. Winata was in her early 20s then, and was looking to embark on an entrepreneurship journey.
In 2014, at just 24 years old, she took on the challenge and founded Eurobutik Bangun Indonesia (EBIWatch) with two other partners (who have since left the company). EBIWatch started off with distributing only Delacour, but less than two years later, the company began adding more brands to its portfolio.
"In Indonesia's watch industry, something was missing as all these independent brands didn't have any presence or a distributor. So that was something I thought I could fulfill," shared Winata.
Fast forward to 2023, Winata is now in her 30s and a mother of two – a toddler and a newborn baby. Her business has also grown. Today, alongside Delacour, EBIWatch is the distributor of H Moser & Cie, Hautlence, Grand Seiko, Corum, Reservoir, BRM and Dietrich in Indonesia. It has a multi-brand boutique named Independent in Jakarta's Pacific Place mall, as well as a monobrand Corum boutique in Elysee Building, located in the heart of the city's CBD area. 
WATCH BUYING TRENDS
Despite having expanded her portfolio of brands, Winata said that the company still retains a strict selection process. "It's important that our brands don't cannibalise one another in terms of price point, target market or branding," she explained. "They may have a similar clientele, but their price point or DNA of their watches may be different."
Winata admitted that scaling the business wasn't always her plan. She started small, preferring to focus the company's efforts on her "first baby", Delacour. "The brand performed very well and soon we caught the attention of other independent brands. Emails started coming in asking us to bring in their brands because they had no presence in Indonesia," Winata recalled.
After gaining more confidence through the years, Winata and her team soon began "hunting" for watch brands at global fairs such as the now defunct Baselword.
Since the company was founded, its core clientele has always been seasoned watch collectors. "They already have it all, from the Rolexes, to the Pateks, to the Audemar Piguets. As a metaphor, I always liken Rolex to Mercedes Benz. It's the watch to buy when you've made a name for yourself. But our brands are like Aston Martin or Lamborghini. You must have all the mainstream brands already, so you want to go one step further," Winata mused.
But the profile of customers is starting to change, Winata added. "Now, we have younger watch connoisseurs who want to invest in an independent brand straightaway. Part of it is social media, which has made it more accessible to learn about these brands."
What hasn't changed much, however, is that EBIWatch's customers are still mostly male. "There is a growing market for female watch buyers, but Indonesia is slow in catching up," shared Winata. This can be attributed to the fact that women still make up a lesser percentage of the workforce in Indonesia, she added. "That's just the culture here. Even if women do buy watches, it's always a fashion watch, where the focus is on looks. Whereas a true watch collector would look at the movement, the finishing of the dial, where it is made. All these are less important to [female watch buyers in Indonesia]."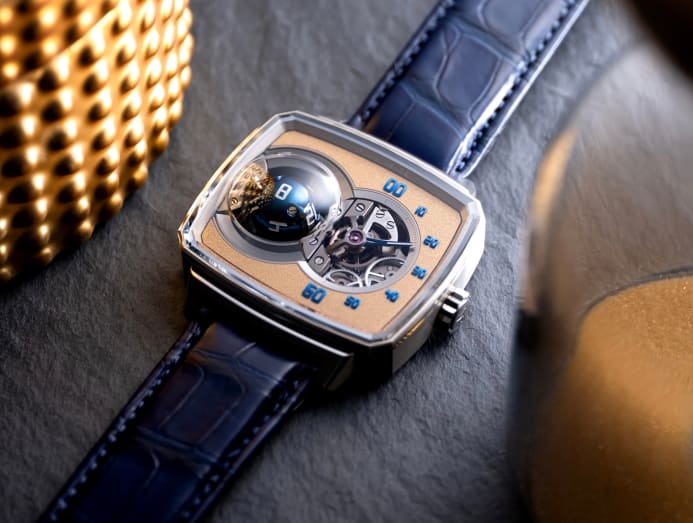 Back when Winata first started in the industry, female leaders in watchmaking were still relatively rare. Naturally, Winata faced her own hurdles. "I remember during my first trip to Baselworld, the executives from all these big brands assumed that I was the marketing intern, when I am actually one of the founders."
But Winata took it all in her stride. "I don't see it as a negative thing, as being a young woman in the watch industry sparked their interest and made me memorable to them. I was intimidated in the beginning, but I know how to present myself so the fear quickly went away. I now see it as a strength to be a female in a male dominated industry."
WATCH COLLECTION
Out of all the watch brands she has come across in her career, Winata shared that Delacour will always have a special place in her heart. "It's our first brand and with this brand, we were able to invest in bringing in other brands," she said.
But when it comes to watches from her own collection, her favourite timepieces tend to change. She currently enjoys wearing her Grand Seiko SBGA407, which features a unique blue snowflake dial. 
"I don't really have a big watch collection," Winata admitted. "Being in the industry, I have become super picky when it comes to investing in a watch."
Although the watch design needs to first pique her interest, other things she takes into consideration include the finishing of the dial, the movement and whether it was made in-house. "If the movement wasn't made in-house, is it a simple movement or will it take a year to get my watch serviced? Because the more complex it is, the longer it will take to service," quipped Winata. The watch should also sit comfortably on her wrist. 
Aside from owning at least one watch from all the brands in EBIWatch's portfolio, Winata also has a Patek Philippe Nautilus, Cartier Santos, a Rolex Daytona and a Rolex GMT Master II, also known as the Rolex Batman. "It's a very manly watch, but I share that with my husband."
Over the years, her father has also gifted her "a few Franck Muller watches". She also has a vintage Corum from her mum. "Because my dad is a watch collector, to him, there's no other better gift than a watch. It's his sign of his love for me," Winata laughed.
FUTURE PLANS
On what's next for the business, Winata is currently considering expanding EBIWatch's portfolio of brands. "We are open to it this year as for the last three years [during the pandemic], we were just focusing on our existing brands," she said.
She is also mulling over the company's digitalisation plans, including strategising its e-commerce platform. "Luxury is all about service, and service is difficult to operate online, especially when you're talking about watches at the higher end of the price tag. But I don't think we should brush it off. After all, this is the digital age."
In the meantime, she is relishing being in an industry that is both exciting and intriguing. "Part of the good of being in the watch industry is although it's a small world, it's actually quite fun," she quipped. "In luxury, it's all about branding, and selling something at a certain value is so interesting to me. I've learned so much from all the events and all the exhibitions that we go to. And there's always something new to learn along the way."