King Living CEO David Woollcott on building a furniture brand that lasts: 'We're here forever'
What is the secret behind the success of Australian premium furniture brand King Living? According to CEO David Woollcott, it is the brand's commitment to timeless design, sustainability and a conservative approach to growth.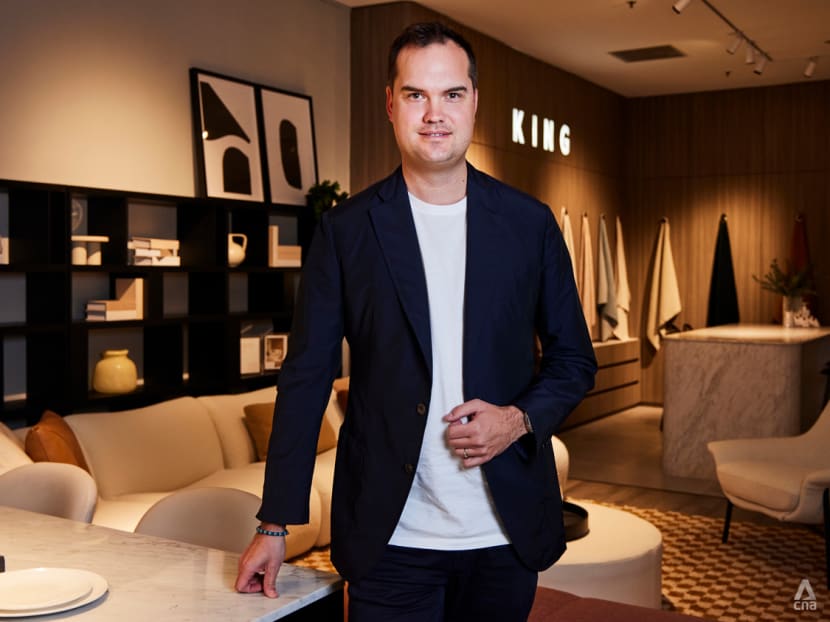 While shopping for furniture in Australia several years ago, David Woollcott, 43, recalls peering into a King Living showroom, then walking away. He ended up buying from the brand's competitors instead, "because I thought that King was too expensive," he admitted. "On hindsight, I would have ended up spending more, but on something that I would still own today," he reflected.
Indeed, while King Living products come with a premium price tag, the company bills itself as the anti-thesis to fast furniture. Instead, it wants to be a "something worth keeping brand", said Woollcott, who is now CEO of the company. Timeless designs built on a steel frame, King Living furniture is made to last through generations.
Today, King Living is considered a leader in Australian furniture design, but the company started from humble beginnings. In 1977, founder David King and his mother, Gwen King, began designing and handcrafting original foam furniture to sell in Sydney's famous Paddy's Markets. "Talking to customers, I knew they wanted something that was comfortable, and that had depth and softness in the seat. I discovered this amazing suspension system made from steel that was used in European cars. But this type of suspension couldn't be attached to a timber frame – because it would break the timber – so I experimented with using a steel frame," David King said in an article in Vogue Australia.
King Living produced its first sofa using a steel frame in 1979. The brand took off and now has 27 showrooms in Australia, New Zealand, Singapore, Malaysia, the UK, Canada and China. The company remains a family business, with King himself still heavily involved in the design and prototypes of new products. It is also one of the few furniture brands in the world that is vertically integrated with full control over the design, manufacturing, distribution, retail and aftercare of its products.
Woollcott, who is British-Australian, is relatively new to the role as CEO, having taken up the post only in late 2022. He previously held leadership roles in Fisher & Paykel, Miele Australia and New Zealand as well as BMW Group. "Part of my brief from David King is to help him build a 100-year business," Woollcott said of his latest stint. "We are currently 47 years old and now we're thinking really carefully about the next 50 years. The philosophy is, we're here forever."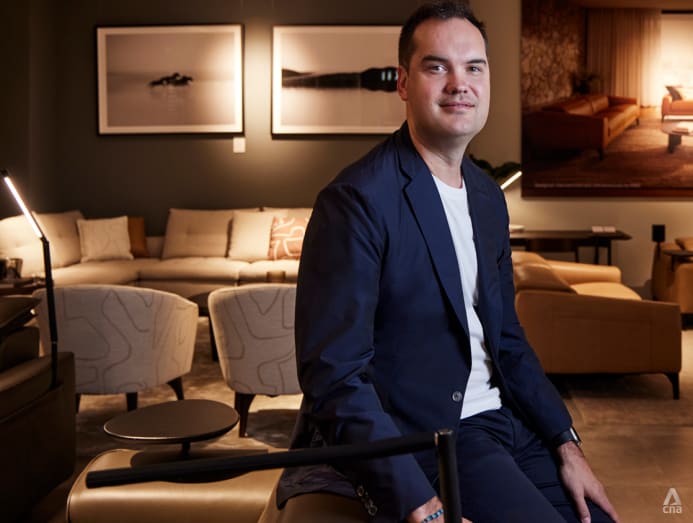 BUY ONCE, BUY RIGHT
King Living's design ethos is characterised by a pared-back aesthetic complemented with modular functions. Its best-selling Jasper sofa, first launched 20 years ago, is known for its minimalist design that fits any interior style. The sofa's modular system ensures that it can be rearranged into different configurations to fit different preferences and living spaces. In 2018, the Jasper was also updated to include discreet smart pockets built into the arms of the sofa that can hold everything from an LED reading light, to a swivel table to a wireless charging table.
"Even though our furniture is beautifully designed, there are real functional benefits to the products. These are hidden innovations so that there aren't any unnecessary design elements," explained Woollcott.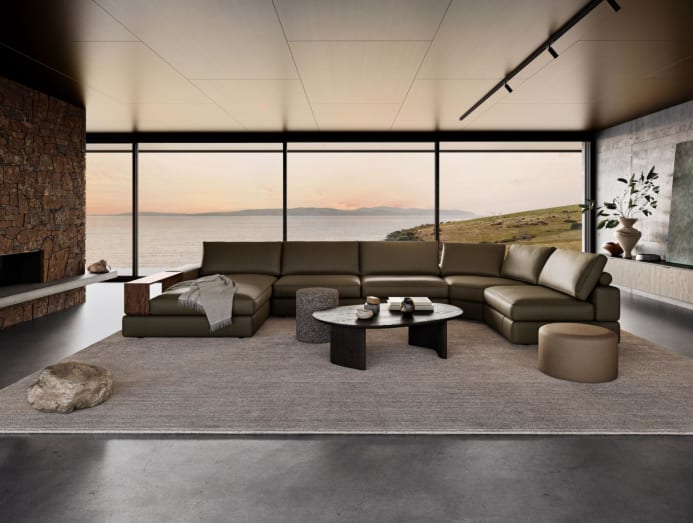 As a premium brand, "we are not trying to chase every single customer," admitted Woollcott. "We are chasing customers with a particular buying criteria and taste in mind. They also have a particular set of values that they look out for, including desirability, durability and comfort."
Testament to the fact that a King Living piece never goes out of style, the brand launched the 1977 Sofa in June this year, a modern reimagining of its inaugural sofa launched in its namesake year. Each of the 1977's sofa modules features organic contours and gentle curves, and can be rearranged into different configurations. The brand will launch the Aura Sofa later this year, which draws its design inspiration from the form of floating islands and comes with optional built-in storage.
Woollcott attributes King Living's continued relevance today to the fact that it doesn't concern itself with chasing furniture design trends. While in Singapore on a market visit in June, Woollcott visited several competitor showrooms in the city.  "I did see a lot of fast fashion where a chair or a piece of furniture looks great because it's absolutely hitting at the moment. But in two years, it's going to be out of fashion just because it's so ornamental or detailed," he said. "Colour and design plays a role but what we're not trying to be is fashionable. We're not a fashionable brand. We're a forever brand and fashion comes and goes."
To address overconsumption, King Living encourages customers to "buy once, and buy right". This philosophy is one of the ways the company prioritises sustainability. "Buying things that last is ultimately the best thing that you can do for the planet," Woollcott surmised. In this line, King Living offers customers an extensive recovery service, which includes cleaning, repairing and the ability to replace furniture covers for a colour or fabric change.
David Woollcott's Furniture Buying Tips
1) Take your time
"Really enjoy the process of furniture shopping. It's not something to be rushed."
2) Look beyond aesthetics
"Just because something looks really good, doesn't mean it will suit all your needs. Know that there are shortcuts to making a product look good, but it doesn't necessarily mean that the product will last."
3) Ask about after-sales care
"Ask about what happens when a purchase is completed. How can you maintain the product? And how will the company support you?"
SUSTAINABILITY IN GROWTH
Despite being a household name in Australia for decades, it wasn't until 2015 that King Living began its foray into the global stage. Singapore, in fact, was the company's first overseas market. Woollcott attributes this to Singapore's close geographical location to Australia, and its "unique position in Asia". "Singaporeans obviously have a perfect command of English, which made it relatively easy for a company from an English-speaking nation," he said.
The brand now has two showrooms in Singapore, the first in Kallang and the second on Leng Kee Road, the latter of which opened in August 2022. Woollcott describes Singapore customers as "highly educated", "ambitious" and "discerning purchasers". "They want to know who they are buying from. They are hardworking, so they are super careful when it comes to spending their money."
Products that perform well in this market are "almost identical to Australia". Singapore customers, however, naturally opt for fabrics that are more suited to the warm, tropical climate. The Zaza sofa set is one product that is a "couple percentage points" more popular in Singapore than Australia.
The company is currently looking at expanding its presence in Canada and the US. "In Asia, we know there are really strong opportunities in Malaysia. Even though we have a successful store in Shanghai, our strategy hasn't been fully developed for China yet, so that's something we are interested in developing," added Woollcott.
But King Living will retain its conservative approach to growth. "We haven't tried to get to, for example, 70 stores by X number of years. Or try to reach $X dollars in value. That's not the game we are in," Woollcott explained. "You can grow quickly, but that won't be as sustainable as growing very deliberately and carefully. That's the unique approach of a family business."
"Colour and design plays a role but what we're not trying to be is fashionable. We're not a fashionable brand. We're a forever brand and fashion comes and goes."