Meet the woman behind Klook Singapore's success story during the pandemic
Klook Singapore GM Sarah Wan tells CNA Luxury how they're bringing back the magic of travel through curated joyful experiences.
We board The Royal Albatross, Singapore's only luxury tall ship, just before the rush of rain poured down.
The 154ft yacht is docked next to the SEA Aquarium at Resorts World Sentosa, and we clear the gangway just in time, sliding into its air-conditioned cabin to meet Sarah Wan, general manager of Klook Singapore.
The Royal Albatross is an official Klook partner, offering a thoroughly unique sunset dinner cruise experience aboard a 4-masted, 22-sail superyacht via the travel and leisure e-commerce platform.
England's Princess Anne has cruised with her, I'm told. So has music mogul David Foster and former Formula One world champ Mika Hakkinen (aka "The Flying Finn), among a host of other notable guests.
And today, we're meeting the woman responsible for steering Klook through one of the worst economic headwinds our generation has ever seen.
The ominous clouds on the horizon and the storm that soon descends set a pretty apt tone for our conversation with Wan, who took over the reins of Klook Singapore towards the end of 2020, just months into the pandemic. She had joined the company in 2017, helming marketing for Southeast Asia, before stepping into the new, demanding role.
OF PIVOTS AND PETRI DISHES
The first order of business for the company that was, until 2020, heavily reliant on the tourist market, was to pivot.
"During a time when borders are closed, it made a lot more sense for Klook to pivot into what we call the domestic model. So we very quickly split up our business units, moving from a global to a more localised business model, and that's when my role pivoted, too; I started looking more on the business side of things, including our product and supply," she explained.
Not owning the products they were selling proved the biggest challenge for an e-commerce platform such as Klook.
"At the beginning of COVID-19, a lot of our merchants went into protectionist mode. They were afraid that the local market was too small for them to be able to share the pie with other players like ourselves so a lot of merchants shut of the supply and we basically had nothing to sell," she recalled.
It took Wan and team about six months to woo them back.
"Thankfully, we did prove to them that the local market can be so much bigger than that. If you keep hitting the same audiences that would have bought with you anyway, you wouldn't be growing at all. Where we made the difference is in proving that we're not just another sales partner; that we can value-add through content marketing and even help them innovate and create new products. One example of this was helping the cruise businesses reach younger audiences versus the traditional family audience," she shared.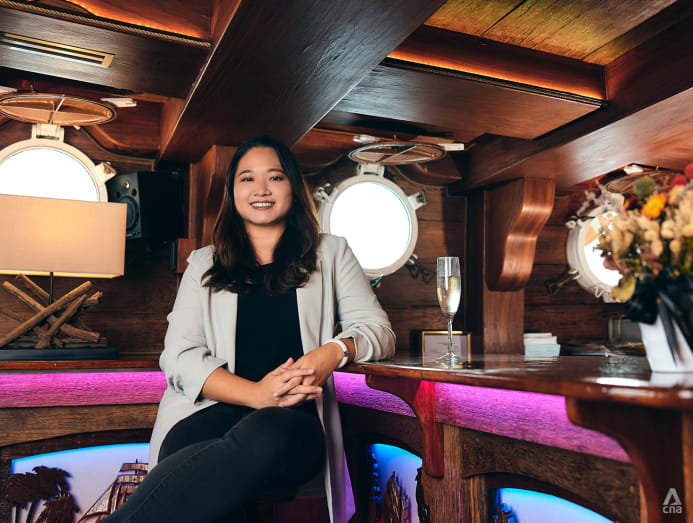 In the meantime, the team had launched Klook Home during the initial "circuit breaker" period, which comprised a series of online events to keep people engaged and entertained in their own homes, where they could tune in for free to experiences around the world recreated for a home audience. These included virtual visits through the Bali Zoo and virtual wine tasting experiences at vineyards in the United States.
From there, the company transitioned to Klook Live, capitalising on the livestream technologies it had developed to conduct live selling events with influencers.
Selling hotel staycations through this approach proved a hit, and Klook discovered a new winning vertical for the brand, which was, until then, regarded as more of an "experiences play".
According to Wan, Klook's core product mix had previously been focused on attractions, tours, rail passes and travel essentials like SIM cards.
COVID-19 changed all that and by 2021, Klook had entered Singaporeans' consciousness in a big way when it became one of only five players appointed by the Singapore government to partner in the SingapoRediscovers Vouchers (SRV) scheme, which was designed to keep the local tourism market afloat when international borders were still shut.
How did Wan utilise her S$100 credit given to every Singaporean to spend on tourism-related businesses?
"I personally went for a Disappearing Trades Tour, which brings you to industries that are fading in Singapore like paper effigy making, kopi bean roasting and traditional bread making. It was nice to explore Singapore's history at the same time on that tour," she recalled.
Fast forward to 2022, and Klook's business volume has grown larger than what it was pre-pandemic in 2019, with its domestic business eclipsing the size of its international operations in 2019. The number of products and services offered on its site has quadrupled from 100,000 pre-COVID to almost 500,000 in 2021, and it has also doubled its global travel presence to over 1,000 destinations last year.
"It was surprising to us, because which travel company actually grows in a pandemic?" she asked rhetorically.
They say necessity is the mother of invention and the pandemic certainly proved such. Companies that pivoted and innovated fast enough experienced a reinvigorated lease of life and in the case of Klook, reimagining its business model enabled the company to establish a distinct identity and distinguish itself clearly in a crowded e-commerce space.
"COVID turned Singapore into a Petri dish of innovative experiences. It forced people to think about what would appeal a lot more, versus the cookie cutter, bread-and-butter type of tourism experiences," Wan observed. 
Experimentation became the name of the game and Klook worked hand in hand with some of its partners to devise some pretty novel experiences, such as holding yoga classes in front of the Open Ocean Habitat exhibit inside the SEA Aquarium.
"It takes courage to experiment like that but we saw a good response to such products," she noted.
Not wanting to be seen as just another transactional player, Klook has since turned its focus to amplifying joy.
"Where previously it was always about volume and who can move the most hotel rooms at the lowest price, right now the focus is on how we can innovate together with our merchants to create something unique and help them increase their yield, while making the overall experience for customers better," she explained.
The company has achieved this through intellectual property partnerships with industry leading brands, such as its recent staycation concept with Disney and Andaz, where guests could bring home some exclusive Disney merchandise as part of the package.
"I think that's the difference between the domestic market versus the international market: If you're travelling, you would still go for the cheapest price but for the domestic customer, they look more at the packaged experience," she added.
LET ME ENTERTAIN YOU
Next on the horizon, is entertainment. "We've done a series of shows with Kumar, and Kumar sells out all the time. We co-ticket with Marina Bay Sands and we got the exclusive (ticketing rights) for his other show at the Singapore Repertory Theatre. So as part of growing our entire domestic business, you'll see (us working with) a lot more of these acts and hopefully, when borders open up, we can help bring a lot more visitors to Singapore for such entertainment events," said Wan.
The company will thus continue to scale up its international business alongside its domestic business – and the Series E funding of US$200 million (S$271 million) it raised in Jan 2021 will sure come in handy.
The injection of funds have also helped power a rebranding exercise and new brand identity that Klook just unveiled on 1st March, designed to bring back the magic of travel with messages of optimism, joyfulness, and enthusiasm.
So if you log into the Klook app today, you will be greeted with an interactive personality test to uncover your "Joy Character" – one of eight unique characters Klook developed including "Adrenaline Chaser" and "Culture Vulture", to provide insight into one's travel personality. Upon completing the test, customers will unlock coupons uniquely tailored to them based on their results.
"A lot of start-up type companies are very focused on growth, but they don't actually think about what impression people have of them, or what is the 'X factor' that draws people to your brand versus the other online travel agents. So the whole concept of joy was something that resounded not just with our customers but with our employees as well, especially in these times; to know that the experiences we are creating will bring people joy," Wan explained.
The platform also now offers a more interactive and immersive user experience with new rich media formats such as motion graphics, short-form videos and more exciting content, including travel guides, live streams, and vlog reviews.
So which "Joy Character" is she? "I'm a 'Scenic Enthusiast'. I do like to take photos when I'm overseas," said Wan.
THE FUTURE OF TRAVEL
Now that borders are indeed reopening, Klook has already begun observing the emergence of several travel trends.
"In the short-term, we are seeing people booking for longer and more expensive. After two years of deprivation, people are more willing to indulge in better experiences versus budget travel. So I think budget travel will be out of the picture for a little bit," she predicted.
Wan also anticipated more travellers venturing farther West than within the Asian region.
"We are definitely also seeing a lot of demand for the Western markets in the short-term, given that they are a lot more liberal in the way they have opened up. Whereas we're not really seeing as much demand for countries where mask-wearing and other restrictions are very much in play, like South Korea, which is still a big thing with Singaporeans, but their situation is very similar to Singapore's. So I think people are looking for destinations where it's drastically different from here, like Europe," she observed.
That said, Wan herself has a personal trip to South Korea planned for month's end.
"There's a lot of anxiety around the tests, especially now that it's so easy to get COVID," she said.
But getting inked by a famous tattoo artist there has been on Wan's wishlist for some time so she's willing to take the risk.
"I've been wanting to do a portrait of a landscape with a moon, because my Chinese name which was given to me by my grandfather means 'clarity of the moon', and there's a great tattoo artist who can do a good watercolour style there," she shared.
Soon, she'll be able to put her go-to travel camera – a Fujifilm Instax 500AF wide Polaroid film format camera that was discontinued in the early 2000s, which she bought off Carousell – to use again, finally.
And after South Korea, a trip to Switzerland is also on her travel list come year-end, perhaps.
HAPPY PLANT LADY
While many folk became semi-professional bakers overnight, flexing their perfect loaves on the 'gram during the circuit breaker, Wan went a different route and became a plant lady instead.
"It's a form of stress relief; being able to focus in the present and get my hands dirty helped me disconnect for a while, and really helped me cope during this time," she said.
Her flora collection numbers in excess of 50 and all in, Wan reckons she's invested a mid four-digit sum into this green hobby.
"You know you got it bad when you lose count… I've run out of space in the house and I'm thinking of downsizing (the collection) or being a bit more focused on some of the most expensive ones," she mused.
She has even installed a watering system that will self-mist all her vegetal varietals at a specific time each day when she's away on holiday.
As for the most expensive specimen in her plant obsession? "I hope my mum doesn't read this, but the most expensive one that I have, which isn't too bad in plant enthusiast terms, is $588."
And yes, it's still alive.